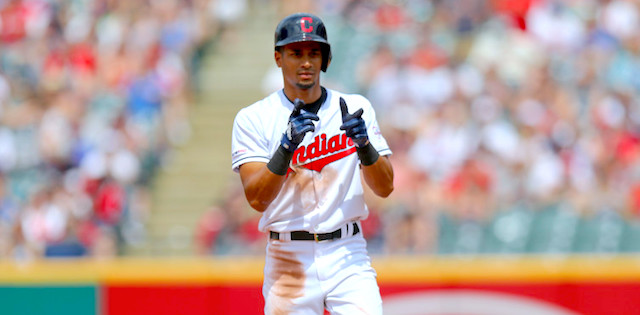 There are plenty of strategies that fantasy managers explore in hopes of getting an advantage over their opponent. Heavy lineup, heavy starting pitchers, no catcher, all (or mostly) reliever staff, no reliever staff, etc. Even if you play a balanced lineup, injuries can cause holes. A few weeks without a key player won't kill a season, but why accept losing when you can stream?
Streaming can be a risky business. If you do it right and check the necessary boxes, you can win the week. This column will do most of the work for you. It'll cover weekly recommendations for when you need: steals, home runs, average, strikeouts, wins, and/or ratios (ERA/WHIP).
All position eligibility and ownership percentages are based on Yahoo! Fantasy leagues.
Editor's Note: Get any full-season MLB Premium Pass for 50% off. Exclusive access to our Draft Kit, premium rankings, projections, player outlooks, top sleepers, dynasty and prospect rankings, 15 in-season lineup tools, and over 200 days of expert DFS research.
Sign Up Now!
Steals – Head-to-Head Category Streamers
Oscar Mercado (OF, CLE) - 30% Owned
After losing playing time in Cleveland's crowded outfield, Oscar Mercado's ownership has dropped to 30% so this could be a good opportunity to scoop the talented rookie, especially as he's been running more of late. Mercado now has 12 stolen bases on the year - including three in his last eight games - and lines up for a full Week 23, facing the White Sox for four games at home, before going on the road to Minnesota for three games. In 358 plate-appearances in 2019, Mercado has a .271 AVG, with 10 HR, 35 RBI, and 53 runs scored, making him a solid contributor in all categories, even if you're just using him to hunt bags.
Jon Berti (2B/3B/SS/OF, MIA) - 29% Owned
No one tell Jon Berti that 29-year-old rookies on bad baseball teams aren't supposed to be fantasy-relevant. And even if you did, Berti probably wouldn't care because since returning from injury on July 31, he's slashing .296/.372/.480 with seven stolen bases and 20 runs scored in just 110 plate-appearances. And Berti has really turned on the jets lately, stealing three bases in his last six games, while seemingly taking over the Marlins leadoff spot for good, as he's hit there in 18 of Miami's last 20 games. This week, Berti will have three games in Pittsburgh before heading to Kansas City for a three-game set. While he'll face catchers who are at least average against stopping the run, Berti will face a murder's row of mediocre pitching, going against such prominent names as Skoglund, Agrazal, and Keller(s). With players dropping like flies this time of year, Berti can give savvy managers quiet bumps in four categories, all while being eligible at four positions.
Home Runs – Head-to-Head Category Streamers
Willie Calhoun (OF, TEX) - 38% Owned
Now up to 38%-ownership (and rising), it looks like this will be the sendoff for Texas outfielder Willie Calhoun, as it seems that people are finally realizing that he's not going to stop mashing. Calhoun hasn't slowed down since last he appeared in this space, going 8-for-28 over the last seven days, with three home runs and six RBI. But put the past aside, because not only is Groundskeeper Willie just a raker of lasers in general, he's picked here today because he has premium matchups on the horizon.
The Rangers will first travel to New York for a three-game set against the Yankees, before heading to Baltimore for four games. Why are they premium matchups? Because Yankee Stadium has a league-leading 118 Park Factor for left-handed home runs, and Calhoun will be also be facing lefties in two of the three games, which is positive considering Calhoun's power splits. While he hits both hands well, he has seven home runs, a .730 SLG, and a .438 wOBA in 67 plate-appearances versus lefties; in comparison to eight home runs, a .493 SLG, and a .339 wOBA in 144 plate-appearances versus right-handers. And in facing Baltimore, Calhoun not only gets three games at power-friendly Camden Park, with it's 107 PF for left-handed home runs - good for fifth-highest in baseball - but in the first game, Calhoun faces Dylan Bundy...So just go ahead and chalk him up for one bomb. Fare thee well, Willie Calhoun, for we won't be seeing you here anymore. Just do us a favor and tell Bryan Reynolds that we miss him and his .330 AVG, will ya?
Jason Kipnis (2B/OF, CLE) - 25% Owned
Yes, that Jason Kipnis. The Cleveland second baseman has secretly been in a bit of a renaissance as of late, but it might be more out in the open after hitting three home runs in his last two games. But Kipnis was better before that, with eight home runs, 20 RBI, and 13 runs scored in 106 plate-appearances since July 31, with a .572 SLG and a 130 wRC+. This week, Kipnis and Cleveland face the White Sox (and a series of suspect-pitchers) for four games, before going on the road to face the Twins in a three-game set. Of the seven games, Kinis will face right-handers in six of them, which is notable considering that only two of his 16 home runs on the year have come against left-handers.
Batting Average – Head-to-Head Category Streamers
Matt Joyce (OF, ATL) - <1 % Owned
Journeyman outfielder Matt Joyce is has been mediocre for the Braves on the year, but has turned it on late as he's gotten more playing opportunities due to the injuries of Ender Inciarte, Austin Riley, and Nick Markakis. Joyce has quietly been one of Atlanta's best offensive players in his 166 plate-appearances, with a 120 wRC+ that is fourth on the team and a .386 OBP that's second only to Freddie Freeman. The Braves are at home in Week 23, starting with a quick two-game set against the Blue Jays, before the Nationals come in for four games. With Joyce crushing as of late - slashing .385/.467/.590 with a 175 wRC+ over his last eight games - now is a good time to grab the basically zero-owned Joyce, as the Braves continue their march to the playoffs.
Mike Ford (1B, NYY) - 6% Owned
When you've been as insanely hot as former Rule-5 pick Mike Ford, then you have to land on fantasy streamer's radar. How hot has Ford been as of late? In his last eight games, he's slashing .414/.440/1.225 with five home runs and a 298 wRC+. Red. Hot. Ford's playing time will eventually be squeezed by the returns of Luke Voit and Edwin Encarnacion, but for now the 27-year-old is raking and trying to make his case for September plate appearances. This week, Ford and the Yankees line up for some favorable hitting matchups, first taking on the Rangers for three games at hitter-friendly Yankee Stadium. Ford will then go the road for four games in Boston, versus an increasingly susceptible Boston pitching staff.
Strikeouts – Head-to-Head Category Streamers
Mike Montgomery (SP, KC) - 18% Owned
Let the Mike Montgomery experience continue! The left-hander was mostly bad as a reliever for the Cubs this year, posting a 5.67 ERA over 27 innings in 20 appearances, with only a 6.0 K/9. But Montgomery has enjoyed a small renaissance since transitioning back to starting after being traded to the Royals in mid-July, even though his 2-5 record and 3.98 ERA don't exactly jump off the page. But Montgomery started off terrible, giving up five runs in less than three innings in his first start but has been great in the right matchups since, giving up two runs or less in five of those seven starts. And that includes his best start of the year on August 10, when he struck out 12 in seven shutout innings against the Detroit Tigers. The same Tigers who have the worst record in baseball and against whom Montgomery makes his next start on Tuesday.
Mitch Keller (SP, PIT) - 10% Owned
There are always ups and downs in the development of a young pitcher, as the four starts that Pittsburgh Pirate Mitch Keller has made since being recalled on August 12 can attest to. In two of those starts, Keller has given up just two runs in 11 innings; and in the other two, he's given up 14 runs in just 8 innings. But even getting blown up as he did in his last start, allowing eight runs over four innings at Philadelphia, Keller has still shown off his strikeout potential, whiffing eight against the Phillies in the loss. Sporting an impressive 11.78 K/9 in 2019, Keller has heated up lately, striking out 17 batters in his last two starts. In Week 23, Keller goes on the road to face Miami in a premium pitcher's park against a Marlins offense that has a 25.1% K-rate against right-handers in 2019, with a 76 wRC+.
Wins - Head-to-Head Category Streamers
Homer Bailey (SP, KC) - 23% Owned
Despite his unsightly 5.52 ERA in his eight starts since being traded to Oakland, Homer Bailey has actually been sneakily serviceable, as 16 of his 27 runs allowed came in just two starts. Outside of those two disasters, Bailey is 5-0 in six starts with a 2.63 ERA. See? Serviceable. Bailey is currently on a strong run over his last three starts, going 3-0 with a 1.93 ERA and 18 strikeouts in 18 2/3 innings. Week 23 should see an easy chance for Bailey to pick up another victory, as the Athletics face those aforementioned lowly Detroit Tigers at home on Friday. Bailey last faced the Tigers when he was still a Royal on June 13, earning the win after shutting Detroit out for six innings, allowing just two hits.
Mike Leake (SP, ARI) - 21% Owned
Good ol' Mike Leake. The 31-year-old right-hander can just as easily pitch a shutout, as he did against the Angels on July 19, as he can get blown off the mound, as he did on August 11 when he gave up eight runs in five innings in a loss against the Dodgers. But Leake can always get you at least a look at a win because he's always going to going at least five innings, failing to reach that mark in only one start this season. Leake is will have a good look at least one win in this two-start Week 23, first facing a San Diego Padres team on Monday that has lost six of their last eight games. The second start is little dicier as Leake returns to face his former team the Cincinnati Reds on Sunday, as a homer-friendly pitcher going to a homer-friendly park. But while the Reds have won five of their last eight games, they still only have a 90 wRC+ and .310 wOBA against right-handers this year, which means Leake will probably go at least his usual five innings, giving him at least a decent shot at picking up the W.
ERA/WHIP - Head-to-Head Category Streamers
Jakob Junis (SP, KC) - 20% Owned
You should know by now how it's going to go with Kansas City Royal Jakob Junis; he'll put together two-to-three starts before reeling off three-to-four bad ones. But after giving up 11 earned runs in his last three starts while striking out 15 batters in sixteen innings, it might be time for the good version of Junis. Because there is no better elixir for a pitcher than getting to face the abysmal Detroit Tigers at home on Wednesday. Against right-handers this year, Detroit has a .231 AVG, 26.8% K-rate, and .288 OBP that are all worst in the league. Junis last faced the Tigers on August 11, earning the win after allowing two runs in six innings on two hits and no walks, while striking out six.
Zach Plesac (SP, CLE) - 41% Owned
Cleveland rookie pitcher Zach Plesac has had a quietly excellent first year in the league, going 7-4 with a 3.40 ERA and 1.20 WHIP. And removing a seven-run blowup at Baltimore on June 29, Plescac's numbers looks even more impressive, giving him a 2.80 ERA in 84 innings pitched. But Plesac's ownership has dropped back down after back-to-back poor starts against the Yankees and Red Sox, in which the 24-year-old right-hander allowed seven runs in less than 10 innings. But Plesac bounced back in his last start, allowing only one run on four hits in 5 2/3 innings on his way to a win over the Kansas City Royals. In Week 23 Plesac has another prime matchup, matching up against the Chicago White Sox on Thursday. Against right-handers this year, the Pale Hose carries only a .300 OBP, with a 26.4% K-rate that is third-worst in baseball.
More Streamers and Head-to-Head League Columns