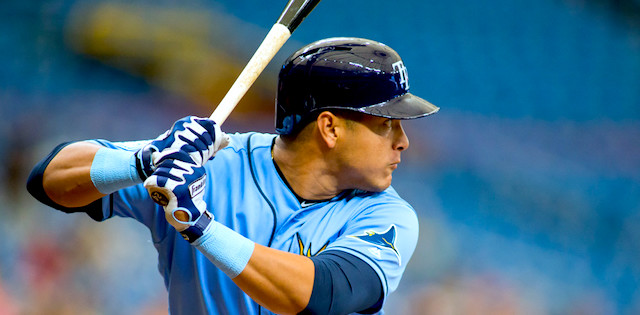 Welcome to the hitting streamers column for the week of 06/03-06/09. Whether you're looking to maximize the number of games played, exploit favorable matchups, or fill in for injured players, streaming hitters can be a fruitful strategy for those willing to put in a little work every week.
Keep in mind that this column highlights players owned in approximately 50% or fewer of Yahoo leagues who could present nice streaming options for the upcoming week. This applies to any league but specifically is geared toward head-to-head weekly leagues where matchups are more critical.
If the following names aren't available, don't hesitate to check our famous waiver wire pickups list to find some appealing alternatives. Let's get to it.
Editor's Note: Get our 2020 MLB Premium Pass for 50% off, with exclusive access to our draft kit, premium rankings, player projections and outlooks, our top sleepers, dynasty and prospect rankings, 20 preseason and in-season lineup tools, and over 200 days of expert DFS research and tools.
Sign Up Now!
Bats to Stream and Start in Week 10
Seven-Game Weeks: BOS, CHC, HOU, LAA, OAK, SD, SEA, TB, TEX
Streamer of the Week
Avisail Garcia (OF, TB): 35% Owned
Garcia is one of the hottest players in baseball at the moment, and is currently riding a streak of three straight games with multiple hits. He had a .999 OPS and .247 ISO in May going into play Thursday, and has a .301/.363/.522 triple slash on the year. Garcia's Statcast numbers are off the charts too, as he ranks in the 87th percentile in every Statcast metric. He's even in the 90th percentile for sprint speed, as a 6'4", 250 pound corner outfielder.
It's rare to get a hitter this hot, with the peripherals to back it up, on waivers as a streamer for a seven-game week. The cherry on top: Tampa Bay faces four left-handed starters next week. He provides help in power, speed and batting average. Heck, do more than stream him, pick him up for good. He's the best option in all leagues this week.
Behind the Plate
Jonathan Lucroy (C, LAA): 49% Owned
Is Jonathan Lucroy back? After two years of mediocrity, Lucroy looks to finally be picking his game up lately. He's hitting .288 in May with five homers and a .934 OPS in 75 PA. For context, Lucroy hit a total of four home runs in 454 PA last season, so it's safe to say he's upped his power game a fair bit.
In some leagues, any catcher with a pulse is worth something, and in general, it's rare to find a catcher producing at such a high level on waivers. Lucroy is someone to add for the Angels' upcoming seven-game week, but he might be worth hanging onto long term as well.
Also Consider: Christian Vazquez (C, BOS): 40% Owned
At the Corners
Albert Pujols (1B, LAA): 8% Owned
It's fair to say that Albert Pujols is past his prime. In fact, calling him a shell of his former self might be generous. However, the Angels draw four left-handed starters this week, which is great news for Pujols, as he has a .246 ISO against southpaws this season. The Angels also play six of their seven games at home this week, with just a makeup game in Wrigley Field keeping them out of Anaheim. Pujols is off most fantasy radars, but if there was ever a week to deploy the old-timer, it's now.
Mark Canha (1B/OF, OAK): 6% Owned
Canha has been playing every day with Khris Davis on the injured list, and boy has he taken advantage. He has a .500 ISO in May with seven home runs in just 53 PA. It seems as if no one has noticed, as Canha is out there in more than 90% of Yahoo leagues. Not only will Canha get seven games this week, but four of them are against weak-to-middling left-handed starters, and four of them are in the hitter's paradise known as Globe Life Park. Canha's .233 average is his only downside, but his 14.2% walk rate helps soften the blow in points leagues and OBP formats. Canha is a great option for those in need of power this week.
Also Consider: Kyle Seager (3B, SEA): 21% Owned, Asdrubal Cabrera (2B/3B/SS, TEX): 41% Owned
Up the Middle
Rougned Odor (2B, TEX): 50%
The Odor has been putrid this season, owning a .161/.231/.329 triple slash in 170 PA thus far, but his fortunes could change this week as Texas gets ready for seven home games against Baltimore and Oakland. Frankie Montas is the only quality opposing pitcher, and Texas draws just one left-handed opposing starter in John Means. It's now or never for Odor, and it might end up being never, but he has ideal conditions to succeed this week. Owners should be willing to bet on this talent one more time considering the matchups and favorable ballpark.
Addison Russell (2B/SS, CHC): 6% Owned
Russell has been playing close to every day, with no timetable for a Ben Zobrist return, his grasp on the Cubs' second base job is rather secure. He's hit well since returning too, owning a .275/.339/.529 triple slash with four home runs and a .255 ISO in 57 PA. Yes, his 26.7% HR/FB rate will regress, but his 40% hard hit rate is a 14% increase over last season, indicating that Russell has made legitimate power gains this year. Russell is a fine option for either middle infield position, and is out there in plenty of Yahoo leagues.
Also Consider: David Fletcher (2B/3B/SS/OF, LAA): 35% Owned, Shed Long (2B, SEA): 0% Owned
In the Outfield
Kyle Schwarber (OF, CHC): 46% Owned
Schwarber got off to a rough start this season, but he has picked things up lately after being moved to the leadoff spot in Chicago's batting order. As a leadoff hitter, Schwarber has a .884 OPS and .333 ISO in 67 PA. The Cubs only face two left-handed starters next week, but that isn't as big a concern for Schwarber these days as he is playing every day regardless of opposing pitcher. He is the top outfield stream in leagues where Avisail Garcia is unavailable.
Jay Bruce (1B/OF, SEA): 18% Owned
Bruce is rather one-dimensional at this point in his career, which is fine for owners who know they need power and have batting average to give. There's just one lefty on the schedule next week for Seattle, which is great, but Bruce has maintained even platoon splits this year anyway. He hits for power, and the opposing pitcher's handedness doesn't matter. Bruce also gets a park boost later in the week when the Mariners travel to Anaheim for a three-game weekend series. He should be a decent power source and volume option for the week.
Also Consider: Mallex Smith (OF, SEA): 45% Owned, Hunter Renfroe (OF, SD): 46% Owned, Albert Almora Jr. (OF, CHC): 10% Owned, Ramon Laureano (OF, OAK): 17% Owned
More Streamers and Head-to-Head League Columns