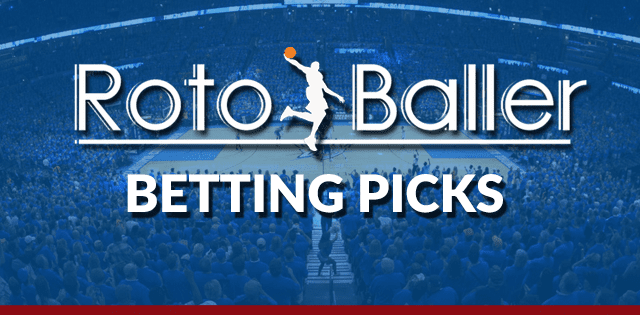 I went 0-for the Elite Eight last weekend, so that was more than a little disappointing. However, just seeing a Final Four with three first-timers and two mid-majors makes it worth it.
These four teams are a combined 15-1 against the spread so far in the NCAA Tournament. The only failed cover was FAU against Fairleigh Dickinson (you haven't forgotten about them already, have you?). Something has to give. With all of the ones, twos, and threes unceremoniously disposed of, we have a four, two five seeds, and a nine-seed. This is going to be a hell of a weekend!
In this article, you can find some of my favorite picks for the Final Four on Saturday, April 1, 2023. You can access all of our latest sports betting promos, and sign up for a sportsbook here.
Featured Promo: Our brand NEW exclusive Props Optimizers for Prop Bets and Prizepicks DFS Props are available for 50% off for a very limited time. Use discount code PROPS and win big with RotoBaller's prop picks today.
SIGN UP NOW
(5) San Diego State vs. (9) Florida Atlantic
The Aztecs got this far with their brutal defense despite leading scorer Matt Bradley being more hindrance than help. How long can they survive like this? That's a fair question, but with the Aztecs only allowing about 55 points per contest in the NCAA Tournament, they really don't need Bradley's scoring with guys like Lamont Butler and Nathan Mensah picking up some slack each.
FAU operates like a hockey team. They go 9-10 guys deep and often replace 3-5 guys at a time. They like to run, space the court, and have really good guard play. That makes them a DFS nightmare, but it also makes them a really tough team to plan for. SDSU is really going to get after them, but the Owls are used to going deep into their bench anyway. They'll counter the stiff SDSU defense with a steady rotation of fresh bodies off the bench, all of whom have extensive experience.
The wild card here is Matt Bradley. He has scored in single digits in each of the last two games and has been awful from the floor, making just three of his 17 shot attempts. He had a good game in the opener against Charleston but has been conspicuously absent since. FAU is another team that can make him disappear. They'll throw a steady stream of defenders at him to keep him frustrated.
The Owls would like to get the Aztecs running more than they like, but with the brand of defense that the Aztecs play, I think this game slows down even if it starts fast. The Aztecs were able to slow down a Creighton team that routinely scored in the 80s in the Regional Final. That's not conducive to the Owls' upset bid, but I really have doubts that SDSU can continue to win without Bradley's help, especially against a deep team like this.
The Pick: Florida Atlantic ML (+130); u131.5 (-110)
(4) Connecticut vs. (5) Miami 
Back around Christmas, if you asked any college basketball fan who the best team in the country was, a large majority would have said UConn without hesitation. Now if you ask any college basketball fan who is going to win the title, it's UConn, also without hesitation. Strange how that works.
UConn's swoon in January in February was fueled by Adama Sanogo perpetually being in foul trouble and Andre Jackson's offensive struggles carrying over into his normally great defense. Those problems seem a distant memory now. UConn just annihilated a Gonzaga team that many had winning this region. I'm contrarian, so I would rather see another team win, but that's going to be a tough ask.
The only team that UConn really struggled with down the stretch was Marquette. They have three really good guards and some size in the middle. They went at Sanogo, frustrated him, and got him into foul trouble before ultimately fouling him out in two of the three meetings. Hey, I know of another team with three really good guards and some size in the middle. Unfortunately for the Huskies, it is their opponent in the National Semifinal.
Norchad Omier's leg is fine after a minor tweak in the Sweet 16 game. He's not the kind of bulk that they really need to counteract Sanogo, but he plays bigger than the 6'7"/250 that he's listed at.
Miami took an already good team and added Omier from Arkansas State and gave an (allegedly) ungodly NIL deal to Nijel Pack to lure him from the Little Apple. That has resulted in a Final Four berth. The main question I have here is if Miami will fold if UConn puts them down big. Both Arkansas and Gonzaga proved to be paper tigers. What is Miami made of?
Considering the similarities to Marquette, Miami has at least a puncher's chance here. They don't have any one player that can turn the scoreboard into a pinball machine like Tyler Kolek, but if you don't watch Jordan Miller, he can come close. If Miami gets punched in the mouth, I don't think they fold. Just look at the huge comeback against a really good Texas team.
I can see a small hedge on the Miami ML because I wouldn't be that shocked if it happened. It would not be a primary bet of mine though.
The Pick: Miami +5.5 (-110); UConn to win title (-130)
Enjoy the games and thanks for checking out my picks! Good luck!
More March Madness Analysis