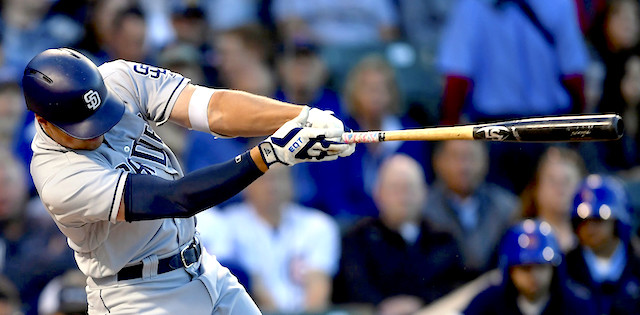 Baseball is back! The nostalgic diamond traditions of cracker jacks, oat sodas and intricately-designed grass patterns have finally returned. Most importantly, the boys of summer are once again fine-tuning their five tools for the upcoming season.
In 2016, Major League Baseball expanded its research on exit velocity and launch angle by introducing Barrels. Barrels not only analyzes the results from a hard-hit ball, but also the trajectory when bats meet the ball. The findings were startling. When a hitter makes contact at 98 MPH and between 26 to 30 degrees (barrel range), the minimum result is a .500 batting average and 1.500 slugging percentage. Minimum! The harder the exit velocity, the wider the barrel range expands to account for a larger sweet spot. On average, barreled balls produce an .800 average and 3.000 slugging percentage.
These are staggering numbers, but also difficult to achieve. Barrels occur on only 7% of batted balls. Today, our purpose is to identify mismatches between barrel data and fantasy draft positions. We know J.D. Martinez, Mookie Betts and Mike Trout are premier mashers, but let's find some hidden gems in the world of slugging. For reference, we'll focus on ADPs above 150. In 2018, the median Barrels per (at least 200) Plate Appearance (Brls/PA) was 4.6%.
Featured Promo: Want a free RotoBaller Premium Pass? Check out these sports betting promo offers from the top sportsbooks! All new sign-ups get a free bonus offer on their first deposit, and a free year of RotoBaller's Premium Pass for all sports ($450 value)!
Sign Up Now!
ADP: 162, 9.8% Brls/PA (6th best out of 281)
If there was a silver lining to the abrupt ending of Shohei Ohtani's pitching exhibition last season, it's that his hitting savviness came on full display. After impending Tommy John surgery became a certainty in the second half of 2018, Ohtani went on an offensive tear. Between August and September, Ohtani crushed 13 homers en route to a 1.041 OPS, also stealing 10 bases. Heading into fantasy drafts, Ohtani's draft stock is suppressed as he recovers from elbow surgery. However, most indications suggest he'll be ready to resume designated hitter duties by May.
With his undivided focus on hitting for 2019, Ohtani will likely receive more opportunities this season than last, even accounting for his lost month of April. In only 367 plate appearances in 2018, Ohtani jacked 22 homers. While the 30% HR/FB isn't repeatable, the barrel data strongly supports a run at 25 long balls if he can accrue at least 450 plate appearances. Add a serviceable average and steady run production and Ohtani's return should easily surpass his draft cost.
ADP: 187, 8.4% Brls/PA (21st)
Another player charging to the finish last year was Hunter Renfroe. Renfroe capitalized on a full-time role in the second half to crank 18 homers, finishing with 26 for the second consecutive season. Albeit from a low base, Renfroe decreased his strikeout rate from 29% in 2017 to 25%. With a sustained improvement in plate discipline, Renfroe can parlay his above-average ISO to another season of useful power numbers.
Two interrelated risks jeopardize Renfroe's fantasy potential. The Padres roster a deep outfield with no player holding a clear path to at-bats besides Wil Myers. With his shoddy defense, Renfroe is competing for a corner outfield spot against other up-and-comers (Franmil Reyes, Franchy Cordero). Secondly, Renfroe has historically been streaky. Without a frontrunner, Renfroe's woes could pave more regular playing time for his counterparts. Despite these warning signs, Renfroe's appeal remains; he ended last year as one of baseball's hottest hitters and has proven power even with a part-time role. If he can overcome the inconsistencies, Renfroe's fantasy contributions over a full year could be eye-popping.
ADP: 246, 9.5% Brls/PA (8th)
It was only two seasons ago when Randal Grichuk was heralded as an ascending power threat. But after posting a paltry .758 OPS in 2017, Grichuk was flipped to Toronto and faded into fantasy oblivion as an afterthought. But even having never reached 500 plate appearances, Grichuk has hammered at least 20 homers in three straight years.
Slated for an everyday role in 2019, Grichuk is in position to post career highs in homers and run production. The Rogers Centre in Toronto is also a friendly place for power hitters. Grichuk can do himself immense favors by continuing to lower his strikeouts, which improved to a still-worrisome 26% last year. But the formerly-hyped first-rounder has been a staple in Statcast leaderboards for years and is still just 27 years old. His ADP suggests he's washed up. At the minimal price, Grichuk's slugging potential is all upside.
ADP: 310, 7.9% Brls/PA (30th)
The term washed up could be a useful segue into Matt Kemp, but the old guy continues to show there's gas in the tank. Since turning 30, Kemp has averaged 25 homers and 92 RBIs across four campaigns. While durability had been a past concern, he's played in over 145 games in three of four years. Incidentally, the veteran's routine maintenance days have turned out beneficial over a full season.
Kemp switched teams in 2019 and finds himself in the most favorable ballpark for homers, Cincinnati's Great American Ball Park. With a fully-stocked outfield, Kemp could be destined for a part-time gig. While the veteran has a track record, his primary competitors (Scott Schebler, Jesse Winker) have yet to prove their meddle. Further, Winker and Schebler are both left-handed bats that could ultimately cannibalize each other. With Kemp's career excellence against lefties (.911 OPS), he'll likely play significantly more than his ADP foreshadows. A late-round flier on a bankable power commodity is a worthy investment.
ADP: 327, 8.5% Brls/PA (19th)
Mired in the depths of the ADP basement is Daniel Palka who surprisingly popped 27 homers in just 449 plate appearances last year. Unexpected for a 26-year-old rookie. Palka earned his pay by exclusively feasting on right-handed pitching, registering a .824 OPS and 25 of his dingers. Compared to his minor league profile, Palka became a pull-dominant hitter at 46%, which could support the power surge despite a 38% fly ball rate.
Palka struggled with contact last season with a .240 average and 34% strikeout rate, but was a mainstay in supporting barrel data. His FB/LD exit velocity (97.3 MPH) and Barrels per Batted-Ball Event (14.4%) demonstrate the power is durable when he makes contact. Before injuries derailed his career in 2017, Palka swatted 85 homers in the minors between 2014-2016. With minimal barriers to playing time, Palka should have a chance at 30 homers. If fantasy managers can get their average source elsewhere, he could be a perfect platoon with a left-handed outfield bat.
More Sabermetrics & Fantasy Baseball Strategy