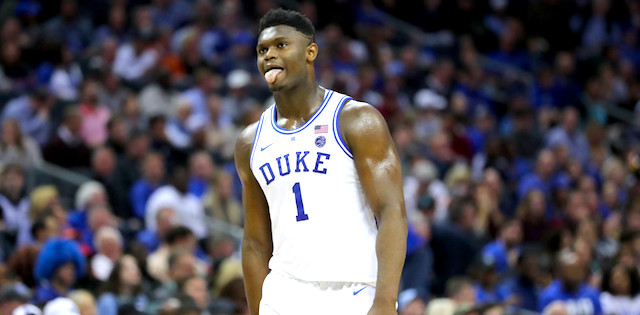 Welcome back to RotoBaller's NBA coverage!
The NBA Draft is almost here, so we're here to help you make sense of it and give you an early edge on your fantasy competitors for the 2019-2020 season. In addition to this mock draft, stick around RotoBaller after the draft to see our reactions to the picks and how we see things shaking out heading into next season.
Everyone in the world does a mock draft, but ours is a little bit different, because the focus isn't on things like "long term fit" and "how projects will turn out" but on what kind of impact immediate these players could have in fantasy basketball re-draft leagues. I've gone through tons of prospect videos and scouting reports and advanced stats to come up with an idea of how this year's draft could go and then highlighted which players should have an instant impact at the next level. This isn't a mock draft of what I want to happen or what I think should happen, but what I think can happen based on team needs.
Editor's Note: Get any full-season NBA and DFS Premium Pass for 50% off. Our exclusive DFS tools, Lineup Optimizer and daily Premium DFS Research.
Sign Up Now!
Introduction
A few quick notes before I start. Many of these will be wrong, because that's how mock drafts always work, but I'll try to give you analysis that will reveal things about the players that goes beyond fit. This is a fun exercise that can help us prepare for the forthcoming fantasy basketball season, but it's important to remember that this isn't an exact science.
I'll be doing all 30 first round picks over the course of three parts, but I'll spend a little bit more time on the big names at the top who are most likely to make an instant fantasy impact.  Here's Part 1.
2019 NBA Mock Draft: Round 1 - Picks 1 through 5
1. New Orleans Pelicans: Zion Williamson (F, Duke)
Zion, Zion, Zion. By now, you've heard an infinite number of basketball analysts talk about Williamson, who's been the top overall pick for months now. Nothing will change between now and draft night, and the Pelicans have no incentive to move this pick anywhere.
All that's left now is to figure out how Zion fits into the picture in New Orleans, which is difficult since we don't yet know how the team's veteran big man, Anthony Davis, fits into the picture in New Orleans. Davis requested a trade last season, but the Pelicans waited out the Summer because of the possibility of the Celtics getting involved in the trade talks. The team's new executive, David Griffin, has a great reputation around the league, but there haven't been any reports that he's been able to talk Davis out of his trade demands.
Let's assume, then, that Williamson joins a Pelicans team that won't have Anthony Davis. What will New Orleans need him to do?
Well, the easy answer is everything. Assuming Julius Randle is also gone, the Pelicans -- not counting whatever they get in the inevitable Anthony Davis trade -- will have two sources of consistent production: Jrue Holiday (who, well, could end up traded to if the right chance to add younger talent and picks comes up) and Williamson.
Per Synergy, Williamson was in the 99th percentile in points per possession last season, and he ranked in at least the 90th percentile in the following play-types: transition, put backs, post-up, pick and roll ball handling, off screens, and hand offs. In fact, the only real area of struggle from Williamson in terms of scoring came from his spot up shooting, where he was in just the 47th percentile. He also didn't see much usage as a pick and roll roll man, with just seven possessions in that position. Those two things definitely give me a little pause when it comes to figuring out how Williamson will look when playing off the ball, but even if Williamson isn't able to be a catch and shoot guy, he still does so many other things well.
Williamson is a monster in transition, a guy who's able to explode down the court and use his size to barrel through defenders and get to the bucket. He's also a good passer, and while I don't think he'll step onto an NBA court and immediately be the Pelicans best option to bring the ball up the floor, he has the potential to be an elite point forward within the next few years. He's got to improve his jumper, but we've seen plenty of players able to improve their shooting once they've adapted to the NBA.
Williamson's going to go very high in fantasy drafts next season though. Higher than Deandre Ayton, who was sneaking up into the third and fourth round. I can see Williamson being a second rounder in fantasy re-draft leagues, which feels...a little high, but with the success we've seen from rookies like Luka Doncic and Ben Simmons in recent years, it's clear that the upside is there for a player like Zion to make an immediate impact due to his ability to get to the rim and finish plays.
2. Memphis Grizzlies: Ja Morant (G, Murray State)
Memphis getting the second pick reminds me of 2003, when they had a chance to grab the top overall pick and generational talent LeBron James. That time, though, falling to the two-spot meant they had to ship their pick to the Detroit Pistons (who took Darko Miličić over Carmelo Anthony). This time they at least get a consolation prize in Murray State point guard Ja Morant.
Like with the Pelicans, the overall value for Morant depends on the Grizzlies making moves. Mike Conley is the team's starting point guard right now and he's got another year plus a player option on his contract, but the Grizzlies are entering a rebuild and are expected to move on from Conley. For the purposes of this piece, let's go ahead and assume that Morant is the team's starting point guard. What will that mean?
Morant burst onto the national scene with a triple-double during the NCAA Tournament that really showcased all the ways he can make an impact in this league.
First of all, Morant can pass the hell out a basketball. Like, look at some of these passes:
Ja Morant Thread vs Missouri State (29 PTS, 13 REB, 12 AST) w/ some videos:

First, Morant is a phenomenal passer. He's a bit 'flashy' at times, but he has great vision and getting teammates open looks. He's very comfortable passing with his left hand also (4th clip in video) pic.twitter.com/Ca8AOiBwO0

— Zach Milner (@ZachMilner13) November 26, 2018
Does your team have a young big -- perhaps one named Jaren Jackson Jr. -- who needs a point guard who can get him the ball in good situations? Then drafting Morant would be a good idea.
Morant's also a gifted athlete who seems capable of dunking the ball from any spot on the court:
This Ja Morant dunk sounded like a cannon went off 😤

(via @CBSSports)pic.twitter.com/92OWZYTnLy

— Bleacher Report (@BleacherReport) March 10, 2019
He's also a capable three-point shooter, hitting 36 percent from deep last year:
Ja Morant, downtown pic.twitter.com/ID5Of0xxZ1

— Ben Pfeifer (@Ben_Pfeifer_) March 23, 2019
For fantasy owners, though, figuring out Morant's immediate value is a little tough, because he's a small school point guard who will be having to adapt to the much more physical level of the NBA. As a passer, I think he'll be fine right off the bat, but Morant's not the same scorer that someone like Trae Young is, so expecting him to be an immediately impactful scorer is probably expecting too much. We'll have to see where his ADP settles before deciding if he's a bad value, but there's a good chance his hype inflates his re-draft value.
3. New York Knicks: R.J. Barrett (F, Duke)
I'm not sure I can remember an NBA Draft where there was such a clear top three like this one, but basically barring a trade down by the Knicks, this is the order the first three picks will go in.
I don't think Barrett is the same level of player as the first two and I don't think his floor is as high as the guy I'm mocking for the next pick, but the Knicks seem to like Barrett.
Barrett's ability to score inside is encouraging, but he shot just 30.8 percent from three at Duke, and while scoring inside is important, his inconsistency outside of the paint makes it tough to figure out just exactly how he'll be used. Long term improvement with his shot would make Barrett's NBA future a lot more clear, because in that situation he'd be an inside-outside guy who can guard threes and fours, but without a shot, playing him out on the wing in a concern.
Barrett's offensive efficiency at Duke was also a bit concerning. He was in just the 60th percentile for points per possession and the 49th percentile in his most used playtype, the spot up. His 31.9 percent shooting on catch and shoot looks should reason for Knicks fans to worry about this pick.
I see Barrett putting up decent numbers as a rookie. If you run a three-point punting build next year, Barrett's other skills will make him an intriguing fantasy prospect.
4. Los Angeles Lakers: Jarrett Culver (G, Texas Tech)
And here's where things stop being predictable.
First, the Lakers might not hold onto this pick, because it would be incredibly appealing in any deal for a star, and with LeBron James on the team, adding a star is more appealing than adding a rookie.
And if the Lakers do deal this pick, determining who goes here ends up depending on who picks here. Will the Pelicans pick again? Will the Lakers end up dealing for someone like Mike Conley instead, giving this pick to the Grizzlies? Maybe Bradley Beal? I don't know!
But because of the uncertainty, let's go ahead and look at Culver in a vacuum.
The Texas Tech guard is a favorite of Draft Twitter, with a lot of people calling him the second-best prospect in this class. I'm mostly in agreement on that idea, as Culver's defensive ability and potential is far above Morant and Barrett.
Aside from defense, Culver's shown an ability to thrive when driving to the basket and has great touch on his midrange jumpers. He struggled from long distance last year, hitting just 30.4 percent from three last year on 4.2 attempts per game. But he did hit 38.2 percent as a Freshman on 3.9 attempts, so I'm not super worried. Culver was mostly just a shooter his first year at Texas Tech, but Zhaire Smith's departure opened up room for him to do even more, and he scored 18.5 points per game on 46.1 percent shooting this past season. If you believe that he's capable of getting his three-point numbers back up, then Culver can be a lead scoring option at this level, though situation will dictate if he ends up as a team's secondary weapon. I think his offensive ability and his potential for steals (1.5 per game last year) makes him a player who can return fantasy value right off the bat.
5. Cleveland Cavaliers: De'Andre Hunter (F, Virginia)
The Cleveland Cavaliers took point guard Collin Sexton last year, a move that...meh.
They have another chance this year to add a young player to the mix, though, and going with Hunter here would be a good move. He's a two-way wing player who will give the team a ton of help on the defensive end.
Hunter's also a strong shooter from long distance. After hitting 38.2 percent of his threes as a Freshman, Hunter upped that to 43.8 percent last year on 2.8 attempts per game. He can give the Cavaliers a three-and-D wing right off the bat, with the potential to grow into the team's featured scorer. Hunter's a strong finisher at the rim, and with some improvement on his driving and passing ability, he can give the team another ball-handler to play off of Sexton.
I don't think Hunter has the same upside as Culver, but he should be a solid NBA player for a long time, and he should also be a strong shooter for the Cavaliers right off the bat. He could be a solid re-draft pick if his ADP doesn't creep too high.
We'll continue with our mock draft in my next post.
More Fantasy Basketball Analysis