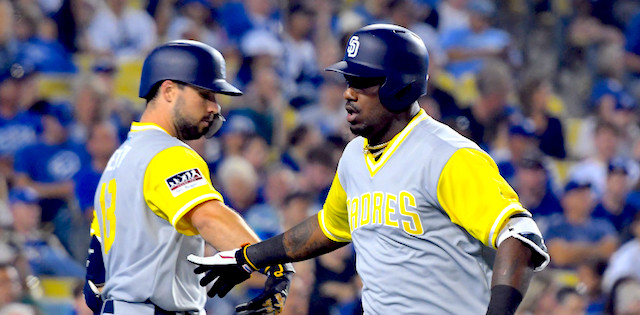 After a difficult 2018 season, I took stock of what had gone wrong and identified one potential source of trouble: Too many leagues across too many platforms. So, naturally, this is how I responded to that revelation this year:
Me in January: Remember not to do too many leagues on too many different sites again, okay?
Me in February: Ah, one more can't hurt!
Me in March after realizing I've got nine teams on five different sites: pic.twitter.com/9otcuKssDd

— Kyle Bishop (@amoralpanic) March 16, 2019
Before entering the glamorous world of fantasy baseball advice and analysis, it was a relatively simple problem to avoid being overexposed and over-committed. Now, having connections in the industry means I get invited to more leagues, and clearly I'm not turning many of those invitations down.
So, in an effort to cop out be scientific, I looked again at last year's underwhelming results and realized I had failed to heed GZA's advice and diversify. (NSFW) So I made more of a conscious effort to spread my risk this year. There were still, however, a handful of players I wound up drafting often. Here are the five most common assets in my 2019 portfolio.
Editor's Note: Get a full-season MLB Premium Pass for 50% off before Opening Day. Exclusive access to our Draft Kit, in-season lineup tools and over 200 days of DFS.
The Fab Five
Kenta Maeda, SP, Los Angeles Dodgers (6 leagues)
I've collected at least one share of every Dodgers starter this spring, including four gambles on Clayton Kershaw's health, but Maeda is my highest-exposure guy. Perhaps it isn't surprising given the bold prediction I made about him. Maeda has been shuttled between the rotation and bullpen as it suited the Dodgers' penchant for chicanery the last two years, but Los Angeles may have little choice but to let him accumulate 30 starts this season given the varying uncertainties in their crop of SP.
He's struck about a batter per inning and posted at least a 3.5 K/BB in each of his three MLB seasons thus far - given 160 innings with which to work, he can approximate what teammate Walker Buehler is expected to provide, for a fraction of the outlay.
Daniel Murphy, 1B/2B, Colorado Rockies (5 leagues)
Murphy, who came within a single hit of a batting title three years ago with the Nationals, could well capture the crown this time around now that he'll be plying his trade in hitter Valhalla. Microfracture surgery last winter cost him the first couple of months of last season, and it took a bit for the rust to be shaken off. Once he did, though, Murphy looked remarkably like his old self, slashing .315/.346/.539 with 11 home runs in 241 second-half at-bats.
With a prime spot in the top-heavy Rockies lineup and a lighter defensive workload as a first baseman, the stage is set for the veteran to rebound in a big way.
Franmil Reyes, OF, San Diego Padres (5 leagues)
Not that we needed any more evidence, but the cruelty of the world is on display yet again in San Diego, as there remains a strong possibility that Reyes and Hunter Renfroe will have to fight for playing time instead of both being allowed to spread their wings and fly. You already know from the aforementioned bold predictions piece how much I like Renfroe this year, but I wound up with more shares of his younger teammate, handcuffing them where it could be managed.
Reyes struggled early as a rookie, but after a brief demotion, he hit .318/.385/.548 with 10 homers in his final 49 games. All the indicators were there - high hard-hit and HR/FB rates, along with significantly fewer whiffs. In fact, no hitter improved his K-BB% after August 1 as much as Reyes did. If the latter doesn't carry over, he could be a batting average liability, but there's legitimate 30-homer power in his bat.
Joey Gallo, 1B/OF, Texas Rangers (4 leagues)
Gallo is one of only five players to hit 40 home runs in the last two seasons, and one of only two to do it in both years. The others? Giancarlo Stanton, Aaron Judge, J.D. Martinez, and Khris Davis. That is to say, nobody you're getting outside of the first three rounds.
Gallo's contact issues are well-established, and you need to make sure you have the foundation in batting average to handle his negative contribution in that category (in one league, I paired him with Buster Posey). But the counting stats will be there, and at just 25 years old it's not inconceivable that he could manage a couple more base hits here and there to bring the average up into the .225 range.
Alex Colome, RP, Chicago White Sox (4 leagues)
Colome's modest ADP (223) made him an obvious choice for a low-cost save speculation. He wasn't officially anointed the closer in Chicago until last week, which could explain why fantasy owners weren't more anxious to land his services. But now that he's got the job, how is he still available for free in a quarter of Yahoo leagues? The only guys with more saves over the last three seasons are Kenley Jansen, Craig Kimbrel, Wade Davis, and Edwin Diaz, and he's got solid ratios (2.78 ERA, 1.14 WHIP) over that time.
More 2019 Fantasy Baseball Advice