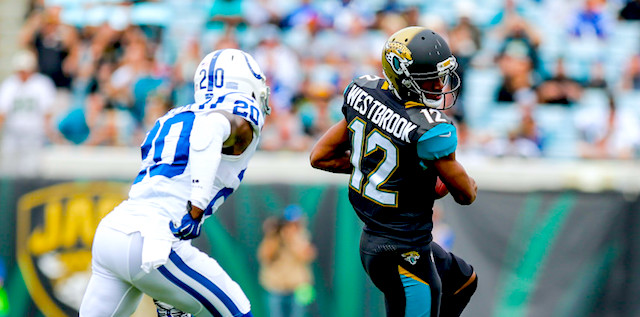 As the fantasy football season nears the home stretch, most owners should begin turning their eyes towards the remaining six weeks of the fantasy schedule. Either you're comfortably in the playoffs and need to see who you should be rostering in order to get the best matchups or you need that extra boost to qualify over these next few weeks.
Regardless of if you've amassed the perfect roster or are just one piece away, standing firm with your team isn't always the right way to go. Fantasy football is a week-to-week game, which means that sometimes the best roster for Weeks 1-10, isn't the best roster for Weeks 11-16. With that in mind, I've gone through the remaining strength of schedule for each position and identified some players you should be looking to trade for or scoop off waivers depending on the size of your league.
Since this is a column about actually going out to try and acquire an asset, I'm not going to include players who aren't likely to be dealt. For example, the Tampa Bay Bucs have the easiest remaining schedule for wide receivers, but telling you to go get Mike Evans or Chris Godwin doesn't do you any good. You likely would already love to have them or their owner simply isn't likely to trade them. Either way, telling you to buy them doesn't give you a leg up on anybody else.
Editor's Note: Get any rest-of-season NFL Premium Pass for 50% off. Our exclusive DFS Tools, Lineup Optimizer and Premium DFS Research through the Super Bowl.
Sign Up Now!
Quarterbacks
Jameis Winston, Tampa Bay Bucs- #1 easiest schedule remaining
Add in 10-team leagues or larger
However, adding the quarterback for those two wide receivers may not be as universal since many owners have likely seen him play at least one game that made them nauseous. I can't advise to add him in all leagues because some people are in six-team leagues or do crazy things your parents told you never to do, but you should be trying to get Jameis in every league. Heading into Week 11, Jameis is the eighth-ranked quarterback in fantasy, so he's already a QB1 in 10-team leagues; however, everybody sees his high interception totals and baffling fumbles and thinks that he's a problematic quarterback. They're not wrong, but fantasy performance and real-life performance are not the same thing.
Bruce Arians' offense loves to take shots downfield, and Jameis' 10.7 aDOT (average depth of target) ranks fourth among starting quarterbacks, just ahead of Patrick Mahomes. He also has the second-most games with 300+ yards passing on the year and is tied for the league lead with the most games with 350+ yards passing. When you pair that desire to push the ball downfield, with his elite wide receivers, and the easiest remaining schedule for quarterbacks, you get a player who might just carry you to the championship.
Ryan Tannehill, Tennessee Titans- #2 easiest schedule remaining
Add in 12-team leagues or larger
Ryan Tannehill has been...good? Since taking over as the Titans starting quarterback is actually the fourth-ranked fantasy quarterback. Granted, it's only been four starts, but it's also because Tannehill is taking shots downfield that Mariota was afraid to. Tannehill's aDOT of 10.9 is third in the NFL so far this season, behind Matthew Stafford and Dak Prescott, and he has two 300+ yard passing games in his four starts.
If you want to harp on the fact that he's played the Panthers, Chargers, and Bucs that's fine, but he also has the second-easiest schedule going forward with games against the Jaguars, Raiders, Texans, and Saints on tap. More than those being mediocre secondaries, most of those teams will put up enough points on the Titans Defense that Tannehill will need to keep throwing in order to the Titans to have a shot. In some of those match-ups, he will also be startable in even 10-team leagues, so every owner should keep an eye on him.
Jimmy Garoppolo, San Francisco 49ers - #3 easiest schedule remaining
Stream in 14-team leagues or larger
Despite the beating that Garoppolo put on the Arizona Cardinals two weeks ago, he hasn't been a startable quarterback for much of the season. Going into last week, he was the 22nd-ranked quarterback on the season, and we know the 49ers want to run the ball, as they lead the NFL in rushing attempts with 330 on the season or just under 37 attempts a game. That prevents Jimmy G from being a guy I'd rely on in 12-team leagues; however, he's been the QB9 in the, admittedly super small sample size, time since Emmanuel Sanders was traded to the 49ers.
He also gets a great rest-of-season schedule that includes Arizona, New Orleans, and Atlanta. Those games could be shootouts, but the 49ers desire to run out the clock to keep those offenses off the field, in addition to their likely desire to do that against Baltimore, Green Bay, and the Rams, makes me less inclined to buy into Jimmy full-time. However, he's a great streaming option that should be on your radar and possibly in your roster for stretches between Weeks 10-11 and 14-16. UPDATE: Keep an eye on the Emmanuel Sanders injury news. If he's out for an extended period of time, Garoppolo won't be startable. 
Nick Foles, Jacksonville Jaguars -#5 easiest schedule remaining
Stream in 14-team leagues or larger
We have no idea what to make of Nick Foles now that he's back. Is he the same guy who carried teams to fantasy championships two years ago or simply the one who should be backing up the mythical Gardner Minshew? For his career, Foles has never been a guy who really pushes the ball downfield. In his starts with the Eagles last year, his aDOT was only 6.9 yards, which is relatively in line with his 7.4 career average. That's not even close to the 10.7+ that we were discussing from Winston and Tannehill. Additionally, 2014 was also the only season where he had more than two 300+ yard passing games, so he's never been one to put up gaudy passing numbers. However, he does have the fifth-easiest remaining schedule for quarterbacks and is coming into an offense that has solid receiving options in Dede Westbrook, Chris Conley, Keelan Cole, and emerging star D.J. Chark.
With a run from Weeks 13-16 that includes games against the Bucs, Chargers, Raiders, and Falcons, Foles could be taking teams back to fantasy titles. He's definitely worth owning in deep leagues for that stretch and might even be startable in 12-team leagues in those games against the Bucs, Raiders, and Falcons.
Running Backs
Derrius Guice, Washington Redskins - #3 easiest remaining schedule
Guice is likely owned in all dynasty leagues or leagues with an IR-spot, but he may still be sitting out there in shallow leagues or owners in a re-draft league may be looking to sell him in the hopes of acquiring a sure thing. If you've already locked in a playoff spot, you should be willing to take the plunge. He might not be for owners still battling to make the playoffs because his snaps are likely to be limited in his first game back off the IR, but the Redskins want to run the football, and they need to make sure he is their future at the position after not being able to stay on the field either of his first two years in the league.
James White, New England Patriots - #2 easiest remaining schedule
Add/ Trade For in 10-team PPR and half PPR leagues or larger
After scoring twelve total touchdowns last year, James White has only been able to cross the goal-line twice this season. It's contributed to White being the 32nd-ranked running back in Half-PPR formats going into this week. It also makes him the perfect buy-low candidate. White still has 404 yards receiving so far this year on 9.2 yards per catch, and he finished last year with 751 yards on 8.6 yards per catch. If he keeps up his current receiving pace, he'd actually finish with a near-exact yardage total as last season, so it's simply the touchdowns that are keeping him from being as viable an option as he was last year.
With games against the Eagles, Texans, Cowboys, Chiefs, and Bills still to come, the Patriots won't be able to simply rely on Sony Michel to run out the clock against inferior opponents. They'll need James White in the passing game to move the chains, which is why White is in for a strong finish to the season.
Tarik Cohen, Chicago Bears - #1 easiest remaining schedule
Add in 12-team PPR and half PPR leagues or larger
Tarik Cohen is another pass-catching back who has been a disappointment this year. In fact, most of the Bears offensive players have been. After rushing for 4.5 yards per carry and seeing eight yards per target last year, Cohen is rushing for 2.7 yards per carry this year and seeing only 3.9 yards per target. He's clearly been impacted as a runner by the emergence of David Montgomery and as a receiver by the regression of Mitchell Trubisky; however, his schedule sets up relatively nicely for him at the end of the season. Cohen is still on pace for 97 targets this year, which would be an increase from last year, and he's seen an average of six targets a game over the last five games.
Granted, his opportunities have dwindled since Montgomery has emerged as a bigger factor in recent weeks, but game-flow also played into that. The last game in which the Bears were truly in catch-up mode was against the Saints just after their bye, a game in which Cohen saw 12 targets. He's still going to be used when the Bears need to pass the ball, which could be often with games coming up against the Rams, Cowboys, Packers, and Chiefs. He's not going to be a sexy pick, and you might hate yourself for slotting him into your lineup, but his receptions will provide a nice floor during the upcoming bye weeks.
Ty Montgomery, NY Jets - #6 easiest remaining schedule
Add in 14-team PPR leagues or larger
This one is purely speculative, but so far Le'Veon Bell has undergone MRIs on multiple injuries, been on the trade block, and had to deal with rumors that his coach doesn't truly want him. We've seen that Le'Veon is not afraid to miss games when he has a point to make or feels that playing isn't in his best interests. If the Jets offensive line continues to allow him to get hit routinely near the line of scrimmage, it may only take one more big tackle before Bell gets banged up enough that he decides to sit out a few games with the Jets season going nowhere. If that were the case, it would be Montgomery that would benefit. He was brought to New York specifically by Gase because of his receiving chops, so added carries would only increase his value.
Wide Receivers
Calvin Ridley, Atlanta Falcons - #2 easiest remaining schedule
Add/ Trade for in 10-team leagues or larger
Yes, Ridley is owned in most leagues, but he's also only the 26th-ranked wide receiver in Half-PPR formats and 30th-ranked receiver in PPR-formats, so I doubt his owner is truly enamored with his production so far. Now would be the time to take advantage of that. With Devonta Freeman likely sidelined for a few games, I'd expect the Falcons to go to the air more, which means more targets for Ridley since Austin Hooper is also injured. Their next four games are against the banged-up Panthers secondary (twice), the Bucs secondary that allowed Christian Kirk to go supernova, and the Saints.
While last week's game against the Saints wasn't strong, the Falcons were also surprisingly up by a lot early and decided to simply turn to the run to keep the clock moving; I wouldn't expect that to happen again. Ridley has seen his target and snaps share rise since Mohamed Sanu was traded and has actually played more snaps over the last four weeks than Julio Jones, all while seeing an aDOT of 13.6 and over 25% of the team's total air yards. With game-breaking ability, a fixed role, and an enticing schedule, Ridley is a player you should be looking to add for the stretch run.
Dede Westbrook, Jacksonville Jaguars - #7 easiest remaining schedule
Add in 10-team leagues or larger
The move to Nick Foles potentially helped Dede Westbrook more than anybody. The former Oklahoma receiver looked locked in with Foles during the preseason, while Gardner Minshew tended to favor dynamic outside receiver D.J. Chark. Much of this has to do with Foles' more conservative style and desire to use the middle of the field. Westbrook has run 321 plays from the slot, which is over 100 more than the next closest Jaguar. Although Westbrook was sidelined last game with a neck injury, he's expected to be back at practice after the bye and ready to take on a tough Colts Defense.
After this week, Westbrook will see a banged-up Titans secondary, the Bucs, Chargers, Raiders, and Falcons - all among the worst fantasy defenses against wide receivers. With many people down on Foles or expecting Chark to continue to dominate touches, it's not a bad idea to take a flyer on Westbrook in the hopes that he remains the security blanket for Nick Foles against a string of beatable secondaries.
A.J. Brown, Tennessee Titans - #5 easiest remaining schedule
Add in 12-team leagues or larger
We all desperately wanted A.J. Brown to be a thing this past week. Corey Davis and Delanie Walker were out, and Ryan Tannehill was going to have to throw often to keep up with the Chiefs. However, it only amounted to one catch on four targets for the talented rookie. The good news is that Brown is staying on the field far more over the past few weeks. In fact, he leads the Titans in snaps over the last four games and is seeing just under 24% of the team's air yards. His aDOT with Tannehill under center has dropped to 8.5 yards, but that's actually led to more consistent production as he's being used more on intermediate routes.
The Titans will still obviously be an offense that runs through Derrick Henry, but Tannehill has breathed life into the passing game, and the Titans will face the Raiders, Texans, and Saints to close out the season. Those are all subpar secondaries and games that the Titans will likely need to be playing catchup, which means A.J. Brown could help you bring home a title.
Zach Pascal, Indianapolis Colts - #3 easiest remaining schedule
Add in 12-team leagues or larger
Pascal is another receiver who disappointed in a strong matchup last week, securing only two of his seven targets in a loss to the Dolphins. However, the good news is that he's seen at least six targets in four of his last six games, only two of which were without Hilton. He's the clear #2 wide receiver and still a crucial part of the passing attack, and he's shown the ability to make plays with the ball in his hands. What's more, his aDOT of 11.6 puts him in good company with fantasy receivers like Keenan Allen (11.8), Allen Robinson (11.5), and Davante Adams (11.4), receivers who are used to move the chains but also involved in shots down the field.
Pascal's usage will take a hit when TY Hilton returns, but his efficiency will also improve when Jacoby Brissett comes back as well. With upcoming games against the Texans, Titans, Bucs, Saints, and Panthers, he's worth stashing on your bench as a reliable option who could be a solid WR3 in those matchups.
Tedd Ginn, New Orleans Saints - #6 easiest remaining schedule
Add/Trade for in 14-team leagues or larger
Ginn is one of those old reliable options that tend to get overlooked in fantasy. He's always going to be second-fiddle to Michael Thomas, and the Saints will never get far away from their running backs, so Ginn is not going to become a dominant player on your fantasy team. However, he's going to continue to play easily the second-most snaps at wide receiver, see three to six targets a game, and get chances downfield with a ridiculous 14.8 aDOT. In simple terms, Ginn will always get one or two chances a game to swing your fantasy week with one play. That's not something you want to rely on in most situations, but Ginn will have showdowns with the Bucs, Panthers, Falcons, and Titans coming up, which makes him worth the gamble.
Tight Ends
Gerald Everett, LA Rams - #2 easiest remaining schedule
Add/Trade for in 10-team leagues or larger
Many people are probably only looking at Everett as a potential fill-in while Brandin Cooks is out, but he's somebody you should think about adding and keeping at your tight end position for the long haul. He saw 12 targets this last week against Pittsburgh and is still out-snapping Higbee consistently. Since becoming a regular piece of the Rams offense in Week 5, Everett has seen 20.6% of the team's targets and 24.2% of the air yards. His 7.0 aDOT over that span puts him right in line with Darren Waller (7.0), Travis Kelce (6.9), and George Kittle (6.9), so the opportunity is near elite for Everett.
Yes, Jared Goff has looked bad recently, but we're also consistently trusting tight ends who are catching passes from Jimmy Garopolo, Daniel Jones, Derek Carr, and Kyle Allen, so average quarterback play isn't a dealbreaker here, especially when Everett gets to face off against the Cardinals (last versus TEs), Bears (26th), Seahawks (23rd) , and Cowboys (29th) in the final weeks of the season.
T.J. Hockenson, Detroit - #1 easiest remaining schedule
Stream in 10-team leagues or larger
Tight end is a tough position to learn in the NFL, so it's rare to see a rookie come in and immediately establish value. The fact that Hockenson has even flashed fantasy relevance in his first year suggests that there is real staying power there. As he's grown more comfortable, he's also become more of a factor in the Lions offense. He's been targeted at least five times and hauled in three catches in four of his last five games and has been taking an increasingly amount of snaps from Jesse James. He's still only seeing around 11% of the team targets, so he's unlikely to be a long-term option, but tight end is a fantasy wasteland, and Hockenson is a consistent part of an offense that will face a string of defense that give up a lot of points to tight ends: Cowboys, Bears, Bucs (31st versus TEs). He'll be well worth an add for those games.
More Fantasy Football Analysis