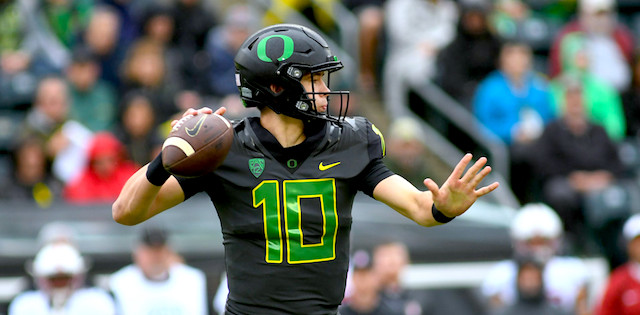 It's time for the best -- or, if you think 300-something games is too many, the worst -- part of the football season: Bowl games.
This year, we've got 40 bowl games in total. That's a lot of games to sit through, especially if you're not a big college football fan, so let's give y'all, the fantasy sports addict who is reading this column, a reason to watch some bowl games.
Below, I'll be highlighting one player -- with a few exceptions -- from each game that fantasy owners should pay attention to. These will mostly be juniors and seniors who should be on fantasy radars now or in the near future, with some players being big re-draft targets and others being sleepers who you should keep your eyes on in dynasty leagues. And always remember: Prospects are skipping bowl games more and more often lately, so I can't guarantee these guys all show up to play.
Editor's Note: Get any rest-of-season NFL Premium Pass for 50% off. Our exclusive DFS Tools, Lineup Optimizer and Premium DFS Research through the Super Bowl.
Sign Up Now!
December 20th
Bahamas Bowl: Charlotte 49ers (7-5) vs. Buffalo Bulls (7-5)
Player to watch: While the most interesting player might be Buffalo running back Jaret Patterson, he's only a Sophomore right now, so the more immediate player to watch is Charlotte running back Benny LeMay. An Achilles injury slowed him down this year, but the 5'9'' back should get looks at either the end of the draft or as an UDFA. Averaged over five yards per carry this year and caught four touchdown passes. Could be a situational rusher if he lands in the right spot.
Frisco Bowl: Kent State Golden Flashes (6-6) vs. Utah State Aggies (7-5)
Player to watch: Jordan Love is in the quarterback conversation, and he fits this "big arm, accuracy concerns, and wants to get out of the pocket" mode that helped guys like Josh Allen and Daniel Jones climb draft boards as we approached the draft itself. Don't be surprised to see Love put up big numbers in this one and start the climb up draft boards. He's going to be this year's divisive quarterback, so this is good prep work for the next few months of arguing.
December 21st
New Mexico Bowl: Central Michigan Chippewas (8-5) vs. San Diego State Aztecs (9-3)
Player to watch: This is one of those games where it's hard to really find a guy. Both team's best prospects are on the defensive side of the ball, but maybe SDSU running back Juwan Washington might catch your eye? Though he's struggled lately, and nothing about him really screams NFL prospect. Maybe just watch this game for fun.
Cure Bowl: Liberty Flames (7-5) vs. Georgia Southern (7-5)
Player to watch: Liberty wide receiver Antonio Gandy-Golden is the guy to watch here, and he's also one of the more interesting wide receiver prospects in this class. It feels like all the hype about him has calmed down, but there was a time when I saw a lot of Twitter discussing him. Right now, he's a tall guy who isn't fast enough to be a consistent downfield threat. I'm honestly not sure what to think of him in terms of his NFL chances, as I could see most NFL defenses finding easy ways to limit his involvement. But hey, he's going to be in training camp somewhere next year, and this is a chance to see him against a middle of the road NCAA defense.
Boca Raton Bowl: Florida Atlantic Owls (10-3) vs. SMU Mustangs (10-2)
Player to watch: SMU has some interesting players, but this column is light on tight ends, so let's talk briefly about Florida Atlantic tight end Harrison Bryant, the winner of this year's John Mackey Award for best tight end. Bryant caught 65 passes for 1004 yards and seven touchdowns as a senior, and he had 16 touchdown receptions during his collegiate career. He's a top five tight end prospect in this class and has a lot of receiving skills, though we all know tight end is a tough position to project.
Camellia Bowl: Florida International Panthers (6-6) vs. Arkansas State Red Wolves (7-5)
Player to watch: FIU junior wide receiver Jeremiah Holloman is the only real prospect on these teams, but he won't be playing in this game because he was ineligible this year after transferring from Georgia. He was kicked off the Bulldogs team after an alleged assault, and should suit up for the Panthers next year.
Las Vegas Bowl: Washington Huskies (7-5) vs. Boise State Broncos (12-1)
Player to watch: Quarterback Jacob Eason has risen up draft boards and finds himself in the conversation to be the third QB off the board. If he declares for the draft, he's a guy with all the physical tools to be successful, but who'll need to work on his consistency if he wants to wind up as an NFL starter. Boise isn't an elite defensive team, so Eason should be able to put together a solid performance in this one.
New Orleans Bowl: UAB Blazers (9-4) vs. Appalachian State Mountaineers (12-1)
Player to watch: Appalachian State running back Darrynton Evans finished his junior campaign with 22 total touchdowns. He gets involved on the ground and through the air, where he had 18 catches for 193 yards and five scores. Highly, highly doubt he declares early, but a good chance to watch a guy who'll be an intriguing 2021 prospect.
December 23rd
Gasparilla Bowl: Marshall Thundering Herd (8-4) vs. UCF Knights (9-3)
Player to watch: This is not the UCF of old that was always a threat to go undefeated, but it's still a good team. Junior wide receiver Gabriel Davis is the highest ranked prospect in this game. Strong hands and good deep speed that helped him catch 12 touchdowns and finish with 1241 yards on the year. He declared for the draft and reportedly intends to play in this game, though there's obviously the risk that he doesn't.
December 24th
Hawaii Bowl: BYU Cougars (7-5) vs. Hawaii Rainbow Warriors (9-5)
Player to watch: Couple of interesting juniors here. Hawaii quarterback Cole McDonald leads a high-powered offense, but the better NFL prospect here is BYU tight end Matt Bushman. He'll probably wait until 2021 to head to the NFL, but he's still worth keeping an eye on here. Bushman led the Cougars in receiving yards, catching 41 passes for 597 yards and four touchdowns.
December 26th
Independence Bowl: Louisiana Tech (9-3) vs. Miami Hurricanes (6-6)
Player to watch: Miami's got a good number of non-elite prospects. I'll highlight the one who's a senior, which is wide receiver K.J. Osborn. He took a step back production-wise after being productive for Buffalo, with his grad-transfer season with Miami saw him catch 45 passes for 491 yards and five touchdowns. It'll be interesting to see how he tests and where he winds up in training camp.
Quick Lane Bowl: Eastern Michigan Eagles (6-6) vs. Pittsburgh Panthers (7-5)
Player to watch: Pittsburgh has some good defensive players -- Jaylen Twyman, Kylan Johnson, Deslin Alexandre -- who might be on your IDP radar at some point, but this is a game where I really tried to find an NFL offensive prospect and just failed miserably. Sorry.
December 27th
Military Bowl: Temple Owls (8-4) vs. North Carolina Tar Heels (6-6)
Player to watch: Another one of these "hmm, is there an offensive guy here?" games, but if I had to pick someone it would be Temple wide receiver Isaiah Wright. His raw numbers aren't super impressive, but he's an explosive athlete with good size. I'd bet he at least gets looked at as an UDFA.
Pinstripe Bowl: Wake Forest Demon Deacons (8-4) vs. Michigan State Spartans (6-6)
Player to watch: It's not too often that you hear "Wake Forest" and "fantasy prospect" in the same sentence, but wide receiver Sage Surratt can change that. The 6'3'' receiver should be able to succeed in the NFL as a super physical receiver who can go up and make plays over smaller defenders. He'll be hard to tackle. He's also not playing in this game because of injury, so pivot your eyes over to his quarterback, Jamie Newman.
Texas Bowl: Oklahoma State Cowboys (8-4) vs. Texas A&M Aggies (7-5)
Player to watch: Chuba Hubbard! The Oklahoma State running back is incredibly fast and has good size, though concerns about blocking and his lack of passing game involvement are both concerning issues. But the speed! And the college production! I'm super interested in him in rookie drafts next year depending on where he ends up, though I don't know if he ends up being an every-down back at the next level.
Holiday Bowl: Iowa Hawkeyes (9-3) vs. USC Trojans (8-4)
Player to watch: Alert: there is not an Iowa tight end for you to pay attention to this year. But there is a good USC player to watch in wide receiver Michael Pittman Jr. Pittman's a good route runner who caught 95 passes this year, the third-most in the FBS. In 2018, he led the Pac-12 in yards per catch. He's served as a punt returner in the past as well.
Cheez-It Bowl: Air Force Falcons (10-2) vs. Washington State Cougars (6-6)
Player to watch: Washington State quarterback Anthony Gordon is someone who's gotten some hype from some people. He's got a good arm, but he's also only really got one year of tape for us to go off of, as he was stuck behind Gardner Minshew last year. Those two could actually have a fairly similar path to the NFL -- Gordon gets picked late, and can be a solid but sometimes-struggling passer.
December 28th
Camping World Bowl: Iowa State Cyclones (7-5) vs. Notre Dame Fighting Irish (10-2)
Player to watch: Breaking the established rules of this article straight out of the gate to mention Iowa State sophomore quarterback Brock Purdy. I think Purdy has a real shot to declare for the 2021 NFL Draft and be one of the top quarterbacks picked. It's a little early to say too much about Purdy's chances in the NFL, but he's a fun one to watch and someone to circle moving into the 2020 college season.
Cotton Bowl Classic: Memphis Tigers (12-1) vs. Penn State (10-2)
Player to watch: Penn State wide receiver K.J. Hamler isn't in the top tier of wide receivers, but he's a fast player who could be a deep threat, field-stretching option on a pass-happy NFL team. Think about what healthy Will Fuller does for the Texans. Of all the players in this class, Hamler has to best chance to be that type of guy, which is obviously a good thing, though he might not be as complete of a receiver as some other players in his class.
Fiesta Bowl: Ohio State Buckeyes (13-0) vs. Clemson Tigers (13-0)
Players to watch: This game is big enough for me to highlight more than one player.
Let's start with the Buckeyes. Keep an eye on running back J.K. Dobbins, who's likely a second-round pick. Dobbins is a strong runner, and while I don't know if he's got the versatility to be effective as a receiving option at the next level, he should be able to provide powerful rushing between the tackles wherever he lands.
And for Clemson, while the obvious name is quarterback Trevor Lawrence, he's still a year away from NFL Draft eligibility, so in terms of who to watch for this year, keep an eye on wide receiver Tee Higgins. Higgins is a big play receiver who should be useful on the outside. Jump ball, red zone guy in the NFL. Running back Travis Etienne will also get drafted, who is incredibly fast and should be a useful receiving back in the NFL, though he'll need to work on pass protection. Both Clemson players could be gone by the end of Round 2.
Peach Bowl: LSU Tigers (13-0) vs. Oklahoma Sooners (12-1)
Players to watch: For LSU, I could talk about a handful of guys, but let's just focus on Joe Burrow. He's the best quarterback prospect in this draft and will probably be starting for the Cincinnati Bengals by this time next year. Burrow is a smart passer with a good arm and the ability to get away from pressure, which will be necessary if he plays behind that Bengals line. He's not a running quarterback, but he's good enough with his feet to make things work. There's a slight worry that he's a one-year wonder, but everything I've seen from Burrow this year screams I'm an NFL quarterback.
Oklahoma's quarterback, Jalen Hurts, might be an NFL-quality quarterback too, but he'll likely be a late-round pick. If you want to see a guy who's going to be playing meaningful NFL snaps faster, you're looking at wide receiver CeeDee Lamb. Lamb's either the best or second-best receiver in this draft depending on your thoughts on Jerry Jeudy, and Lamb's just so, so good at making big plays. Good hands. Finds the ball. Physical. Fast. Lamb's got all the things you want in a number-one receiver.
December 30th
First Responder Bowl: Western Michigan Broncos (7-5) vs. Western Kentucky Hilltoppers (8-4)
Player to watch: A knee injury could keep Broncos running back LeVante Bellamy from playing, but if he suits up you'll get to watch a guy who ran for 23 touchdowns this season. He's a smaller back with an injury history, so he's likely going to slide during the draft or end up going undrafted, but he intrigues me.
Music City Bowl: Mississippi State Bulldogs (6-6) vs. Louisville Cardinals (7-5)
Player to watch: Bulldogs running back Kylin Hill, should he declare, has a chance to be a productive player as a mid-to-late round draft pick. Didn't find the end zone as much as some other backs, but averaged over five yards per carry for the third year in a row. That he did so in a year where his carries basically doubled from his previous season is pretty impressive.
Redbox Bowl: Illinois Fighting Illini (6-6) vs. Cal Golden Bears (7-5)
Player to watch: Illinois running back Reggie Corbin. (You know...this is an incredibly deep running back class, isn't it?) Corbin's a smaller speedster who can take off like a rocket. Won't be able to be a three-down guy in the NFL but could find a situational role.
Orange Bowl: Florida Gators (10-2) vs. Virginia Cavaliers (9-4)
Player to watch: Running back Lamical Perine isn't going to be one of the top backs when the NFL Draft gets here, but he has the makeup of a guy who can stick around the league for a while. Good runner. Good blocker. Good receiver. I don't know if there's necessarily something he's going to excel at, but he's solid in all the ways a depth running back needs to be solid. I can see him being a guy who you add on waivers in Week 12 and then end up starting a couple of times and having no complaints about.
December 31st
Belk Bowl: Kentucky Wildcats (7-5) vs. Virginia Tech Hokies (8-4)
Player to watch: Not really a banner year for either of these teams when it comes to offensive prospects, but I said I'd pick someone from each game so let's go with Hokies tight end Dalton Keene. He had four touchdown receptions and will more than likely be a 2021 prospect, so not someone to concern yourself with for 2020.
Sun Bowl: Arizona State Sun Devils (7-5) vs. Florida State Seminoles (6-6)
Players to watch: Two Arizona State players to mention here. Sun Devils wide receiver Brandon Aiyuk went from a relative nobody to a solid NFL prospect in one year. And although guys who make that quick of a leap sometimes come with sustainability concerns, Aiyuk can play inside and outside and has a ton of both speed and size. He can also force missed tackles and break away from defenders.
Arizona State running back Eno Benjamin and Florida State running back Cam Akers are both going in the first round of rookie mocks. Both are strong as runners and receivers and both are going to be talked about a lot in the near future, and probably by me on this website, so I'll leave them alone for now. Just watch the run game.
Liberty Bowl: Navy Midshipmen (9-2) vs. Kansas State Wildcats (8-4)
Player to watch: Kansas State running back James Gilbert didn't have the greatest year after transferring from Kent State, but he's a tough runner who was getting some underground hype back in his MAC days. The fact that his best season came in 2016 is worrisome.
Arizona Bowl: Georgia State Panthers (7-5) vs. Wyoming Cowboys (7-5)
Player to watch: Let's talk about a kicker. Wyoming's Cooper Rothe came into the season looking like one of the best kickers in the country after connecting on all 28 of his extra points and 16 of his 17 field goals in 2018. This year's been rougher, as he's hitting just 91.4 percent of his extra points and 70 percent of his field goals. But maybe this year was just an unfortunate blip on his resume?
Alamo Bowl: Texas Longhorns (7-5) vs. Utah Utes (11-2)
Player to watch: This is a weird matchup because you'd think Utah would have ended up playing a better opponent. Regardless, running back Zach Moss is the main focal point here. I've seen him described online as a "tank," which seems appropriate. Powerful runner. Good receiver. A steal in the second round of rookie drafts. (Texas also has a couple of wide receivers you should be watching in this one in Devin Duvernay and Collin Johnson.)
January 1st
Citrus Bowl: Michigan Wolverines (9-3) vs. Alabama Crimson Tide (10-2)
Player to watch: With Alabama quarterback Tua Tagovailoa out for this one, it's all about Crimson Tide wide receiver Jerry Jeudy. Arguably the best receiver in the upcoming draft class, Jeudy's an expert route runner who can play inside and outside at the next level. He has the speed to break things open and the hands to catch anything that gets near him. He's the complete package as a wide receiver, and though the position has been tough to predict lately in terms of top-end prospects, Jeudy really should be a can't-miss player.
Outback Bowl: Minnesota Golden Gophers (10-2) vs. Auburn Tigers (9-3)
Player to watch: The Big 10's got some good wide receivers this year, and Minnesota's Tyler Johnson is probably the best of them. Johnson does everything in the receiving game for the Golden Gophers, with his physical build making him someone who can thrive inside and outside. Johnson looks like a solid NFL player, the kind who continually racks up difficult catches and somehow puts up 15 fantasy points every game without you realizing he's gotten to that number.
Rose Bowl: Wisconsin Badgers (10-3) vs. Oregon Ducks (11-2)
Players to watch: Wisconsin running back Jonathan Taylor is arguably the best running back in college football. But questions about his abilities in the receiving game -- this was the first season of his college career where he really did that -- have him looking like the second-ranked running back in this draft class. Taylor's a big, powerful runner with speed and I think the worst-case scenario for him is that he's basically Derrick Henry.
Oregon quarterback Justin Herbert is probably going to be drafted earlier than he should be. He's the third-best quarterback prospect in a draft where I personally don't love the quarterback prospects. He's got a good arm, but there are questions about his accuracy, and he's likely going to wind up picked sometime in the middle of the first round. It will be interesting to see how long it takes for him to see the field in the NFL.
Sugar Bowl: Georgia Bulldogs (11-2) vs. Baylor Bears (11-2)
Player to watch: This game is probably where the 1.01 rookie pick in non-Superflex leagues is coming from, and that's Georgia running back D'Andre Swift. He's got an inside running game, an outside running game, and a receiving game. Swift can stay on the field on any down and will be able to make big things happen as a rusher and as a pass-catcher. I'm all in on Swift, and I'm excited to see what he does against Baylor.
January 2nd
Birmingham Bowl: Boston College Eagles (6-6) vs. Cincinnati Bearcats (10-3)
Player to watch: Bearcats tight end Josiah Deguara is a good receiver and a solid blocker. He can be used at tight end but can also slide out into the slot if needed. He will need to work on his blocking, but Deguara seems like a solid tight end who should stick in the NFL. Maybe he won't be in that elite tier of guys at the position, but a future as a streamable fantasy tight end is a fine future.
Gator Bowl: Tennessee Volunteers (7-5) vs. Indiana Hoosiers (8-4)
Player to watch: Vols wide receiver Jauan Jennings will actually miss the first half of the Gator Bowl due to a flagrant foul and there's no telling if he plays the second half, but if he does you'll get to see a solid receiver with good size who... ehh, who am I kidding. There's no way Jennings is playing in the second half of this one. Just wait and watch him at the Senior Bowl.
January 3rd
Famous Idaho Potato Bowl: Ohio Bobcats (6-6) vs. Nevada Wolf Pack (7-5)
Player to watch: Bobcats quarterback Nathan Rourke threw 20 touchdowns, rushed for 12, and also caught one. He's also from Canada. I think his chances of making the NFL aren't great, but maybe he'll be a great fantasy quarterback in the XFL? Or maybe I'm wrong and his skill set will land him a unique role in the NFL. Maybe he's a Taysom Hill kind of guy. (Ed. note: This game goes best with a heaping helping of Idaho potatoes.)
January 4th
Armed Forces Bowl: Tulane Green Wave (6-6) vs. Southern Miss Golden Eagles (7-5)
Player to watch: This is... a game. Tulane quarterback Justin McMillan is a former LSU player who transferred to Tulane and is fun to watch. This game doesn't really have any NFL implications, but enjoy McMillan's last collegiate game.
January 6th
LendingTree Bowl: Miami RedHawks (8-5) vs. Louisiana Ragin' Cajuns (10-3)
Player to watch: The last regular bowl game of the season arrives on January 6th, and it's another without much bearing on the NFL draft. Lousiana senior wide receiver Ja'Marcus Bradley probably isn't heading to the NFL, but he's had 18 touchdowns over the last two years and started off his career as a defensive back, so enjoy his final college game in this bowl season finale.
More Fantasy Football Analysis