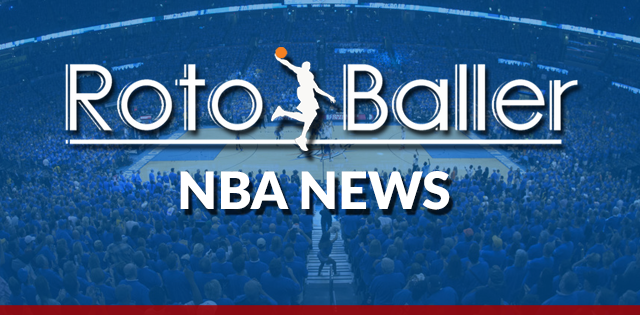 Welcome to the RotoBaller NBA Recap. In this feature, we will highlight one key fantasy basketball takeaway from each night during the past week. These viewpoints can be both positive and negative and will hopefully help to provide insight into different roster moves you should consider making.
Fantasy basketball has a lot of moving pieces with all the different scoring settings that are possible to play under, so I will always do my best to spotlight where players gain or lose value in certain game types.
Without further ado, let's get right into the fifth week of the season and try to figure out how to take advantage of what we saw transpire.
Editor's Note: Our friends at Monkey Knife Fight have the best, most fun, fastest growing DFS props game! It's super simple to play and to win real money. Just choose your NBA, NHL or PGA game, and make your picks! Get a 100% instant deposit bonus up to $50 using promo code: BALLER. That's $50 for free - don't miss out!
Play Now!
Monday, November 18th
Luka Mania Has Reached An All-Time High
If you didn't have Luka Doncic on your shortlist to be league MVP, you might want to add the second-year star to that file ASAP. Doncic erupted on Monday night for a career-high 42 points, adding 11 rebounds, 12 assists and five three-pointers made in 35 minutes of action.
There are a lot of statistics you could decipher when it comes to what the Slovenian is doing so far in 2019, but what better way to show his excellence than looking at his last nine game logs. Since November 1st, Doncic is averaging an absurd 31.5 points, 11.5 rebounds and 10.4 assists. Hyperbole in sports often runs rampant, but I'm honestly not sure we have seen someone like this at such a young age since LeBron James.
I realize we are only 13 games into the regular season, but Doncic is currently providing the best player efficiency rating, win share per 48 minutes and box plus/minus of any player at the age of 20 in NBA history and currently trails only LeBron James for value over replacement player during his 2004-2005 campaign. It would be foolish to claim Doncic is going to continue to match James' career trajectory from here on out, but his 14 career triple-doubles before turning 21 has him first all-time - seven above Magic Johnson and nine over LeBron. We will see if Doncic can keep this up, but I'm not betting against him at this point.
UPDATE: Doncic provided his 15th triple-double of his career on Wednesday night, scoring 35 points to go with 10 rebounds and 11 assists. The performance made him the youngest player with consecutive 35-point triple-doubles in NBA history.
Tuesday, November 19th
Camelo Anthony Makes Portland Trail Blazers Debut
All in all, Carmelo Anthony had a moderately successful debut with the Portland Trail Blazers, scoring 10 points to go with four rebounds and a block. However, it was his 24 minutes of on-court action that was the biggest headline for me on the day. I wouldn't have thought in the year 2019 that the 35-year-old would have been signed off the streets to play over 20 minutes for an NBA franchise, but the Trail Blazers do seem serious about giving him a substantial role going forward. Does that make him worth owning in fantasy, and what should we expect from him as the year stretches on?
Whether you are in a point-based or category league, the answer remains the same for me across the board. For the record, I do think we see Anthony's points per game rise once he gets his shot somewhat figured out, but I am not exactly sure what he brings to a fantasy squad in terms of help. In category leagues, he is an absolute disaster that will punt just about every category outside of scoring, which adds to his issues in point leagues since you are acquiring a one-dimensional player. Anthony does probably add enough in the scoring category to make him a borderline top-150 player in purely point-based groups, but I view him as almost unownable in any league size for category settings. If you did pick him up, it doesn't hurt to try and move him to an owner that associates past success with current expectations, but his scoring production can never outweigh his other flaws.
Wednesday, November 20th
Miami Heat shooting guard Duncan Robinson caught fire from long range on Wednesday night, producing a new franchise record by making seven triples in a single quarter. Robinson eventually ended the contest going 9-for-15 from behind the arc, with all of his attempts coming from long range.
The undrafted free agent out of the 2018 draft class has had an interesting journey to the pros, starting out as a Division III player for Williams before transferring to Michigan to complete his college experience. Robinson was eventually able to make the Miami Heat's Summer League squad and earned a two-way contract because of his stellar play.
Since the 25-year-old has entered the starting lineup this season, the group has featured a +24.0 net rating in their first eight games together, so it may not be easy for head coach Erik Spoelstra to remove Robinson when Justice Winslow does ultimately return from his concussion. Unfortunately, with that situation looming and the fact that Robinson hasn't proven to be much more than a three-point specialist, it is hard to condone him as much more than a streaming option for squads seeking some help from deep.
Thursday, November 21st
Should Skal Labissiere Be Added To Your Team?
It was a quiet night around the NBA with only two games in action on Thursday, but Skal Labissiere did give fantasy owners a reason to look his way as a possible addition in 12-team leagues and beyond.
Labissiere blocked a career-high five shots against the Milwaukee Bucks and added 22 points, 12 rebounds, three assists, one steal and two three-pointers to the cause for good measure. There are a few things that need to be pointed out that will hurt the 23-year-old going forward, but it is also worth noting that the former Kentucky product did do this against one of the best interior defenses in the NBA and that alone should make you give him a second glance.
If we are looking at the negatives, there isn't consistent enough playing time available for Labissiere when starting center Hassan Whiteside is active, and early reports still have the rebounding savant as day-to-day to return. In order for Labissiere to be ownable in 12-team leagues, I would think he needs to carve out a role for the Blazers that would yield between 22-25 minutes. I don't think that is likely as of right now, but if you do have a deep bench or play in a setting beyond 12 owners, it wouldn't hurt to stash the 6'10" forward/center for a week and see if head coach Terry Stotts is willing to increase his playing time.
Friday, November 22nd
Alec Burks Needs To Be Owned In All Standard Leagues
Alec Burks made seven of 18 shots from the floor and four of four from the charity stripe during Friday's loss to the Utah Jazz, ending the game with 20 points, six rebounds, three assists, four steals and two three-pointers in 35 minutes of action.
The performance gives Burks his third game of at least 20 points in his previous five outings, which has shown by his usage rating jumping to the mid-twenties during that stretch. The Warriors are desperate for bodies right now, and with Draymond Green and D'Angelo Russell still sidelined with injuries, the 28-year-old should be a steady producer for borderline top-100 value in all settings. If he is available in your league, swipe him up and enjoy the production. You can always reassess once Green and Russell return to the lineup.
More Fantasy Basketball Analysis