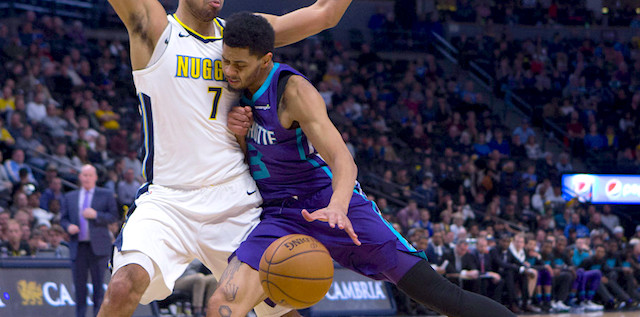 The fourth week of the NBA season is already upon us! If you're here to read Dicky Fung's great column about who to add on waivers for the week ahead, I have some bad news, which is that I'm filling in for Dicky this week. But it's okay -- he'll be back for next week.
Week 4 is the time where you can start to feel better about the prospect of dropping guys who just aren't doing it for you. If you want some ideas of who you can safely move on from, check out Trevor Crippen's great Cut List from a few days ago. Some great thoughts on what guys you can go ahead and cut before you add someone from the list below.
Alright, let's get into it. Below are some recommended waiver wire pickups for Week 4 of the fantasy basketball season. See who you should be grabbing to help your depth as you try to either keep your winning ways going...or try to get things back on the right track.
Editor's Note: Get any full-season NBA and DFS Premium Pass for 50% off. Our exclusive Preseason Draft Kit, 10 In-Season Lineup/DFS tools, and daily Premium DFS Research.
Sign Up Now!
Week 4 Schedule
4 Games - Atlanta, Boston, Denver, Detroit, Houston, Indiana, Miami, Milwaukee, New York, Oklahoma City, Orlando
3 Games - Brooklyn, Charlotte, Chicago, Cleveland, Dallas, Golden State, Los Angeles Clippers, Los Angeles Lakers, Memphis, Minnesota, New Orleans, Philadelphia, Phoenix, Portland, Sacramento, Toronto, Utah, Washington
2 Games - San Antonio
Week 4 Standard Leagues - Waiver Wire Pickups
Here are players whose current ownership level is between 30 and 70 percent.
Mitchell Robinson- C - Knicks (39% Ownership)
The rookie has already displaced Enes Kanter from the Knicks starting lineup -- no small feat considering Kanter was arguably New York's best healthy player heading into this season. In his first four games as a starter, Robinson averaged 7.8 points, 5.8 rebounds, 1.5 steals, and 1.0 blocks per game while shooting 68.4 percent from the field. Robinson has a chance to be a nightly double-double threat while also providing blocks and steals for fantasy owners.
Joe Harris - SG/SF - Nets (56% Ownership)
"Beef Jerky Joe," as I am now calling him forever after a YES Network contest that was looking for a new nickname for Harris had that as an option, is finding his shooting groove for the Nets this season. He's hit double figures in scoring in four consecutive games and, more importantly, he's hit 14 threes over that span. Nets head coach Kenny Atkinson likes to use a Mike D'Antoni-esque system of firing from outside, and Harris has been the perfect fit for that system. He's locked in a role as a starter and heavy minutes player for this team even though it looked like he'd be little more than a bench option heading into the season.
Jae Crowder -  PF - Jazz (54% Ownership)
Last season soured a lot of people on Jae Crowder, but he's carved out a good niche in Utah this year. He's averaging 18 points, six rebounds, and a block over the past four games while shooting 46.7 percent from three-point range. His free throws haven't been falling this year, but with nearly a steal per game on his resume as well over this stretch, Crowder is turning into a must add option.
Pascal Siakam - PF - Raptors (59% Ownership)
I did not expect the Pascal Siakam breakout this year. He's averaging 10.8 points, 6.8 rebounds, and 1.2 steals per game while shooting 60.9 percent from the field. The free throw shooting isn't great -- he sits at 58.8 percent from there -- but he has improved to 62.9 percent from there over the last four games. If Siakam can start hitting from deep at some point -- he's taking a decent amount of shots from three but hasn't really connected much yet -- then he'll take another big step as a fantasy asset.
E'Twaun Moore - SG/SF - Pelicans (42% Ownership)
Moore has seen a big increase in his numbers this year with New Orleans, and through nine games he's averaging 14.9 points per game on 53.6 percent shooting with 1.8 made threes per game. Of course, there are a lot of things that Moore won't give you, as he's mostly a non-entity when it comes to assists and rebounds, so he's best used in lineups that view those categories as peripheral to the team's ultimate goal. But as a cheap source of points, threes, and good averages? Yeah, Moore is useful.
Jeremy Lamb - SG/SF - Hornets (39% Ownership)
Small sample, but over Lamb's last two games he's scoring 16 points per game with 8.5 rebounds, and he's done that while not shooting all that great from the field. If we assume that Lamb is bound for some regression to the mean as a shooter, he should be on his way to numbers that resemble last year's (minus about an assist per game). He can put up points, shouldn't hurt your percentages much, and is also averaging 1.1 steals per game.
Week 4 Deeper Leagues - Waiver Wire Pickups
Here are some players with a current ownership rate of under 30 percent.
Noah Vonleh - PF - Knicks (25% Ownership)

I felt a lot better about Vonleh before the last two games, when he played a total of 20 minutes. Vonleh had some strong rebounding efforts earlier in the week and when he shoots the ball he does so at a very efficient clip -- but yeah, the pair of 10-minute games is the reason he's down here on the deep league list instead of up higher. The Knicks have a pretty crowded rotation, and as long as Enes Kanter is on the team there's the threat he has taken boards and points away from the other frontcourt options, but if you're in a deep league with some space, Vonleh is worth a look to see if he gets back to the heavier minutes he'd been seeing.
Josh Okogie - SG - Timberwolves (15% Ownership)
With Jeff Teague (knee contusion) missing three straight games, a door has opened for Josh Okogie, and with the mounting uncertainty about Jimmy Butler's future in Minnesota, that door may stay open for a while. While Okogie was a relative non-factor against the Trail Blazers on Sunday, he put up a 15-point, five-rebound outing against the Warriors on Friday and a 10-point, four-rebound performance against the Jazz on Sunday. He's already put up multiple steals three times in his short rookie season, and deep league owners may want to grab him in case he winds up seeing an increase in minutes the rest of the way thanks to the Butler situation.
Shelvin Mack - PG - Grizzlies (8% Ownership)
Shelvin Mack is best known as the guy who ended last season with the highest assist per game average on the Magic despite that number just being 3.9, but he's been more than that for the Grizzlies this year. I'll be the first to admit that I don't know what the Memphis rotation is -- for example, on Sunday Garrett Temple played 36 minutes, Dillon Brooks played a season-high 29 minutes after nearly falling out of the rotation at one point this year, and Mack played his third straight game with 28 or more minutes. On Sunday, he finished with 21 points, four assists, and four steals, and he's hitting 66.7 percent of his threes over the past three games. It's an impressive stretch for Mack, and while Memphis is likely to continue being a little weird about minutes distribution, Mack looks poised to stay in the rotation for a while at this point.
Troy Williams - SG/SF - Kings (0% Ownership)
I've been a big Troy Williams fan ever since the Rockets picked him up during his rookie season. With Sacramento, Williams has played three games, and while he wasn't much of a factor against the Wizards he has averaged 11.5 points and four rebounds over his past two games. If you have bench room in a deep league, there are worse options than Williams, who figures to play between 15 and 25 minutes if he's healthy and if the Kings are still in this weird universe where they aren't a terrible basketball team.
More Fantasy Basketball Analysis
By popular demand, RotoBaller has aggregated all of our fantasy basketball NBA waiver wire pickups into a running list of NBA waiver options, so bookmark the page and check back often for updates.