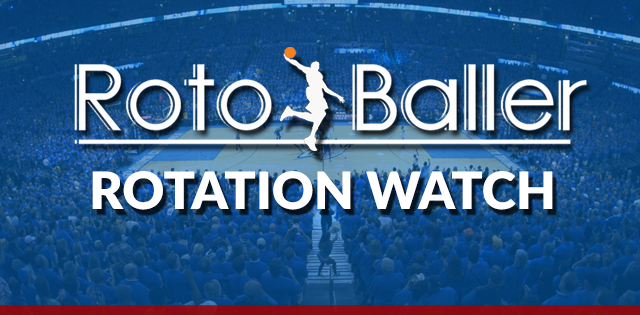 Welcome to Rotation Watch, Rotoballers! Each week, this article will highlight the players that are gaining minutes in their team's rotation. Fantasy managers want to roster the players that are accumulating stats and racking up the playing time. They want to avoid the players falling out of favor and watching the action from the sidelines.
Here's how Week 4 played out for the Rotation Watch with their player ranking over the last seven days:
Oh boy! After Week 2's success, I wasn't sure how we could get any better. However, grabbing the No. 1 player in fantasy over the last seven days surely tops it. Add another top-35 player on top of that, and I'm starting to feel the pressure to keep it up. Somehow, we are already one-fifth through the season, and injuries are beginning to pop up all over the court.
Editor's Note: Our incredible team of writers received five total writing awards and 13 award nominations by the Fantasy Sports Writers Association, tops in the industry! Congrats to all the award winners and nominees including NBA Writer of the Year, Best NFL Series, MLB Series, PGA Writer and Player Notes writer of the year. Be sure to follow their analysis, rankings and advice all year long, and win big with RotoBaller!
Read More!
So without further ado, let's start searching those box scores and look for those hidden gems that grabbed minutes to help your fantasy basketball team achieve the ultimate prize: a championship. Of course, these suggestions are the cream of the crop, and if you ever need an extra slice of advice, feel free to reach out to me on Twitter @EuanOrYouOut.
NBA Playing Time  Changes
Yahoo: 78% rostered
Week 4: 36:00 Minutes per Game
Schroder is above the usual roster percentage for this article. Yet, when I saw he wasn't at 100 percent, I had to make an exception. Jaylen Brown (hamstring) is getting closer to an on-court return. However, this year, he's already picked up a hamstring and knee injury, so the Celtics will be cautious with their star's health once he returns. Therefore, Schroder will continue to get more run even after Brown's return.
The German guard has outperformed Marcus Smart and Josh Richardson during Brown's absence and should be third in the pecking order for offensive opportunities when Boston is at full strength. Since Nov. 6, the 28-year old averages 24 points on 18.8 shots, along with 4.2 rebounds, 3.8 assists, and 1.6 threes. Schroder's making 51.1 percent of his field goals and is averaging over 36 minutes per game. He's a valuable fantasy asset on a team looking to kick start their season and get into the East's top-six for an automatic playoff spot. Plus, Marcus Smart is involved in every Celtics trade rumor, and it would remove one less mouth to feed at the basketball table.
Yahoo: 59% rostered
Week 4: 34:30 Minutes per Game
Kyle Lowry, Bam Adebayo, Jimmy Butler, and Tyler Herro are grabbing all the headlines on South Beach, while Duncan Robinson remains on the three-point line waiting for his moment. Well, since Jimmy Butler (ankle) went down, the moment has arrived, and Robinson's delivering. Since Nov. 9, he's averaging four three-pointers per game, but he's reached NBA Jam "He's on fire" status in the last two contests.
Against the Jazz and Thunder, respectively, the 27-year old sharpshooter averaged 21.5 points, 3.5 rebounds, 2.5 assists, and 5.5 three-pointers. So while Butler will return, fantasy managers will hope this recent uptick in threes will return Robinson to the type of value they drafted him for before the season started. Meanwhile, if you're in one of the 41 percent of leagues where he's on the waiver wire, and you need points and threes, he's going to be your best option moving forward.
Yahoo: 59% rostered
Week 4: 34:00 Minutes per Game
Rotation Watch welcomes Franz Wagner as its first repeat customer for the 2021-22 campaign, as the rookie makes his second appearance in the article in just four weeks. The reason he's back is because the minutes are not going away for the eighth overall pick in this year's draft, and he's providing top-100 value in nine-category leagues. In addition, he does a little bit of everything most nights and at a reasonably efficient rate to boot. Plus, he's already shown managers that he can break out and pop off some spectacular performances, despite his NBA career being less than 20 games old.
On Nov. 1, he scored 28 points and drained five three-pointers versus the Timberwolves. On Nov. 11, he swiped six steals against the Nets. And finally, in his last game, he added another 19 points, five rebounds, three assists, two threes, and a block in Atlanta. There's just too much potential and workload here to be left on the waiver wire. Jonathan Isaac (knee) is still without a timetable, and until he gets back on the court, I'm not sure Wagner will be limited in any manner by this Magic coaching staff.
Eric Bledsoe - PG/SG, Los Angeles Clippers
Yahoo: 55% rostered
Week 4: 33:15 Minutes per Game
Bledsoe is in his second stint with the Clippers and is rising from the ashes like a phoenix. Fine, that's a little dramatic on my part, but it is excellent to see Bledsoe turn back the clock in Los Angeles and put together some fantasy-useful performances. In Week 4, he scored 21 points in two of his three outings, and they sandwiched a 14-point, nine-assist evening against Minnesota.
Bledsoe's rise coincides with Nicolas Batum's fall (a Week 3 Rotation Watch write-up), and it goes to show how up and down this Clippers team can be outside of Paul George's superhero efforts. Reggie Jackson, Bledsoe, and Batum will all have valuable stretches in fantasy this season, and we managers need to be on the ball as to who to play and when. Right now, it's Bledsoe, but stay tuned because I could have Batum back in here as early as next week.
Yahoo: 46% rostered
Week 4: 32:00 Minutes per Game
The man known as THT around Lakers circles made his season debut this week and thrived in a LeBron-less Lakers team. First, he provided 17 points, four rebounds, an assist, a steal, a block, and a three-pointer in 27 minutes against the Spurs. Then, as an encore, Horton-Tucker played 37 minutes and erupted for 28 points, six rebounds, four threes, two assists, and a steal versus the Bulls. It's made him a top-15 play over the last seven days, and his roster percentage is sky-rocketing.
However, what goes up, must come down. Therefore, with LeBron James' imminent return, THT's days as a top-15 option will likely be coming to an end. Still, he's come out strong on a Lakers team looking for answers on how they fix a dysfunctional roster. Horton-Tucker may not be the whole answer, but he can be a part of the solution. I'll be watching the Los Angeles rotation closely over the next 10 days to see how THT fits into this team with a healthy James on the court.
Download Our Free News & Alerts Mobile App
Like what you see? Download our updated fantasy basketball mobile app for
iPhone
and
Android
with 24x7 player news, injury alerts, lineup notifications & DFS articles. All free!
More Fantasy Basketball Analysis