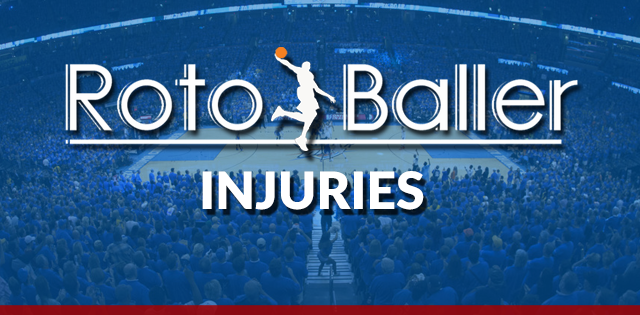 Welcome back RotoBallers! I'm here to help you stay up to date on injury news, and how it impacts your teams in case you had a busy weekend and couldn't keep track of everything. It's week 13, and this week has a Friday the 13th, so let's hope that's not a bad omen.
I'm doing this midday on Monday for release Tuesday morning, so any news that drops on Monday night won't be covered. I'll just cover what has changed since last week.
Drop me a follow on Twitter (@Maxadelphia) for all things fantasy basketball, and nightly NBA plays. Be sure to also bookmark our awesome free NBA injuries report tool for up-to-the-minute fantasy basketball injury updates.
Editor's Note: Our incredible team of writers received five total writing awards and 13 award nominations by the Fantasy Sports Writers Association, tops in the industry! Congrats to all the award winners and nominees including NBA Writer of the Year, Best NFL Series, MLB Series, PGA Writer and Player Notes writer of the year. Be sure to follow their analysis, rankings and advice all year long, and win big with RotoBaller!
Read More!
Short-Term Injuries for Fantasy Basketball
Marcus Smart, PG/SG, Boston Celtics - Knee
Smart left the Celtics' victory over the Spurs on Saturday in the 3rd quarter after bumping knees with Zach Collins. It's officially being declared a knee contusion, and he's already been ruled out for tonight's game vs Chicago. The Celtics play at home again Wednesday before going on a 3-game road trip. If Smart doesn't rejoin the team by then, I could see him being rested until next week.
Lonnie Walker IV, SG/SF - Knee & SG/SF Austin Reaves - Hamstring, Los Angeles Lakers
Both of these Lakers wings are slated to be sidelined for two weeks with their respective injuries. The Lakers are INCREDIBLY thin on the perimeter right now with these two hurt, as well as Troy Brown Jr. I know this might sound crazy, but I think Dennis Schroder is the #1 streaming option for the whole week.
Bradley Beal, PG/SG, Washington Wizards, - Hamstring
Beal exited last Tuesday's game against the Sixers early in the fourth quarter and hasn't returned since. The Wizards have treated him as day-to-day, but he's remained out in all capacities since, and it doesn't appear anything else is going on besides Beal trying to rest and shake it off. With no firm timetable, I would expect him to miss at least a couple more games.
Week 2: The Wizards have already confirmed Beal will be out until at least Friday vs the Knicks. If he sits out that game, the Wizards' next game doesn't come until next Monday.
Clint Capela, C, Atlanta Hawks - Calf
Capela's calf injury was clearly more than just cramping, as he hasn't played in a competitive game since he re-aggravated his injury against the Pistons on 12/23. Onyeka Okongwu moved into the starting five in his place and should remain there until his return.
Week 3: No change from the initial write-up. Capela looks to be out this whole week as well.
Long-Term Injuries for Fantasy Basketball
Kevin Durant, SF/PF, Brooklyn Nets - Knee
Durant suffered an MCL sprain, and while the Nets announced he'll be re-evaluated after two weeks, these injuries typically take around a month for a player to return. I expect that to be around Durant's timeline. He'll be back before the All-Star break (Feb 16-21), but I wouldn't expect to see him before February.
Zion Williamson, PF/C, New Orleans Pelicans -  Hamstring
Zion tweaked his hammy last Monday night in Philly, and the Pelicans initially ruled him out for 3 weeks. We're 1/3 of the way through their initial diagnosis but given the organization's track record with their former #1 overall pick, I'd much prefer to err on the side of a longer absence.
Khris Middleton, SF/PF, Milwaukee Bucks - Knee
I'm officially moving Middleton to long-term after another week of him missing games with no further updates. Middleton has been extremely frustrating to deal with this year if you roster him in fantasy basketball, and as of now, there's no clear light at the end of the tunnel. In Middleton's absence, Grayson Allen and Pat Connaughton both remain viable streaming options.
Marvin Bagley, PF/C, Detroit Pistons - Hand
Bagley underwent hand surgery last Thursday, after suffering two broken fingers, and is going to miss 6-8 weeks. I'm going to assume Jalen Duren is no longer available in your league, so if you need to dig deep, look at Nerlens Noel.
Devin Booker, PG/SG, Phoenix Suns - Groin
Booker played only four minutes on Christmas and then exited with a presumably re-aggravated groin injury. No update is being provided until Tuesday, so I don't have definitive answers this week. What I do know is the Suns' backcourt is depleted right now, and that Damion Lee is in a potential short-term explosion spot. I also think Torrey Craig is a decent option again as well.
Update 12/28: Booker was ruled out for 4 weeks, so he's officially been placed in the long-term section. Both guys that I listed in my initial write-up profile as fine streamer options during Booker's absence (but I may have gassed up Damion Lee a bit).
Devin Vassel, SG, San Antonio Spurs - Knee
Spurs coach Gregg Popovich said that Vassel won't return until "a little after the All-Star break" after the rookie standout got hurt and is expected to have surgery done this Wednesday. The Spurs are obviously not looking to compete for anything (besides the Victor Wenbenyama sweepstakes) this year, so hopefully, this isn't the beginning of the end for the standout rookie guard. Josh Richardson looks to be a great replacement option for Vassel from a fantasy perspective.
Steph Curry, PG/SG, Golden State Warriors - Shoulder
Curry suffered a shoulder injury last Wednesday against the Pacers and is expected to be sidelined for 4-6 weeks. The good news is the injury doesn't require surgery. For now (while Andrew Wiggins is still sidelined), look at the aforementioned DiVincenzo, or if you need to dig deep, Ty Jerome has shown offensive capabilities but offers little for defense.
Update 1/9: Steph was a full participant in practice today. No official word on a return date has been set, but it seems likely this would be his last full week out (if he doesn't return before then).
Anthony Davis, PF/C, Los Angeles Lakers  - Foot
Davis is out a minimum of one month due to the injury, but what makes this even tougher to swallow for Davis owners is that Shams has reported the Lakers have braced for "an indefinite absence." Not exactly what you want to hear when it comes to a guy with extensive injury history in Davis. If your league is any sort of competitive, Thomas Bryant has already been scooped off waivers. If you need to dig deep, Dennis Schroder is worth a look based on volume (albeit not exactly a clean fit).
Update 1/9: Davis will begin ramping up his recovery work later this week. The Lakers are hopeful that Davis will be back in the lineup in "a couple of weeks".
Karl-Anthony Towns, PF/C, Minnesota Timberwolves - Calf
KAT strained his calf last Monday night, and his timetable for return is 4-6 weeks. Based on usage since the injury, it looks like the Wolves starters will just take on more of the load. If you're looking for streaming options, both Jaden McDaniels and Kyle Anderson are worth evaluating.
Update 1/7: Towns is apparently still considered "weeks" away from a return. At this rate, I would expect that to mean he won't see the floor until February.
Kelly Oubre Jr, SF/PF, Charlotte Hornets - Hand
Oubre is going to miss 4-6 weeks after getting surgery on his left hand. Jalen McDaniels was called upon to take Gordon Hayward's minute when he was injured, and I would expect he and Hayward will fill the void left by Oubre (although Hayward is injured at the time of writing this 1/9/23).
Cameron Johnson, SF/PF, Phoenix Suns - Knee
Johnson tore his right meniscus in last Friday's game against the Trail Blazers. Johnson is getting surgery done this week, and recovery time is typically four weeks minimum. I wouldn't expect to see Johnson until about mid-December.
Update 1/8: It seems I was a bit too eager about Johnson returning last week. Suns' coach Monty Williams said that Johnson is "getting closer to checking off the necessary boxes" to return, but it's worth noting he hasn't been cleared for full-contact drills yet.
Aleksej Pokusevski, SF/PF/C, Oklahoma City Thunder - Leg
Pokusevski suffered some sort of tibia fracture in his left leg, which is expected to sideline him for at least 6-8 weeks. Thunder coach Mark Daigneault, said that he doesn't think the injury is "long-long term", and expects Pokusevski to return before the end of the year. But...we know the Thunder, currently 12th in the West, love a good tank, so take that with a grain of salt.
Lonzo Ball, PG/SG, Chicago Bulls - Knee
Until Ball returns (which doesn't seem like it will be in 2022), Ayo Dosunmu is the starting PG for the Bulls. Dosunmu is off to a hot start, and he's definitely worth looking to acquire if you can find a good deal.
Update 12/3: Coach Billy Donovan said in a press conference that "it's been really slow" regarding Ball's rehabilitation, and he remains without a timetable to return. I think there is a very real chance Ball doesn't suit up this year.
The Tank Corner 
Closed until later in the season, we'll get here when teams start trotting out G-Leaguers none of us have ever heard of.
Download Our Free News & Alerts Mobile App
Like what you see? Download our updated fantasy basketball mobile app for
iPhone
and
Android
with 24x7 player news, injury alerts, lineup notifications & DFS articles. All free!
More Fantasy Basketball Analysis