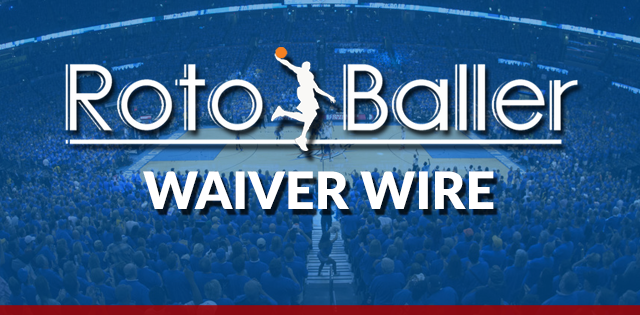 The deeper a fantasy basketball league, the harder it is to hit a winner with your last few picks. It is also harder to find decent help from the waiver wire if your late-round picks don't do you justice. If you picked up a few stinkers, don't lose hope just yet. I will try to help you pick up a winner.
Here are my deeper league fantasy basketball waiver wire pickups for the upcoming week and your fantasy basketball teams. These NBA players should be available in most leagues and they might just help you out, whether it's a few weeks rental or a long-term fix to a problem your team is having.
If a guy on your team is frustrating you with his weak performances, give some of them a go. They might just be worth it.
Editor's Note: Our incredible team of writers received five total writing awards and 13 award nominations by the Fantasy Sports Writers Association, tops in the industry! Congrats to all the award winners and nominees including NBA Writer of the Year, Best NFL Series, MLB Series, PGA Writer and Player Notes writer of the year. Be sure to follow their analysis, rankings and advice all year long, and win big with RotoBaller!
Read More!
Fantasy Basketball Waiver Wire Targets for Week 16
Can you imagine a future in which the Gobert Trade is actually the Walker Kessler trade? We might be getting there, folks! Well, maybe not, but bear with me for a minute as WK couldn't be playing better and more surprising basketball for the Jazz since arriving in Salt Lake City as part of Utah's rebuilding firesale.
The first month-and-change of play wasn't really one to drool about Kessler's skill set. He didn't reach 350 total minutes of play through his first 22 games, averaging just 16 always playing off the pine. Things changed on December 2 and they have never gone down for him since that day.
Kessler put up a 20-11 double-double against Indy on December 2, his first dub-dub of the year in just 25 minutes coming off the bench. He hit 7-of-7 shots and 7-of-8 freebies. From that day on, Kessler is averaging a nightly 9-9-1 with 2+ BPG on top of that.
Two players are putting up that line since December 1. One is Kessler, and the other one is not Gobert, but rather another young gun (Nic Claxton.) Kessler has been sublime for the Jazz, who might actually be thinking why the hell did they trade for Kelly Olynyk in the first place--unless of course, they can flip him for assets before the February 9 trade deadline.
Kessler has started nine consecutive games through Saturday, playing 27 MPG and putting up a nightly 11-10-1 stat line with 2.3 BPG. Since he became a daily starter on December 10, only Kessler, Claxton, and Embiid have played 8+ games while averaging a double-double and 1.5+ BPG.
The return of Anthony Davis finally happened last Wednesday, January 25. AD has yet to start for the Lakers after returning to the rotation after two games played this week, but you can expect that to happen sooner rather than later with AD ramping up his efforts and playing 26 MP on Wednesday and already 34 (with OT) on Saturday.
We're here discussing Thomas Bryant, though, and now that Davis is back you should 1) definitely bump him down in the pecking order of your fantasy priority list but 2) keep him in mind as a more than a viable asset to have around in case AD goes down again. Even if Davis manages to stay healthy ROS, odds are Bryant has done enough to earn a sustainable role going forward off the pine in the Lakers' second unit.
Obviously, AD's return meant Bryant dropped his minutes to 21 and 19 in the last two games even as a starter. He went from averaging 10+ FGA per game to a measly four FGA in the past two outings combined.
You can forget about more dub-dubs hitting Bryant's stat lines any time soon, but you can at least count on extraordinary shooting percentages with the odd three-pointer here and there and reasonable points and rebounds for a 20-minute backup on low usage rates.
In the nine games (both starting or off the pine) this season in which Bryant got a usage rate below 15%, he finished with an average of 20 FPPG and an 8-6-1 average stat line. Again, nothing great but more than viable for those managing in deeper leagues.
Seth Curry (SG, BKN) - 20% rostered
The Brooklyn Nets keep winning games even with Kevin Durant still healing his injury. Ben Simmons got canned from Saturday's lineup against the Knicks and Seth Curry proved more than capable of shooting the ball, something Ben doesn't have a clue what is about.
In other words, Curry is here to stay and to keep firing and getting buckets while KD's scoring prowess is missing in BK (he's not expected back until after the All-Star break). Curry has started three games this month, but he's an off-the-piner by nature. Not that we are concerned about that, though, far from it.
Curry has scored at least eight points in all matches played this month. That's the bad angle, mind you. The good one: he's scored at least 11 points in 11-of-12 games staged in January for an actual average of 16+ PPG this month. Uh oh. Seth has also hit 1+ 3PM in 13 consecutive games going back to New Year's Eve.
The younger of the Chefs is averaging 2.8 three-pointers per game this month along with those 16 points and a 2+ RPG, 2+ APG, and 1+ stock a pop through the month. The shooting is ridiculous with Seth hitting 72-of-135 FGA in January for a 53.3% accuracy from the floor while hitting treys at a 50.7% clip this month.
Nobody has hit a higher percentage of long-range shots in January while taking at least 65 3PA through Saturday. Only Keegan Murray and Harrison Barnes (system babies as both play for the Kings) have topped a 50 3P%.
It happened recently, but it happened. OG Anunoby got injured in the wrist last Friday facing the Warriors and has not returned to the Raptors lineup yet. This is not expected to be a long-term injury or anything like that, but you have to take advantage of what you can.
In this case, that is the ascension of Precious Achiuwa to a new usage-rate plane. Don't get this wrong, though, or as a fluke. From January 21 on, in the five games played from that day through Saturday, Achiuwa has started three and played an average of 34 MPG. This is not just a one-game wonder, is what I'm saying.
Achiuwa has scored in double digits seven times in a row and in 10 of his last 11 games played going back to January 10. He's also pulled down 11+ boards in four of his last fives, all of those matchups ending in sound and solid double-double outings for the youngster.
The shooting is rather good for someone hitting the odd three-pointer here and there (he's hit 0.9+ 3PM per game getting back to January 10) while the points and rebounds are always there in bunches, starting or coming off the pine.
The steals and blocks are sublime for someone rostered in so few leagues, though, so that's a tasty added bonus to consider when pondering whether or not to add this Precious man to your squad.
Chris Duarte (SG/SF, IND) - 4% rostered
Chris Duarte missed more than a month from early November to mid-December but he came back before Christmas and has stayed healthy even since. After spending his first three weeks after returning on a very precarious role (14 MPG in 11 games), he's now played 17+ MP in all last 10 matchups from January 11 on.
Duarte is enjoying his best run of the season by a good mile. You can compare his first eight games (22 MPG starting four of those) to his last 10 (25 MPG starting four more) and see for yourself. He averaged 16 FPPG to start the year but he's put up an average of 22 FPPG in the most recent span.
The changes in Indy's roster (aka Tyrese Haliburton) definitely impacted Duarte's upside and the fact that Buddy Hield is still playing Pacers basketball isn't helping him either. Good for him, he's found a little niche as a forward-tweener between the SF and PF possessions with cameos sizing down to the two-guard slot.
In the last 10 games he's played, Duarte is averaging 12 PPG to go with 1.7 3PM a pop. The full stat line sits at 12-3-2-1 but the shooting percentages have been a bit brutal, as has been the case all season long: 39% from the floor on 9+ FGA in his last 10 games and season-wide splits sitting at 35/30/84. Just for context, 73 players in the NBA have launched as many FGA as Duarte while matching those splits--nothing remarkable, that is.
Duarte's calling card is his steals (1+ in five consecutive games), three-point shooting (2+three-pointers in three straight games), and assists for a big guard (three, five, and six in his last three outings, all of them starting at the SF position).
Download Our Free News & Alerts Mobile App
Like what you see? Download our updated fantasy basketball mobile app for
iPhone
and
Android
with 24x7 player news, injury alerts, lineup notifications & DFS articles. All free!
More Fantasy Basketball Analysis
By popular demand, RotoBaller has aggregated all of our fantasy basketball NBA waiver wire pickups into a running list of NBA waiver options, so bookmark the page and check back often for updates.