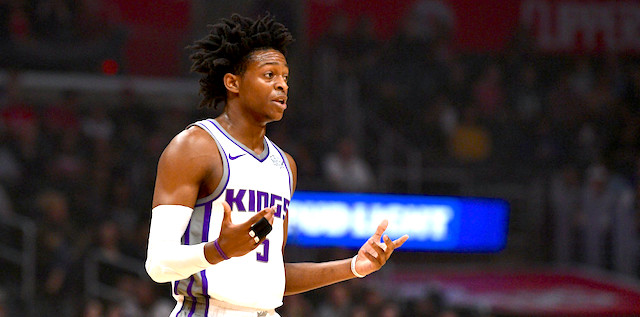 Hey there, NBA fans, I hope you are enjoying the new series that we have been debuting here at RotoBaller in order to start getting you ready for the 2022-2023 fantasy basketball season!
If you play fantasy football, you'll probably recognize the format here as we had a series of preseason NFL articles that followed the same outline. The idea here is to hone in several players from each team that we see as values for the upcoming season or that are possibly being drafted too high this preseason.
In this piece, you'll find a fantasy basketball breakout candidate, a fantasy basketball bust candidate, and a fantasy basketball lock (think steady production and being drafted correctly) for the Sacramento Kings based on early ADP for fantasy basketball drafts for the 2022-2023 season.
Featured Promo: Our friends at RIVAL Fantasy have created fun and unique DFS games including over/under contests and Fantasy Bingo. Use promo code BALLER to get a free year of RotoBaller Premium access ($199 value), and a $50 risk-free deposit.
Play Now!
Fantasy Basketball Breakout: Keegan Murray
I've been watching some of Murray's highlights from his preseason debut on loop. I was very impressed with his Summer League performance, but to see him do it last night against much better competition just confirmed for me what a star Murray could be in the league. See for yourselves.
Since being drafted by the Kings in June, Keegan Murray has looked like a star in the making.

Stats through Summer League and preseason:

21.0 PTS
7.2 REB
1.3 STL
51% FG
41% 3PT
29.7 MIN
8 Gpic.twitter.com/pmsMWuNJ92

— Frankie Cartoscelli (@FCartoscelli3) October 4, 2022
He came off the bench for the Kings in their opener, but was easily their most efficient player and made an impact on both ends of the floor. He finished with 16 points, six rebounds, and an assist on 7-11 shooting and 2-4 from downtown. He also had two steals, one of which went the other way for a dunk (watch the clip above if you haven't already!).
I just keep moving this guy up my rankings and now he's inside the top-70 for me. I don't think you have to grab him quite that early unless you know there's another Keegan stan in your league. His game is just so fantasy friendly and his skillset perfectly fits the modern NBA game. His shot is smooth and he's been playing some SF and PF both in camp, giving the Kings the ability to play bigger or smaller depending on their opponent.
I can't help but be enamored with him for fantasy and real-life purposes, I think he was the steal of the draft and should push for the Rookie of the Year with Paolo Banchero of the Magic being his stiffest competition.
Fantasy Basketball Bust: De'Aaron Fox
Fox certainly took advantage of Haliburton's exit last season as he finished the season on a high note, averaging over 26 points per game in the final 15 games of 2022. And I expect him to put up solid stats again this season, and yes, he's still young. But I am out on Fox at his ADP.
I have him just outside my top-50, mainly because he's just too one-dimensional as a fantasy player. You're getting points, threes, and some assists, but you're not getting much else. Sabonis as a passer in the high post is great for this offense, but it caps Fox's assist upside and I would expect him to remain around 5-6 assists per game.
He did shoot a career-best 75% from the line last season, but he's just a 72.5% free-throw shooter in his career. He shot only 29.7% from behind the arc and failed to play 60 games for the third straight season (59 last year).
I just really don't want to take inefficient scorers in the first 4-5 rounds of my drafts, so I have it out for Fox. He's a very good, young player in real life and I think he fits quite nicely with Sabonis and Murray as the core of this team, I would just much rather have the other two on my fantasy teams.
Sabonis is such a safe pick in the late third or early fourth round of your drafts. He's simply one of the most reliable players in the league on a nightly basis and his game lends itself quite well to 9-cat or roto with his scoring, rebounding, and assists from the PF/C position.
Sabo was traded from the Indiana Pacers last season in exchange for Tyrese Haliburton and Buddy Hield and he settled into his new digs rather quickly and easily. Take a quick look at his production in Indiana for the first half of the season compared to what he did in Sacto after the trade.
INDIANA (47 games): 18.9 PTS, 12.1 REB, 5.0 AST, 1.0 STL
SACRAMENTO (15 games): 18.9 PTS, 12.3 REB, 5.8 AST, 0.9 STL
A few more assists from the big man, but his game is about as predictable as you can get. He could even be viewed as a little boring at this point, but in a good way in that, you know pretty much exactly what you're getting from him on a nightly basis.
He doesn't block shots and he actually attempted fewer threes in Sacto (he still isn't shooting a good percentage, so this might actually be a good thing, just don't shoot them and play to your strengths and keep that FG% high). But he pairs well with guard-heavy teams with his elite passing production and his FG% is elite.
Sacramento should be a fun team this year, and with more weapons around him (Murray, Malik Monk), he should have even more assist opportunities. If you want a safe, reliable pick in the 30-40 range, then Sabonis is your guy; just understand that there is very little room for any further improvement - what you see is what you get.
Conclusion
Murray is a budding star, draft him a round or two early and reap the benefits! Sabonis is slow and steady and a great, but boring pick in rounds 3-4. Fox is not someone I am targeting until at least pick 50 or later, he's a relatively one-dimensional fantasy player.
As for the rest of the roster, it will be interesting to see who wins the shooting guard spot between Kevin Huerter and Malik Monk. I think I prefer Monk coming off the bench as a higher-usage player. Davion Mitchell should be owned in bigger leagues, his role with the second unit is going to be there and he's a Fox injury away from being super relevant. Richaun Holmes is probably not useable in standard leagues in a 15-minute role. And Harrison Barnes is...well, the definition of a boring fantasy player with no upside. Keegan Murray might hurt his value even further.
Thanks for reading and good luck in your leagues this year!
Download Our Free News & Alerts Mobile App
Like what you see? Download our updated fantasy basketball mobile app for iPhone and Android with 24x7 player news, injury alerts, lineup notifications & DFS articles. All free!


More Fantasy Basketball Analysis