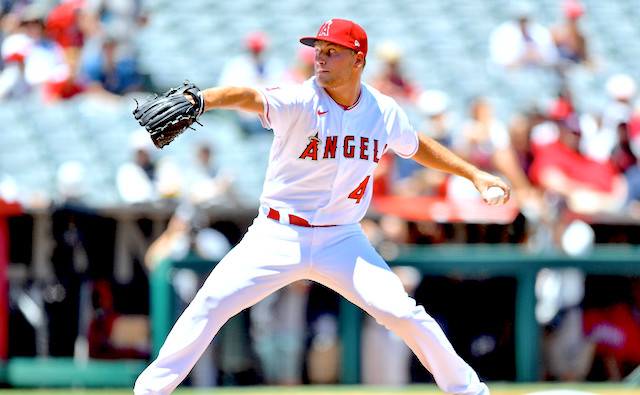 Welcome back to another edition of my series on pitchers with mid-season changes to their pitch mix. I seem to have found a niche covering pitch mixes and using it to evaluate where pitchers have avenues for growth or warning signs for regression. As a former catcher, I'm used to thinking about pitch sequencing and how pitches work in tandem to attack hitters at different parts of the strike zone. My goal has been to impart some of that knowledge by not just saying, "this pitcher is good because of these stats," but by identifying keys we can all watch for in order to see when a pitcher might be evolving into one we want to target or when a pitcher is simply getting lucky and should be avoided or perhaps traded away.
Early in the season, I was focusing on pitchers who were throwing new pitches, but now that we are halfway through the season, I'm going to transition to looking at pitchers who are shifting their pitch mix. I did this a couple of weeks ago when I examined how Robbie Ray had introduced a sinker. I looked at how that impacted his overall arsenal and what that might mean for his fantasy production going forward: fewer strikeouts but more stable ratios and better overall performance.
I'll continue that type of analysis in this series, looking at pitchers who have made a clear change to their pitch mix during the 2022 season and evaluating how that change could impact their performance this season (thanks to Jon Anderson for creating the database that allows me to track this). I'll do that by exploring the changes we can already see taking place, and the ones we should continue to look out for, and then I'll end by trying to give you a sense of what type of fantasy performance we can expect going forward. I anticipate this being a series we'll continue over the next month or so, so let's get started.
Featured Promo: Want a free RotoBaller Premium Pass? Check out these sports betting promo offers from the top sportsbooks! All new sign-ups get a free bonus offer on their first deposit, and a free year of RotoBaller's Premium Pass for all sports ($450 value)!
Sign Up Now!
Dylan Cease, Chicago White Sox - Slider
We don't need to spend a lot of time talking about why Dylan Cease is good, but I would like to point to a reason that I think he has been better since the summer began.
Cease's best pitch is his slider. That shouldn't be a surprise to anybody. On the season, it has allowed a .128 xBA and .191 xSLG with a 24.7% swinging strike rate (SwStr%) and 37.9% CSW. That's absurd.
Starting in May, Cease began to use his slider way more, throwing the pitch 52% of the time in July after throwing it just 32% of the time in May. While his usage has dipped to 42% in August that's still a 10% increase from early in the season. As we've covered a bunch of times, a pitcher throwing his best pitch more is a good thing.
I'm also intrigued by the slight bump in curveball usage we've seen in August because the pitch has a 32.1% CSW and, more importantly, a 65% groundball rate on the season. Since neither the slider nor four-seamer induces many groundballs, upping the curveball usage has gotten Cease a groundball pitch to mix in with his swing-and-miss pitches.
VERDICT: IMPACTFUL. Cease was always good, so the impact isn't as dramatic as it might be for some other pitchers in this article, but the result of this pitch mix change is that the right-hander has made good on his prospect promise and emerged as one of the best starters in baseball. That's not nothing. 
Tyler Beede is likely not rostered in many leagues, but I wanted to cover him as a potential deep league target now that he has a starting rotation spot in Pittsburgh and has made a clear change to his arsenal.
When Beede was operating as a reliever earlier in the year, he barely used his curveball. However, since beginning to stretch out as a starter Beede has gone from 4.1% curveball usage to 28.1% usage.
Now, it's a small sample size, so we want to take this with a grain of salt, but it would make sense that as a starter Beede would want to not be so sinker dependent and start to mix in more breaking balls.
It's an important change though because the curveball has been a good pitch for Beede in a very small sample size this year. It's not a huge swing-and-miss pitch with a 10.5% SwStr%, but it hasn't allowed a barrel yet and induces a lot of groundballs, which makes it a great pitch for a starter to use to help survive longer outings.
Beede already has a good whiff pitch in his change-up, which has a 17.3% SwStr%, so mixing in the curve more helps to round out the arsenal, especially considering the way the pitches play off of one another, as you can see below.
While the curve is not a mirror of the change and sinker, it's close and has an opposite movement profile. Both the changeup and sinker break arm side, 45 and 30 degrees respectively, while the curve moves 15 degrees away from right-handed hitters.
VERDICT: POTENTIALLY IMPACTFUL. While this doesn't make Beede an immediate add, using the curveball now makes Beede intriguing because it allows him to attack all parts of the zone. Since the sinker has just a 3.7% SwStr%, using it less and the curve more is a clear positive. I wouldn't rush to add Beede now, but I would watch one or two more starts to see if the curve increase sticks and if the performance continues to improve. 
Reid Detmers, Los Angeles Angels - Slider
Many people have discussed that Detmers emerged from his demotion as a new pitcher, but it's worth going over just one more time. In his five starts since being recalled, Detmers has a 1.16 ERA, 0.94 WHIP, and, most importantly, a 23.9% K-BB%.
Detmers had elite swing-and-miss numbers in the minors and seemed to have the raw stuff to have that carry over to the majors, but it simply didn't. So seeing Detmers now posting a 32.5% strikeout rate is exciting, and there are two reasons we really want to cover in regards to why it's happening.
The first isn't really related to pitch mix, but it's that Detmers added more arm-side run on his four-seam fastball. Detmers has always thrown with decent velocity, but his fastball was straight, which led to hard contact and not a lot of swing and miss.
Prior to his demotion, Detmers' fastball had a 9.3% SwStr% and 11% barrel rate allowed. Since coming back, the pitch has a 14.6% SwStr% and 3.8% barrel rate allowed. Those are big differences.
In this image above, you can see how the vertical movement on the four-seam (in faded black) has risen slightly from the beginning of the year. It may not seem like a big deal, but when you're throwing at 94 mph, even the smallest change in horizontal movement can have a massive impact.
You can also see from the image above how drastically Detmers has added horizontal movement on his slider. He's also now throwing the slider at 86.5 mph after throwing it around 82 mph earlier in the season. In short, this is a totally different pitch, and a far more successful one since the pitch has a 17.3% SwStr% since his return.
Throwing the slider harder and with more break has also helped to create more distinction between Detmers' slider and curve, which you can see below, approach the batter at a similar trajectory with a (previously) more similar break.
The slider now has more horizontal break and is thrown 13 mph harder, which adds more differentiation between his two breaking balls and creates more confusion for the hitter.
VERDICT: MASSIVELY IMPACTFUL. Really, all of Detmers' pitches have changed in the middle of the season. The fastball and change-up now have more arm-side run. The slider now has more break and velocity, and the curve now changes as a result because it looks so different in comparison to the slider. Detmers has re-shaped his entire arsenal, and this new version of him is exactly what many of us were hoping to see coming into the year. You should be buying in any place where you have the chance. 
Cole Irvin, Oakland Athletics - Four-Seam and Curveball
Everybody thinks of Cole Irvin as a boring pitcher, and that's not entirely untrue. Pitchers with sub 91 mph fastballs and strikeout rates that can't break 20% are rarely alluring, but that doesn't mean they can't be useful for fantasy.
While many of us were scanning over Irvin's name because of his lack of strikeouts and poor team context, the left-hander was evolving into a solid fantasy pick-up.
From June 1st to August 10th, Irvin put together a 2.81 ERA and 0.95 WHIP with an 18% strikeout rate and 9.5% SwStr%. He still wasn't missing bats, but the results were tremendous. What's more, this stretch featured four starts against Houston, and one each against the Yankees, Rangers, Blue Jays, and Braves. This was not just good results against a cakewalk schedule.
So what did happen? Well, for starters, Irvin made two key changes in his pitch mix that you can see above. He started to dial back on his sinker and throw his four-seam more, and he also started to use the curveball more and the change-up less.
These were important changes for a few reasons. For starters, the sinker has been Irvin's worst pitch all year. It has a .318 xBA and .534 xSLG allowed. It allows an 8.1% barrel rate and just a 7.3% SwStr%.
Meanwhile, the four-seam has allowed a .202 xBA and .377 xSLG with an 8.7% barrel rate but 11.3% SwStr%. That change is a clear upgrade, with the only downside being that the sinker allowed 11% more groundballs. However, that's a downside he can weather based on his cavernous home park.
The change to the curveball also makes sense considering the curve has the higher SwStr% of any of his pitches at 12.5%. It also has a lower barrel rate than the change-up and allows the exact same xBA.
Since the curveball so closely mirrors the four-seam, which you can see above, it makes sense that Irvin would have more success when using these pitches more together. The way they mirror each other's movement profile makes him more deceptive, which would create more soft contact than relying on the change-up as the main secondary pitch.
VERDICT: CLEARLY MEANINGFUL. Irvin appears to be rounding into a legit ratio option in 12-team leagues and deeper. The fact that he's put up the numbers he has against the teams he has shows that you can choose to start him in most games; however, my gut says that you should keep him on your roster but still play matchups when deciding when to start him. I don't really want to trust him against the Yankees or Blue Jays unless I have to. 
Download Our Free News & Alerts Mobile App
Like what you see? Download our updated fantasy baseball app for iPhone and Android with 24x7 player news, injury alerts, sleepers, prospects & more. All free!


More Fantasy Baseball Advice