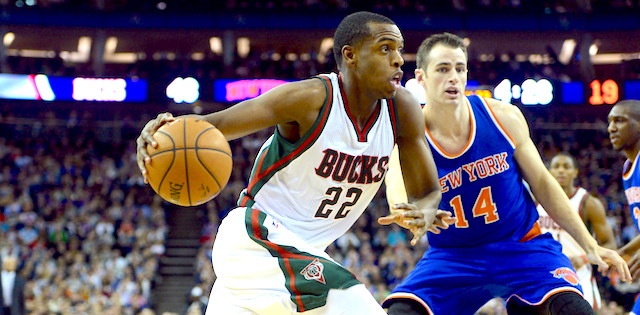 What Appears In This Article?
hide
Tonight all we have is Game 4 of the Eastern Conference finals. Trae Young has a bone bruise in his foot, so his status wont be known until closer to tipoff. That alone doesn't mean much since I wasn't going to use Trae anyway, but if he's out it will make Lou Williams a lock. Don't mind the questionable tags on Giannis and Bogdan. They will play. Just keep in mind that if the Bucks are winning big, Giannis will likely not play his full compliment of minutes.
For those of you that aren't familiar with how the single-game contests work on FanDuel, it's fairly simple. You get a MVP slot which scores at 2x actual points and Star slot that scores at 1.5x. You then get a Pro slot that scores at 1.2x and two utility slots that score at actual points. You have a $60,000 salary cap for the five slots.
Here are my favorite plays from tonight's game for the FanDuel single-game slate that locks at 7:30 PM EST.
Milwaukee Bucks (-7) at Atlanta Hawks (219 total)
Ideally, you want to have the guy with the highest ceiling scoring double the points. I don't see that huge upside from anyone on the Hawks, so it comes down to Khris Middleton and Giannis. Middleton hasn't been below 32 FanDuel points since Game 2 of the Nets series. Giannis still has the higher ceiling, but considering the sore left calf, I would think Middleton is the safer play and therefore better for cash games.
For GPP purposes, I could see putting Jrue Holiday over Giannis and Middleton at MVP. I could even see running Jrue and Middleton at Star and MVP and either fading Giannis entirely or running him at the pro slot. Holiday scored just six points in Game 3, but he still racked up 39.8 FanDuel points. His peripheral stats keep the floor high. The Bucks have proven that Holiday will still play good minutes even if the game is in hand. We can't always say the same for Middleton and Giannis.
Many people will go the same routes as we do at MVP and Star, so don't be shocked if the PRO slot is the most important one on the entire slate. The problem is if you use Giannis, Middleton, and Holiday, that leaves only $8,500 per player for the utility slots. This is completely viable should Trae Young sit out since you can get Lou Williams for just $7,000. That would leave $10,000 for the last utility slot.
If Young does play, LouWill becomes a very risky option. You can still live on $8,500 per slot, but that means no Clint Capela or John Collins. However, due to the volatility of the entire Atlanta team in the first three games, I find myself not wanting to pay for any of the higher priced Hawks. Chasing the points upside of Bogdan Bogdanovic and Kevin Huerter is not the worst idea, especially if Young sits this one out. The best option for cash games is to use P.J. Tucker as the value play. The downside of that is that no player is priced at $9,000 and Bobby Portis is the only $8,500 option.
That said, even if Young plays, I would bet that he's not at 100%. He needs to be to come anywhere near value. I still wouldn't go with Lou Williams with Trae in, but Bogdanovic, Huerter, and even Cam Reddish might be worth a look. Keep in mind that the Hawks have had Reddish available for the whole series and only used him in Game 2. He is by far the greatest risk, and likely not worth messing with even in GPP formats.
You can build a nicely balanced GPP lineup if you're willing to fade Giannis. I would still use Holiday and Middleton at the MVP and Star slots, leaving $11,000 per slot for the final three pieces. If you're willing to use Tucker as your punt, your other two slots can be anyone but Giannis and you don't have to worry about the volatility of Lou Williams whether he starts or not.
Good luck to all of you out there!