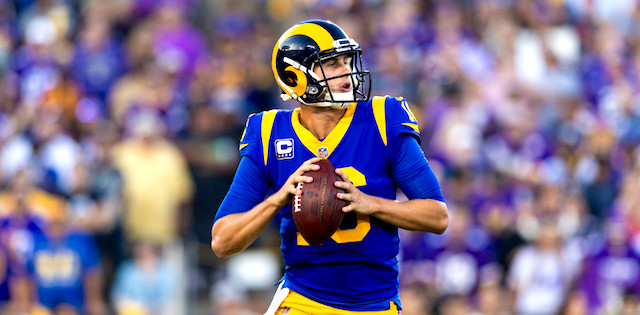 The Super Bowl is finally here! For many this is a bittersweet day as it marks the end of the NFL season, and a long six months until we see it back on our screens. Therefore, we need to make the most of it and get one last fix of fantasy football before the long offseason. Given that there is only one game (obviously), the format may be slightly different than Sunday daily fantasy football players are used to. Instead of the classic salary cap mode, DraftKings main offering is the Showdown style of DFS. Showdown still has a salary cap but you can select six players from any position to make up your lineup. The twist is that one of the six is your "Captain" and he will score your fantasy team 1.5 times his normal points. However, he will also cost you 1.5 times the salary cap.
The captain adds an added level of strategy to the game that you do not get in the classic style game play. The prices listed in the article below are the players standard price and just need to be multiplied by 1.5 to get their "Captain" price. Below are my DraftKings DFS Lineup Picks for the Super Bowl.
These DraftKings lineup recommendations are based on individual matchups, season performances, overall upside/talent levels and the potential risk of playing time/touch share. A good example is the Ram offense where there are a lot of weapons which can take touches away from each other. For example it is tough to know who sees more touches between Todd Gurley and C.J. Anderson in this game. There are a couple of interesting value plays available, so read on to find out which players are the best DFS picks for the Super Bowl. Good luck with your DraftKings DFS lineups!
Editor's Note: Get any full-season NFL Premium Pass for 50% off. Our exclusive In-Season Lineup Tools, Lineup Optimizer and over 150 days of Premium DFS Research.
Sign Up Now!
DraftKings DFS Quarterbacks - Super Bowl Picks
Tom Brady - NE @ LAR (DK $10,600)
You just cannot ignore him playing indoors after what we have seen him do in the previous two Super Bowls. His level of play the last two weeks has also been incredible, even if the points returns have not been as good as you might hope when watching the game. The one risk is if the Patriots commit to the run hard then Brady may not throw the ball as much as you would like as a fantasy owner. My feel for this game is that this game goes backwards and forwards or the Patriots start slow. Either way Brady is going to have to open it up at some point, and the floor here is 18-20 fantasy points.
Jared Goff - LAR vs. NE (DK $10,000)
There is next-to-no chance I am picking Goff over Brady if I am playing in small contests, 50/50s etc., this week. However, if you are trying to win the tournaments then why not gamble on the young quarterback doing a Nick Foles on the Patriots? If you make him the "Captain" then you are also saving a precious $900 over what Brady costs you in that spot. If I believed the Patriots could get up big in this game and the Rams would have to mount a comeback then I would pick Goff all day. However, that is not the way the Patriots seem to play Super Bowls. They come out of the gate slow in these games, and therefore I see this being close, meaning we see a lot of the Rams run game.
DraftKings DFS Running Backs - Super Bowl Picks
James White - NE @ KC (DK $7,200)
The history of White in the Super Bowl is all we need here. In 2016, he had 16 targets and six carries, resulting in three touchdowns and 139 yards. Last year was less impressive, but on six targets and seven carries he still managed to have a touchdown and put up 66 yards of offense. In this postseason he has had a total of 23 targets, and we saw the Patriots willing to use him running the ball in Kansas City. The Rams have also had some issues covering running backs catching the ball out of the backfield and that is likely something the Patriots will be hoping to exploit. White has a floor that I feel way more comfortable gambling on than the running backs for Los Angeles.
Sony Michel - NE @ LAR (DK $6,800)
It is all about floor here as well. In the last two weeks Michel has rushed the ball a total of 53 times, averaged 121 yards in those games and scored five touchdowns combined. He looked gassed at the end of the Chiefs game, but now with two weeks to rest and get the pop back in those legs I expect him to be a big part of the Patriots game plan once again. 20 carries feels like a floor and I expect him to see a handful of goal line carries too. This is possibly the only non-QB I would consider selecting as my "Captain", but his lack of receptions caps his value enough that I probably will not pull the trigger.
James Develin - NE @ LAR (DK $400)
I kid you not. If you want both of the two quarterbacks on your roster then you need to sacrifice elsewhere. Develin is the cheapest player available who is guaranteed to see a meaningful number of snaps. You are gambling on touchdown or bust if you make this pick but he did have three in two weeks at one point in the season. The decision you need to make here is whether the chance of 6-10 points from Develin is worth having the safer floor in Goff than a receiver like Reynolds.
DraftKings DFS Wide Receivers - Super Bowl Picks
Julian Edelman - NE @ LAR (DK $10,800)
There are not many more in-sync quarterback wide receiver combinations than Brady and Edelman. That has become extremely apparent over the last couple of weeks as Edelman has once again become Brady's go to receiver in the playoffs. Edelman has seen a total of 23 targets and 16 receptions in the last two weeks. Despite not finding the end zone in ether game he has not disappointed fantasy owners, with 247 receiving yards. Edelman has been a key piece for Brady in each of the last two Super Bowls that he has been active for. In 2014, Edelman had nine receptions for 109 yards and touchdown. He only managed five receptions and 87 yards in 2016 but when the Patriots needed him most he came up big. Expect to see Edelman have somewhere in the region of 10-15 targets and potentially find the end zone.
Josh Reynolds - LAR vs. NE (DK $5,400)
The one Rams player not called Jared Goff makes his appearance here. As I mentioned the Rams players in general are super expensive and unlike the Patriots I do not feel confident in anyone getting a safe number of touches. Therefore, my plan is to gamble that Reynolds is the Rams X-factor. The Patriots know Brandon Cooks well, and I think they focus a lot of attention on him and Robert Woods. That means someone is going to draw the weaker coverage and that feels like Reynolds. Generally this season Reynolds has seen five or more targets, giving him a relatively safe floor, and there is a decent chance this game could be one of the double digit games.
Cordarrelle Patterson - NE @ LAR (DK $1,600)
Somewhere you might need to go cheap and why not with the Patriots fastest player. If at some point the Patriots decide to blow the top off the Rams defense then this is likely the guy they use to try and do it. The Patriots have also looked to try and get Patterson involved in some manner a couple of times a game so at least he may see a couple of carries or short targets. However, we have also seen Brady trust Patterson on shots across the middle to the end zone from that 30 yard region. You only need one of those to work and he will give you a double digit return on a bargain basement price.
DraftKings DFS Tight Ends - Super Bowl Picks
Rob Gronkowski - NE @ LAR (DK $7,100)
He is not the tight end he once was but Gronkowski is still a huge factor for the Patriots. There is a lot of talk this might be his last game, and I find it hard to believe there are not at least a few plans to get him involved in the passing game if that is the case. You can make the case to avoid tight ends altogether in this game. However, if you want to have one of them on your roster, then this price looks really nice for a player who has the potential to be the Super Bowl MVP if the Patriots let him loose on the middle of that Rams defense.
More Fantasy Football Analysis