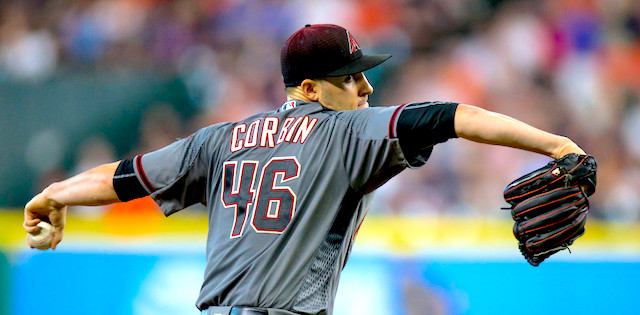 Welcome to Monday baseball on DraftKings! With all the football money floating around, it may be a good night to join some low dollar tournaments and cash games. You know people will get the itch and throw in a lineup after reading one article. It's dead money. We have just five game on the slate, but there is plenty to dive into.
Let's dive in to some of the top plays on this slate!
In this article, I will be providing you with my daily fantasy baseball lineup picks for DraftKings on 9/23/19. The lineup picks will range from some of the elite players to mid-priced options and value plays. Be sure to also check out all the MLB Rosters for today's slate. You can also read more DFS advice and lineup picks for sites like FanDuel, and other sports too.
Editor's Note: Get any full-season MLB Premium Pass for 50% off. Exclusive access to our Draft Kit, premium rankings, projections, player outlooks, top prospects, dynasty rankings, 15 in-season lineup tools, and over 200 days of expert DFS research.
Sign Up Now!
DraftKings DFS Starting Pitchers
Patrick Corbin - WAS vs. PHI - $11,800
We only have five games on the slate tonight, so we can't be too picky at pitcher. Patrick Corbin doesn't have the greatest match-up against the Phillies, but he's been extremely consistent and he's by far the best pitcher on the slate. He's having a career year, striking out 10.52 batters per nine behind a 3.61 xFIP. The Phillies have been middle of the road against lefties, sporting a team .316 wOBA and 23.1% strikeout rate. Corbin is expensive on DraftKings, but he's easily the top raw projected pitcher.
Steven Matz - NYM vs. MIA - $7,600
Matz will be extremely popular tonight and rightfully so. The Marlins will head to New York and while they're better against southpaws, they're still a historically terrible offense. They've gotten even worse this last month, posting a .286 wOBA against left-handed pitching. Steven Matz struggled in his last start, but it didn't matter at all as it was in Coors Field. He's been up and down on the season, but he strikes out a batter per inning and you know the strikeouts are safe against this lineup. He's been great recently and this price is far too low for the elite match-up.
DraftKings DFS Infielders
Yadier Molina - STL @ ARI (Young) - $3,700
Catcher is beyond ugly. Even if you want to pay up, there is no safe option. Yadier Molina has been on fire of late and he's always been great against southpaws. Alex Young is a fine young lefty, but he is no lockdown pitcher. The Cardinals are going to put up runs tonight and Molina will likely be hitting fifth. His price is fair on DK and he won't restrict you paying up anywhere else. You can also wait for lineups to come out and punt, which I do not hate the thought of on this slate.
Trey Mancini - BAL @ TOR (Buchholz) - $5,000
It was just five days ago that we were looking at this same match-up. Clay Buchholz was thrashed around by these Orioles, resulting in seven earned runs in just 3.2 innings. The entire lineup tee'd off and I expect nothing less tonight. Mancini is the beating heart of the lineup, and he's posted a .370+ wOBA against both sides of the plate. Buchholz is grasping for straws at this point and coming up empty. He'll be lucky to last five innings.
Brandon Lowe - TB vs. BOS (Chacin) - $4,700
Brandon Lowe returned from injury just yesterday, so hopefully, he stays off a lot of folks radar. The Red Sox are running out Jholuys Chacin and Shawaryn. Both are absolutely terrible against lefties and that's why the Rays hold an implied total close to five runs. Lowe started this season as one of the best second baseman in the league and it's because of the damage he does vs righties. Lowe is affordable on DK for the time being and he makes sense in all formats.
Vladimir Guerrero Jr. - TOR vs. BAL (Shepherd) - $4,000
I know Guerrero has gone through a power drought and it likely has to do with his conditioning as a rookie. With that being said, the dude nine hits in his last five games. It's quite obvious once he starts training that this is going to be one of the best hitters we have seen in quite some time. As for tonight, he's way too cheap on DraftKings. Chandler Shepherd just gave up a few runs to this same team and Guerrero will certainly continue his hit streak tonight.
Jonathan Villar - BAL @ TOR (Buchholz) - $4,900
If you were to look at my yearly ownership rates per position, Jonathan Villar would surpass any other SS by a mile. He's been a favorite of mine since Milwaukee. Why? Because he is reliable at the plate and has legitimate home run and stolen bases upside. He also doesn't waste at-bats, which is invaluable out of the leadoff spot. The Orioles are going to brutalize Buchholz and this bullpen and I see no reason to shy away from at least a four-man stack, if not five. Villar has posted a .400 wOBA against righties this season and I won't be going anywhere else at SS.
DraftKings DFS Outfielders
Juan Soto - WAS vs. PHI (Eflin) - $5,100
We've stayed away from the Nationals up to this point, but they are another team that can put up a bunch of runs tonight. They're facing off with Zach Eflin, who's a pretty cut and dry opponent. He's been great against righties, but putrid vs lefties with a .350 wOBA and 15 home runs in 67 innings. Juan Soto is the best of the bunch, but you can play any of these left-handed sticks. The Nationals stack will be under-owned and has as much upside as anyone on the slate.
Marcell Ozuna - STL @ ARI (Young) - $4,500
Alex Young is a talented young lefty, but he's far from someone to stay away from. He only pitches a few innings in most starts and he's given up at least two earned runs in the majority of them. Marcell Ozuna is having a weirdly off year, but he's always been a masher vs lefties and the Cardinals have kept him in the middle of the order. With a .174 BABIP, it's not hard to find what should be blamed. Ozuna is fine, and he's a great play in all formats on DraftKings. I like pairing him with Goldy at 1B.
Things change quickly as lineups come out. If you have any questions, hit me up on Twitter @VarneyDFS and I'd be more than happy to help.
MLB DFS News and Injury Alerts