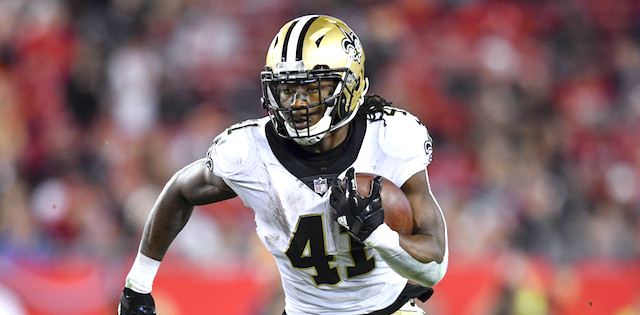 Welcome to Disaster Recovery, where each week I'll examine why your studs played like duds.
This isn't a place to find out why you should have benched a player for somebody on your bench. Disaster Recovery is to examine the guys who you didn't think twice about benching, and deciding if you should be panicking at all about their value moving forward.
This season we'll be covering one dud per week. There will be two major qualifiers: the player must have performed well below expectations without an injury, and the player must be considered a must-start in most formats.
Editor's Note: Get any full-season NFL Premium Pass for 50% off. Our exclusive In-Season Lineup Tools, Lineup Optimizer and over 150 days of Premium DFS Research.
Sign Up Now!
Rankings System
I'll also be implementing a new panic meter ranking system this year. It goes as follows:
This week was a fluke. Don't panic!
I still have full faith in this player, but there are some red flags. Be cautiously optimistic moving forward.
There are genuine concerns here. Consider selling on name value, but don't panic too much unless you receive an offer you can't refuse.
This player will not be the player you expected him to be. Regardless, his value may be too low to trade, and his ceiling is going to be better than anything you can get in return. Panic, but hold tight.
Absolutely abandon ship. We're not coming back from this.

Week 5 had one dud that stood out well above the rest: Alvin Kamara, fantasy's number one player through the first four weeks of the season.
Ingram Rising
Alvin Kamara's Week 5 stats: six rushes for 24 yards and three receptions for 15 yards on four targets.
Wait... what?
The return of Mark Ingram after serving his four game suspension resulted in Kamara's worst game of the year by far. After averaging over 150 total yards during the first four games of the season, the second-year back failed to even come close to 50 total yards. It was Kamara's first healthy game without double digit touches since Week 3 of last season.
How?
It was hard to predict just how much Mark Ingram would cut into Kamara's workload, but I don't know if anybody expected this...
...still, the more I think about it, the more this makes sense. Kamara got the full workload during the first four weeks of the season, averaging over 20 touches in that stretch. He only averaged 14 touches a game last season. Giving him a bit of a rest wouldn't hurt. The Saints made it a point to get Ingram back into the offense and up to speed as quickly as possible. That explains why he doubled Kamara's touches in Week 5.
There was also not the usual number of touches for the duo on Monday night. Last season, they averaged 34 touches during their peak run between Weeks 6-13. They touched the ball 27 times combined against Washington, down seven from their average last year. Gameflow didn't benefit Kamara in this one.
Using the Past to Predict the Future
Reliving 2017
Just so we can walk Kamara owners off the ledge, let me just remind you of some quick facts from last season:
Mark Ingram had 87 more touches than Alvin Kamara in 2017.
Kamara didn't have a consistent role in the offense for the first three games of the year.
Kamara basically missed an entire game with an injury.
Kamara still finished third overall in scoring last season.
A time-share isn't the end of the world for Alvin Kamara. He spent all of last season in one and still finished third in scoring. The Saints offense has shown no signs of letting up this year. Ingram is only going to make the offense better.
Running in the Red Zone
Alvin Kamara and Mark Ingram each scored 12 offensive touchdowns in 2017. Nine of Ingram's came in the red zone, compared to seven of Kamara's. The most notable stat here is that seven of Ingram's red zone touchdowns were within the three yard line, compared to one for Kamara.
Kamara's four red zone rushing touchdowns in 2018 were from one, four, five, and nine yards out, respectively. He also had a seven yard receiving touchdown. Ingram out-carried Kamara 19 to 13 from inside the 10 last year, and out-carried him 13 to 4 within the five.
The harsh truth is that Kamara won't get many, if any, carries from within the five for the rest of the year. Any realist should have seen this coming. Ingram feasted on goal-line touches last year and there is no reason why the Saints shouldn't reestablish him as the goal-line back this year. That's going to hurt Kamara in the long-term this year. But it won't ruin his season.
Panic Meter: 1.5/5
The fact that some people have just forgotten about how ridiculous Kamara was over the first four games of the season baffles me. Even with the dud last week, Kamara remain's fantasy number one per game scorer in PPR formats and second in standard and half-PPR behind Todd Gurley. He may not be able to keep that standing for the rest of the season, but I'd still anticipate Kamara being a top five running back for the rest of the way.
It's one game. One. I would be floored if Kamara averaged nine touches a game for the rest of the season. I'd be shocked if he even saw that line again this year. He's going to continue to see targets, he's going to get more carries than he did this week, and he's a threat to break open a play anytime he touches the ball.
If Kamara, sees nine touches again after the Saints come off their bye week, then the panic meter may rise a bit. But Kamara only averaged 14 touches a game during his peak last year. He made those touches count. He's going to make them count in the coming week, and I'd still even expect him to get more touches than that. The Saints have a lot more invested in Kamara than Ingram. I'm expecting him to be the leader in this dual-threat backfield, even if Ingram is the one punching it into the end zone more often.
Simply put, you'd be a fool to sell on Kamara after one game. If the Kamara owner in your league is panicking, go out and get him!
What To Watch For
Obviously, keep your eyes on the touches and snap count. Ingram saw 55% of snaps on Monday, compared to Kamara's 47%. Look for how often Kamara is on the field in passing downs compared to Ingram. See how many carries. A repeat of the 18/9 split in favor of Ingram shouldn't happen again. If it does, we'll probably be back here in two weeks talking about Kamara again.
More Fantasy Football Analysis