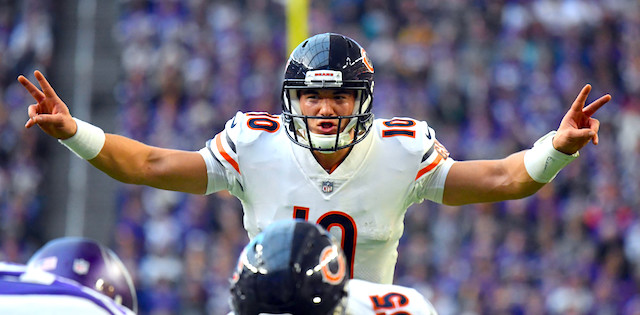 It's time to dig deep. In fact, it's time to dig deeper. Everybody knows who is a top-tier fantasy asset. Everybody has a clear picture of who to target in the middle rounds of their drafts. That is why you need to study the full roster of available players and look for low-valued bargains with huge upside. And this is what we're here for.
Think for a minute that you're part of a way larger league than an eight or 10-team one. In that case, you'd find yourself desperate to find value wherever you can. You'd need to study the deepest of depth charts and probably the second-string quarterbacks or starters with low projections but huge upside in order to get a good return on investment. Using ADP data from hundreds of  MyFantasyLeague.com fantasy drafts, I have built a dataset to try and find some deep QBs that can be obtained really late in drafts or even for free after the draft is finished.
Here is a look at four quarterbacks that can be considered deep sleepers. Keep an eye on them and track their presence on the draft board as they can become interesting pieces down the road during the development of the 2020 season!
Featured Promo: Get any full-season NFL Premium Pass for 50% off and win big in 2023. Exclusive access to our Premium articles, 15 lineup tools, new Team Sync platform, Lineup Optimizer, Premium DFS tools and cheat sheets, and much more!
Sign Up Now!
ADP: 192.1
Running quarterbacks have been labeled "fantasy football cheat codes" recently, even more with the great seasons put together by the likes of Lamar Jackson (mostly), Deshaun Watson, and Josh Allen. I call them what they are, "perfectly legal league winners". Enter Tyrod Taylor, the next starter in line to become part of the sought-after group of rushing QBs in 2020. The Chargers have moved on from Philip Rivers and although they will make Justin Herbert their starter in the long run, it all points toward Taylor's direction at least to kick the 2020 season off.
Taylor is already quite a veteran. He's entering his 10th season as a pro and he's been a starter three years in Buffalo from 2015 (when he was a Pro Bowler) to 2017. In those three seasons, he started 43 games, completed 774 passes for 8,857 yards (205 Yds/G), and threw 51 TDs against only 16 INTs. On top of that, he rushed for 568, 580, and 427 yards respectively, scoring four TDs in 2015 and 2017 and six TDs in 2016.
While rookie Herbert is being drafted with an ADP of 105.8 (QB23), Taylor is going absolutely under the radar with an ADP of 192.1 (QB35). Assuming Taylor starts every game while Herbert learns from him, we'd be talking about a player with the upside to reach 230+ FP in 2020. Taylor could (and should) easily reach 500+ yards on the ground given his past performance and how the league is developing. He will have Austin Ekeler in the backfield but Melvin Gordon III is gone. If Taylor is not the ultimate sleeper then I don't even know.
ADP: 202.0
I had both Nick Foles and Trubisky in the first draft of this column, but ultimately I opted to drop the former due to his "high" ADP of 177.9. Trubisky is much more apt for this exercise, and he also brings one of the highest ROI marks to the table when considering his ADP over 200 and expected FP of 142.3 in 2020 (via PFF projections).
If we're honest here, and even more taking into account the ongoing pandemic and its impact on offseason workouts, Trubisky will most probably start the season leading the Bears on offense. At the very least I'd say he'd play three or four games before Chicago benches him in favor of Foles if things go awry for Mitch (say, no wins in that span). If he can keep the team at least around a .500 winning percentage, though, it is not hard to think Chicago would keep him as the starter. If that happens you would probably have a steal in your hands.
In the very worst of scenarios, Trubisky would be a good waiver addition to stream or a super-deep draft pick in large leagues or 2QB ones. He's projected to finish the season as the QB32 while Foles ranks 33th in the PFF projections. Trubisky is also the only quarterback projected to reach at least 140 FP points while being drafted with an ADP over 200 and QB30+ off the board.
ADP: 210.1
The case for Fitzpatrick is very similar to that of Tyrod Taylor, only flipping the rushing prowess of the latter for the booming tendencies of the former. Both are projected to start the season as starting QBs for their respective teams, both have ADPs of 200+, and both are expected to break the 200 FP barrier.
As much as Fitz's approach to the passing game would scare any real-life head coach, it should definitely please every fantasy GM. Last season, playing for a rather mediocre Dolphins team, Fitzpatrick was able to string 12 consecutive games in which he performed at least as a QB2 weekly (min 11.1 FP) and in seven of those games, he did so as a top-12 QB.
While Fitzpatrick threw nine INTs in those 12 games, he also helped his receivers score 19 TDs and added four TDs on the ground rushing the ball by himself. Fitz logged more than 250 passing yards in seven of his 13 starts. Love or hate his wild game, but when you put all of his numbers together you get a top-25 player (that's where he finished last season) with upside to finish the year with 275+ FP if given the chance to start at least 14 games.
With Tua Tagovailoa's health concerns and the Dolphins in the middle of a rebuilding effort, it doesn't make much sense to rush the rookie into the starting role. Almost no fantasy GMs are trusting Fitzpatrick these days but he finished 2019 as a mid-level QB2 and there is no reason not to make him a late-round flier or free waiver addition to stream down the road.
ADP: 228.7
I left Mariota for last because he's the one player with the fewest chances to start the season as the No. 1 quarterback on his team. Actually, he's got no chance and he will be Derek Carr's replacement all year long barring an injury to the latter. That being said, though, Mariota has enough to become a good QB2 if put on the leading role for whatever reason that happens.
Last season, Mariota threw for an average of 223.2 yards per game and launched seven TDs while scoring 19.3 FPPG. The sample is small, sure, but that fantasy average would have ranked 18th among quarterbacks by season's end. Carr's future with the Raiders is murky at best, and we would witness a reverse-Mariota being pulled off in Las Vegas this season if he doesn't keep the team up, though.
Drafting Mariota is a gamble, sure, but at his current price, he could turn into a serious steal by mid-season. Averaging his stats, he should approach 30 attempts and 20 completions per game, around 218 yards per contest, and 1.4 TDs (basically three TDs every two games) for an average of 19 PPG again. Nobody would pass on that at the price Mariota is going these days, the 39th-highest among QBs behind the likes of Taysom Hill, Jalen Hurts, or Jordan Love among others...