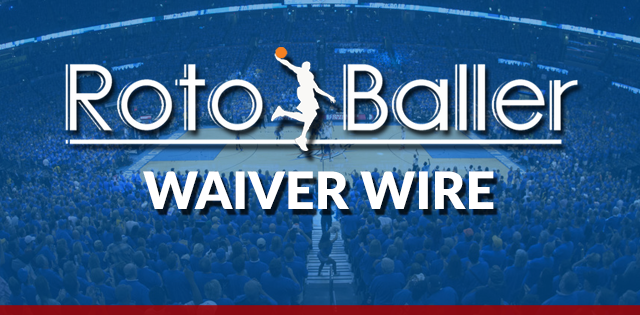 Every week we come back to the same problem. Why are these players doing well and my players doing so bad. Luckily, you aren't alone and there are always going to be surprises, especially at this point in the season. Last week, I touched on the importance of the All-Star break and how the best players will have monstrous games. The most recent examples of this are recent outings from Jamal Murray, Luka Doncic, Clint Capela and Devin Booker.
There are still going to be instances where players like Jordan McRae, Brandon Goodwin, and Marcus Morris come out of nowhere to post category swinging numbers, but let's be honest, it's hard to predict. That being said, these next three players are coming off of big weeks and should keep that momentum moving forward.
Make sure to stay updated on injuries and return times, but as far as I'm concerned, these next three players will see the biggest benefit. As a reminder, for standard (10-12 team) league adds, we use a general rule of thumb of an ownership rate of under 50% on Yahoo. All position eligibility based on Yahoo leagues. If you have any questions find me in the NBA Chat Room or @ on Twitter.
Editor's Note: Our friends at Monkey Knife Fight have the best, most fun, fastest growing DFS props game! It's super simple to play and to win real money. Just choose your NBA, NHL or PGA game, and make your picks! Get a 100% instant deposit bonus up to $50 using promo code: BALLER. That's $50 for free - don't miss out!
Play Now!
Free Agent Waiver Adds for Week 12
Shabazz Napier, PG/SG  – Minnesota Timberwolves

Ownership: 29%
9.8 PPG /  2.4 RPG /  .406 FG% /  1.2 SPG / 4.2 APG 
Until Jeff Teague returns, there really isn't anyone competing for Shabazz Napier's minutes and usage. Jarrett Culver is most likely going to have a rough rookie season unless he manages to find some consistency with his ball-handling duties, but he is looking more and more like a just highlight playmaker. He'll have those games where he will do his version of filling the stat sheet, but Napier is going to be the one raking in the assists and points. That shouldn't change unless Teague returns and steals the minutes, but as far as the bench and younger player on the Timberwolves are concerned, Napier should be safely cemented in his role.
Mikal Bridges, SG/SF – Phoenix Suns
Ownership 39%
7.1  PPG /  3.9 RPG /  .497 FG% /  1.4 SPG
The Suns face the Orlando defense in a few days, but outside of that matchup, Mikal Bridges and Phoenix will run up against the Kings, Hornets, and Hawks in three of his next four games. You cannot find more opportunistic upside among a player this deep on the waiver wire, so if you are needing to take a chance, here you go. Bridges has been steadily improving as a player over the season, but it wasn't until extremely recently that he found some regularity in his scoring. It might not be a trend for the rest of the season, but for the next week or two, Bridges could be in store for some seriously impressive outings.
Maxi Kleber, PF/C – Dallas Mavericks

Ownership 37%
 9.0 PPG /  .467 FG% /  5.5 RPG / 1.7 3MPG
Sticking with the same theme of upside, Maxi Kleber has found the perfect role within the Mavericks offense. Yes, Kristaps Porzingis basically forced this recent production to happen by missing time, but it wasn't like Dallas tossed Kleber to the side before that. Focusing on his most recent games, it's easy to see why Kleber will be a hot commodity for the next few games. DFS'ers and standard players alike are eyeing Kleber to have one or two big games before Porzingis returns, but there's always risk in case he isn't hitting his shots. Just in case that does happen, I wouldn't be too worried since he does contribute on the defensive end as well.
More Fantasy Basketball Analysis
By popular demand, RotoBaller has aggregated all of our fantasy basketball NBA waiver wire pickups into a running list of NBA waiver options, so bookmark the page and check back often for updates.