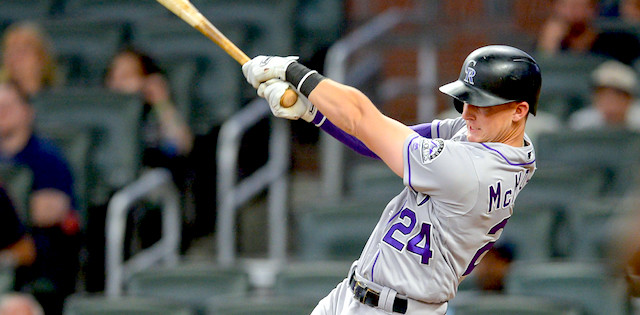 Welcome to Contact Rate Risers and Fallers for Week 13! Our premium tools allow us to get out ahead of trends in player performance, including contact rate. Every Wednesday, we'll be looking at some players that have seen an increase in contact rate and some that have seen it decline.
Contact rate can foretell a player's batting average and general hitting statistics, and any drastic change could signal a shift in performance. Contact rate shifts often act as a precursor to hot streaks and slumps.
Here is a breakdown of some of the biggest fantasy relevant risers and fallers in contact rate over the last seven days.
Editor's Note: Get our 2020 MLB Premium Pass for 50% off, with exclusive access to our draft kit, premium rankings, player projections and outlooks, our top sleepers, dynasty and prospect rankings, 20 preseason and in-season lineup tools, and over 200 days of expert DFS research and tools.
Sign Up Now!
Contact Rate Risers
Data current as of 7/3/2019 and taken from RotoBaller's Premium Tool.
100% contact rate last seven days (+24%)
It has not been the season everyone hoped for from the new young catcher on the block. Jansen has been flailing with the bat, managing just a .196 batting average and five home runs so far this season. His 21.7 K% is the highest at any time in his professional career since his time playing rookie ball in 2015, and it has been the same time frame since his BABIP was this low.
His contact rate numbers are down from when he impressed in his brief major league stint last season. His overall Contact% has dropped from 84 to 80%, and that has been a product of dropping below 70% on his O-Contact%, as well as seeing his Z-Contact% drop below 90%. Those numbers have meant a nearly 2% increase in SwStr% which is helping drive a 4% increase in K% this season. His BABIP is down nearly .050, which is a little odd given his increase in average exit velocity. Yes, he has seen his GB% increase, but 40% is still not a ridiculous number and his LD% has remained over 20%.
If we look at his xBA so far this season, .246, we can see more evidence of what the BABIP is telling us, he has been unlucky. It is hard to hold on to a catcher struggling this badly who is not offering power but in two-catcher leagues, he is worth a speculative add or buy, in case his good performances last week are the start of a change in fortunes.
88% contact rate last seven days (+15%)
The story of Crawford's career has been one of limited opportunities with the Phillies. Hopefully, the move to Seattle can see a change in those fortunes, and so far the returns have been good. Crawford has matched his home runs total from last season, three, but has reinforced that with a .300 batting average, having sat at .214 in both his stints with the Phillies. His batting average increase is being driven by a massive .100 jump in BABIP, and to a slightly lesser extent, a 2.5% drop in K%.
His contact profile helps explain the drop in K%, but also offers reasons for concern. He is swinging at more pitches outside the zone than he did last season but is getting away with it thanks to a 6% increase in O-Contact%. Hopefully this is just a sign of growth and knowing which pitches he can go after outside the zone, but it could easily be something we see regress in the coming weeks.
His BABIP growth appears to be driven by an increase in line drives, at the expense of fly balls, and his xBA of .288 suggests that this batting average increase in 2019 is absolutely for real. If you have not already and the opportunity is still there then Crawford could be a really useful contributor at shortstop, even if it is only with batting average, because that is extremely valuable.
86% contact rate last seven days (+12%)
I hope we are not seeing the decline of Votto, but it is really starting to feel that way. The veteran first baseman has seen his batting average decline in 2019 for the third straight season, and his K% is higher than it has ever been previously in his career. To add to the mix his BB%, which is one of the things he has been known for in his career has dropped a whopping 5.5% from 2018, and 7% from 2017.
His contact profile demonstrates some of the reason, as his ability to make contact outside the zone has dropped 13% down to 65% this season. That has driven a dip in his overall Contact% and a rise in his SwStr% this season. However, the numbers are not so wildly different from the past few years to suggest that the struggles this year are irreversible. His O-Swing% is below his career average, and his Contact% is right around his career norm.
However, his xBA has dipped this season, despite his exit velocity still being right around his career numbers. The issue comes in the increase in his launch angle which has seen him add 7% to his FB% and losing that from his LD%. Fly balls tend to land as hits less often than line drives and this appears to be the driving factor. However, the contact profile suggests that Votto may be worth trying to buy-low in incase this last week is a sign of a second-half bump.
Contact Rate Fallers
Data current as of 7/3/2019 and taken from RotoBaller's Premium Tool.
40% contact rate last seven days (-28%)
It has been a weird season for McMahon. On one hand, his batting average has improved, but equally it till sits at just .256, and he has just seven home runs on the season so far. His strikeout rate is still a whopping 28.1%, thanks in large part to a 68% contact rate, and a 15.4 SwStr%. His improvements in O-Contact% have been negated by a drop in Z-Contact%, and a second straight half-season of similar numbers starts to make you wonder if this is the hitter he is.
A major positive is a further increase in exit velocity over 90 mph, but even with that his contact profile ensures his xBA remains around .235. Whilst we all love a young Rockies hitter, it may be time to cut bait on the frustrating McMahon.
53% contact rate last seven days (-21%)
Soto is absolutely backing up his brilliant rookie campaign, with a .301 batting average and 15 home runs so far. His batting average remains high despite a slight increase in K%, thanks to a .355 BABIP. The slight K% increase can be seen in his contact profile, as his overall Contact% has dropped 3%, thanks to an O-Contact% drop of 6%. However, when he does make contact he is brilliant, with a hard hit% in the 74th percentile, and repeating his 89.4% average exit velocity.
He has also traded off 10% in GB% for an LD% and FB% increase of five each. That exit velocity and the LD% are driving that impressive BABIP and ensuring that once again he is outperforming his xBA. Given he outperformed his xBA last year as well, there is no reason for panic, and Soto remains one of the premier players for fantasy baseball, especially in dynasty leagues.
59% contact rate last seven days (-18%)
Things have been a little up and down for Pham this season, as he hit just .250 in June. However, the season as a whole has been solid, with a .285 batting average and 13 home runs. He has cut his K% to a career-low 19.3%, thanks to him being more selective, and making more contact on pitches outside the zone.
Right now Pham's O-Contact% sits 8% above his career average and 10% above last years numbers, fueling a 2% drop in SwStr%. If this little wobble has scared anyone in your league about Pham's upside then you should absolutely be looking to jump on and acquire a very consistent hitter in a solid lineup.
Contact Rate Risers and Fallers - Premium Tool
Identifying top batting average surgers for each week can help you spot the best pickups before your competition. RotoBaller's Premium Contact Rate Risers and Fallers tool has you covered every day. As thoughtful fantasy baseball players, we won't lead you astray. Here is a small sample: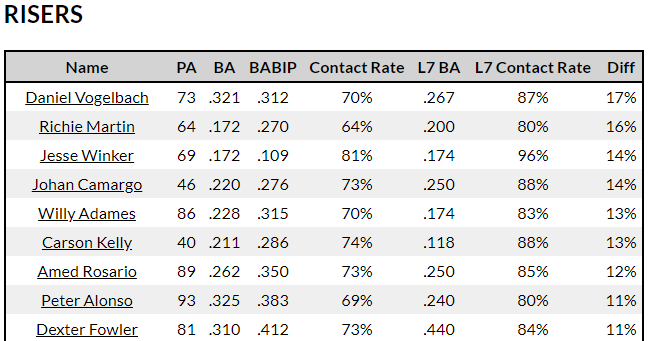 This type of data is available as part of our Premium MLB Subscription and launched on April 22nd for the 2019 season. Don't settle for basic stats and surface-level advice from other sites. RotoBaller brings you advanced statistics and professional analysis that you need to win your fantasy leagues and DFS games because we're ballers just like you. We are your secret weapon!
More Fantasy Baseball Advice and Analysis