Welcome to Contact Rate Risers and Fallers for Week 10! Our premium tools allow us to get out ahead of trends in player performance, including contact rate. Every Wednesday, we'll be looking at some players that have seen an increase in contact rate and some that have seen it decline.
Contact rate can foretell a player's batting average and general hitting statistics, and any drastic change could signal a shift in performance. Contact rate shifts often act as a precursor to hot streaks and slumps.
Here is a breakdown of some of the biggest fantasy relevant risers and fallers in contact rate over the last seven days.
Editor's Note: Get any full-season MLB Premium Pass for 50% off. Exclusive access to our Draft Kit, premium rankings, projections, player outlooks, top prospects, dynasty rankings, 15 in-season lineup tools, and over 200 days of expert DFS research.
Sign Up Now!
Contact Rate Risers
Data current as of 6/12/2019 and taken from RotoBaller's Premium Tool.
91% contact rate last seven days (+20%)
Bruce was enjoying a nice season with the Mariners. Through 184 PA he had 14 home runs and 55 combine runs and RBI. However, his move to Philadelphia lit a rocket under his fantasy production. In eight games and 30 PA he has five home runs, a .379 batting average, eight runs, and 13 RBI. Bruce's run of form actually goes right back to the middle of May. Since May 18th, he has a .356 batting average, and has registered a hit in 14-of-17 games.
A big reason for that is his contact rate. His contact rate in that period is an impressive 81%, 10% above his overall season number. The problem is that this surge from Bruce is unlikely to be sustainable. If anything it was just him regressing to his career mean. Over the course of his career, Bruce has been a 73 Contact% hitter. This season, following this hot stretch his number now sits right around 72%. In fact, all of his contact numbers, O-Contact% and Z-Contact% are back at their career norms, following this hot streak. The issue for Bruce is that even with this correction, his SwStr% is still sitting at a career-high 15.4%, fueling a close to career-high K% of 26.2.
However, there is room for his batting average to potentially continue to rise. Right now his BABIP is a career-low .223, due in large part to his launch angle being seven degrees above his career average. This hot streak has not seen that change, as 60% of Bruce's batted balls remain fly balls. His BABIP in that period has been .318, which is as unsustainable as everything else, but there is still room for that season-long .223 BABIP to increase. With Andrew McCutchen on the IL, Bruce now has an everyday role in a park which is significantly better for hitters than the one he was playing in before.
100% contact rate last seven days (+18%)
Ramos is currently in the middle of turning his season around. As one of the safer catchers when it comes to average, alarm bells would have been ringing when he hit just .247 in the first month of the season. In May he improved that to .286, and that improvement has continued into June. Over the first 11 days of June, he is hitting .360 with two home runs and delivering on the expectations of his fantasy owners.
The correction over the last month and a half have put Ramos exactly where we expected him to be. His batting average, BABIP and plate discipline all look similar to his career numbers. If any of those are slightly off then it is his BABIP compared to his last two full seasons. The reason for that is likely the increase in ground balls. So far this season his GB% sits over 60% for the first time since 2012. If he can transfer some of those ground balls into line drives and fly balls, then we could see both the power and average numbers continue to rise.
100% contact rate last seven days (+13%)
2019 has not been a great season for Franco, who is hitting just .209 with nine home runs. The contact rate profile over the last week is promising, but contact has not been his issue this season as a whole. His contact% is sitting right at his career numbers, of 80%, his SwStr% is a career-low 9.9% and his K% as a whole is a career-low 12%.
The issue has been in the quality of contact, with an incredible 25% of his batted balls being infield flyballs. If he can start driving those fly balls more than he may find some success, as his exit velocity is close to his career-high at 89.4%. If Franco can get more of those balls pushing out to the outfield as flyballs and line drives then he could become fantasy relevant, but for now, he has to remain on waiver wires.
Contact Rate Fallers
Data current as of 6/12/2019 and taken from RotoBaller's Premium Tool.
52% contact rate last seven days (-27%)
Power wise 2019 has been wonderful for Matt Chapman, as he has 16 home runs already, and is on pace to blast past his career-high of 26. However, his batting average has suffered, dropping down to sit at .253, not as bad as his rookie year, but not as good as his sophomore season. Interestingly, that batting average drop comes despite a massive decrease in K%. Chapman struck out 23.7% of the time last season and has cut that to 18.8% this season.
That is largely thanks to the combination of swinging less at pitches outside the zone, while also increasing his O-Contact%. That has seen his SwStr% drop to a career-low 8.4%. The issue for his batting average has been his batted ball profile, as his GB% has jumped 4%, at the expense of his LD%. If he can get that LD% up then he should see some batting average growth, as he currently ranks in the 95th percentile when it comes to exit velocity. 2019 has been good to Chapman so far and there is a case for real optimism that it could get better yet.
59% contact rate last seven days (-18%)
Pence is having a fascinating season in Texas, with 14 home runs and a .284 batting average. However, while it was unlikely he would be as poor at the plate as he was last season, the way he started over the first two months was also unlikely to remain. So far in June, Pence is hitting just .225, but does at least have three home runs. In terms of his contact profile, nothing he has been doing is particularly out of the norm for him. His O-Swing% remains a little higher than you would like compared to his career average, and he is making contact slightly better than normal on those pitches. Therefore, you might expect to see his SwStr% increase and his K% as a whole with that.
Where Pence has been stunning people is how hard he is hitting the ball. His exit velocity is up on anything we have seen in the last five years, and his hard hit rate is 10% above anything we have ever seen from him before. In fact, Pence ranks n the 93rd percentile in exit velocity, and that is helping to fuel this recovery. This deep into the season it is time to start believing that this is a conscious effort to simply hit the ball harder. A HR/FB rate double his career average is unsustainable, but there is a real chance Pence could yet threaten 25 home runs this season. Additionally, his batter ball profile has seen his xBA rank in the 87th percentile at .291, suggesting that the batting average we are currently seeing is no fluke.
46% contact rate last seven days (-17%)
Chavis is another hitter who was inevitably going to have a dip at some point. He roared onto the scene hitting 10 home runs in his first 36 games, but his batting average started to catch up with him as May progressed. In June he has really struggled, having yet to hit a home run, and registering just a .189 batting average. His K% started high at over 25% in April, jumped over 30% in May, and now sits over 45% in June.
His contact profile highlights the problem. He is making contact on just 63% of swings and has a SwStr% at a scarily high 18.7%. This is due to a Z-Contact% of just 75% and a O-Contact% below 50%. Right now the only way Chavis is trending with this contact profile is down, and it may soon be time to cut bait and move on.
Contact Rate Risers and Fallers - Premium Tool
Identifying top batting average surgers for each week can help you spot the best pickups before your competition. RotoBaller's Premium Contact Rate Risers and Fallers tool has you covered every day. As thoughtful fantasy baseball players, we won't lead you astray. Here is a small sample: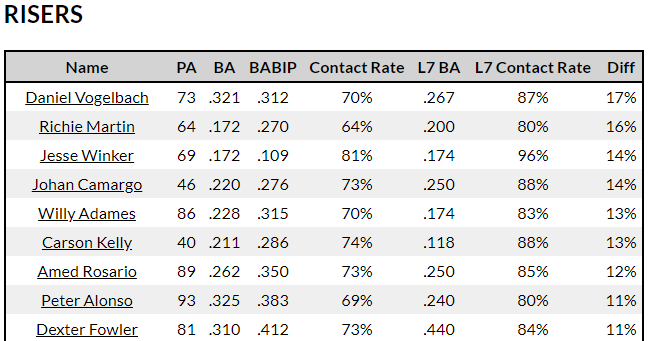 This type of data is available as part of our Premium MLB Subscription and launched on April 22nd for the 2019 season. Don't settle for basic stats and surface-level advice from other sites. RotoBaller brings you advanced statistics and professional analysis that you need to win your fantasy leagues and DFS games because we're ballers just like you. We are your secret weapon!
More Fantasy Baseball Advice and Analysis