It's Wednesday, so we have a handful more breakout hitter picks for you. This post has been a lot of fun for me to write every week, and I hope some people out there are enjoying it!
If you're new here, every week I give 4-6 hitter names that seem to have sustainable improved production this season. Most of these names will be young hitters because that is the nature of a breakout. There will be exceptions from time-to-time as well as I give you more well-known and well-established names that seem to have made a change to their profile this year.
For full transparency, I also track the picks every week, so you can go back and see who I picked. There will be some misses, but hopefully, we'll have enough hits to make this a worthwhile endeavor. I'll give you the tracker first and then we'll get into the four names we're picking for this week.
Featured Promo: Get any full-season MLB and DFS Premium Pass for 50% off. Exclusive access to our Team Sync platform, Premium articles, daily Matchup Rating projections, 15 lineup tools, DFS cheat sheets, Research Stations, Lineup Optimizers and much more!
Sign Up Now!
2023 Breakout Picks Tracker
| | | |
| --- | --- | --- |
| Week | Date | Breakout Picks |
| Week 3 | 4/12 | Logan O'Hoppe, Miguel Vargas, Nolan Gorman, Josh Lowe, Brandon Marsh |
| Week 4 | 4/19 | Jarred Kelenic, Ian Happ, Luis Garcia, Kerry Carpenter, Brent Rooker |
| Week 5 | 4/26 | Jack Suwinski, James Outman, Nico Hoerner, LaMonte Wade Jr., Cody Bellinger |
| Week 6 | 5/2 | Masataka Yoshida, Jarren Duran, Jonah Heim, Edward Olivares, Jorge Mateo |
| Week 7 | 5/9 | Ezequiel Duran, Triston Casas, Joey Gallo, Zach McKinstry, Ke'Bryan Hayes |
| Week 8 | 5/16 | Alex Kirilloff, Matt McLain, Zach Neto, Taylor Walls |
Week 9 Picks
We talked about Jung last year, and plenty of people have beat me to the punch on this. Jung was a guy that absolutely obliterated minor league pitching in his career (.313/.379/.576 line in the minors since 2021), and he was listed as one of the game's top prospects -- so he didn't exactly slip through the cracks for fantasy purposes.
The reason I have held off on calling him an official breakout pick was that he had struggled mightily with strikeouts in the major leagues.
| | | |
| --- | --- | --- |
| Year | PA | K% |
| 2022 | 102 | 38.2% |
| 2023 | 189 | 30.2% |
It doesn't matter how much pop you have in the bat, you just cannot be successful in the majors with a 38% K%. It's pretty tough to have success with a 30% mark -- but history was proven that it's at least possible to do that (Aaron Judge, Giancarlo Stanton, etc. -- those guys have done it).
The best news of all is that Jung has been making contact at a higher rate as the year has gone on.
You can see that something changed at the end of April. Here are some 2023 splits on Jung over those timeframes:
| | | | | | |
| --- | --- | --- | --- | --- | --- |
| Month | PA | K% | Cont% | Brl% | OPS |
| Apr | 108 | 32.4% | 65.6% | 12.3% | .824 |
| May | 81 | 27.2% | 75.6% | 13.0% | .736 |
A 10-point increase in contact rate is really striking, even though it came without a big boost in Brl% and a decline in OPS. He has been a bit more aggressive in May, raising his swing rate three points to 50%. It's especially good to see him making more contact even with more swings. The more balls this guy can get into the play -- the better.
There's very little questioning Jung's ability to hit homers. His exit velocity has been a little bit more moderate this year with a maximum EV of 108.9 and a 90th-percentile mark of 104.8. Those are fine numbers, but they're well shy of the league's best. How Jung hits his homers is by consistently getting balls into the air.
His 24.1-degree average launch angle is top 20 in the league.
His most common launch angle range is between 20 and 30 degrees, and that's where the homers come.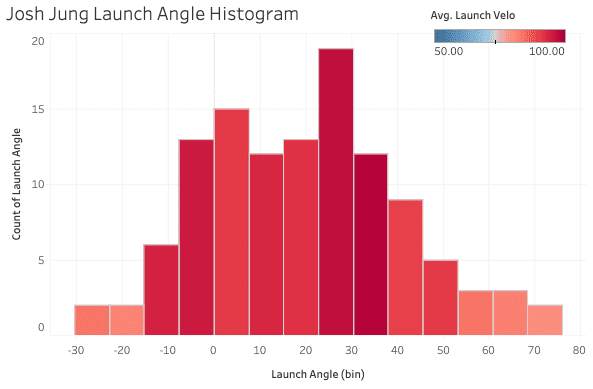 He has a swing for the long ball. If he can really keep a K% below 30%, he's going to be one of the better home run hitters in the league. He's almost certainly rostered in your league, but he makes for an appealing guy to "overpay" a little bit for right now as someone with a ton more upside in the tank if these recent contact rates sustain moving forward.
This is another name that most people are well aware of. Baty was the Mets' top prospect and one of the game's top prospects coming into this season. He had a brief stint in the majors last year before an injury derailed his late-summer season, but he's back in the majors now and he deserves a shoutout here.
So far, the results haven't been great for Baty at the highest level in 2023:
105 PA, .258/.343/.430, Four HR, 12 R, 10 RBI, 0 SB
That's not awful by any means, but he hasn't been a super great fantasy asset right now. He has also been sitting quite often against left-handed pitching. That might continue no matter what given how deep the roster's bench is, but there's very little doubt that the end goal for the Mets is for Baty to be their everyday third baseman for a very long time.
When you look under the hood, Baty looks more like a fantasy stud in the making.
| | | |
| --- | --- | --- |
| Stat | Baty | Lg Avg |
| K% | 21% | 22.7% |
| xwOBA | .374 | .316 |
| Hard-Hit% | 51.5% | 39.5% |
| Cont% | 73.4% | 74.2% |
| GB% | 51% | 43% |
The ground balls are high but not egregiously so. You can see how great the quality of contact is as he's crushing the league averages in those quality of contact stats while keeping the strikeouts below the league average.
I don't usually buy into young players/rookies, but if you can find me one that hits the ball extremely hard while not striking out at a high rate, I'm in -- and I'm in on Baty for 2023.
Ryan Noda, Oakland Athletics
This one is restricted to deep leagues. Noda was largely unknown coming into the year, but he has found a good amount of success in the bad Athletics lineup so far.
From 2021-2022 in the minors, Noda slashed .255/.389/.495 with a very nice 19.4 PA/HR rate while stealing 23 bags.
In the majors this year, he is striking out a lot (32%) and hitting just .224. His contact rate is bad at 63%. That's really the end of the scary news, however. Noda also has a very strong 14.5% Brl% with a nice and low 39% GB%. His xwOBA is well above average at .362 even with the high strikeout rate, and his hard-hit rate is strong at 45%.
One interesting thing in the profile is the 20% walk rate. He seems to know which pitches to swing at and which pitches to let go:
| | | |
| --- | --- | --- |
| Stat | Noda | Lg Avg |
| Swing% | 40% | 47% |
| Z-Swing% | 65% | 67% |
| O-Swing% | 17% | 27% |
He swings less than the league average, which doesn't help the strikeout total as he continually gets into deep counts. The redeeming quality there is that he has a well below-average chase rate (O-swing%) at 17%.

It's possible that his good eye at the plate will help him drop the strikeout rate moving forward since he's not very often offering pitches that can be touched. I'm not going to predict that he'll get the K% under 30% this year, but I think it's at least possible -- and even if he doesn't, the raw power is enough to help some teams out in very deep leagues.
Esteury Ruiz, Oakland Athletics
I suppose I have to apologize now because I have given you three names of players that are probably not available in your league. But I want to put my opinions down on these players and give them the seal of approval.
We knew that Ruiz could and would steal a ton of bases in the majors this year if he got playing time. The guy swiped 89 bases in 2022 between AA, AAA, and the MLB. He was caught 17 times, which means he attempted 106 steals in his 587 plate appearances, an absurd number.
The trade from Milwaukee to Oakland was good for his playing time opportunities. That has proven to be true as he's been an everyday player for the Athletics, ranking fifth in the league in plate appearances right now. The power isn't there, and we should have known that coming into this season as well. He has just one homer this year and a 2.5% Brl% in his 215 PAs.
2023 MLB SB Leaders
The surprising part is the .285 batting average and the 17.7% K%. He is not walking much either (3.7%), which means he is putting a ton of balls into play. Like a ton. He has the seventh-most balls in play this year at 158. A low walk rate is not a good thing for a power hitter.
For a guy like Ruiz, it actually can function as a good thing because he is getting a ball into play before he can get to two strikes. With the wheels he has, that can turn into a lot of base hits. The lack of barrels also functions to put him on first base more often than second or third, and that is where all these steals are coming from.
It's weird to say, but we actually kind of like Ruiz's lack of power for that reason. He is going to be on first base a ton, and with the Athletics lineup around him -- there probably won't be someone blocking him at second base very often either.
If Ruiz stays healthy, it seems like he'll run away with the steals crown. He is one of those guys that can keep your fantasy team competitive in steals all by himself, and that lets you prioritize power with your other roster spots. He's an absolute must-start in fantasy, and he is someone to absolutely pay a big price tag for if you're hurting in steals.
Download Our Free News & Alerts Mobile App
Like what you see? Download our updated fantasy baseball app for iPhone and Android with 24x7 player news, injury alerts, sleepers, prospects & more. All free!


More Fantasy Baseball Analysis