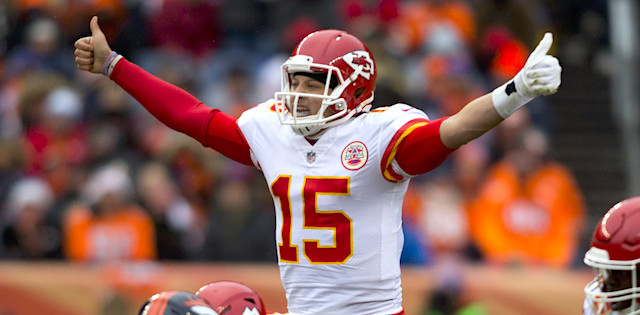 Quarterback is arguably the most important position in all sports.
How important is the quarterback position? Since 2000, a player manning the quarterback position has won the Associated Press' Player of the Year in 14 of the last 18 years, which includes each of the last five years. In addition, a quarterback has captured the Super Bowl MVP award in 12 of the last 18 contests.
The great news for the NFL is that the league is in excellent shape at the quarterback position for the foreseeable future despite the inevitable loss of Brady, Aaron Rodgers, Ben Roethlisberger, Drew Brees, Eli Manning, and Philip Rivers over the next few years. The major reason is that the league still has several young veterans signal callers that are thriving like Andrew Luck, Cam Newton and Carson Wentz, when healthy. The league also has several up-and-coming youngsters such as Mitch Trubisky, Deshaun Watson, Patrick Mahomes, Baker Mayfield, Josh Allen, Lamar Jackson, Josh Rosen, and Sam Darnold. Let's not forget Dak Prescott and Jameis Winston who have been much maligned for much of their careers. Before we move ahead to the 2019 season, let's look back at the most surprising quarterbacks in 2o18.
Editor's Note: Get any rest-of-season NFL Premium Pass for 50% off. Our exclusive DFS Tools, Lineup Optimizer and Premium DFS Research through the Super Bowl.
Sign Up Now!
Patrick Mahomes - Kansas City Chiefs
Mahomes wasn't a top-10 QB on fantasy draft boards, yet he just took home the award for NFL's Most Valuable Player. After playing just one game in his rookie season, the 2017 first-round selection became the Chiefs' starter during the offseason after the team dealt veteran Alex Smith to the Redskins. Everyone knew that the former 1oth overall draft selection was talented, but nobody knew exactly what to expect from him this year.
The second-year pro wasted little time making his mark as he tossed four touchdowns in the Chiefs 38-28 season-opening win over the Chargers. He followed that game up by shredding the Steelers' secondary in a 42-37 Week 2 victory to a tune of 328 yards and six touchdowns. The game versus the Steelers started a string of seven-straight 300-yard games for the signal caller. His most impressive performance came in a 54-51 Week 11 loss to the Rams where he threw for a career-high 476 yards along with six touchdowns and three interceptions while connecting on 33 of 46 passes. What could have been if the Super Bowl matchup had been different?
For the year (including two postseason games), Mahomes completed 64.9 percent of his passes for 5,670 yards along with 53 touchdowns and 12 interceptions. He added 291 yards and three touchdowns on the ground. Mahomes led the NFL in touchdown passes (tied for second most in history), QBR (82.0) and total offense. He was second in the league in total passing yards, passer rating, passing yards per game, yards per pass attempt, yards per completion, as well as passer rating index. The former Texas Tech star also was the top-ranked fantasy quarterback and fifth-best player overall with 417 standard league points as he compiled at least 20 fantasy points in 14 of the 16 regular season games, which included four games of 30 or more points.
Needless to say, Mahomes will head into the 2019 season as the top fantasy quarterback and will only surprise if he doesn't repeat as the top-scoring QB.
Mitch Trubisky - Chicago Bears
The 6-foot-3, 222-pounder made major strides in year two of his development. Not only did the second-year pro lead the Bears to a seven-win increase from a year ago, but he also led the team to its first winning record in six seasons as well as their first playoff appearance since 2010. His biggest area of improvement was accuracy and protecting the ball.
Trubisky definitely still had his up-and-downs, but he was able to keep the mistakes to a minimum. He failed to complete at least 60 percent of his passes in just three of his 15 appearances (including the Wild Card Game), which was down considerably from the six times he failed to do that in 12 appearances during his rookie campaign. While the 24-year-old threw multiple interceptions in four games, he didn't throw a pick on eight occasions including none in his last four appearances. Trubisky produced five 300-yard games this past season, which was four more times than he did in his first season under center.
The former second-overall pick completed 66 percent of his passes for 3,526 yards along with 25 touchdowns and 12 interceptions overall. He added 430 yards and three scores on the ground. Trubisky, who became the first Bears' quarterback to be named to the Pro Bowl in over 30 years, finished fourth in the league in QBR (72.8). The UNC Tar Heel product finished as the 15th best fantasy quarterback as he produced 263 fantasy points in standard leagues. In terms of fantasy, Trubisky had three dud games (failing to compile at least 10 fantasy points), but he also had three games where he compiled 30 or more fantasy points.
Trubisky will head into the 2019 season likely as a top-20 fantasy quarterback but the ceiling is somewhat limited by his team's emphasis on ball control.
Goff was one of the youngest quarterbacks to lead his team to the Super Bowl as he led the Rams to the Championship game in just his second season as a full-time starter. While the big game didn't exactly go as planned, he had a nice regular season campaign. 2018 was the third-year pro's breakout season. His numbers from 2017 and 2018 are relatively similar with the big difference being passing yardage and passing attempts.
The 24-year-old had a few bad games, like when he was picked off four times and completed just 45 percent of his passes for 180 yards in a loss to Chicago. However, he had many more good games. He tossed at least four touchdowns in a game on three occasions and surpassed the 300-yard plateau seven times.
Goff (including all three postseason games) completed 63.4 percent of his passes for 5,300 yards along with 33 touchdowns and 14 interceptions. He added 142 yards and two touchdowns on the ground.  The former Cal star ranked in the top-five of the NFL in total passing yards, passing yards per game, net yards per pass attempt, yards per pass completion, yards per pass and total offense. Goff also finished in the top-10 in touchdown passes, passing touchdowns, and passer rating.
The 2016 first overall draft pick also led five fourth-quarter comebacks and five game-winning drives, which included leading the Rams to a come-from-victory over the Saints in the NFC championship game. Goff ended the season as the seventh-best fantasy quarterback with 310 standard league points.
Goff has one of the best arms in the league and showed it off often this year. He connected on 20 of 31 passes of 21-to-30 yards long for 641 yards (64.1 percent) along with six touchdowns and one interception. There will be concern that other teams will try to make the Rams throw the more than they like the Patriots did during the Super Bowl by taking away the run. But Todd Gurley should be fully healthy to start the season as should Cooper Kupp. As a result, Goff will enter next season as a top-10 fantasy quarterback.
Andrew Luck - Indianapolis Colts
The 2018 NFL Comeback Player of the Year is on this list because he had a wonderful bounce-back season after missing the entire 2017 campaign. Luck had one of his finest seasons ever and led the Colts to the playoffs for the first time since 2014 despite not having great weapons around him and the team being under the direction of a rookie head coach in Frank Reich. The Colts won 10 of their final 12 games of the season.
The former No. 1 overall draft pick completed a career-best 67.1 percent of his passes for 4,593 yards, which was his second-highest total in six NFL seasons. He also tossed his second-most touchdown passes (39), had his second-highest touchdown rate (6.1 percent), and finished with his second lowest interception rate (2.1 percent) during the regular season. In addition, Luck accumulated an additional 425 yards and three touchdowns along with one interception in two playoff contests.
Luck, who earned his fourth Pro Bowl appearance, ranked in the top-five in the NFL in several categories. He was second in completions, second in passes attempted, fifth in yards, second in touchdowns, and fourth in total offense. The 29-year-old should be able to build off this season as the Colts finally have some continuity heading into next season, especially up front as all five offensive linemen are under contract. Behind one of the best offensive lines in the game, Luck will begin the 2019 season as a top-five fantasy quarterback.
Baker Mayfield - Cleveland Brows
The 2018 first overall draft pick far and away exceeded expectations as a rookie. Mayfield was not expected to see as much time on the field that he ultimately did, but he never allowed Tyrod Taylor to regain his starting spot after Taylor suffered a concussion during the Jets game in Week 3. The rookie replaced Taylor late in the second quarter and immediately led the Browns on four straight scoring drives as Cleveland earned their first win in 635 days with a 21-17 come-from-behind victory.
Mayfield would go on to post a respectable 6-7 record as a starter. He completed 63.8 percent of his passes for 3,725 yards along with an NFL-rookie record 27 touchdowns and 14 interceptions. The Oklahoma product added 131 rushing yards on 39 attempts. A few of his superlatives included three 300-yard games, four games of three or more touchdowns, and a completion percentage of at least 67 percent of his passes on seven occasions.  On the negative side, Mayfield threw multiple interceptions four times.
Mayfield, who orchestrated three comeback victories and four game-winning drives, finished as the 16th best fantasy quarterback. He had five games where he compiled at least 20 standard league fantasy points and just one game where the 23-year-old failed to post 10 fantasy points.
Mayfield is the Browns unquestioned starter going forward and will enter the 2019 season as a top-12 fantasy quarterback. He should continue to grow and will likely be given the go-ahead to sling the ball as much as possible with Freddie Kitchens now the head coach -- the Browns went 5-2 down the stretch with Kitchens calling the plays. Plus, Cleveland has $80 million dollars of cap space to improve the team's offensive line and receiving corps.
Josh Allen - Buffalo Bills
Allen wasn't expected to see the field as much as he did either. While the seventh-overall selection struggled with his accuracy, he did make several plays with both his arms and legs. The rookie had two memorable games this season which was Week 3 against Minnesota and Week 17 versus Miami.
Against Minnesota, in a game that the Bills were a 16.5 point underdog, Allen played like a seasoned veteran despite making his first road start of his career. The 22-year-old completed 15 of 22 passes for 196 yards and one touchdown while adding two scores and 39 yards on the ground as the Bills came away with a dominant 27-6 win.
The former Wyoming star completed just 52.2 percent of his passes and ranked 32nd in the league with 2,074 yards to go along with 10 touchdowns and 12 interceptions. Allen's main value came on the ground, as he added 631 rushing yards and eight touchdowns on 89 carries. He finished the season as the 21st-ranked fantasy quarterback as he posted 18 or more standard league points in five of his last six games, which included a 40-point effort in Week 17.
Allen will enter the 2019 campaign as a top-15 fantasy quarterback as he will be the Bills starter from day one. The bigger area of concern is how general manager Billy Beane will go about improving the weapons around him as well as the offensive line.
The good news is that Allen had the NFL's 15th-best Total QBR from Week 12 to the end of the season as he developed some chemistry with wideouts Zay Jones and Robert Foster. His arm strength is impressive and he had no problems showing it off, completing 30 passes of at least 20 yards with five of the connections going for 40 yards or more. Plus, Allen had 24 runs of 10 yards.
Lamar Jackson - Baltimore Ravens
While all five of the rookie quarterbacks weren't expected to see a lot of time on the field, Jackson was the least likely of the first round picks to make an impact. But the 21-year-old ended up having the biggest impact as the Ravens closed the season with a 6-1 record to capture the AFC North division title as the Steelers faded down the stretch.
Jackson did most of his work with his legs. He only surpassed the 200-yard mark once. The 32nd-overall selection finished the season with a 56.7 percent completion percentage along with 1,395 yards and eight touchdowns as well as four interceptions over 17 games, including one postseason contest. Jackson added 749 yards and five scores on the ground.
Jackson knows he is the man for the Ravens going forward as the Ravens have said that they are going to either trade or release Joe Flacco. So, it will be up to him to improve his accuracy although the franchise must upgrade the weapons around him.
The good news is that the Ravens' desire to run the ball to death plays right in the hands of Jackson, who had 20 runs of 10 or more yards. More importantly, Baltimore appears to have found a reliable running back tandem in Gus Edwards and Kenneth Dixon which will only help Jackson in his passing as well as running. The Ravens' offensive line improved as the season went along and the unit should return pretty much intact. Additionally, Jackson seemed to have a decent rapport with tight ends Hayden Hurst and Mark Andrews as well as wide receiver Willie Snead.
If Jackson is able to show some more consistency in the passing game, his legs could carry to a top-10 fantasy ranking by the end of the year. He will likely begin the season as a top-20 quarterback.
The 23-year-old undrafted second-year pro made the list as he came out of nowhere to start the final eight games for the 49ers, who lost Jimmy Garappolo and C.J. Beathard to injuries earlier in the season.  While he made mistakes, Mullens turned in some gutty performances.
The Southern Miss product finished the season with a completion percentage of 64.2 percent along with 2,277 passing yards, 13 touchdowns, and 10 interceptions.  He didn't do anything with his legs, however, as he totaled negative-16 yards on 18 rushing attempts.
With Garappolo expected to be ready by the start of training camp, Mullens and Beathard will likely battle to be second QB on the team's depth chart. It is possible that one of the two, Mullens or Beathard, gets traded. Either way, neither one has any fantasy value at this point.
More Fantasy Football Year-in-Review