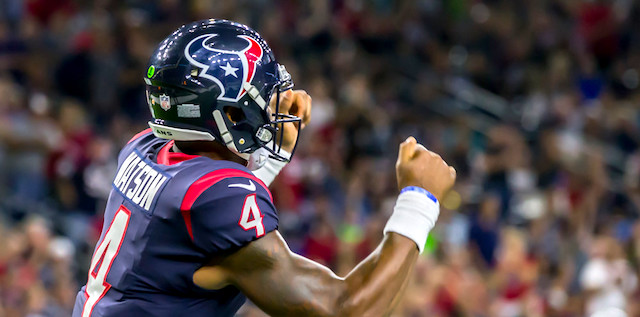 Quarterback has to be approached differently in best-ball as opposed to re-draft leagues. Whereas in most competitive leagues, you can get away with drafting one quarterback and streaming throughout the year if necessary, you don't have that luxury in a draft-only format. Bye weeks, injuries, and flat-out bad play must be accounted for during the draft. Rostering three QBs is not necessary but selecting the right backup can mean all the difference. Best-ball guru Shawn Siegele suggests, "Historical win rates suggest 2-QB and 3-QB approaches yield similar results. In a 2-QB approach, grab at least one stud and try to take two relatively early." As far as who to pick and when, that's exactly what these rankings are for!
RotoBaller's expert rankers have gotten together to update our 2019 Best Ball rankings in order to prepare you for early drafts. This is part of our commitment to helping you all season long.
We will continue to update these rankings in Best Ball and every other format throughout the offseason. You can find the latest rankings here. To check out our breakdown of the wide receiver position, click here. Now, let's get to the quarterbacks.
Editor's Note: Get any rest-of-season NFL Premium Pass for 50% off. Our exclusive DFS Tools, Lineup Optimizer and Premium DFS Research through the Super Bowl.
Sign Up Now!
QB Best-Ball Rankings
Tier 1  
Pat Mahomes, Andrew Luck, Aaron Rodgers
Regardless of format, the cream of the crop still rises to the top. You don't need an expert to tell you that these three are projected to be the top point-earners at QB. As I mentioned in the intro, if you aim to roster just two quarterbacks in order to load up on RB/WR, you might consider grabbing one of these players early on. That said, the 43rd overall selection seems very bullish for last year's MVP. Despite the fact that Mahomes was on more league-winning rosters than any other in 2018, that was more a result of where he was taken than anything. If you believe he can come close to repeating 50 TD, potentially without Tyreek Hill for an extended time (perhaps all year), then by all means secure him and be content to take one backup in the later rounds. Chances are someone else will emerge to be this year's Mahomes though, albeit to a lesser extent.
Tier 2
Deshaun Watson, Baker Mayfield, Russell Wilson
Speaking of this year's breakout QB, Baker Mayfield. I admit I am the highest of our rankers on Mayfield, placing him at 68 overall. That said, I'm not one to typically draft a quarterback early so I may have less exposure to him than it would seem. While some have anointed him as The Next Big Thing™, it shouldn't come at the expense of taking a quality WR in the sixth round. If you are going to grab an "elite" QB early, targeting Mayfield a bit earlier than others is more reasonable than reaching a full round or two higher to take Mahomes, Luck, or Rodgers.
If there is a perfect format for Deshaun Watson, it's best-ball. He was all-or-nothing much of the year, going over 300 yards five times and falling under 215 yards six times. If anything, it's impressive that he finished the season on his feet, much less throwing for 4,165 yards and 26 TD. He was sacked an NFL record 62 times while throwing to DeAndre Hopkins and a group of undrafted rookies by season's end. Injuries to Will Fuller and a nagging hamstring injury to Keke Coutee decimated the receiving corps. If those two can stay on the field and the offensive line is even slightly less terrible, Watson could wind up ahead of the top tier names.
Russell Wilson has had an interesting offseason. He nearly asked out of Seattle, battled trade rumors, then signed a four-year contract to stay. He got a shiny new toy in dynamic rookie receiver D.K. Metcalf, then lost his favorite stuffy target when Doug Baldwin was released. Otherwise, Seattle's offense remains largely the same, which may mean a lot of running plays again. Wilson still managed to put up 11 weeks of 18 or more fantasy points and was as consistent as you can get. His ADP is sure to be lower than a year ago, making him the last of the safe QB1 group. Wilson's current ADP in BB10s has him going seventh, right after Drew Brees.
Tier 3
Cam Newton, Drew Brees, Ben Roethlisberger, Jameis Winston, Matt Ryan, Carson Wentz
Much like Mayfield, I gave the AFC North bump to Big Ben, which accounts for him in the middle of this tier. While my podcast co-host Chris Mangano has Matt Ryan and Jared Goff ahead of Roethlisberger, both Phil Clark and I have him ranked much more aggressively. I also have Big Ben ahead of Brees and Newton, although I will likely push Newton up in my rankings as the preseason progresses and I see that he's 100%. The Steelers threw the ball 726 times last year, almost 50 attempts higher than the next-closest team. This is obviously Ben's team now and I don't see why things would change unless their defense gets dramatically better simply because of Devin Bush.
Winston will be a popular fallback option for those who wait on a starting QB in hopes he can put together a full season like he did from Week 11 on after reclaiming the starting job for good in Tampa. Coach Bruce Arians provides a spark of hope and Fitzmagic is no longer there to save the day when Winston throws a pair of picks in one half. This is one of those picks that needs hedging with a reliable backup like Dak Prescott or Tom Brady later on.
Carson Wentz is 'all systems go' as OTAs are underway, although the team is wisely taking a cautious approach and limiting his on-field activity. I fully understand the need for fantasy owners to do the same but I can't help but get the feeling that he will be a screaming value this season as a potential top-five QB that is being drafted at QB12. He probably won't ever repeat his 7.5% TD% from 2017 and the addition of new running backs might cut into his overall volume but this is a team that likes to pass in the red zone and should be one of the more effective offenses in the league.
Tier 4
Jared Goff, Philip Rivers, Lamar Jackson, Mitch Trubisky, Dak Prescott, Josh Allen, Tom Brady, Jimmy Garoppolo, Kirk Cousins
Goff finished last year as the seventh-highest fantasy scorer at his position but he's being drafted as the 10th QB in best-ball leagues and we have the audacity to rank him 13th! This shouldn't be viewed as a slight to Goff or cause for concern over the Rams' offense. It's a matter of players like Wentz, who missed five games last year, Mayfield, who wasn't the starter until Week 4 and now has OBJ, and Winston, who has a new head coach, all having more tangible upside. Some may scream "RECENCY BIAS!" because of how Goff ended the season; he posted a 5/5 TD/INT rate and saw his completion rate drop to 60.2% over the last four games. Of course, those just happened to be the games Todd Gurley was hurt. I'm willing to bring Goff higher in my rankings once I see that Gurley is good to go 100% in training camp and wouldn't mind him as my first QB in a best-ball draft if I'm going three deep.
Old Man Rivers returns once again. He was 11th in QB scoring last year and is available at draft position 136 in 2019 best-ball leagues. If you are going to do the late-round QB strategy, he's your man to target. Pair him with a high-upside/high-risk player later on, like Murray or Allen.
The value of Lamar Jackson in best-ball is interesting. The natural inclination to go for ceiling and high-output games would tend to dissuade one from a QB who only threw multiple TD once all year, plays in a conservative offense, and is praised for his consistency and high floor due to rushing production. You may already realize this but floor matters in best-ball too. Just as much as you want to chase big point totals, you also want to avoid goose eggs. Jackson is the ideal QB to partner with a riskier player like Josh Allen, if you choose to wait on QB, or as a backup to Wentz or Winston for reasons mentioned above.
Kirk Cousins is the QB14 in current BB10 ADP data yet the RotoBaller staff has him at QB21 in these rankings. The funny thing is that we were nearly unanimous in where to place him: I have him 130 overall, Chris at 131, and Phil at 130. While Chris has him slightly higher in relation to other quarterbacks, none of us consider him more than a backup. While 4,298 yards and 30 TD is a fine season even by modern passing standards, the concern is that Minnesota is more focused on the ground game with a healthy Dalvin Cook. If they want to keep their Super Bowl aspirations alive, they will surely try to improve on a rushing offense that finished 30th last year, leading in part to a defensive decline. Cousins is a safe but uninspiring pick.
Tier 5
Sam Darnold, Kyler Murray, Derek Carr, Matthew Stafford
A year ago this time, Stafford was considered a low-end fantasy QB1 and possibly undervalued based on his resume. Now, he's the 23rd quarterback off the board in recent BB10s. Can't say I disagree. Matt Patricia doesn't seem to be a fan of offense in general, doing his best to keep Kerryon Johnson from getting hot and to prevent Stafford from airing it out. His 236.1 passing yards per game represented a drop of 40 from the previous season and his 21 TD were the fewest since 2012. Stafford is an iron man, playing every single game for the past eight years and throwing at least 20 TD in each of those, so at least he makes for a solid reserve.
Murray's ADP reminds me of the house from the Pixar movie "Up." You might not believe it has a chance to get off the ground but it will eventually soar higher than you imagined. This is especially true in best-ball. Right now, he is the 22nd quarterback being selected but I have a feeling he will eventually be ahead of Garoppolo, Trubisky, Jackson, and even Brady.
Tier 6 and lower
Poor Andy Dalton. For years, he's been stuck behind a poor offensive line and hamstrung by the same head coach for what seems like an eternity. While it may be hard to teach an old dog new tricks, maybe Zac Taylor can at least invigorate this offense enough to make Dalton viable as a second fantasy QB. We can't assume he'll have the Sean McVay effect since the Bengals don't have that level of talent at their disposal but a WR corps that includes A.J. Green and Tyler Boyd ain't too bad.
The best upside picks for your third QB include Josh Rosen, Dwayne Haskins, and none other than Eli Manning. Rosen is almost sure to win the starting job unless he has a terrible preseason. The team will be in tank mode but that just means more potential for garbage time yardage! Haskins may not start right away but like every first-round quarterback of a year ago, he'll be in the lineup soon enough. You don't need a full season's worth of production in best-ball, especially in a late pick. Manning is not dead yet, contrary to popular opinion. He has a half-decent group of targets in Golden Tate, Sterling Shepard, and Evan Engram, not to mention Saquon Barkley as an outlet option. Daniel Jones is not going to see the field until the end of the year, if at all, so Manning could be a great choice to solidify your backup QB spot super late (his current ADP is 238) while stocking up on other positions.
More Best-Ball League Strategy
Check out all of RotoBaller's fantasy football rankings. Staff rankings are updated regularly for all positions and include standard formats, PPR scoring, tiered rankings and dynasty leagues.