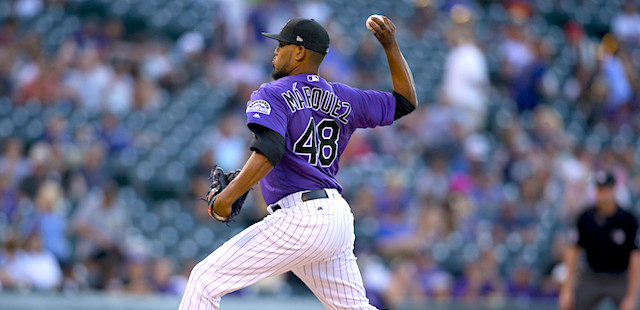 Welcome back to RotoBaller's pitchers risers and fallers article series! Each week we will select an advanced stat, choose two risers and two fallers, and analyze what those stats could mean for future fantasy output. The next stat we will use is BABIP, or batting average on balls in play.
BABIP is rooted in three main components: defense, luck, and talent. Two of these three pieces are out of players' control, so BABIP can cause deviations between expected and reported outcomes. The 2019 season is still young, so we will compare player's 2018 BABIPs to their current BABIPs to identify risers and fallers.
Remember that it is difficult to discern actual trends with small sample sizes, but we will do our best to get ahead of the game to help fantasy players with potential adds, drops, and trades. Let's get into it!
Editor's Note: Get any full-season MLB Premium Pass for 50% off, with exclusive access to our season-long articles, 15 in-season lineup tools and over 200 days of expert DFS research/tools.
Sign Up Now!
BABIP Risers
All stats current as of Monday morning, April 15.
(2018 BABIP: .313, 2019 BABIP: .159)
Our first riser hasn't been fully healthy since 2016 but is looking to make a comeback in 2019. Matt Shoemaker has gotten off to a fabulous start this season, going 3-0 with a minuscule 0.92 ERA and 0.71 WHIP with 19 strikeouts, five walks, and a .159 BABIP over 19 ⅔ innings pitched. Shoemaker has been a fantasy asset in the past, so should you buy that the 32-year-old is back?
A few obvious things stand out to explain Shoemaker's low BABIP but there isn't much in terms of noteworthy items. His FIP of 3.46 is significantly higher than ERA, but this can be expected given that his ERA is unreasonably low. Regression is sure to come, but a 3.46 ERA is solid for a starting pitcher. Further, his strand rate of 90.2% is much higher than his career average of 75.1%, so that will surely go down over time, leading to an increase in BABIP.
Everything else seems to be in line with Shoemaker's career numbers. His hard-hit rate of 37% is in line with career average of 35.7%, as is his average launch angle (12.4 degrees vs career 13.4 degrees). Further, his pitch arsenal looks about the same both in terms of velocity and spin rate. Overall, it seems like Shoemaker has been able to put his best foot forward to start the season now that he is fully healthy. Given his age and underlying stats, there does not appear to be a new discovery or change to his game. It is unlikely that his BABIP will remain this low over the course of the season, but it looks like Shoemaker could return to being a solid mid-rotation piece for fantasy owners.
(2018 BABIP: .311, 2019 BABIP: .156)
Our second riser made his mark on fantasy radars in the second half of last season and has continued to dominate in 2019. German Marquez has shown a proclivity to avoid hard contact and home runs despite pitching his home games in Coors Field and brings the added bonus of high strikeout numbers. He currently has a stellar 2.00 ERA with 25 strikeouts and six walks in 27 IP. The 24-year-old's .156 BABIP is quite impressive, but is he for real?
The short answer is yes, yes he is. Marquez has managed to post a league-average hard-hit rate of 38.8% while also allowing an impressive 4.2-degree average launch angle. This is thanks to a 96-MPH fastball and a slider and curveball with exceptional movement. Marquez has shown solid command of his pitches throughout his young career (2.62 BB/9 career rate) which also helps keep his BABIP down.
The one caveat to all of this is that Marquez has only made one start in Coors Field this season. The other three starts have come on road, one of which was at pitcher-friendly Oracle Park (Marquez took a no-hitter into the eighth inning). His BABIP will likely increase a bit once he has a few more starts at home. Regardless, there are only positive signs around Marquez's game and there is no reason to think he can't be a high-end number two or even low-end number one starter for fantasy owners this season.
BABIP Fallers
All stats current as of Monday morning, April 15.
(2018 BABIP: .326, 2019 BABIP: .447)
Our first faller actually had the highest BABIP allowed in 2018 but has seen that number go even higher in 2019. Nick Pivetta showed signs of being a fantasy asset in 2018, generating 188 strikeouts in 164 IP. However, he also had a 4.77 ERA with a 1.30 WHIP and allowed a poor 24 home runs. Things have not improved in 2019; Pivetta's stat line is an ugly 9.45 ERA with 14 strikeouts, three home runs allowed, a huge 2.18 WHIP, and a .447 BABIP in 13 ⅓ IP. Can Pivetta be trusted as a back-end starter in fantasy owners' rotations?
Pivetta doesn't seem to be struggling from a lack of decent pitches to throw. The velocity on his fastball is pretty much there (94 MPH vs 94.8 MPH in 2018) and he is actually getting more spin on his fastball (2368 revolutions per minute vs 2267 in 2018). That being said, his hard-hit rate (42%) and average launch angle (12.2 degrees) are both up from last season, and this has gotten him into trouble in terms of giving up solid contact. Pivetta's expected batting average (xBA) is in the third-highest percentile in baseball at .345, so it makes sense that his BABIP is so high. Pivetta's three main pitches have been left over the plate too much to this point, which may contribute to his high BABIP as well. 
Pivetta has some intriguing aspects to his game, but he has yet to figure things out as a whole at the big-league level. Until he can limit hard contact and home runs, he will only be able to help fantasy owners so much, especially in categories leagues. While his BABIP cannot stay this high forever, there are no signs that Pivetta has made significant changes to limit his allowed BABIP.
(2018 BABIP: .299, 2019 BABIP: 436)
Our second faller had a lot of hype surrounding him to start this season after getting traded to a big stage. James Paxton has not made a great first impression in the Big Apple, carrying a bloated 6.00 ERA with a massive .436 BABIP in 15 innings pitched. The strikeouts are there (19) but so are the home runs (three). What does Paxton's BABIP mean in conjunction with his other lackluster stats?
There are a few trends in Paxton's advanced stats that started in 2018 and seem to have carried over into this season with greater impact. The Big Maple had a high hard-hit rate (42.1%) and launch angle (14.6 degrees) last season but had the benefit of pitching his home games in pitcher-friendly Safeco Field. Those stats have been even higher in 2019 (57.1% hard-hit rate and 16.1 degree average launch angle) but the effects have been more noticeable because he is now in hitter-friendly Yankee Stadium. Allowing a higher hard-hit rate and launch angle gives batters a better chance to get hits, whether they be in play or home runs (which do not count as balls in play).
There isn't a clear reason as to why Paxton has been allowing worse contact. His trio of pitches (fastball, cutter, curveball) have similar velocities and spin rates overall compared to last season. Is it noteworthy that Paxton has missed in the middle of the plate more frequently with his fastballs when they have been thrown for strikes, which could help explain his spike in BABIP.
It is too early to give up on a guy with the fantasy caliber of Paxton, but it is concerning that he has not been as effective. If he continues to pitch at this level, owners may need to consider choosing matchups carefully until he can get his location under control.  
More 2019 Fantasy Baseball Advice