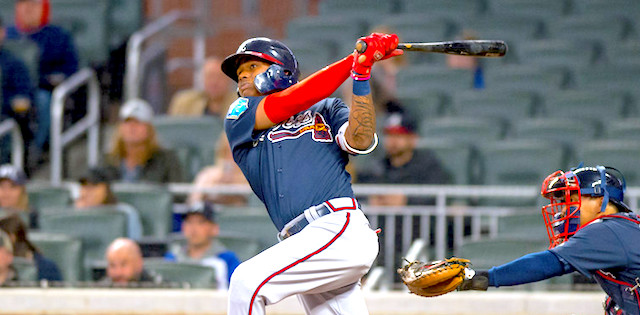 The Atlanta Braves will be our next stop on the farm to evaluate the best prospects on each MLB team. Once the 2020 MLB season begins, it may turn out that Minor League systems will be more important than usual. Franchises are losing money during the pandemic layoff, so many teams will be looking for sources of cheap production. It might also take older players longer to rebound from a long layoff, meaning we could see more injuries and more roster moves. We will also see expanded rosters, at least in the early going.
One important question to ask is: How will a long layoff affect prospects? One has to assume the more advanced prospects prior to the work stoppage will be at an advantage, while the more "toolsy but raw" type could be hurt with the lack of repetition and in-game action; throwing or hitting in simulated environments just doesn't match up to the real thing. Many prospects will have to work jobs during the pandemic just to make ends meet, while players who signed for large bonuses will have an advantage. Other prospects that lack strong discipline and commitment to their craft could struggle to stay in shape.
We won't really know what the layoff impact will have on baseball in general until things start ramping up. But we do know that a strong prospect pool will continue to be an important element for a successful baseball franchise. We're looking at the Top 10 (or more) dynasty prospects in each organization with an eye to discovering which organizations are best positioned to succeed with their player development when games resume. Make sure to check out all of our prospect content, including Top 50 for 2020 and Top 250 for Dynasty Leagues.
Editor's Note: Our incredible team of writers received 13 award nominations by the Fantasy Sports Writers Association including Baseball Writer of the Year, Football Writers of the Year, Golf Writer of the Year and many more! Be sure to follow their analysis, rankings and advice all year long, and win big with RotoBaller!
Read More!
Quick Synopsis
The Braves system doesn't necessarily feature a sure-fire superstar-in-the-making but it has some depth to it and the Top 10 list has potentially-impactful players both in the field and on the mound.
1. Cristian Pache, OF
Dynasty Prospect Rank: 26
2020 Prospect Rank: 34
2020 LEVEL: AAA
MLB ETA: 2020
Pache is interesting. He has a ton of real-world value with his plus defensive skills but his hitting is just starting to catch up. Consistently one of the youngest players in every league he's played in, the 21-year-old spent 2019 mostly in Double-A but also reached Triple-A for 26 games later in the year. He's produced excellent line-drive numbers each of the past two years which hints at the power to come but — even with a jump in homers year-over-year from zero to nine to 12) — he hits too many balls on the ground. Outside of a 29-game stretch in A-ball in 2018, Pache has never hit for an average below .274 at any minor league stop. I expected a big breakout from this young player in 2020 but it's impossible to know how the 2020 shortened season will impact him.
2. Ian Anderson, RHP
Dynasty Prospect Rank: 29
2020 LEVEL: AAA
MLB ETA: 2020
The 22-year-old Anderson is another player that's been consistently challenged in this organization. The young pitcher has a chance to reach the Majors with three above-average offerings, including a fastball that works in the mid-90s. Playing in both Double-A and Triple-A in 2019, Anderson struck out 172 batters in just 135.2 innings, which is impressive considering both his command and control are still very much inconsistent. He has a shot at developing into a No. 2 starter but a mid-rotation projection is much more attainable at this point.
Dynasty Prospect Rank: 31
2020 LEVEL: AAA
MLB ETA: 2020
Waters has the raw tools to eventually surpass Cristian Pache as the better hitter. But as it stands right now, this 21-year-old outfielder has a very rudimentary approach at the plate, which led to an ugly BB-K rate of 39-164 in 134 games split between Double-A and Triple-A in 2019. He's a player that probably would have benefitted from a more patient approach rather than rushing him through the minors. Although he hit just seven homers last year, Waters' raw power is evident by his 40 doubles and line-drive rate, which was north of 25%. He also has the speed to nab 20 bases or more in a full season.
Dynasty Prospect Rank: 49
2020 Prospect Rank: 28
2020 LEVEL: AAA
MLB ETA: 2020
I'm a huge fan of Wright and Braves fans didn't get to see the young hurler's full potential in 2019. The constant movement between Triple-A and the Majors — often without a consistent pitching schedule — played havoc with the right-hander in the first half of the year. He was excellent in the second half of the season when he was kept on a regular schedule. Like Ian Anderson above, Wright has the skill to be a mid-rotation starter — possibly more — but he needs to show improved command and control. In his final nine starts in Triple-A, he posted a K-BB rate of 62-17 in 54.1 innings. If the command controls, he could have four above-average pitches.
Dynasty Prospect Rank: 117
2020 LEVEL: AAA
MLB ETA: 2020
Muller is a hard-throwing left-hander that can reach the 95-97 mph range with his heater. He backs it up with a strong curveball but lacks a reliable third offering. Big and strong, this young pitcher stands 6-foot-7 and weighs in at 250 pounds so he's built to provide tons of innings if he has a deep enough repertoire — and consistent enough control — to stick in the starting rotation. If not, Muller's top two offerings could make him an intriguing option as a high-leverage reliever.
Dynasty Prospect Rank: 158
2020 LEVEL: AAA
MLB ETA: 2020
Wilson is an advanced arm despite being 22-year-olds. He has excellent control and walked just 26 batters in 121 innings at Triple-A in 2019 but he lacks a reliable strikeout offering. His fastball can hit the mid-90s and his best secondary offering is his changeup. And while he doesn't rack up a ton of strikeouts, Wilson can induce an above-average number of ground balls. If he sticks in the starting rotation, his ceiling is likely a No. 4 starter.
Dynasty Prospect Rank: 161
2020 LEVEL: AAA
MLB ETA: 2020
Davidson is a lefty that can dial his heater up into the 96-97 mph range. His secondary stuff can be inconsistent but the curveball flashes above-average and his changeup has a chance to be an average offering. Davidson misses enough bats and induces enough ground balls to project as a possible No. 4 starter. If he can find a little more consistency with his command/control and with his secondary offerings, he has a chance to be even better.
Dynasty Prospect Rank:  224
2020 LEVEL: A+
MLB ETA: 2022
Shewmake was selected in the second round of the 2019 draft out of college and performed very well in A-ball before being bumped up to Double-A for 14 games at the end of the year. A tall player at 6-foot-4, Shewmake nonetheless makes consistent contact. He has room to add additional muscle to his frame, which could help him hit more home runs as he matures. The young infielder stole 11 bases in his pro debut but he's more of a smart base runner than a speedster.
2020 LEVEL: A+
MLB ETA: 2022
Langeliers would be rated higher if we were talking about real-world prospects rather than fantasy players. He's an exceptionally talented defensive catcher which of course has little to no value in fantasy baseball. On the offensive side of things, Langeliers has the raw power to perhaps hit 15-20 home runs down the line.
2020 LEVEL: AA
MLB ETA: 2021
Contreras has shown flashes of developing into a solid offensive-minded catcher but he lacks consistency. The young backstop is also too aggressive at the plate and swings at too many pitcher's pitches rather than waiting back for a good pitch to drive. He's shown respectable raw power and has 15+ home run potential but still hits too many balls on the ground.
Download Our Free News & Alerts Mobile App
Like what you see? Download our updated fantasy baseball app for
iPhone
and
Android
with 24x7 player news, injury alerts, sleepers, prospects & more. All free!
More Prospect Analysis