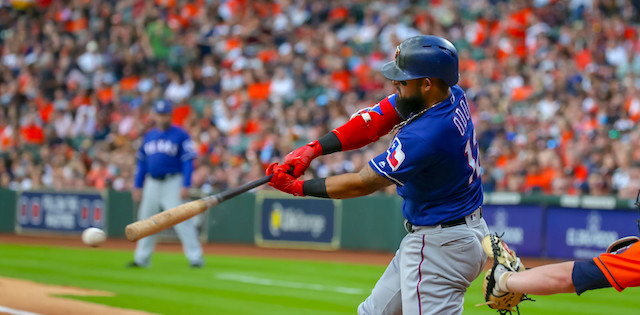 After what seemed like an eternity without regular season play, we have finally returned to business as usual from a memorable All-Star break that saw Vladimir Guerrero Jr. and Peter Alonso capture the attention of millions around the world and the American League come out on top for the seventh year in a row (and the first game called by a robot umpire in the Atlantic League, if you're into those types of innovations). It's time to forget about all of the fanfare, festivities, and good vibes, because the (unofficial) second half of the 2019 MLB season is upon us, and that means that rosters will be rotating and rearranging at a chaotic pace through trades of all scales and sizes, cunning minor league contracts, and prospect call-ups. With so many changes of considerable impact looming across the league, getting the jump on your competition (who may have lulled themselves to sleep over the past week) could be the difference-maker in your postseason push.
As always, the second base and shortstop positions are notoriously lacking in waiver wire depth and are therefore quite fickle to navigate. Each week of the season, we are going to be taking a look at a slew middle infielders who are worthy of acquisition (or strong consideration at the very least) and are owned in less than 50% of Yahoo Leagues. Staying on top of the injury, roster, and statistical trends regarding the middle infield positions will ensure that your team has robust year-long depth and is ready if a crisis were to arise.
With that, let's have at it and take a look at a fresh batch of second base and shortstop waiver-wire targets for Week 16.
Editor's Note: Get any full-season MLB Premium Pass for 50% off. Exclusive access to our Draft Kit, premium rankings, projections, player outlooks, top prospects, dynasty rankings, 15 in-season lineup tools, and over 200 days of expert DFS research.
Sign Up Now!
Pickups for Most Leagues
42% Owned
Rougned Odor has had the privilege of playing for the offensively robust Texas Rangers once again for the 2019 season, but he himself has only recently gotten his act together at the plate. Despite a solid power/speed mix of 13 home runs and seven stolen bases (on an inefficient 13 attempts), Odor has managed an unsightly slash over his 279 total AB this year of .194/.259/.398. That is all in the past though, because he has hit three bombs with a .242/.257/.606 slash over the last two weeks (33 AB). Although "El Tipo" already has a few seasons of serious power-hitting under his belt, he is still just 25 years old, and the numbers suggest that he is worth buying stock in moving forward for the owners that still have the opportunity.
As is blatantly apparent from his recent performance, Odor hasn't been taking many free trips to first base, and he continues to strikeout at a stratospheric clip (32.4% over the first half). The good news is that this hasn't detracted too heavily, because he has improved his hitting for average while sustaining his power-stroke through some fantastic contact on batted balls. He doesn't have a line drive rate ideal for reaching base frequently, but he held an air-heavy GB/FB ratio of 0.78 over the first half of the season, and he has been turning pitches back at a 16.8-degree launch angle.
His hard contact rate has also been on the rise steadily as the season trudges on while keeping soft contact controllable, and he ended the first half with a 41.5% hard contact rate and 14.8% soft contact rate, culminating in a 90.6 MPH exit velocity and 412-foot average home run distance. Even if he doesn't convert on a high percentage of stolen base attempts, he still racks them up with noticeable volume. That, along with an improved BA and his trusty ability to hit for power are solid cornerstones for a successful conclusion to 2019.
41% Owned
Over the past three seasons with the Phillies, Padres, and now Toronto Blue Jays, Freddy Galvis has been an absolute iron man in the infield, playing in a combined 412 games and taking 1,547 AB since the start of 2017 despite varying results on offense. He has always been pretty good in terms of power for a middle infielder, but he must've taken a liking to the hitter-friendly Rogers Centre, as he has already sent 15 pitches into the stands, stolen four bases in five tries, and hit for a slash of .267/.307/.460 in a team-leading 337 AB. He has kept the spark alive too, going for three home runs, a swiped bag, and a .353/.395/.765 slash over the last 34 AB.
Though he has walked at a better rate in his most recent hot-streak, Galvis has made his living this season despite a relatively low walk rate (5.6%) and high strikeout rate of 22.9%. His soft contact rate reached a peak in the month of June at 18.7%, but he has brought it down to a nearly nonexistent 3.6% so far in July, while his hard contact rate has gone up every month all the way from 32% in April to a concrete 39.3% this month.
His recent approach has been tailored for production across the board, as he has produced a GB/FB ratio of 0.69 so far in July (with 21.4% line drives), and on the year he has produced ideal figures for life in Toronto with a 44.5% pull rate and 14.6-degree launch angle. The Blue Jays have gotten way more than they expected from Freddy Galvis and fellow veteran Eric Sogard in 2019, and they may be looking to flip these two assets in further pursuit of a rebuild at the trade deadline to a squad searching for infield depth. His playing time could take a hit if that happens, but in his current role, don't let a hypothetical future make you miss out on the real results of his current work.
40% Owned
After an uneventful April, Kevin Newman burst onto the scene with a home run, stolen base, and .894 OPS in 74 May AB, and followed it up with an excellent showing in 114 June AB with four homers, four steals, and a .316/.352/.491 slash. In the 33 AB since July kicked off, the pleasantly surprising rookie has slowed down a tad, posting one dinger, one steal, and a power-depleted slash of .303/.324/.394. There is however, a silver lining: Newman has the offensive and defensive characteristics to remain valuable even at times (like the present) of power outages.
Even for a guy who already struggles with hitting for extra bases and is swinging for a lackluster 25.8% hard contact on batted balls this month, Newman still holds a BABIP of .300 through this point in July (which is well below his first-half BABIP of .354). How is this possible, and more importantly, how is it sustainable? For one, his sprinting speed of 28.3 feet per second has allowed him to build up quite a track record of base-path thievery over his professional career (he has six steals in eight attempts this year), and has also assisted him in reaching base safely on batted balls.
In this month of July, he has given himself plenty of opportunities to turn and burn with a 25.8% line drive rate with just 9.8% soft contact being applied to liners on the year. His walk rate has been on the steady decline since the start of the year, but so has his strikeout rate, going from 16% in May to a meager 5.9% so far in July. Even with a high rate of grounders, this level of focus in the strike zone gives Kevin Newman the open window he needs to consistently reach base on hits, and accumulate steals in the process. There may be moving pieces in the Pittsburgh Pirates batting order, but with Newman seeing time at four different positions this season, he reads as a logical investment for the remainder of 2019.
21% Owned
With four home runs, three stolen bases (in five attempts), and a .283/.337/.411 slash in 314 AB this season, Adam Frazier may appear to be balanced, but lacking too greatly in the overall power (31.8% hard contact and .127 ISO) and speed (27.1 feet per second in sprinting speed) departments to be worthy of a meaningful acquisition. That read may warrant another combing over, as Frazier has been absolutely unconscious at the plate since the start of July (34 AB) with eight XBH (one HR, seven doubles), a stolen base, and a dialed-in slash of .529/.556/.824 for the Pittsburgh Pirates. He has a very similar, and arguably better formula for consistent base-hitting than teammate Kevin Newman despite the differences in speed, and he has a great foundation for maintaining his current rate of doubles produced.
The former Mississippi State Bulldog has given himself a great scope of opportunity to continue and rake with a solid strikeout rate of 11.5% for the season, and though he often finds dirt as evidenced by his high grounder rate of 49.1%, he is finding the open outfield often with a 27.5% line drive rate and a 42.7% hard contact/6.7% soft contact split on liners for 2019.
He may not have an eyebrow-raising level of natural power or speed, but that isn't much to lose sleep over when he is able to avoid walking away from the plate empty handed and routinely blast the ball into the gaps for singles and doubles. There remains some competition for playing time in Pittsburgh, namely Colin Moran and Jung Ho Kang, but Adam Frazier's reliability and propensity for hard-hit line drives makes him a peace of mind asset moving closer to August.
For the Sneaky and Savvy
13% Owned
There was a minute scare this week when Luis Urias had to exit an AB for Triple-A El Paso due to an apparent injury, but a large breathe of relief can be breathed now that he has returned to the Chihuahuas lineup as of Sunday. Urias came into 2019 generally regarded as a top-30 prospect, and he has backed those accolades up this season by clobbering opposing pitchers at Triple-A to the tune of 18 home runs, seven stolen bases (in nine attempts), and a slash of .316/.400/.595 across 291 AB.
He has definitely struggled in his super brief stint for San Diego, and Ian Kinsler did all that he could to hold on to second base this season, but this call-up borders on inevitable. With the dominance that he is displaying at the highest level of minor league baseball, unless the Padres want to be aggressive deadline buyers, Luis Urias will get the chance to break through over the course of the second half.
12% Owned
As far as up and coming talent is concerned, Bo Bichette is the cream of the crop, and the Toronto Blue Jays seem to be quite eager to test his metal at the big league level. It may seem like a bit of a tight squeeze in the Jays batting order with different young-guns and veterans alike putting up solid offensive figures, but even if they weren't excited and determined to see Bichette in the Rogers Centre soon, they may also be clearing room in the infield with the deadline approaching (as teams have expressed interest in thriving vets Galvis and Sogard).
With his line of five home runs, 12 stolen bases (in 15 tries), and a .302/.364/.491 slash in his first 159 AB for Triple-A Buffalo, Toronto would consider parting the Red Sea for Bo Bichette with not a whole lot to lose or gain in proceeding forward with regular season play. He has had an absolutely golden touch with the bat since entering the professional ranks, and the ability to learn quickly and adapt to his environment could be a nice virtue once he does receive the call.
6% Owned
With a 2018 Gold Glove distinction and combined defensive WAR of 4.9 over the past two seasons for Arizona, Nick Ahmed has well established himself as one of the top men around the league at the shortstop position. "Slick Nick" is well on his way to the best offensive campaign of his career as well with nine home runs, six stolen bases (in six tries thanks to more careful selection and his sprinting speed of 28 feet per second), and a balanced slash of .265/.315/.429 in 324 AB for the D-Backs.
Though he has produced varying (yet tolerable) figures in the categories of batted ball contact and plate discipline for the year, he has taken it up a notch this far into July with 50% hard contact, a meager 5.6% soft contact rate, a line drive frequency of 22.2%, and a 44.4% pull rate in hitter-friendly Chase Field. This formula has netted a superb .970 OPS with two homers and a steal across the last seven games, and with his glove making him a sure fixture on the field, Nick Ahmed is an astutely reliable and effective (not to mention widely available) option at shortstop proceeding into the final months of the season.
Just Checking In...
Owners throughout the ecosystem have bought in to what Chris Taylor is selling this season, as he is available in less than half of all leagues, and he has rewarded them for the most part with a consistent power/speed skill set applied in a top-tier batting order. He has however, been mediocre over the past two weeks, and the Dodgers are always strong candidates to bring in late-season help throughout the field. If he is at risk of losing AB, his value could wane down the stretch.
If you're still trying to buy stock in Cavan Biggio for the remainder of 2019, the time is running short, with his ownership rate hovering near the 50% point. While his batting average from week to week spans a wide range and the Blue Jays are by no means an elite offense, Biggio has kept the fire stoked with a healthy dose of homers and steals. It is unclear how Toronto is planning on managing the roster moving forward (though Galvis and Sogard are largely considered to be trade deadline commodities), but it is certainly a situation worth keeping an eye on.
As disappointed as fantasy baseball managers might be at Jed Lowrie's most recent setback (which means he is far removed from any sort of rehab effort), it probably doesn't touch how disappointed the New York Mets are at all the coin they wasted. Even so, with Lowrie missing the majority of 2019 with no comeback in clear sight, it at least makes the playing time situation less murky for the likely selling squad (although Amed Rosario, Todd Frazier, and especially Jeff McNeil would've erased all of those "difficult decisions" the Mets thought they would face early in the year).
More Waiver Wire Pickups and Streamers
Check out RotoBaller's entire fantasy baseball waiver wire pickups and sleepers list, updated daily!