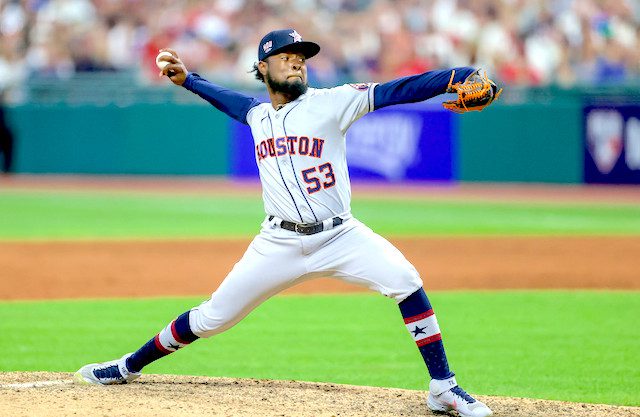 What Appears In This Article?
hide
Earlier this week, we looked at hitters that had strong Septembers. I included some important context in the opening of that piece. It's very important to read, and I don't want to just repeat all of that - so go there and read that first.
I will be picking out five notable starting pitchers that finished the year strong and then looking deeper into them to see what it should mean for the 2023 season. It's probably even riskier to draw conclusions from one month of starting pitcher data because we are talking about a handful of starts here. Because of this, we want to focus more closely on the underlying statistics that stabilize much quicker (such as SwStr% and CSW%).
Let's get into it, here are five pitchers that did work in September (and October), and what we should do about it.
Featured Promo: Get any full-season MLB and DFS Premium Pass for 50% off. Exclusive access to our Team Sync platform, Premium articles, daily Matchup Rating projections, 15 lineup tools, DFS cheat sheets, Research Stations, Lineup Optimizers and much more!
Sign Up Now!
Pitchers That Finished Strong
The young Astros righty threw 28.1 regular season innings after the calendar turned to September. His numbers at that time:
0.32 ERA
0.64 WHIP
37.0% K%
8.0% BB%
And then just to put a big old cherry on top, he gave up just one more earned run in his 12.2 postseason innings, famously throwing six brilliant innings against the Phillies in a huge World Series game.
All-in-all that is a 0.44 ERA over 41 innings pitched to finish his year, and it came with a sick 53:13 K:BB ratio.
Under the hood, things were still gravy. He put up an elite 16.1% SwStr% over those last five regular season outings and then up a 14.4% SwStr% in the playoffs, the xwOBA against was well under .200 in that time. The hitters just had no answers.
For the full regular season:
2.54 ERA, 0.95 WHIP, 33.2% K%, 8.9% BB%
Prior to September:
3.07 ERA, 1.02 WHIP, 32.4% K%, 9.1% BB%
So he was pitching great prior to the end of the year, but just really took it to another level late. So, do we find any changes in the pitch mix on the September 1st pivot point?

We see slightly more curveball usage, and a lot more four-seamers thrown for called strikes. He threw the four-seamer in the strike zone 56.5% of the time after September 1st, while that mark was 53.9% prior. I can't say with full confidence that we are talking about a conscious decision there to just pound the zone more with the fastball, but it certainly worked out and I'm sure the Astros are aware of all of these numbers.
Javier will be just 26 on Opening Day and could come into the season as the Astros' best pitcher. His draft price is going to blow up for good reason. His full-season numbers were great, but I do worry that the great finish to the year and that one elite World Series start will push it up a little bit past a comfortable range.
Verdict: The 2022 breakout was legit. He has a Cy Young ceiling, but the price is sure to rise to match.
Elder was one of the fantasy darlings that was rostered in zero leagues prior to September, but then came up to pitch really well for his fantasy managers (and the Braves). Elder made four starts for the Braves very early in the year but wasn't good. He put up a 5.49 ERA with a 1.73 WHIP in 21.1 innings. That got him sent back down to the minors, where he wasn't all that impressive either with a 4.46 ERA and a 1.19 WHIP in 17 starts (105 IP). The K% wasn't even all that impressive at 22.2% while facing AAA hitters.
Something clicked for Elder late in the year, however, as he came up and did this in September/October:
| | | | | | | | | |
| --- | --- | --- | --- | --- | --- | --- | --- | --- |
| Date | Opp | IP | H | R | ER | SO | BB | HR |
| 9/3 | MIA | 6 | 2 | 0 | 0 | 6 | 2 | 0 |
| 9/21 | WSH | 5.2 | 4 | 1 | 1 | 6 | 2 | 0 |
| 9/26 | WSH | 9 | 6 | 0 | 0 | 6 | 2 | 0 |
| 10/3 | MIA | 5 | 6 | 4 | 4 | 5 | 1 | 1 |
That's a 1.75 ERA with a 0.93 WHIP and a fine 23%-6% K-BB%. You probably noticed that those four starts were against the Nationals and Marlins, who were just completely anemic offenses all year, and they were especially pathetic after the trade deadline.
Elder did seem to turn his season around in the middle of the year, putting up a 2.70 ERA with a 1.11 WHIP over his final seven starts in AAA.
Getting down to business, it doesn't seem like Elder is someone to buy in on for 2023. First off, he's not even in the projected Braves' rotation. Second off, he had just a 10.8% SwStr% and a 27.0% CSW% in his 53.2 Major League innings - numbers that are not impressive and really do not back up anything close to an ERA under 2.00.
Verdict: Don't be fooled by Elder's late-season surge, he's a bad bet in the draft even if he does win a rotation spot in Atlanta.
Greene caught everybody's attention early in the year after an April start where he averaged 100 miles per hour on his fastball and struck out six Dodgers in a decent outing. Unfortunately, his numbers were pretty shaky for most of the year. On September 1st, he sat with a 5.26 ERA and a 1.30 WHIP after having some trouble with the walk (9.3% BB%) and a ton of trouble with the long ball (2.0 HR/9). Even during those struggles, he was occasionally having some big outings because his strikeout rate stayed so high (28.8%).
After the calendar turned to September, Greene locked in and was one of the best pitchers in the league. Over his final four starts (23 IP), he posted a 0.78 ERA, a 0.83 WHIP, a 41.1% K% (!!!), an improved 7.8% BB%, and a MUCH IMPROVED 0.4 HR/9.
These numbers demand our attention. We knew Greene had a huge upside in any given outing, but he was not reliable with the walks and home run issues. If he can get the walk and home run rates to even a league-average level, he will be a very effective pitcher with how many strikeouts he can get.
You see his CSW% and SwStr% marks by start in that plot above, with the dotted line representing the league averages. He was just absolutely shoving in those final four starts. The schedule was slightly favorable, but not a cakewalk. He faced the Cardinals (6 IP, 0 R, 11 K, 0 BB), the Brewers (5 IP, 2 ER, 8 K, 3 BB), the Pirates (6 IP, 1 ER, 10 K, 3 BB), and the Cubs (6 IP, 0 R, 8 K, 1 BB) over that sample.
One more notable thing is that he did not change his pitch mix at all during this. He was almost all four-seamer and slider throughout the year (54% and 41%, respectively), and in those last four starts, it was basically the same (60%, 34%). He throws his changeup about 5% of the time, so it's not a relevant pitch to focus on.
The good news for Greene is that both the fastball (14.6% SwStr%) and the slider (18.4% SwStr%) are elite at getting whiffs. The bad news is that the four-seamer is pretty easy to see coming and therefore got hit pretty hard when contact was made (12.7% Brl%) - and that really doesn't go well pitching in Great American Ballpark where barrels go for a homer at the highest rate in the league.
Verdict: Greene's ceiling is massive, but I have serious doubts he can stay consistent enough start-to-start to pay off his draft cost in 2023.
#4 Drey Jameson, Arizona Diamondbacks
I had never heard of this guy until September when he came up and made four starts for the snakes, and pitched very well.
| | | | | | | | | |
| --- | --- | --- | --- | --- | --- | --- | --- | --- |
| Date | Opp | IP | H | R | ER | SO | BB | HR |
| 9/15 | SD | 7 | 2 | 0 | 0 | 5 | 1 | 0 |
| 9/20 | LAD | 6 | 7 | 2 | 2 | 7 | 1 | 1 |
| 9/25 | SF | 5.1 | 5 | 0 | 0 | 5 | 3 | 0 |
| 10/1 | SF | 6 | 6 | 2 | 2 | 7 | 2 | 1 |
That was good for a 1.48 ERA and a 1.11 WHIP. The K% was solid at 24.5% and the walk rate beat the league average by a point as well (7.1%). Good stuff from Jameson there, and it seems like it may earn him a rotation in the Arizona rotation to open 2023.
One big reason for hesitancy here is that the guy pitched to a 6.95 ERA in 21 AAA starts. The WHIP was high at 1.59 as well, and the K% was low at 21.2%. Those numbers gave us no reason to believe he would succeed in the Majors, but he was able to pull it off somehow.
At this point, I'm already out for 2023. Anybody who struggles that mightily in AAA for 21 starts is going to need to do a lot of good work in the Majors to convince me he's actually a good pitcher, and four starts just aren't getting it done here. But while we're here, let's push forward and look at his pitch arsenal:
The good:
The arsenal is deep, he splits his top three pitches pretty evenly and has two more for rainy days
His fastball velocity is great (84th percentile on the four-seamer, 65th percentile on the sinker)
A great SwStr% on the slider (the 25% SwStr% is right there with the sliders of Gerrit Cole, Blake Snell, and Shane McClanahan)
The bad:
He didn't earn many strikes with the four-seamer, his most popular pitch
Both the four-seamer and the slider got barreled up at a high rate
But all things considered, this is a pretty intriguing pitch arsenal. I'm very, very confused as to how he didn't have more success in AAA. Maybe some forgiveness is needed for that here. Jameson is the Diamondbacks' #9 overall prospect, and their system is a pretty good one. He also posted a K% above 32% in the minors in 2021 (however the ERA was still pretty bad then right around 4.00).
So, man, we are in a bind here! The "stuff" looks pretty good, but the numbers just haven't followed in the minor leagues. I will never expect strong MLB numbers to follow weak MiLB numbers, but maybe this Jameson kid is a work in progress that will soon master his pitch mix and take a huge step forward - and maybe that started late last season.
Verdict: My rule in these situations is "when in doubt, fade." I will let someone else take a shot on Jameson, but I will definitely have a close eye on his first few starts of 2023.
The lanky lefty pitched to a 2.48 ERA with a 0.88 WHIP in six September starts. He added an elite 34.8% K% with a strong 7.1% BB% with that and scored the seventh-most fantasy points among starting pitchers after September 1st.
Most SP Fantasy Points Scored After September 1
It wasn't new for Lodolo, as he had pitched quite impressively prior to September as well, but unfortunately, he missed a lot of time with a back injury. For the year, Lodolo went for a 29.7% K% and an 8.8% BB% - a nice combination. The SwStr% supports a high strikeout rate at 13.7% and he did a nice job keeping the ball in the yard (9.1% Brl%, 46% GB%).
His arsenal is really impressive:
Pardon the 98 "null" pitches, that is the result of the Field of Dreams game where they did not have the Statcast technology.
He has three above-average pitches with the four-seamer, the curveball (this pitch is elite), and the sinker. I love that pitch mix, and his delivery is also very deceptive and hard to pick up as a very tall lefty with an almost side-arm delivery.
Personally, I love everything about Lodolo. I think the sky is the limit with this kid, and I think he has the potential to be one of the best pitchers in the league next year. That said, we have to acknowledge the very real downsides:
He pitches on the Reds, which is not a good situation and that team does not figure to be competitive next year
The back injury
A back issue is scary for any pitcher, but especially for a really lanky guy like Lodolo. I find it pretty unlikely that he reaches 170+ innings next year, and there is a real risk of long-term issues here that he just can't shake putting this much torque on his spine.
Verdict: The ADP will be interesting to see, and as usual, it will be the real determinant of what we do with Lodolo next year. I want to be in but might have to hold myself back for one more year as we see if his back can hold up.
Download Our Free News & Alerts Mobile App
Like what you see? Download our updated fantasy baseball app for iPhone and Android with 24x7 player news, injury alerts, sleepers, prospects & more. All free!