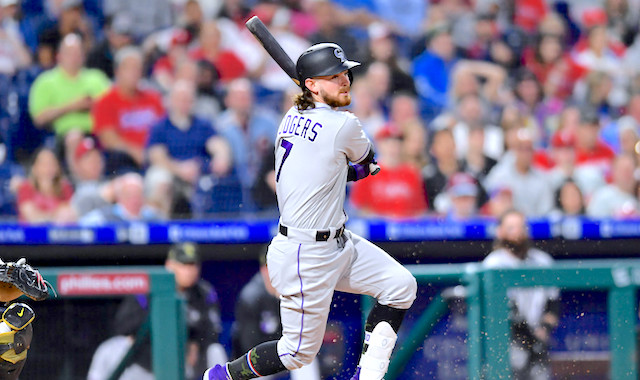 When it comes to successful fantasy baseball drafts, identifying risk is as important as identifying value. We focus so much on "sleepers" and "breakouts" but often forget to really think about the players we should be avoiding. If the goal for a good draft is to build a complete team but also to hit on value with as many picks as possible, then making one or two "home run" picks might be flashy but might not be nearly as important as simply avoiding players who are highly unlikely to meet their value, sometimes known as "busts."
It's important that we discuss the term "bust" before we dive into the details of this article. Too often people hear the word "bust" and think "sucks." While that can sometimes be the case, when we talk about draft value, we're really just using the term "bust" to mean somebody who will not approach that value or is not worth the cost of the pick you need to use to take him. Some of those players will be guys who I would happily draft at a different cost. For example, I've repeatedly talked about how I don't think Randy Arozarena is worth a pick in the low 50s. He's now going pick 64 and has a max pick of 94. If he's available for me in the 80s, I would happily grab him, even though I've discussed him as a "fade" earlier. In short, think of "bust" here as "bad value."
The issue with "bad value" at second base is that there isn't really a ton of it. That's not because 2B has a ton of studs, even though it does have a few good players, it's because 2B is not a position with a lot of top-end talent. Ozzie Albies is the only 2B going really early in drafts, and then you have a group of guys going between pick 75-90 who I think are fairly priced (Jose Altuve, Brandon Lowe, Jorge Polanco, and Ketel Marte). Most of the other 2B options are guys who are going a few rounds later, which makes it harder for them to be bad value since the value itself is so low. However, we do have a few guys I would avoid at their current cost, so we'll dive in here. All ADP is from NFBC online drafts from March 12-26.
Featured Promo: Get any full-season MLB and DFS Premium Pass for 50% off. Exclusive access to our Team Sync platform, Premium articles, daily Matchup Rating projections, 15 lineup tools, DFS cheat sheets, Research Stations, Lineup Optimizers and much more!
Sign Up Now!
ADP: 72.87
Eric's ADP: 121
Nothing encapsulates the nature of this MLB offseason more than the fact that I tweeted a comparison of Randy Arozarena and Jazz Chisholm back in January and now I'm telling you Jazz is going to be a bust. Hear me out, it's all about draft cost. At the time, I was suggesting that Arozarena was going too high for me with an ADP in the 50s, but now I'm going to make a similar argument about Jazz. 
Let's start with the basics of why he makes this list. If you take ATC projections (the most accurate projection system of the last few years) and input it into Tanner Bell's SGP model (this thing is awesome and absolutely worth your money), Chisholm comes out as a $17 player or the 121st ranked player overall. Obviously, 121 is a long way from 72. 
Now, we also know that projection systems, even great ones like ATC, shouldn't be taken as gospel. Jazz has an intriguing mix of power and speed that's capable of outproducing his projected line of .248/.303/.425 with 18 home runs and 23 stolen bases. Last year, he had a barrel rate of 8.6% and a max exit velocity of 112.1 mph, which suggests a hitter who can make contact with authority. We like that. Considering the Marlins also added Joey Wendle, Jorge Soler, and Avisail Garcia to the lineup this offseason, it's also clear that he will be hitting in a more talented lineup, which means more opportunities for runs and RBIs. 
However, we need to acknowledge the clear flaws. Chisholm is a free swinger with a 33.4% O-Swing and 46.8% total swing rate. When you pair that with a 12.5% (SwStr%) and just a 73.3% contact rate (39th-percentile in the league), you have some potential problems. Even with his clear skills, there is still too much swing-and-miss in his game to think he will ever help you in batting average. He's not Joey Gallo, but if you're planning to draft him, you need to plan around his low average. 
So with all of that said, the real reason you're drafting Chisholm this high is because of his stolen base upside, and that's fair. Stolen bases are hard to come by nowadays, so Jazz's 23 projected stolen bases are appealing, especially when it comes with potential power. However, I also know that I can get the exact same 23 steals from Tommy Edman at pick 90. If we want to wait even longer, I can get 14 projected steals from Kolten Wong with a potential .267/.333/.410 triple-slash and a projected 12 steals from Jean Segura with a .281/.337/.423 way later in the draft, both of whom hit in way better lineups as well.
Obviously, you're taking a hit in power there, and we know Jazz has the potential of a former top prospect, but I'm also cautioning you not to assume that potential upside is a sure thing. It's a chance just in the same way Josh Rojas going for 15-15 at pick 250 is a chance. You're just taking your chance on Chisholm at a pick that basically requires that he overperform all of his projections by a considerable amount. Given the depth at 2B later in the draft and the clear holes in his offensive approach, I think he's being over-drafted based on hype and should be closer to pick 100, even if you build in the scarcity of steals. 
UPDATE: After submitting this article, Jazz hit ninth for the Marlins in a lineup that featured tons of regular starters. It was against a left-handed pitcher, so it's fair to wonder if the team will hit Jazz ninth when he faces a lefty. That's not good, as it means fewer plate appearances and chances for RBIs and runs. Also, if he gets on base with the best hitters in the lineup coming up behind him, the team may be less inclined for him to steal and run into an out. 
ADP: 161
Eric's ADP: 210
Wait, Ty France is a starter on a good Mariners offense and he has multi-position eligibility at 1B/2B, so why is he listed as a bust? It all comes down to limited category help. France does not run, so right off the bat, he is only going to help you in four categories. Getting no speed from a middle infield position is really tough given the scarcity of steals, as we mentioned above. However, France is also just a 20 home run hitter, which is good for the middle infield but bad for first base. So France doesn't give you enough speed for a 2B spot and not enough power for a 1B spot. 
Obviously, that's an over-simplification, but let's dive in. France is known as an offense-first player, but he had just a 6.8% barrel rate last year, which was just 42nd-percentile in all of baseball. His average exit velocity on balls in the air was just 92.5 mph, which was 35th-percentile, and his groundball rate still hovers just under 50%. He makes consistent contact and doesn't swing and miss often, but he's not going to be much more than a 20 HR bat with that profile in that home park. So he's a .270-.280 hitter with solid but not great production all around. 
And now we also get word that new teammate Jesse Winker is taking reps at France's position, likely to help open up at-bats for stud prospect Julio Rodriguez? No. I don't like any of that.
That's why ATC's projections for France feel about right. The model has him for a triple-slash of .272/.345/.439 with 19 home runs, 72 runs, 72 RBIs, no stolen bases. If we take France's ATC projections and put them into Tanner Bell's SGP, we get him as a $4.2 player and the 219th player off the board. That's a far cry from his 161 ADP, and that's assuming he still gets full-time at-bats. At that time in the draft, you really want somebody who is going to take your team to the next level. That's not Ty France. 
ADP: 179.35
Eric's ADP: 221
I'm usually all for prospects who people have seemingly forgotten about (hello, Keston Hiura and Spencer Howard), but somehow that is not carrying over to Rodgers. That's not to say I don't like him as a player. The 25-year-old is a legit .280 hitter in one of the best hitting environments in all of baseball, but I also believe that he falls squarely in the "better real-life baseball player than fantasy player" category.
Will Rodgers give you a good batting average? Yes. Will he be a .300 hitter? No, I don't think so. He still has a relatively high 36% O-Swing to go along with pretty average quality of contact (6.2% barrel rate and 44th-percentile average exit velocity on balls in the air). He also has a paltry 4.6% walk rate, so he often chases pitches that aren't ones he can do real damage on. The lack of true feel for the strike zone and strength of contact just makes me think that Rodgers tops out around .280-.290, which is certainly usable in both real baseball and fantasy baseball.
However, his inability to really drive the ball in the air or pull it consistently and his 50% groundball rate is going to prevent him from ever being a true home run threat, even with his home park. So if Rodgers is a .280 hitter with 20 home run power and no speed (he has zero major league stolen bases) in a fairly mediocre offense, he's really not giving you tons of fantasy value.
For instance, if you take his ATC Projections (.278/.325/.458 with 18 home runs, 67 Runs, and 68 RBI) and put them into Tanner Bell's SPG spreadsheet, Rodgers is the 275th-ranked player in 12-team 5x5 leagues. If you believe in Rodgers a little more than the projections, and I do, and give him a .285 average, 19 home runs, 70 Runs, and 70 RBI, then he becomes the 221st-ranked player and a $3.65 value. So even by giving him a better season than projections have him down for, he's still being drafted too far ahead of his true talent level.
However, unlike with Ty France, I can see an instance where I would jump Rodgers above my ADP for him given his batting average skill. If my team is in desperate need of batting average, I could see taking Rodgers just before pick 200, maybe in the 190s, but that would be only in certain builds, so I still think he's unlikely to meet the value he's being drafted at, and I currently have zero shares.
Quick Hits
There are two players who I think are currently being drafted too high, and that's really just because ADP hasn't really had the tie to adjust since recent trades. However, I just wanted to highlight them here in case you were still using earlier ADP for your drafts or were holding out hope for these two highly popular players.
 Gavin Lux, Los Angeles Dodgers
ADP: 272.87
Eric's ADP: 370
This is the downside to playing on a team that is putting together maybe the most dangerous lineup we've ever seen. With the addition of Freddie Freeman and Max Muncy back and healthy (for now), Lux is on the outside looking in, even with the universal DH. The Dodgers are also using Gavin Lux in the outfield this spring, so there is a chance he can be a backup at multiple positions, but he also has some bench competition in Edwin Rios, who has been crushing the ball this spring, and we also don't really know if Lux will be able to hang defensively in the outfield. As it stands, I just can't draft Lux near pick 300 if he needs injuries in order to be an impactful fantasy player.
 Garrett Hampson, Colorado Rockies
ADP: 281.95
Eric's ADP: 366
I know there are some people who think the Rockies have never really given Hampson a true shot, but I will respectfully disagree. He had 327 plate appearances in 2019 and 494 last year. Over 800 plate appearances is not "no shot." In that time (plus his 2020 season), he's a .240 hitter with a 4.8% barrel rate, 26.4% strikeout rate, and 9.8% HR/FB ratio. Even without metrics, you can see that Hampson is a light-hitting player who doesn't bring much to the table other than speed.
With the Rockies signing Jose Iglesias, Hampson has been sent to the bench where he'll compete for backup at-bats up the middle but might be limited to backing up 2B and SS now that Conner Joe also finds himself on the bench as well and will compete for playing tie at DH and in the corner OF. I expect Hampson's ADP to climb as the weeks go on, but Jose Iglesias was also signed right after the lockout ended, so this ADP should have corrected a little more by now too.
Download Our Free News & Alerts Mobile App
Like what you see? Download our updated fantasy baseball app for
iPhone
and
Android
with 24x7 player news, injury alerts, sleepers, prospects & more. All free!
More Fantasy Baseball Analysis