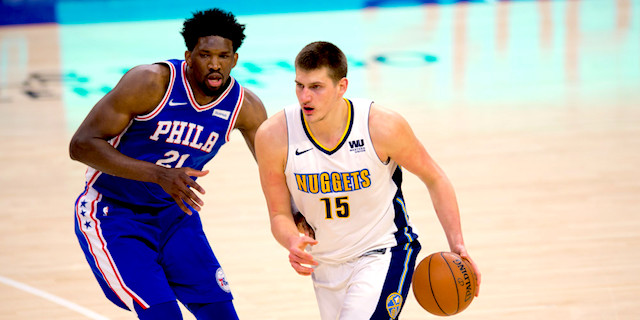 As the NBA season intensifies, the story lines about best teams and best players start to heat up. While there is nothing more exciting than watching offensive highlights of thunderous dunks and deep three pointers ripping through the net, I personally love to bury myself in the defensive side of basketball. Some may toss out phrases like "Defense is the best offense" and go off about intriguing players who are showing exciting defensive growth and potential. Let me start by saying that I disagree there because it's damn hard to get that orange ball into the hoop and nobody wants to watch great defense if there is absolutely no scoring.
However, defense is the edge that allows good teams to become great. (And we love greatness). The last ten NBA championship teams had top rated defenses relative to the rest of the league (Toronto: 5th, Golden State: 11th/2nd/1st, Cleveland: 10th, San Antonio: 4th, Miami: 9th/4th, Dallas: 8th, Los Angeles: 3rd). Similarly, the more we dig into defense, the more we begin to separate ourselves from the other basketball nerds who only care about offense, slowly shifting towards championship-level geeks.
I will be going over some of the more intriguing details that have happened through 2 months of basketball. Rather than just focusing on individual statistics like blocks, I will be piecing together many stats to form narratives. One of my favorite defensive stats is defensive rating, the number of points scored per 100 possessions/attempts (The lower the defensive rating the better, with 100.0 being average). The other stat that I'll be frequently referencing is Opponent Field Goal Percentage, how often opponents score on a team or player. I'll also cover two main categories of defenses: perimeter and paint defense. By the end, I'll be able to share my first and second all-defense teams through a quarter of the season.
Editor's Note: Our friends at Monkey Knife Fight have the best, most fun, fastest growing DFS props game! It's super simple to play and to win real money. Just choose your NBA, NHL or PGA game, and make your picks! Get a 100% instant deposit bonus up to $50 using promo code: BALLER. That's $50 for free - don't miss out!
Play Now!
Team Defensive Rating
Let's start by looking at team defensive ratings to find out which teams in the league are the most formidable ball-stoppers. In the early part of November, I tracked the top 10 teams by defensive rating.
Even with a small sample size, you can see some of the candidates like the Lakers, Jazz, and Magic. This led me to really favor players like Anthony Davis, Rudy Gobert, and Jonathan Isaac, the defensive stalwarts for those three teams mentioned. But after another month of data, when we revisit team defensive rating, new faces start to emerge.
The Milwaukee Bucks shot to the top from their previous 8th place standing, and they had an impressive 100.3 defensive rating through 14 games in November. In other words, on average, teams were only able to score a point on an offensive trip.  Other risers in defensive rating risers were the Denver Nuggets and the Los Angeles Clippers (thanks in part to the return of one Paul George). On the other side of the coin, the biggest fallers were Orlando and Utah (11th). Consistency is beloved, and the mainstays in the top ten were the Los Angeles Lakers, Boston Celtics, Philadelphia 76ers, Toronto Raptors, and Miami Heat. These numbers are a good start to qualifying which teams are for real. The next challenge is distinguishing which teams are a product of well-schemed, team defense and which teams are carried by FREAKish defensive talent.
Paint Defense
To be a great defense, a team or player must stop scoring from the paint, the area closest to the basket. This is the area where opponents have the highest probability of scoring, and usually size and timing are key to stopping layups or dunks in the paint. But strong paint defense can also be a product of scheme for teams like Utah or Portland who purposely funnel opponents towards the inside where they will be met by hulking centers with outstretched arms.
Here is an important distinction. It is more important to look at opponent field goal percentage here instead of looking at raw blocks. Preventing scoring in the paint can be successful without necessarily recording a block. Offenses might have to change their shot trajectory or may even opt to take a midrange shot rather than risk getting their shots blocked. While below you will find the top 20 players by block frequency (qualified by at least 20 minutes per game), this does not definitively mark their status as best paint defenders.
We also will add to the discussion, the top teams in terms of disallowing paint scoring, and individual players who have a lower opponent field goal percentage within 6 feet of the basket (indicated by DFG%)
Most of the consistent teams/players on the above graphics have huge centers like Gobert or Brook Lopez. Logically, these players form the base of an impenetrable center of defense. However, this only stops a small (although important) part of the opponent's scoring…
Perimeter/Man Defense
Today's basketball has changed so much where the massive centers are not enough to hold down a team's defense because offenses have become so elite at shooting three pointers. My dad, who hasn't followed the NBA ever, always laughs when he sees shooters pull up to fire off a three from way above the arc. But then I get to laugh back when the shot goes in.
Unless the center leaves the paint to defend the shooter, the offense gets a fairly wide-open shot, or the members of the defense have to shift over to cover for the paint defender, which, in turn, leads to an open shot elsewhere. That's why it is imperative in today's league to have agile defenders who can hop out and pressure shooters while maintaining the ability to defend larger players who want to rush into the paint. Versatility is just as important as size. Below you will find a similar graphic to earlier, except time it focuses on the players who have the lowest opponent field goal percentage from 3-Point range.
Most of the players listed are long-limbed guards or wings whose primary responsibility is to stop the pesky shooters. But a notable player is Bam Adebayo, the only player on the list above that frequently is the largest player on the floor. He is a defensive gem because he can guard the paint and also quickly switch out and defend a long-range shot. Many individuals become virtually unplayable because they are unable to do both as a big.
Another major component of perimeter defense is being able to pressure the ball. If a defender has quick hands and doesn't let the ball handler dictate control or flow, the offense is majorly handicapped.  Pressure on the ball-handler often manifests in steals. Below you will find the most frequent steals-producers.
Lineup Data
While we can now formulate a general idea of the best defensive players and teams, I want to look at one last category of data to identify dynamics of team defense. In basketball you can only trot out five players onto the court at once, so it doesn't matter if you have a roster lined from top to bottom with elite defenders. Five-man lineup data accounts for the defensive rating of a subset of players rather than an entire team. Even though sample size becomes more limited, it is valuable to see which players are contributing to a strong defensive rating.
Here are some of the highlights:
Philadelphia has an 88.7 defensive rating in 102 minutes together with its starting lineup, and even in minutes without Joel Embiid or Josh Richardson, they still manage to maintain a sub 100.0 rating.
Milwaukee's starters have an impressive 88.8 rating in 139 minutes played together.
Houston has a 92.0 rating in 170 minutes together when they play James Harden, Russell Westbrook, Danuel House, PJ Tucker, and Clint Capela.
Miami with Jimmy Butler and Adebayo have a 92.5 rating in 195 minutes together.
Utah with Royce O'Neale as a starter have a 97.6 rating in 254 minutes together.
My favorite one is Denver, who has 97.8 rating with its starters in an astounding 385 minutes together (the most in the league). But when the second unit comes on with no starters, they also have a 98.5 rating in 59 minutes together!
With this information, I feel ready to talk about which players deserve an all-defense team vote this year. To qualify my decisions, I chose players imagining they are guarding the elite offense players for a position (i.e. James Harden, LeBron James, Anthony Davis). I left players as the position they play, not the position they are listed as. Finally, it was really hard to leave off some of the centers and I struggled to find a fourth forward that really stood out.
First Team All Defense
Guard: Ben Simmons
Guard: Kawhi Leonard
Forward: Giannis Antetokounmpo
Forward: Jonathan Isaac
Center: Anthony Davis
Second Team All Defense
Guard: Jimmy Butler
Guard: Marcus Smart
Forward: Pascal Siakam
Forward: PJ Tucker
Center: Bam Adebayo
Defenders to Watch
I could go on about obvious snubs like Andre Drummond, who is putting up great blocks, steals, and rebounds, but can't have a top 20 defense, OR 2-time Defensive Player of the Year Rudy Gobert, who has a slipping team defense and rising number of shots in the paint against his team since 2017. But I'd rather quickly shout players that stood out in a positive way but couldn't make their way on a list of ten. Brook Lopez, Daniel Theis, and Royce O'Neale are awesome at their respective roles as defenders. Toronto has such great defenders on its roster in Serge Ibaka and Marc Gasol, but they have also had really strong defensive contribution from Norman Powell and Fred Vanvleet. I was unable to single out a Denver player for my list even though I was trying to reward overall team defensive rating, but they might have more good defenders on their 15-man roster than any team in the league currently. Watch out for the Nuggets!
Hope this was cool – looking forward to doing some more defensive digging throughout the season.
More Fantasy Basketball Analysis