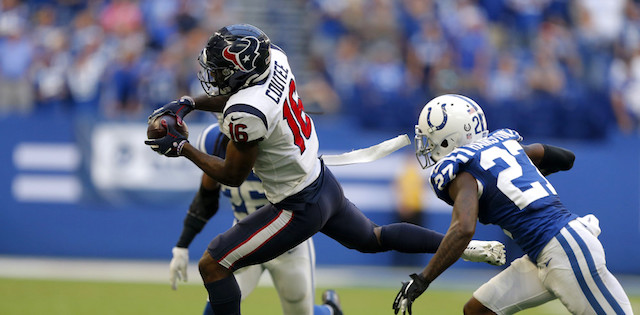 Welcome back to the column formerly known as "Tape Don't Lie" but now not called that because it turns out that name was already being used elsewhere. Oops!
Today, let's talk about Houston Texans rookie wide receiver Keke Coutee, who finally made his long-awaited debut on Sunday after missing the first few weeks of the season with a hamstring issue. Operating primarily as Houston's slot receiver, Coutee caught 11 passes for 109 yards, providing quarterback Deshaun Watson with another option and helping the Texans offense to its best performance of the season. Coutee was a popular preseason sleeper pick -- including by me! -- but his absence had made him fade in the minds of many, but not anymore!
This is normally where I would tell you I considered other players for this column, but this week I was pretty set on Coutee. Mitch Trubisky had a strong and surprising performance and it would have been fun to break that one down as well! But today, we're focused on Coutee.
Editor's Note: Get any rest-of-season NFL Premium Pass for 50% off. Our exclusive DFS Tools, Lineup Optimizer and Premium DFS Research through the Super Bowl.
Sign Up Now!
Keke Coutee: The Tape Tells All
Background Information
Because I studied Coutee's college numbers already for this site awhile back, I'm going to quote one thing I noticed last season that speaks well for Coutee's potential:
We know Texans quarterback Deshaun Watson was big on slinging the ball around the field last season for Houston. That bodes well for Coutee -- per PFF, he was eighth in the FBS in yards on deep passes last season despite ranking just 114th in deep targets. That level of efficiency is likely unsustainable, but it still signals that Coutee can make plays down the field, an important thing in Bill O'Brien's offensive scheme.
Coutee wasn't targeted on a deep ball in Week 4, but I think the logic here holds true. Though Houston's offense hasn't connected on the big plays as often this year, quarterback Deshaun Watson still ranks second in average intended air yards on the year. Houston wants to go deep. Coutee can help them do that, but he can also make plays underneath. His 86th percentile 40-yard dash speed and his ability to produce in the Texas Tech offensive system -- one that is becoming increasingly more relevant to the modern NFL as teams steer toward a more Air Raid-friendly style of play -- suggest that Coutee's production this week isn't a fluke.
Keke Coutee's Game Tape
I'm not going to be providing you with 11 GIFs this week of Coutee because that would be a lot of work, but I do want to look at a few of his plays so we can talk about what we're seeing in the tape, but first, some background on Coutee's performance this week:
First, it's worth noting that despite catching a touchdown, wide receiver Will Fuller was limited to just 27 snaps -- 31 percent of Houston's offensive plays -- due to issues with his hamstring. While this contributed to Houston having Coutee on the field for 80 of the team's 86 snaps, it's worth noting that Houston was running a lot of three receiver sets when all three guys -- Coutee, Fuller, and DeAndre Hopkins -- were available. Part of this is because the Texans don't have a solid grip yet on what their other receiving options are. The tight end position features an unexciting veteran, Ryan Griffin, and a pair of rookie, Jordan Akins and Jordan Thomas, who continue to show promise but haven't done much with that promise. Sammie Coates was the only other wide receiver to take the field other than the main three guys, running backs Lamar Miller and Alfred Blue aren't consistently involved as receiving threats, and the team's best receiving back, Tyler Ervin, didn't take an offensive snap on Sunday, serving solely as a special teams player.
In that environment, it seems that the Texans WR3 job should be ripe for fantasy potential. Does Coutee's game tape live up to that expectation?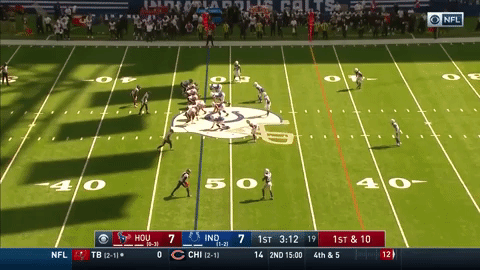 One of the trends that I've been paying close attention to this year is these jet sweep shovel passes. Sweep plays have been around forever, but traditionally these featured a receiver coming in motion behind the quarterback and taking the hand-off, but more and more we see teams bring the receiver in motion in front of the quarterback, who then tosses the ball a yard forward to the receiver, who takes it around the end for positive yardage. These count as passing plays and teams like the Rams and Chiefs have been taking advantage of the mismatches they create all year, but for fantasy purposes the important thing to remember is this: in a PPR league, that's a point (or a half-point) even though it's essentially a run play. Coutee has the speed to be used on plays like this on a routine basis for the Texans this year.
One of the reasons that Coutee can be a dangerous weapon in Houston is that his speed presents mismatches out of the slot. On this play, the Colts bring safety Matthias Farley down to defend Coutee. Farley's a good safety who grades out well according to Pro Football Focus, but he also can't match Coutee's speed. A quick cut before the pass opens up space for Coutee, who ends up catching this pass near the numbers with a good cushion.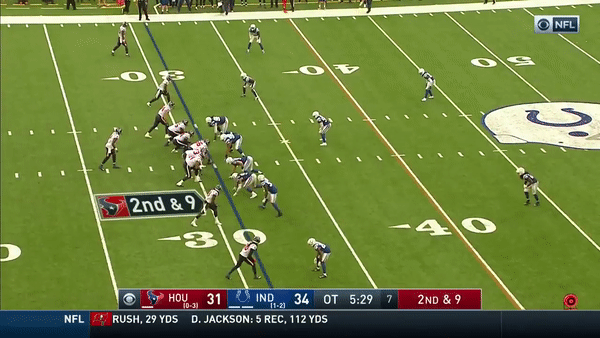 Here's a play in overtime from Coutee. Some bad recognition by the defense on this allows Coutee to get open in the middle of the field. He turns on the jets and ends up getting 19 yards. We know that DeAndre Hopkins and Will Fuller can be big deep targets for the Texans, but Coutee's ability to make a play like this is huge for this offense. Tight end Ryan Griffin isn't going to have the legs to make this happen. It's all due to having a slot receiver that can turn these underneath routes into something.
Here's one last Coutee catch.
The other three plays all shared the "speed creates mismatches" label, but here's Coutee making a contested catch late in overtime as evidence that he's capable of doing that as well. He doesn't have separation here. It's not a perfectly thrown ball. It doesn't end up mattering, as Coutee gets his hands around the ball and brings it in.
Something to note with this play -- deserved or not, Will Fuller has a reputation for not having great hands. Coutee could provide the team with a safer non-Hopkins option at wide receiver, one who the team can trust to make the more difficult plays.
The Fantasy Impact
Targets mean a lot to me, and the fact that Coutee saw 15 of them in his first NFL game suggests big things could be in his future. The Texans convert on just 40 percent of their third down chances, good for a tie at 17th in the NFL, but Coutee's ability gives them a chance to keep the ball on field, increasing his chances and the rest of the team's chances of making positive things happen.
It's true that not many teams can sustain three fantasy-relevant wide receivers, and that Texans head coach Bill O'Brien hasn't been able to do that during his tenure in Houston, but think about one of the prominent teams that does: the Rams. The Texans could learn a lot from how that team uses Brandin Cooks, Robert Woods, and Cooper Kupp. Both teams feature a good, young quarterback, and while the Texans don't have Todd Gurley, the combination of Lamar Miller and Watson's scrambling abilities give them enough of a run game to open up the pass.
Can Coutee be used in a way to similar to how the Rams use Kupp? I don't see why not at this point. Like the Rams, Houston doesn't have a tight end who sticks out as someone who needs targets and can use the slot receiver on routes that might traditionally be used more by the tight end while also sending that slot receiver down the field to take advantage of his speed.
In a year where rookie wide receivers aren't breaking out yet unless their name is Calvin Ridley, Coutee presents a high upside option at the position. He won't always see this many targets, especially when Will Fuller plays the entire game, but Fuller's presence on the field can also serve as a way of stretching out the defense, opening up more underneath space for Coutee. He has the potential to be a strong player in PPR formats and should be picked up if you have the chance.
More Waiver Wire Adds and Pickups