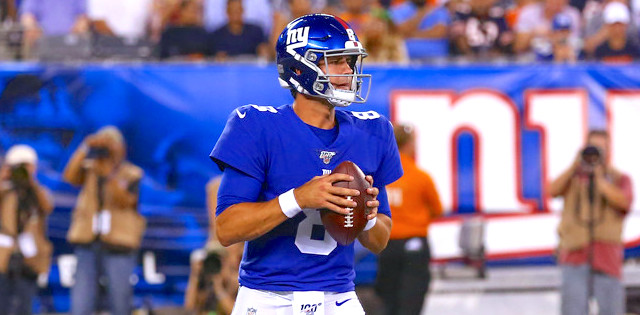 I worry that the havoc that Covid-19 is reeking (yes, I mean to spell it that way) on the Week 5 GPP DFS stacks is just the beginning. I've been trying to confine my picks to the main slate and games keep falling off that slate! Grrrr.
So, you will hopefully forgive me that I will be providing only two GPP stacks this week. Baltimore, Kansas City, Dallas, and Arizona are all in my humble opinion fairly chalky, so, therefore, that takes four options right off the board right there. If you think they will have low ownership, go ahead and knock yourself out and run those in your GPPs.
Hopefully next week I will go back to three. But next week could be worse, or not, we'll see. For now, here are two of my favorite GPP stacks for you to consider for your NFL Week 5 DFS stacks.
Featured Promo: Our friends at Sharp App have created the ultimate tools for sports bettors. Download the FREE app to track bets, compare odds, get daily picks from the most accurate models in the industry, and identify the sharp side of any bet. Use promo code BALLER to get a month free of Sharp Pro access.
Get The App!
Week 5 NFL DFS Stacks: The Match-up Stack
New York Giants
Calling this the "matchup stack" was a very nice way to say, "Yeah, the Cowboys really are that bad". Here is what I said last week...
"Not surprisingly, the Cowboys are just slightly better against quarterbacks than they are against WRs. I just mentioned they are the second most generous against the latter and they are the third most generous in giving up fantasy points to signal-callers. The Cowboys are giving up a league-worst .65 fantasy points per pass attempt."
And that was before Baker Mayfield, Odell Beckham Jr., and the rest of the Browns abused the Dallas defense. Let's simply say that I'm probably going to stack against the Cowboys every week until they convince me otherwise. And it's not like the Giant options are that bad. Let's start with Darius Slayton who is making a habit of leading the Giants in receiving yards week after week. Of course it might have something to do with the 29 targets he has received already this year. Slayton is a great value play this week and one of the key ingredients in this stack.
The next piece of this stack I'm excited about is Evan Engram. He has not been as hot as Slayton has, but he does have more targets this season than Slayton. He also saw double-digit targets this past week, which is a good sign for Engram moving forward. At just $4600 on DK, Engram is definitely under-priced this weekend.
Which brings us to the super cheap and unfortunately tough-to-swallow option of Daniel Jones. With little to no running game to set up play-action, Jones has been bad. His 2:5 TD to INT ratio speaks for itself. But look at the defenses Jones has faced. His "level of difficulty" score is pretty high. Of the four teams the Giants have played, the Rams have been the most generous of the four in giving up fantasy points. And they have been the 11th stingiest. The three other teams (Steelers, Bears, and 49ers) the Giants have played are all in the top ten stingiest Ds. The Cowboys on the other hand are at the opposite end, having given up the fourth-most fantasy points to quarterbacks. I am expecting a big bounce-back from Jones this week, making this a cheap and easy stack.
Week 5 NFL DFS Stacks: The "Dead-Cat Bounce" Stack
Houston Texans
We've seen it countless times in the NFL. The week after a coach is fired, the team plays a lot better than they have previous to the new coach. Now....the Texans have had a brutal schedule to start the season. So some of the "better play" we see out of the Texans might simply because they are playing the Jacksonville Jaguars who are both a bottom ten offense as well as bottom ten defense. However, some of the poor results do fall at the feet of Bill O'Brien. Which of course is another reason why the Texans might play better this week. Either way, I'm expecting a much better Texans team this week than we've seen all season.
And we start of course with Deshaun Watson who some pundits are actually starting to call a fantasy bust. We should all have such busts that only manage a two-to-one TD to INT ratio (6:3) with no game less than 250 passing yards and an additional double-digit fantasy points running the ball through four weeks! Jacksonville is giving up the eighth-most fantasy points to opposing quarterbacks and I think we see a big game out of Watson this week. Those who have called him a fantasy bust will wish they could take it back.
Will Fuller meanwhile is coming off of his best game of the season. He snagged six of seven targets for 108 yards and a score. Jacksonville has actually been pretty good about limiting YAC (yards after catch) to opposing receivers, but that "bend don't break" secondary is bending to a whopping 71% completion rate. And unfortunately, while the secondary might not be breaking, they are breaking down. CJ Henderson has performed admirably so far in his rookie season, but he injured his shoulder during last week's game. Should Henderson not suit up, that leaves seventh-round rookie Chris Claybrooks as a starter. Expect Fuller to make it a long day for Claybrooks.
Meanwhile, pop quiz time. True or False: Jordan Akins has more catches, yards, and touchdowns than Mark Andrews? The answer of course is false. Andrews has more touchdowns. But Akins has both more catches and yards than Andrews! And Aikens is priced nearly half of what Andrews will cost you. And with that kind of production and savings, you'll have plenty of salary to spend elsewhere.
Hopefully, there will be enough games and options to do so! Thanks for reading, and good luck with your Week 5 DFS GPP Stacks!
[youtubs_nfl]
More Weekly DFS Analysis