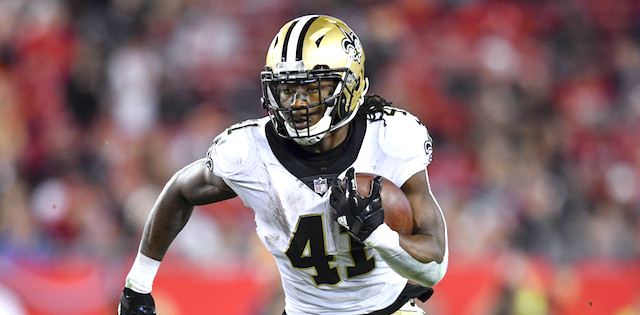 Welcome to the second part of our Week 16 matchups analysis and starts/sits column for fantasy football. We'll be covering every matchup from every Sunday game to help you make the best decisions for your fantasy lineups. We'll also be updating this as injury reports come in, so check back often for the latest advice.
This article will cover the late slate of games, beginning after 4:00 pm EST on Sunday as well as the Sunday night game. Don't forget to see our Saturday matchups, early game matchups analysis here and look for our MNF matchups analysis as well.
Check back here each week to get advice for your toughest start/sit decisions and take a look at our consensus rankings each week. For start/sit advice or anything fantasy football-related, find me on Twitter @Pfunk00 and I'll be glad to offer help.
Editor's Note: Get any rest-of-season NFL Premium Pass for 50% off. Our exclusive DFS Tools, Lineup Optimizer and Premium DFS Research through the Super Bowl.
Sign Up Now!
4:05 PM ET Games
As the fantasy season comes to a close in many leagues, the last few meaningful games could be very impactful to your championship hopes. This week, a banged-up Rams team travels to Arizona in hopes of avoiding another letdown. The Bears also take to the road to compete for the best record in the NFC. The marquee matchup features Pittsburgh and New Orleans in a game that could feature a ton of scoring... or become an unexpected defensive battle. Things cap off with a game that has huge playoff implications as the Chiefs take on the 12th man in Seattle. Let's take a look at who has the edge.
Rams at Cardinals
Matchups We Love:
Todd Gurley (RB, LAR)
With a bit of trepidation, we must roll out Gurley as the top running back this week in a matchup against one of the worst run defenses in the league. Gurley racked up three touchdowns and a pair of two-point conversions in Week 2 while facing these Cardinals. That was at home and back when the Rams were rolling over everyone with 30+ points per game. They've scored 30 the last two weeks combined with Gurley totaling 76 rushing yards - a far cry from the early portion of the season. That aside, there would be no reason to worry about him if not for the knee injury that could limit his snaps. Gurley is expected to play, and fantasy owners must start him, but he might not see a full workload, leading to frustration in the most important week of the season.
UPDATE: Todd Gurley will be a game-time decision this week. If he sits, the newly signed C.J. Anderson is expected to start.
Robert Woods (WR, LAR)
Woods has been as consistent as any receiver in the game, tallying at least four receptions and 60 yards in every game since Week 1. He's been targeted more than ever since Cooper Kupp went on IR and should be a strong WR2 again this week.
Matchups We Hate:
Jared Goff (QB, LAR)
Between Goff's well-documented home/road splits, recent struggles, and an improved Arizona defense, it's a bad time to trust him for your fantasy playoff squad. Goff has thrown one touchdown and seven interceptions the last three games, as teams are daring him to beat them on his own by taking away the run game. It could carry over this weekend if Gurley isn't 100% or can't generate much yardage early on. While Goff may not have a terrible game, the floor is not nearly as high as you'd like at this juncture of the season.
Josh Rosen (QB, ARI)
Rosen is already handicapped by a conservative gameplan that has seen him average 25.6 pass attempts per game over the last five contests. It's doubtful they'll turn him loose in this one, as ball control would seem to be the best way to keep the Rams offense off the field. With Aqib Talib back and Aaron Donald up front, this is not a spot to risk starting Rosen, even in two-quarterback leagues.
J.J. Nelson / Trent Sherfield (WR, ARI)
If you really want to roll the dice in a deep league, you could start Nelson on the chance he toasts Marcus Peters deep for a touchdown. Given the fact he's drawn a zero in the catch column in six of the last seven games, that would be as gutsy as you can get. Sherfield will face Aqib Talib and may not reach the end zone as easily this weekend, as he did in garbage time against the Falcons last week. Both receivers are questionable heading into this game as well.
Gerald Everett (TE, LAR)
There is little reason to consider a tight end who averages two catches and 21 yards per game as it is. The Cardinals allow the third-fewest fantasy points to tight ends, making Everett a must-sit in any league where he happens to be owned.
Other Matchups:
David Johnson (RB, ARI)
Johnson figures to be an RB2 this week, as the matchup is neither here nor there statistically. If the Cards face an early deficit like the first time these teams met, it could take DJ out of the gameplan again. He managed just 51 total yards in that game. Then again, that was with Sam Bradford at QB and Mike McCoy as coordinator. This game should be more favorable for Johnson but it's doubtful he puts up a huge game either.
Larry Fitzgerald (WR, ARI)
This will mark the 30th time in his career that Fitzgerald faces the Rams. It's been a mixed bag recently with mostly disappointing results but it's understandable given the quarterback situation in Arizona over the years. The matchup isn't ideal but Fitz is always capable of pulling off enough catches to provide a few points in PPR leagues. He is a middling WR3 in Week 16.
Brandin Cooks / Josh Reynolds (WR, LAR)
ProFootballFocus projects Cooks to be covered by former Raider David Amerson, while Reynolds will face Patrick Peterson. The Cards haven't been using Peterson to shadow opposing WRs anymore so coverages could switch throughout the game. There is always a chance Cooks breaks a long gain and makes up for his recent rough stretch. It actually hasn't been as bad as advertised - Cooks has seen seven targets and 4.3 receptions per game over the last three, with one truly bad game against Chicago and the others just mediocre. He hasn't reached the end zone in those games, which could correct a lot of wrongs if he does so in Week 16. He went off for 159 yards the first time these teams met, so there is hope. Reynolds remains touchdown-dependent, especially in this matchup.
Ricky Seals-Jones (TE, ARI)
RSJ is the TE equivalent of tofu. Not necessarily terrible but bland, unexciting and uninspiring. Speaking of which, he has been suffering from food poisoning this week and may not be fully ready for Week 16 so it's best not to take a chance here despite his eight targets last week.
Bears at 49ers
Matchups We Love:
Mitch Trubisky (QB, CHI)
It may seem risky to count on a second-year QB who has averaged 170 yards with a 4/5 TD/INT rate in his last three games for your fantasy finals. Trubisky has been feast or famine all year and there's a good chance he feasts this week. The Niners defense has also been boom or bust, allowing four 300+ yard passing games while holding opponents under 200 yards six times. They won their revenge game against Seattle last week but have little to play for this time while the Bears are fighting for home field advantage. San Fran still has just two INT on the year and Trubisky is very effective when not turning the ball over. With decent weather in the forecast, conditions are favorable for a solid game out of Trubisky.
Tarik Cohen (RB, CHI)
His typically high floor should remain high this week against the Niners, a team that allows the fourth-most receptions to running backs. Cohen doesn't need a ton of touches to be effective and there's always the potential for a breakout game. Consider him a safe RB2 for your championship.
Allen Robinson (WR, CHI)
Robinson hasn't produced any big games lately, cracking the 55-yard mark once since Week 10. Still, he's getting about seven targets per game and remains a top red zone threat. San Francisco has allowed more touchdowns to receivers than anyone, making Robinson a prime candidate to cash in. He's a low-end WR2 in Week 16.
George Kittle (TE, SF)
A tough matchup like this usually works in favor of a team's primary target. In this case, it happens to be the safer one in Kittle. It's tough to expect a big game from him but you can't possibly bench a player who is 10th in the NFL in receiving yards, second among tight ends behind only Travis Kelce. Kittle should see enough targets to keep him in TE1 status.
Matchups We Hate:
Nick Mullens (QB, SF)
The Bears defense by far leads the league in interceptions (26) and allows the second-fewest fantasy points to QBs. Neither Aaron Rodgers nor Jared Goff managed a single touchdown against them over the last two weeks. It's safe to say that Mullens should not be in starting lineups this week.
Matt Breida / Jeff Wilson (RB, SF)
Last week it was a tough call deciding who to flex between Breida and Wilson as the snap count was hard to predict (much like Breida's health). Luckily, that decision is easy this week - start neither. The Bears are the best run-stopping unit in the league and Breida is again nursing an ankle injury. He outsnapped Wilson 45-12 last week so it's clear that Breida will be the man if he plays but that's always a big if.
Taylor Gabriel / Anthony Miller (WR, CHI)
It stands to reason that a big game by Trubisky means involvement by more than one receiver. Miller has dropped off the face of the Earth recently, catching one pass over the last three games. The rookie wall looks very real. Gabriel has caught exactly three passes each of those three games and hasn't scored since Week 4. In fact, that's the only week he did score in 2018. The matchup is good but A-Rob and the Human Joystick may continue to soak up all the valuable targets.
Other Matchups:
Jordan Howard (RB, CHI)
Howard has touched the ball 20 times each of the last two games and is now being used the way many expected heading into the season. If game script proves favorable, he could come away with another solid fantasy day. His lack of involvement as a pass-catcher always means that without a touchdown, the floor is fairly low so you could pivot to another option depending on your team's needs.
Dante Pettis / Marquise Goodwin (WR, SF)
There exists a very possible scenario in which the 49ers find themselves down by double-digits at halftime, forcing them to abandon an ineffective run game and try to make plays down the field to catch up. This leaves the door open for big-play threats Goodwin and Pettis to save their day with a long gain. Goodwin has been a disappointment this year but is still among the leaders in aDOT at 14.1 while Pettis stands as the WR25 in PPR scoring since Mullens took over in Week 9. They are both risky for sure but could be worth a dart throw in deep leagues. The Bears have allowed the eighth-most passing yards to wide receivers, mainly based on volume of pass attempts (330, fourth-most).
Trey Burton (TE, CHI)
Burton scored against Green Bay for his first trip to the end zone since Week 9. His receiving numbers stayed low and he hasn't gone over 40 yards in a game since Week 7. Like many tight ends, he is touchdown-dependent so starting him is a dice roll against a team that is simply average defending the position.
Steelers at Saints
Matchups We Love:
Michael Thomas (WR, NO)
In this showdown between offensive juggernauts, Thomas could be the star. He'll be shadowed by Joe Haden all day but that won't be enough to keep him off the WR1 radar. Thomas has been far more productive at home this season, averaging 42 more yards per game and scoring two more TD in two fewer games. Count on him to deliver big in this game.
Antonio Brown / JuJu Smith-Schuster (WR, PIT)
Both are no-brain starters any week, especially in a dome against a team that has given up huge games to receivers much of the year. Smith-Schuster popped up on the injury report mid-week with a groin injury, which is definitely concerning to his owners. It shouldn't keep him out of the game, however, so you must keep him plugged in. Brown has the tougher assignment with Marshon Lattimore set to shadow him but since when has that really mattered?
UPDATE: JuJu Smith-Schuster will be a game-time decision this week, but his teammates expect him to play.
Matchups We Hate:
James Conner (RB, PIT)
The Saints' third-best defense against running backs is a starting point, but only one of several reasons to be skeptical of Conner this week. First, we still don't even know if he'll play. Despite encouraging reports at the start of the week, he was out of practice on Wednesday and Thursday. He also offered this telling quote, "I want to go, but if I'm not feeling like me, then I wouldn't be James Conner. So I'm not going to go out there less than ready." If he does play, he would likely give way to Samuels to some extent, limiting his touches. He also may not be fully effective if the ankle is bothering him. Finally, game script could work against him if the Steelers find themselves able to pass far easier than run. It's best to assume Conner won't help you this week and only play him if you have no other choice.
UPDATE: James Conner has officially been ruled out this week, so Jaylen Samuels will continue to be the lead RB.
Tre'Quan Smith / Keith Kirkwood (WR, NO)
We should know enough not to trust the Saints' secondary receivers in important matchups. That aside, Smith has two games on relevance and a whole slew of goose eggs on his resume this season. Kirkwood is a practice squad promotee who catches approximately two passes for 29 yards per game. Neither can be counted on in any way.
Vance McDonald (TE, PIT)
It's a tough spot for McDonald, who found paydirt last week but wound up with just two catches for 13 yards. He hasn't gone over 50 yards since Week 6 and is just another touchdown-dependent TE streamer at this point. Facing a team that is playing its best defense of the year and has only allowed four TD to the tight end, it's hard to place McDonald as a fantasy starter.
Other Matchups:
Drew Brees (QB, NO)
Forget the 75% completion rate and league-high 116.8 QBR, we want some touchdowns! Brees has gone dry in that category at the worst possible time, tossing only two touchdowns versus three interceptions over the last three games. The yardage has been even worse; since Week 12 Brees is averaging 175 passing yards, with no more than 203 in a single game. This has all come against some of the worst pass defenses in the league, mind you, in Atlanta, Tampa, and Carolina. So what's the deal? The defense is playing lights out and Brees just doesn't have enough trustworthy receivers to chuck it down the field, opting for safe dump-offs instead. The Steelers have come down harder on opposing QBs recently, making him a sketchy start once more. It's hard to imagine you have a better quarterback than Brees available to start this week and there's always the chance this turns into a high-scoring affair, so roll with Brees.
Ben Roethlisberger (QB, PIT)
This is a tricky one. The Saints are still one of the worst pass defenses in the league statistically but it's been a tale of two halves. Over the last six games, the Saints are allowing less than 200 passing yards per game and even that amount is inflated by a 340-yard game by Matt Ryan as they were playing from behind all game. Big Ben hasn't been elite recently but he has been good enough to qualify as the QB8 over the last four weeks. It's hard to sit him in a game where the passing game could be at the forefront, but the ceiling looks much lower than we would have expected a few weeks ago.
Alvin Kamara / Mark Ingram (RB, NO)
Nothing has really changed with either of these two backs, as they are being fed the ball about the same as ever. The only difference that has left owners a bit disgruntled is that Ingram isn't racking up touchdowns like last year and Kamara is finally producing closer to a normal football player rather than his hyper-efficient (and unsustainable) rookie numbers. Kamara is averaging 6.7 receptions and 87 total yards the last three weeks, which is a perfectly fine starting RB in fantasy leagues. For Ingram, it's about 55 total yards with less than two receptions per game. If he doesn't reach the end zone, he will disappoint for sure in this matchup. The Steelers have allowed nine rushing touchdowns all year, so don't be afraid to take a chance on someone with greater upside.
Jaylen Samuels (RB/TE, PIT)
If Samuels qualifies at tight end in your league, he's pretty close to a must-start in this game. If Conner is ruled out, Samuels also becomes an interesting RB3 where he doesn't slot at TE. The matchup on paper is really bad but his pass-catching ability may prop up his value in PPR leagues, especially if the Steelers are losing. He should be safe to flex.
Benjamin Watson (TE, NO)
Watson is still sitting on two touchdowns for the year and has seen a grand total of seven targets over the last five games. It would take a desperate situation to add Watson to your squad in Week 16. That said, Pittsburgh isn't great against tight ends and there's always a chance for Watson to sneak into the end zone. The Steelers held Gronk to 21 yards last week but allowed 116 yards to Jared Cook before that.
Sunday Night Football - Chiefs at Seahawks
Matchups We Love:
Patrick Mahomes (QB, KC)
At one point midway through the season, Seattle was the best pass defense in the league. They've dropped a bit, barely hanging inside the top-10 at 15.8 PPG allowed to quarterbacks. Facing Seattle in their house seems like a tough spot but for Mahomes it could be a boon. He has played better on the road all year, averaging 32 more yards per game and throwing 11 more TD. In a game the Chiefs want to win to hold onto their division lead and home field advantage, Mahomes stays locked in as a top QB play.
Russell Wilson (QB, SEA)
Those who abandoned Wilson after his 72-yard flop in Week 14 may want to come back now. He faces a Chiefs team allowing the most passing yards in the league in a week where many typical stud QBs are questionable. He could easily creep into a top-five fantasy finish, especially if the defense fails to hold Mahomes and company at bay.
Chris Carson (RB, SEA)
He has proven to be a legit RB1 this year and a steady RB2 for fantasy owners. Carson ranks 21st in fantasy points per game at the running back position (half-PPR) and has done some of his best work toward the end of the season. The last two games, Carson has taken 22 carries in each, running for 90 and 119 yards respectively with a score in each. He should have no problem putting up similar numbers on Kansas City as the team tries to establish the run in order to keep Mahomes off the field.
Tyreek Hill (WR, KC)
It's a roller coaster ride being a Hill owner, who could explode for a top WR finish or settle for 50 yards in any given week. Hill has to be started in all leagues, as Shaq Griffin isn't a shutdown corner and Seattle has allowed big games to receivers at times.
Doug Baldwin / Tyler Lockett (WR, SEA)
He came through big for those who trusted him in Week 15, scoring twice and going for 77 yards on four catches. He is questionable again with a hip injury, bringing some degree of risk in this crucial matchup. He's shown the ability to play through nagging injuries all year, so this isn't the time to doubt him as he faces a generous Chiefs secondary. Lockett has 15.7 yards per reception on the year and faces a defense that allows the most air yards, receiving yards, and YPC against. Both should be in lineups wherever possible.
Travis Kelce (TE, KC)
Start the top-scoring tight end in Week 16? Sure, why not? Seattle is simply average defending the tight end and Kelce hasn't caught fewer than six passes in a game since Week 7. Be glad you have him in a title showdown.
Matchups We Hate:
Chris Conley / Demarcus Robinson / Kelvin Benjamin (WR, KC)
With Sammy Watkins still on the shelf, it might be tempting to insert one of Kansas City's other receivers. The truth is Watkins left behind 5.5 targets per game, which isn't enough spread across multiple receivers to make any of them worth the risk. Conley is the best of the bunch and he's only gone over 25 yards once all year despite playing in a prolific offense.
Nick Vannett / Ed Dickson (TE, SEA)
Nothing has changed - these players are both completely irrelevant in fantasy leagues. Vannett didn't even catch a pass last week and Dickson hasn't caught more than two in a game all year.
Other Matchups:
Damien Williams / Spencer Ware (RB, KC)
Ware has practiced in a limited fashion this week but could be a game-time decision, making fantasy owners sweat a bit. He borders on must-start territory if he is sure to play but the Seahawks have held their last three opponents under 100 rushing yards and won't yield a ton of points. Williams may have earned more snaps with his performance last week, cutting into Ware's touches. He is going to be a popular flex play based on his four TD the last two games. It's hard to count on a repeat, however, making him a boom-bust play at best. With Ware on the field in Week 14, Williams totaled 30 yards on 12 touches.
UPDATE: Spencer Ware has officially been ruled out for this week, so Damien Williams will continue to be the lead RB.
David Moore / Jaron Brown (WR, SEA)
All the stats listed above hold true regarding the Chiefs defense. You still need targets in order to be productive, however, and those have come in short supply for Moore and Brown with Baldwin on the field. Each is simply a TD-needy dart throw for deep standard leagues.
More Weekly Lineup Prep