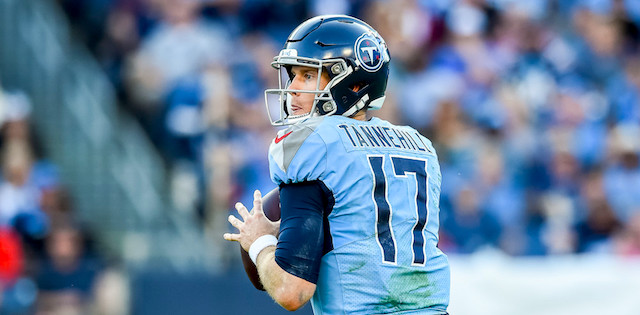 Now that the bye weeks are in full swing; streaming becomes a more viable and almost necessary strategy. Knowing who to add and when to start them could be the ultimate difference-maker in a weekly matchup. Making the right streaming decisions throughout the season could easily be the difference between missing the playoffs and having a shot to win a championship.
Each week, I will create a team of streamers for you to choose from. They will be broken down based on ownership levels and league size. I will make specific recommendations for 14, 12, and 10-team leagues to give you the most guidance possible when selecting a streamer. 14-team streamers will be players with ownership levels around 15%, 12-teamers will be around 30%, and 10-teamers will be around the 45% mark. Keep in mind that just because a player is listed as a streamer for a particular league size, it does not mean you can't use them in a different league size. For instance, if a 12-team league streamer is available in your 14-team league, by all means, use them accordingly.
Let's take a look at Week 10's best streaming options with some highlighted players to keep an especially close eye on.
Editor's Note: Get any rest-of-season NFL Premium Pass for 50% off. Our exclusive DFS Tools, Lineup Optimizer and Premium DFS Research through the Super Bowl.
Sign Up Now!
Stream Team for 14-Team Leagues
Quarterback streamers in 14-team leagues are pretty slim this week with six teams on bye, but Brian Hoyer could help fill the need by putting up a respectable performance against the Dolphins. Hoyer will likely be the starter in Indy for at least Week 10 as Jacoby Brissett deals with a strained MCL.
The Dolphins are allowing quarterbacks to throw for over 260 yards per game and have allowed 11 passing touchdowns through their first eight games. These numbers would be much higher if teams didn't find it so easy to run the ball against Miami as they rank last in rushing yards allowed per game. I mention this stat because I think running the ball with Marlon Mack in the early going will help set up the pass for Hoyer and the Colts. The burden of the game will not fall on Hoyer, and therefore he should be able to steadily pick this defense apart.
Thomas and the Jets get a solid matchup vs the Giants in Week 10, and I think he has an opportunity to put up a solid performance.
The Giants currently rank worst in the league in terms of total receiving yards allowed to wide receivers with 1,760 and also rank third-worst in terms receiving yards allowed per game with 195.5 yards. They also rank third-worst in fantasy points allowed to wide receivers on a per-game basis with 28. Thomas has seen 17 targets, 10 receptions, and 124 receiving yards in his last three games and is becoming a failsafe for quarterback, Sam Darnold. He should have no trouble getting open vs. this Giants' secondary and could have a nice game, especially if he can find the end zone for the first time in 2019.
Irv Smith Jr. is still a largely unknown player for the Minnesota Vikings, but I think he will start to catch on in the coming weeks and possibly supplant Kyle Rudolph as the de facto number one tight end. Smith has seen 15 targets in the past three games and has managed to catch 12 of these targets for over 100 total receiving yards. Much of this production could be directly correlated to the loss of Adam Thielen, and he is expected to miss more time in the coming weeks.
This week, Smith gets a solid matchup vs. a Cowboys Defense that ranks seventh-worst in receptions allowed to tight ends with 49 and also ranks eighth-worst in yards allowed to the position with 523. In terms of fantasy points allowed to the position, they rank 11th-worst by allowing 8.6. With tight end being such a difficult position to stream, using Smith may just pay off this week.
Stream Team for 12-Team Leagues
At the beginning of the season, not many people would have thought Ryan Tannehill could provide fantasy value in 2019, but here we are heading into Week 10 where he is worth an add in 14-team leagues.
Tannehill was named the starter in Week 7 and has been performing admirably in his three games since. Over the span, Tannehill is 2-1 and has completed over 70% of his passes for 836 yards and 6 touchdowns. These numbers are superb and could get better. In the next seven games, Tannehill will face five defenses ranked in the bottom 12 in terms of fantasy points allowed to the quarterback position. He gets to face Houston twice in that span, who have allowed the eighth-most fantasy points per game to quarterbacks and the second-most total passing yards. Tannehill makes for a great streamer and bye-week replacement moving forward, especially when you add in the fact that he can gain you some much-needed points on the ground as he did when he rushed for 38 yards last week vs. the Panthers.
Deebo Samuel is sort of a dart toss this week, but with six teams on bye, you are going to have a couple of those. Samuel has seen more action in the 49ers offense recently as he has garnered 15 targets in the past three games. Unfortunately, he has not been able to do much with these 15 targets as he only has 77 receiving yards in those three games, but a matchup vs. Seattle on Monday night may help his cause.
The Seahawks are ranked third-worst in terms of total receiving yards allowed to wide receivers with 1,602. They have also given up 126 receptions to the position, which also ranks them third-worst. The defense has been strong against the run, however, which means the 49ers will likely have to try to move the ball through the air to be effective. I think Samuel will get his fair share of targets in this game. It is just a matter of what he can do with those targets. The 49ers did not spend a second-round pick on him for nothing, and this is a prime spot for him to step up.
Gesicki is one of my favorite streams of the week. So much so that I am strongly considering him in DFS. He has started to gain a rapport with Ryan Fitzpatrick as he has 14 receptions in the past three games, which have come off 13 targets. He is making the most of his opportunities and the same should hold true this week vs. the Colts, especially with Preston Williams and his target-share needing to be disbursed elsewhere.
The Colts are allowing tight ends 9.5 yards per reception. They have given up a total of 445 yards to the position and have also allowed four touchdowns. Quarterbacks have not struggled to get the ball to tight ends vs. the Colts either as they are currently allowing a 71.2% completion rate to the position. Lastly, the Colts rank fourth-worst in terms of fantasy points allowed to the position as they are allowing just under 10 points per game. Again, with the tight end position being extremely difficult to stream, you could do a lot worse than Gesicki this week.
Stream Team for 10-Team Leagues
Daniel Jones has had an up and down start to his career. He came out on fire vs. the Buccaneers in Week 3, but has only had one monster game since, which came Week 8 vs. the Lions. He has a solid matchup this week vs. the Jets and should be worth a stream in most leagues.
The Jets have been strong against the run this season, but have struggled vs. the pass. They have allowed quarterbacks to throw for nearly 273 yards per game. They have also allowed 12 passing touchdowns and only come away with five interceptions on the year. Just let week, they allowed Ryan Fitzpatrick to throw for 288 yards and three touchdowns en route to his best fantasy performance of the season. They are also fourth-worst in the league in sacks, so Jones likely won't be under much duress on Sunday. Stream him with confidence as he looks to put up one of his better fantasy performances of the season.
This is an easy stream if you need a running back this week and Jones II is available in your league. He appears to be the clear number one back in Tampa Bay as evidenced by his 18 carries for 67 yards and a touchdown last week vs. a stout Seahawks run defense. That and the fact that Bruce Arians came out and said Jones II has earned the right to start.
The matchup for Jones II and the Bucs this week is a solid one vs. the Arizona Cardinals. The Cardinals are allowing 104.4 yards per game to running backs and are allowing them to gain 4.4 yards per carry on the season. They have only given up four rushing touchdowns to running backs, which is surprising, and I would expect this to come back to earth very soon. In terms of fantasy points allowed, the Cardinals are right in the middle of the pack as they allow 18.7 points per game to the position. The Bucs are 4.5 point favorites in this game and therefore Jones II should have ample opportunities to run the ball and grind down the clock late in the game.
Pascal is now the de facto number one wide receiver in Indianapolis until T.Y. Hilton returns. He is a must-stream this week vs. the Dolphins even with Brian Hoyer under center.
The Dolphins are allowing receivers to gain 157.5 receiving yards per game, which is not ranked all that poorly, however, they have given up a whopping 13 touchdowns to wide receivers, which is tied for worst in the league with the Giants and Texans. Pascal has managed to score three touchdowns in the last three games and will no doubt be the top target of Brian Hoyer Sunday. Stream him if he is available.
More Weekly Lineup Prep