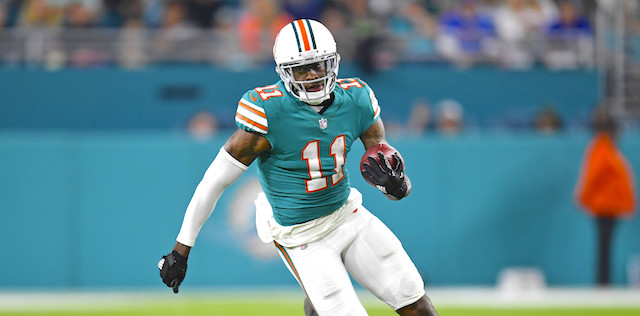 We made it! We wagered through a long and tedious preseason but real football hit us in the forehead for the first time this season during the past few days and change. But just as soon as it came, it went. The first week of the season is over and we have some tasty numbers already available and ready to be crunched.
At this point in time, there is no excuse for you not to access the advanced statistics being used in every sport you follow and their importance. Back in the day, it was all about wins and losses, passing yards, and touchdowns scored. It is not that those stats are worthless, but they don't offer enough to the savvy analysts. While football is yet in its infancy in terms of analytics compared to baseball, the evolution the sport has seen lately in those terms is notable.
You already know why I'm here: I'll be tackling NFL's Next Gen Stats on a weekly basis, bringing you the data from the just-completed week's games and highlighting some takeaways you should take into consideration when assessing fantasy players for the upcoming games. In case you're new to the series, or Next Gen Stats altogether, I recommend you read our preseason primer. With this little introduction and two-way congratulatory message (I wanted football back in my life as much as you did, we both deserve congrats for enduring such a hard summer of endless waiting) out of the way, it's time to get to the data!
Editor's Note: Get any rest-of-season NFL Premium Pass for 50% off. Our exclusive DFS Tools, Lineup Optimizer and Premium DFS Research through the Super Bowl.
Sign Up Now!
Week 1 - Air Yards Don't Lie
If you remember the introductory post to the series, you already know Air Yards tells us the vertical yards on a pass attempt from the line of scrimmage to the point where the ball was caught by the receiver (or the catch failed to be completed.)
I will be using mainly two metrics here: Average Targeted Air Yards (TAY), and %Share of Team's Air Yards (TAY%). TAY tells us how many air yards a receiver is thrown per target. TAY% measures the percentage of Air Yards a receiver was thrown at over the sum of his team's total Air Yards.
As we have only seen one week of action, it would be a little hasty to make too many conclusions out of just one game worth of data. That is why I'm leaning toward receivers (wideouts and tight ends) for the first entry of the series. This doesn't mean Air Yard values are already stabilized, not close to it, but it is highly probable that what we see in Week 1 stays the same at least in the short-term future.
On top of that, most receivers have already seen at least five targets (NGS cutoff to qualify), and those we haven't either won't be heavily relied on going forward (barring injuries or forced depth chart changes) or play for teams that won't be using a pass-heavy scheme (looking at you, Minnesota.)
Looking at League-Wide Team Trends
Just to get things started, here are the top five and bottom five teams in Average Targeted Yards. I have included every team, although one didn't have a single player qualified:
| | | |
| --- | --- | --- |
| Team | Players w/ 5+Tgt | Avg TAY |
| 1. MIA | 3 | 16.9 |
| 2. SEA | 1 | 16.5 |
| 3. DET | 3 | 14.4 |
| 4. BAL | 2 | 13.8 |
| 5. GB | 3 | 13.0 |
| 28. LAR | 4 | 7.8 |
| 29. JAX | 3 | 6.0 |
| 30. TEN | 1 | 4.7 |
| 31. SF | 1 | 3.9 |
| 32. MIN | 0 | -- |
As you can see, results are all over the table (no pun intended.) We go from Miami leading the way with three players averaging a staggering 16.5 TAY to San Francisco at just 3.9 TAY with only one player (George Kittle) seeing five-plus targets. Minnesota, as I mentioned earlier, was the only team to not have a receiver thrown the ball at least five times. Incredible, but as real as it comes (the Vikings threw 10 passes all-game).
Fantasy Takeaways:
Miami, led by Ryan Fitzpatrick, did what everybody expected the QB to do and in a catch-up game versus Baltimore just threw bombs away to the receiving corps. There will be games when Fitzpatrick put up 300-plus yards and others when all the risks he takes end in nothing.
Seattle ranks high on the merit of D.K. Metcalf alone. As ridiculous as it sounds, Tyler Lockett was only targeted twice. Expect Seattle to involve more receivers as the season goes on, and don't bet too high on Metcalf yet.
Arizona doesn't appear on the list but they averaged 11.65 TAY with four players qualified. All of the Cardinals players qualified averaged between 12.3 and 10.6 TAY, making for a small deviation and showing how Arizona seems to be fully committed to the Air Raid system and deep passes.
Minnesota is just throwing away the passing game. To pass 10 times in a full game is just unheard of. The most-targeted received was Adam Thielen with three targets. Stefon Diggs logged two. Fade the Vikings' receiving corps because they offer no upside at all if they keep playing this way.
Analyzing Individual Player Performances
Now that we know which teams went all the way downfield with their throws and which of them opted for a more cautious approach, is time to look at individual players. In order to keep things under control and not going too wild, here are the receivers to log at least an 18-plus TAY average, and those that fell under a four TAY average:
Unsurprisingly, players from three of the top five teams highlighted earlier appear at the top of this list. The bottom of the table also includes two players that were part of the lowest-TAY offenses of Week 1.
Looking at those numbers and other stats from the first week of the season we can get some interesting insights to inform our fantasy decisions going forward:
Fantasy Takeaways:
After waving goodbye to Le'Veon Bell and Antonio Brown, James Washington is the clear deep-route option for Ben Roethlisberger in Pittsburgh. Perhaps JuJu Smith-Schuster will see more targets and get more completions on shorter, easier routes, but Washington will get chances to put up big numbers.
In a tanking season, Miami won't bother after throwing an interception here or there. It showed in Parker's usage, averaging 23.4 TAY in as many as seven targets during the game.
In similar fashion to what Fitzpatrick did with Parker, Jameis Winston did with Evans. Winston is another bombing QB and he won't hesitate in throwing deep balls.
It's worth keeping an eye on Terry McLaurin. The rookie averaged the sixth-largest cushion (distance from his defender at the LOS), showed great speed, and caught five of seven targets with a great TAY average.
Jamison Crowder finished with 14 receptions on 17 targets while posting an ultra-low 3.0 TAY average. This shows how large TAY numbers don't necessarily mean better production. Crowder profiles as the go-to receiver for Sam Darnold and a sure point-getter week to week.
Something similar happened to Kittle. Jimmy Garoppolo was a mess in the passing game, the 49ers receiving corps are blurry and Kittle looks like the every-snap safety valve of the offense. More worrying (a lot) are Dede Westbrook 1.1 TAY average. He should be the no. 1 option for Jacksonville on offense a big yard gainer, but with such low averages he is far from making a real impact.
Bringing It All Together: Usage Patterns Seen Week 1
So far I've looked at teams and players individually, but the meats and potatoes of our beloved Air Yards come when looking at the whole picture. There is no better way to get there than studying TAY% rates.
While TAY raw numbers (even averaged) give a good idea of how deep a player is being targeted, what is really meaningful is how much they are being used. Remember, in fantasy football all comes down to volume. No matter if you roster a receiver that can't run more than five yards down the field if he gets thrown the ball each and every snap he will end topping the week's points leaderboards.
Here are your leaders (45-plus TAY%) and trailers (under-10 TAY%) for the first week of the season:
Now you see where I was going with this. We have officially entered the elite-level territory with names such as those of DeAndre Hopkins and Sammy Watkins making the list. But there are also surprises on the bottom part of the table. Let's take a deeper look at things and come up with some fantasy-related insights.
Fantasy Takeaways:
Oakland offense is bare-bones and barred of talent. No wonder Tyrell Williams led the way this week in TAY%. Williams is the best receiver of the Raiders after Antonio Brown's departure and he surpassed the ridiculous 60% mark in TAY%, the only one able to among all qualified receivers. If you don't have Williams in your team you might want to add him. There aren't many players with such an open field of opportunities in from of them.
Sammy Wakins had a ridiculous performance. He caught nine passes out of 11 targets, finished with 198 yards and scored three touchdowns. All of this with a 53.43 TAY% that will go up as Tyreek Hill was injured. You won't find Watkins in the waiver wire, but if you can pull a deal and trade for him, definitely go for it.
Although TAY% could be easily misunderstood as a proxy to usage rate, it doesn't mean both things correlate. There is a good chance they do, but looking at the New York Jets we see a completely different image. While Anderson racked up 52.92% of the TAY, Crowder finished the game at 22.44%. Anderson had three receptions for 23 yards and Crowder had 14 receptions for 99 yards. That's the problem of being targeted deep: plays are harder to make. Oh, and for your fantasy aspirations, bank on Crowder. There is no better QB-WR looking pair as that of Darnold and Crowder so far.
I don't like getting back to this, but Dede Westbrook's performance was definitely upsetting. He put up just 30 yards on 5 receptions but wasn't a threat at all, with just a 3.19% share of the Jaguars' TAY. At least he got a touchdown, but if this becomes the norm I wouldn't hesitate and try to move him via trade as soon as possible.
Finally, O.J. Howard may be in for a tough season in Tampa Bay. While I think low marks on both TAY and TAY% could be a constant in Howard's stat lines and not bad for him, Winston was horrid in Week 1 and that could easily affect Howard's fantasy upside. He is also sharing the field with studs like Mike Evans and Chris Godwin. I'm not saying you should drop, fade or trade him, but keep an eye on how things develop in Tampa.
More Fantasy Football Analysis