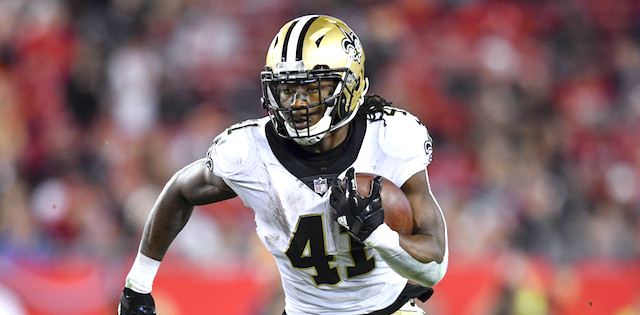 It's here, it's finally here! The 2018 NFL season is upon us and that means so is fantasy football. We all know how important start/sit decisions are in fantasy, and I'm here to help.
Unlike other articles that cover just a few players at each position, I am analyzing every player, for every game either with my written analysis or with the data tables. Technically this is a write up for the Sunday games only, but I do list the players for all games, though I will not be giving them specific write-ups.
Check back here each week to get the absolute best advice for your toughest start/sit decisions and take a look at our consensus rankings each week.
Editor's Note: Get any rest-of-season NFL Premium Pass for 50% off. Our exclusive DFS Tools, Lineup Optimizer and Premium DFS Research through the Super Bowl.
Sign Up Now!
How To Use This Information
"Matchups We Love" and "Matchups We Hate" mean that the player has an especially good or an especially tough matchup. It doesn't necessarily mean that player should be started or benched.
At the end of each positional section is a table that will show every fantasy-relevant player for the week and their corresponding matchup. If a player didn't get a write-up, it means their matchup didn't stand out for whatever reason, good or bad. Use the accompanying tables to find players who didn't get write-ups to see where they rank in terms of their matchup.
Opportunity is KING in fantasy football. Don't sit a player expected to get 20 touches in a bad matchup for a player expected to get eight touches in a good matchup. Use the matchups as a tie breaker for players in similar situations/tiers.
If you are a nerd like me and want to read about the data behind the matchups, and how I formulated the rankings, click here. Otherwise, on to the matchups!
QB Matchups We Love
Ben Roethlisberger (QB, PIT)
By now you have likely heard all about his home/road splits, but have you heard about his Le'Veon Bell splits? In 13 career games without Bell in the lineup, Roethlisberger averages 20.1 PPG. In games with Bell, just 17.1. Assuming Bell doesn't play, which seems highly likely at this point, Roethlisberger could actually post BETTER numbers. But even if you ignore the Bell splits, the matchup is also very good. The Browns defense, while much improved, is still far from elite. The Steelers possess one of the game's best pass blocking lines, and Roethlisberger should have plenty of time to throw in this one against a good, but not great, Browns front. The secondary features a rookie in Denzel Ward, a cornerback who ranked 84th in Terrance Mitchell, and their best corner, nickel Brian Buddy-Calhoun ranked 35th. Antonio Brown and Juju Smith-Schuster should have no trouble giving Roethlisberger plenty of open targets and he is an easy start this week.
Case Keenum (QB, DEN)
Need a streaming option in Week 1? Look no further than Keenum. Going against a Seahawks defense that is practically gutted, and with two talented receivers in Demaryius Thomas and Emmanuel Sanders, Keenum is in a great spot to continue where he left off in 2017. On the defensive line, the Seahawks lost Michael Bennett and Sheldon Richardson, and are now left with Frank Clark as their best edge rusher, who graded 51st at the position a year ago. The Broncos line should keep the pocket relatively clean for Keenum. The Seahawks also posses no one in the secondary who should be able to cover Thomas or Sanders. Keenum is a great option this week and my number one streaming choice.
Alex Smith (QB, WAS)
Like the Seahawks, the Cardinals defense is a shell of its once dominant self. Yes, they still have Patrick Peterson, but he was not the dominant corner we were used to in 2017. Jamar Taylor on the other side ranked just 70th, and they will likely use safety Budda Baker in the slot. Up front, Chandler Jones is a force, but the Redskins will pit Trent Williams against him, a beast in his own right. If Williams can win that battle Smith should have a clean pocket to operate from. While he doesn't have a receiver like Tyreek Hill anymore, he has enough weapons that he should be a solid start this week.
Blake Bortles (QB, JAC)
Bortles had a bit of a bounce-back year in 2017, leading the Jaguars to the AFC title game on his way to a QB13 finish. He looks to be another good option this week against the Giants defense. While the Giants do possess an above average pass rush, the Jaguars offensive line is one of the games best. In the secondary, Janoris Jenkins is coming off a down year and Eli Apple made strides but still has a long way to go. The downside with Bortles is the Jaguars propensity to be a run-first team which lowers his volume, but this is a good spot and he should produce solid numbers.
QB Matchups We Hate
Andrew Luck (QB, IND)
After missing the entire 2017 season with a shoulder injury, Luck is finally back and ready to go. Owners should be cautious, however, not just because he's playing his first game action in that long, but also because of the matchup. The Bengals have a strong pass rush, and although rookie Quentin Nelson looks like he'll be a great addition along the offensive line, Luck's pass protection is still not great. On top of that, the Bengals are strong in the secondary which isn't great for a team weak at the receiver position. I still like Luck's long-term outlook, but owners may want to let him ride the bench this week.
Eli Manning (QB, NYG)
Manning has one of the most loaded offenses he has ever had, with rookie running back Saquon Barkley, stud receiver Odell Beckham Jr., third-year receiver Sterling Shepard and second-year tight end Evan Engram. But not even all that talent can make up for the brutal matchup that he faces this week. The Jaguars were the league's top defense a year ago and there is no reason to think they won't be again. Talented from top-to-bottom, they should make life miserable for Manning. He should not be started in any format.
Derek Carr (QB, OAK)
Carr is coming off a disappointing 2017, and starts his 2018 against one of the league's best defenses. With DPOY Aaron Donald signed and ready to go, the Rams should put tons of pressure on Carr and force quick throws. When he does have time, the secondary is loaded at all positions and should be able to clamp down on the receivers. It's hard to see a scenario were Carr does well on Sunday, and owners should look elsewhere.
Ryan Fitzpatrick (QB, TAM)
Fitzpatrick gets the start for suspended Jameis Winston, and draws a brutal matchup against a defense that hit the lottery with draft picks in 2017. Led up front by Cameron Jordan, and with stud corners Marshon Latimore and Ken Crawley, the Saints will make things extremely difficult on Fitzpatrick. Fitzpatrick is rarely a reliable option anyways, and this week is no different.
QB Matchups Data
Below is a positional data table for this week's matchups based on a variety of factors (you can read about the process here). The players are ranked by RotoBaller's PPR consensus staff rankings. The "Matchup" column is a numerical representation of the players matchup, a higher number is better. Use this matchup data as a tie breaker for players in similar situations/tiers:
| | | | | | | | | | |
| --- | --- | --- | --- | --- | --- | --- | --- | --- | --- |
| Player | Team | Opponent | RBRank | Left | Middle | Right | Pressure | Coverage | Matchup |
| Aaron Rodgers | GBP | CHI | 1 | 35 | 30 | 35 | 10.8 | -10.365 | -4.965 |
| Tom Brady | NEP | HOU | 2 | 40 | 30 | 30 | -0.44 | 3.48 | 3.04 |
| Drew Brees | NOR | TAM | 3 | 40 | 20 | 40 | 4.21 | 13.62 | 17.83 |
| Cam Newton | CAR | DAL | 4 | 40 | 20 | 40 | -4.34 | -5.55 | -7.72 |
| Matthew Stafford | DET | NYJ | 5 | 35 | 30 | 35 | 7.01 | 12.635 | 16.14 |
| Deshaun Watson | HOU | NEP | 6 | 40 | 25 | 35 | 11.28 | 0 | 5.64 |
| Kirk Cousins | MIN | SFO | 7 | 33 | 33 | 33 | -3.07 | -1.1253 | -2.6603 |
| Russell Wilson | SEA | DEN | 8 | 35 | 30 | 35 | 12.71 | 1.51 | 7.865 |
| Ben Roethlisberger | PIT | CLE | 9 | 33 | 33 | 33 | 15.22 | 12.0813 | 27.3013 |
| Philip Rivers | LAC | KCC | 10 | 35 | 30 | 35 | -5.82 | 4.66 | 1.75 |
| Andrew Luck | IND | CIN | 11 | 33 | 33 | 33 | -11.16 | -10.065 | -15.645 |
| Jared Goff | LAR | OAK | 12 | 40 | 20 | 40 | 1.3 | 5.69 | 6.34 |
| Andy Dalton | CIN | IND | 13 | 33 | 33 | 33 | -5.36 | 4.125 | 1.445 |
| Marcus Mariota | TEN | MIA | 14 | 40 | 25 | 35 | 7.61 | -1.89 | 1.915 |
| Matt Ryan | ATL | PHI | 15 | 35 | 30 | 35 | 2.08 | 5.775 | 7.855 |
| Alex Smith | WAS | ARI | 16 | 35 | 30 | 35 | 1.94 | 2.925 | 3.895 |
| Tyrod Taylor | CLE | PIT | 17 | 35 | 30 | 35 | 1.69 | -6.205 | -5.36 |
| Dak Prescott | DAL | CAR | 18 | 35 | 30 | 35 | -7.9 | 5.655 | 1.705 |
| Patrick Mahomes | KCC | LAC | 19 | 33 | 33 | 33 | 14.32 | -14.652 | -7.492 |
| Blake Bortles | JAC | NYG | 20 | 33 | 33 | 33 | 17.79 | 4.3923 | 13.2873 |
| Case Keenum | DEN | SEA | 21 | 35 | 30 | 35 | 8.72 | 1.375 | 5.735 |
| Jimmy Garoppolo | SFO | MIN | 22 | 33 | 33 | 33 | -3.45 | 12.177 | 10.452 |
| Nick Foles | PHI | ATL | 23 | 40 | 15 | 45 | 12.35 | -6.23 | -0.055 |
| Mitch Trubisky | CHI | GBP | 24 | 30 | 25 | 45 | -6.68 | -3.2 | -6.54 |
| Sam Bradford | ARI | WAS | 25 | 33 | 33 | 33 | -9.99 | 2.1483 | -2.8467 |
| Joe Flacco | BAL | BUF | 26 | 30 | 35 | 35 | 5.61 | -2.625 | 0.18 |
| Derek Carr | OAK | LAR | 27 | 35 | 30 | 35 | 1.54 | -20.575 | -19.805 |
| Ryan Tannehill | MIA | TEN | 28 | 33 | 33 | 33 | 9.19 | -1.4223 | 3.1727 |
| Sam Darnold | NYJ | DET | 29 | 33 | 33 | 33 | 11.83 | 8.712 | 14.627 |
| Eli Manning | NYG | JAC | 30 | 33 | 33 | 33 | -5.32 | -8.646 | -11.306 |
| Ryan Fitzpatrick | TAM | NOR | 31 | 35 | 30 | 35 | -7.32 | -11.04 | -14.7 |
| Nathan Peterman | BUF | BAL | 32 | 33 | 33 | 33 | 1.07 | -0.627 | -0.092 |
RB Matchups We Love
Alex Collins (RB, BAL)
Collins broke-out over the second half of last year, and could continue that level of play against a Bills team that has one of the league's worst rosters. The Bills have no elite run-stoppers on their defense and are starting rookie Tremaine Edmunds at linebacker. While Edmunds has a bright future in this league, it's a lot to ask of a rookie in his first start, and Collins should find plenty of running room in this one.
Dion Lewis (RB, TEN)
While Lewis and teammate Derrick Henry will likely split carries, Lewis appears to be the team's preferred option in the passing game. He gets a plus matchup on both fronts in this one against a Dolphins defense that struggles against the run, and whose linebackers struggle in coverage. Lewis isn't getting talked about much, but he has sneaky appeal this week in a game that should favor the Titans.
Chris Thompson (RB, WAS)
With the injury to Derrius Guice, and senior citizen Adrian Peterson being named the starter, Thompson should once again have a large role in this offense, especially in the passing game. That is great news for his owners, as he gets a Cardinals linebacker group that struggles in coverage. Thompson was hyper-efficient a year ago, and will likely come back down to earth, but still offers solid value in Week 1, especially in PPR formats.
Duke Johnson (RB, CLE)
With Carlos Hyde locked in as the starter, and rookie Nick Chubb looking like nothing more than a bench warmer, Johnson should re-assume the role that saw him finish as PPR RB12 in 2017. While the addition of Jarvis Landry may hurt his value some, he's in a great spot against a Steelers linebacker group who is missing their best player. Johnson should have the advantage in this one, and makes for a good value in PPR leagues.
Javorius Allen (RB, BAL)
Allen doesn't offer much in the run game with Alex Collins leading the way, but he possesses plenty of upside in the passing game. Against a Bills defense weak at the linebacker position, Allen should be able to get open at will and is a sneaky start in deeper PPR leagues. If you're one of the unlucky owners who drafted Le'Veon Bell or Jerick McKinnon, and you're in a pinch, Allen can bail you out.
RB Matchups We Hate
Saquon Barkley (RB, NYG)
I know. You drafted him in the first round. You have to start him. But man, what a tough way to make your NFL debut, against the league's number one ranked defense. Whether on the ground or through the air, Barkley will face tough matchups. If he excels this week he is the real deal and the sky's the limit. You have to start him, of course, but owners should temper expectations.
Joe Mixon (RB, CIN)
Mixon is another breakout candidate for 2018, but he gets a tough first test against the Colts tough run defense. Most people don't realize this, but the Colts front is loaded with run-stoppers. In 2017 they were a classic funnel defense, good against the run and bad against the pass. Not much has changed for 2018 and Mixon may find running room tough. While the Bengals did improve the offensive line, the Colts front is still much better and should win this battle.
LeSean McCoy (RB, BUF)
McCoy is in one of the worst situations of his career, on an offense that may finish the year ranked dead last and running behind one of his worst offensive lines. It doesn't help matters that he faces an extremely strong Ravens front this week, who will likely focus on stopping McCoy and making Nathan Peterman beat them. If there is any hope for McCoy, it is in the passing game where he does have an advantage over the Ravens linebackers. Still, in a game the Bills are expected to lose handily, it's hard to see the upside with McCoy.
Alfred Morris (RB, SF), Matt Breida (RB, SF)
While no one knows who will actually start for the 49ers in the wake of the McKinnon injury, what we do know is it probably doesn't matter. The Vikings boast one of the league's strongest run defenses, and should shut either Breida or Morris down. With the uncertainty in this backfield, and the tough matchup, both should be left on benches this week.
Marshawn Lynch (RB, OAK)
Lynch was a lot better in 2017 then people gave him credit for, as he was a victim of terrible play calling and game script. While bigger things are expected for him this year, it may take a while to get rolling. Facing a Rams defensive front that may be the most talented in the league, the Raiders offensive line is likely to get whipped in this one. With Lynch offering little in the passing game it seems he is nothing more than touchdown dependent in Week 1.
Carlos Hyde (RB, CLE)
The Browns look set to make Hyde the starter with rookie Nick Chubb nothing more than a backup. Hyde is a talented runner, but he has a tough test in front of him against a Steelers defense that is strong up front. While the Browns do have a good offensive line, the Steelers front is better and they should limit Hyde's room. The volume should be there for Hyde, the results not so much.
RB Matchups Data
Below is a positional data table for this week's matchups based on a variety of factors (you can read about the process here). The players are ranked by RotoBaller's PPR consensus staff rankings. The "Matchup" column is a numerical representation of the players matchup, a higher number is better. Use this matchup data as a tie breaker for players in similar situations/tiers:

WR Matchups We Love
Michael Thomas (WR, NOR)
Thomas is our chalk play at wide receiver this week, facing a Tampa defense without its best corner in Brent Grimes. It will now be up to Vernon Hargreaves, Ryan Smith and rookie Carlton Davis to shut down Thomas. No chance. Fire him up everywhere you can.
Larry Fitzgerald (WR, ARI)
In 2017, Fitzgerald ran 62% of his routes from the slot and should once again dominate snap slots. He gets a fantastic matchup against nickel corner Fabien Moreau who was one of the worst graded corners a year ago. With Sam Bradford under center, Fitzgerald should be a target machine and is a must start this week.
A.J. Green (WR, CIN)
Drafters were a bit low on Green this year compared to season's past, but they shouldn't be as he dominated the Bengals targets and air yards. Those who have them on their fantasy team should expect a big reward Sunday. Primarily playing on the outside, Green will get looks at both Kenny Moore II (graded 70th) and Nate Hairston (graded 107th). Green should have his way with these corners and has top-5 upside.
Cooper Kupp (WR, LAR)
With the addition of Brandin Cooks the Rams now feature a three-headed monster at receiver, but Kupp's role out of the slot is safe. Running 60% of his routes from the slot, Kupp will get Raiders slot corner Leon Hall who ranked near the bottom of all corners in 2017. With the Raiders having decent corners on the outside, Kupp should be the beneficiary in the softest matchup of the three.
Demaryius Thomas (WR, DEN)
It's likely there will be weeks where Thomas is the play, and weeks where Emmanuel Sanders is the play. This week it is Thomas. The one bright spot amongst the Seahawks corners is slot corner Justin Coleman, who ranked 31st a year ago. Sanders has been moved to the slot, which will leave Thomas outside against Shaquill Griffin (ranked 76th) and Dontae Johnson (ranked 114th). Thomas should have little trouble getting open and is a solid start.
Jamison Crowder (WR, WAS)
Crowder should benefit from the addition of new quarterback Alex Smith, but also has a plus matchup in Arizona this week. With the departure of Tyron Mathieu, the Cardinals are likely to use second-year safety Budda Baker in nickel packages. While Baker looked great in 2017, he struggled in coverage, grading at just 57. Crowder should win this matchup with ease, and makes for a great start especially in PPR formats.
Will Fuller (WR, HOU)
With DeAndre Hopkins facing shadow coverage from Stephon Gilmore, Fuller will be left on the Patriots weakest corner, Eric Rowe. Rowe graded at 109 a year ago, and with DeShaun Watson back, Fuller has tons of upside in this one. The Patriots play almost entirely man coverage, so Fuller will get to attack Rowe all game. Start him with confidence if you've got him.
Keelan Cole (WR, JAC)
With Marqise Lee out for the season, Cole appears to be the Jaguars number one receiver. If you drafted him he's in a great spot to role out Week 1. Lining up all over the field, he'll get chances against Janoris Jenkins (ranked 60th), Eli Apple (ranked 79th) and B.W. Webb who missed all of 2017. Cole has limited upside in a low-volume attack, but he makes for a solid start especially in PPR formats.
WR Matchups We Hate
Odell Beckham, Jr. (WR, NYG)
Look, you are starting Beckham regardless of matchup, but this is as tough as it gets. He will spend the majority of his afternoon being shadowed by Jalen Ramsey, the leagues best corner in 2017. Beckham is a stud in his own right, and this is must-watch TV, but owners might want to temper expectations this week.
Mike Evans (WR, TAM)
Many are expecting a bounce-back year from Evans, but he has a tough first game, drawing shadow coverage from Marshon Latimore. Latimore was a sensation as a rookie a year ago, ranking seventh among all corners. You may not have a better option than Evans, and you made need to role with him, just temper expectations.
Amari Cooper (WR, OAK)
Like Evans, many are expecting a bounce-back from Cooper, but he draws a tough first test against one of the league's best defenses in the Rams. Wherever Cooper lines up he'll be at a disadvantage. New additions Aqib Talib (ranked 14th) and Marcus Peters (ranked 15th) man the outside, while Nickell Robey-Coleman (ranked 17th) man's the slot. Cooper was taken in the first four rounds of most drafts, so he's hard to bench, but if possible, owners should consider it.
Jordy Nelson (WR, OAK)
See above.
Randall Cobb (WR, GBP)
Big things are expected from Cobb in 2018 with the departure of Jordy Nelson, but Cobb owners may have to wait a week. Playing 77 percent of his snaps from the slot, he'll primarily get slot corner Bryce Callahan who ranked 25th among all corners a year ago. Cobb always has touchdown upside in an offense led by Aaron Rodgers, but you should find other options if you can.
Sammy Watkins (WR, KC)
Watkins had a disappointing 2017 and now starts 2018 facing off Chargers stud corner Casey Hayward, who was the NFL's second-best corner. It's hard to see Watkins getting the better of this matchup, and Hayward could completely shut him down. If you have any decent options on your bench you should probably start them.
WR Matchups Data
Below is a positional data table for this week's matchups based on a variety of factors (you can read about the process here). The players are ranked by RotoBaller's PPR consensus staff rankings. The "Matchup" column is a numerical representation of the players matchup, a higher number is better. Use this matchup data as a tie-breaker for players in similar situations/tiers:
TE Matchups We Love
Delanie Walker (TE, TEN)
Walker seems to get no love from the fantasy community, but each year he puts up solid numbers for his owners. He is a great start this week against a Dolphins defense starting two rookie linebackers and weak at safety. Walker appears fully healthy entering Week 1 and owners can fire him up with confidence.
Jack Doyle (TE, IND)
With the return of Andrew Luck, all of the Colts pass catchers stock has risen, and that includes Doyle. With Jacoby Brissett, Doyle finished as TE7 last year and gets a Bengals defense whose linebackers struggle badly in coverage. They are also starting a rookie safety. Doyle should be heavily targeted by Luck and should find plenty of room against this defense.
Eric Ebron (TE, IND)
See above. Makes for a good streamer in deeper formats.
David Njoku (TE, CLE)
Njoku was a breakout start in preseason for the Browns, and looks to be headed for a larger role in 2018. With Tyrod Taylor under center, Njoku should see plenty of opportunity. He's in a plus spot here against a Steelers defense missing Ryan Shazier and starting rookie safety  Terrell Edmunds. Njoku is a big red-zone threat as well and has a nice ceiling in this one. Fire him up with confidence.
Ricky Seals-Jones (TE, ARI)
Seals-Jones burst onto the scene in 2017 with a pair of big games before eventually fading out again. But the second-year tight end has been named the starter and appears ready to see a big uptick in snaps. He'll benefit not only from having Sam Bradford under center, but from playing a Redskins defense whose linebackers struggle covering tight ends. Seals-Jones is still a risky start, but if you're looking for a streaming option you could do much worse.
TE Matchups We Hate
Jared Cook (TE, OAK)
Cook has sleeper appeal in 2017 on a Raiders team lacking in pass catchers, but he could get off to a slow start. The Rams linebackers and safeties are above average in pass coverage, and the entire defense should make things tough on this offense. Cook still has plenty of value, but owners should leave him on the bench this week.
George Kittle (TE, SF)
After Hunter Henry was lost for the season, George Kittle assumed the mantle of tight end sleeper that everyone loved. Tied to a good quarterback in Jimmy Garoppolo, and coming off a solid rookie season, it made sense. But things may be rough out of the gate against a Vikings defense whose linebackers are good in coverage, but have two of the best safeties in the game in Harrison Smith and Andrew Sendejo. Kittle will likely need a touchdown to pay off this week.
Jimmy Graham (TE, GB)
Moving from Seattle to Green Bay was likely a great move for Graham's long-term outlook, but short-term he draws a brutal matchup against a Bears defense that just added Kalil Mack. The Bears have one of the best linebacker groups in coverage, and are also very strong at safety. Wherever Graham lines up the Bears should make things difficult, and he'll need to find the end-zone to make his owners happy.
TE Matchups Data
Below is a positional data table for this week's matchups based on a variety of factors (you can read about the process here). The players are ranked by RotoBaller's PPR consensus staff rankings. The "Matchup" column is a numerical representation of the players matchup, a higher number is better. Use this matchup data as a tie breaker for players in similar situations/tiers:

More Fantasy Football Analysis