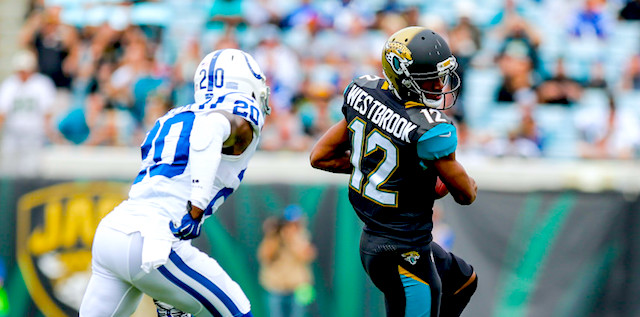 Week 1 is finally here! After a long offseason without football, it has been a pleasure to be digging into the prices for this first slate of the regular season. I have been over the slate a few times and the changing landscape of the NFL has led to this column moving in a couple of different directions.
The last few weeks have been even more active than usual. We had sudden retirements, holdouts, blockbuster trades, big-name cuts, and subsequent additions. All of this has presented plenty of opportunities for value this week, be that at quarterback, running back, wide receivers or tight ends.
This article will take a look at some of the value plays for each week of the NFL. However, usually when you look at value plays for GPP you are swinging for the fences somewhat. Here I will be focusing on cash games and the necessity for slightly more safety as you are just looking to finish in the top half or so of the competition. Therefore, we are looking for cheaper players who should see a decent workload, be that pass attempts, targets or carries. Let's take a look at the cash value plays for Week 1 of the 2019 NFL season.
Editor's Note: Get any rest-of-season NFL Premium Pass for 50% off. Our exclusive DFS Tools, Lineup Optimizer and Premium DFS Research through the Super Bowl.
Sign Up Now!
Week 1 Quarterback Cash Game Value Plays
Jacoby Brissett, IND @ LAC | DK: $4,400, FD: $6,000
Before his retirement, Andrew Luck was the second-highest priced quarterback on the slate. Between his incredible offensive line and beefed-up receiving corps, no one batted an eyelid at the price. However, his retirement has left us an opportunity in Week 1. Instead of Luck and his $6,700 salary, we get the opportunity to use Brissett and his $4,400 salary. The Chargers were 22nd against quarterbacks last season and head into the season without their premier safety in sophomore Derwin James. This game has the makings to potentially be a high scoring affair, and Brissett will reap the benefits of playing behind that offensive line as he looks to put down a marker after a tough 2017 season behind a less than stellar line. In terms of ROI, Brissett has ever chance to be the leader in that category among quarterbacks this week.
Nick Foles, JAX vs. KC | DK: $5,300, FD: $6,500
This is a fascinating one because Foles is walking into a potential shoot out in his first game as a Jaguar. The Jaguars are welcoming the Kansas City Chiefs to Jacksonville, and they have made very minor upgrades on the defense that ranked 31st against opposing quarterbacks last season. Foles also has a key element that previous quarterbacks have lacked in Jacksonville, a pass-happy offensive coordinator in the form of John DeFilippo. DeFilippo comes to Jacksonville with a little bit of a cloud over his head after the disaster in Minnesota next year but with a familiar quarterback at his disposal, he will be keen to show his offense can go toe-to-toe with the Chiefs high flying offense. The Jaguars may start a little slow as they build through Leonard Fournette, but as the game opens up so should the opportunities for Foles to take advantage of a Chiefs Defense which could still have plenty of holes in it this season.
Week 1 Running Back Cash Game Value Plays
Tony Pollard, DAL vs. NYG | DK: $4,500, FD: $5,200
Suddenly Pollard has gone from potentially being one of the most over-owned players on this slate to a value play. Yes, Ezekiel Elliott is back, but he is unlikely to see more than 25-30 snaps, which leaves plenty of time for Pollard to be on the field. Even if he only sees 15 touches this week that could be extremely good value at this price in that offense. The Giants Defense ranked 28th against backs last season, and they certainly are not better this season.
Adrian Peterson, WSH @ PHI | DK: $3,700 FD: $5,600
This feels like a ridiculous price to me, because for all intents and purposes Peterson is going to see a massive workload in this game from what I can see. Derrius Guice has seen a little action in the preseason, but it seems unlikely the Redskins are going to throw him in with a heavy workload in his first professional regular-season game. With the offensive line looking dreadful pass blocking in the preseason, I fully expect the Redskins to keep the ball on the ground and the man to do that is their old reliable workhorse Peterson.
Devin Singletary, BUF @ NYJ | DK: $3,600, FD: $5,300
The release of LeSean McCoy has opened up an opportunity for Singletary. Yes, they still have Frank Gore and TJ Yeldon on the roster but they did not release McCoy to have Yeldon and Gore carry this team. Singletary is unlikely to see 25-or-30 touches this season, but 15-to-20 is more than possible. The Jets made moves to improve their defense in 2019 but lost Avery Williamson which will hurt the middle of their defense a lot. Singletary could be another back who gives you a large ROI at this price.
Week 1 Wide Receiver Cash Game Value Plays
Dede Westbrook, JAX vs. KC | DK: $4,800, FD: $5,900
We should never read too much into the preseason, but something for the Jaguars in Week 3 was telling. Nick Foles threw the ball 10 times in that game, three of those were to Leonard Fournette, one was intercepted and the other six were all in the direction of Westbrook. Westbrook had a 65% catch rate last season and should be someone Foles relies on a lot out of the slot this season. That will never be more of the case than in this potential shootout against the Chiefs.
Randall Cobb, DAL vs. NYG | DK: $4,200, FD: $5,000
This one was simple for me. There is at best a limited Elliott in the backfield, and Amari Cooper is hobbling back into practice after missing time. That leaves three names in this offense that the Cowboys can rely on, Jason Witten, Michael Gallup and Randall Cobb. Cobb has proven himself to be an often reliable pass catcher in this league and will take the Cole Beasley role. The Cowboys made a conscious decision to let Beasley walk and bring in Cobb this past offseason. That a more than good enough reason for me to gamble on him at this price.
Damion Willis, CIN @ SEA | DK: $3,000, FD: $4,500
Willis has come out of the blue to be a name to consider this week. The young receiver has stepped up in practice and is now expected to start opposite Tyler Boyd in Week 1. Willis comes into the NFL with 856 yards and 10 touchdowns on 56 receptions for Troy in college last season. He has earned the right to be on the field for the Bengals in Week 1 and they may be chasing the game at some point this week against a strong Seattle rushing offense. He only needs a few catches to return you solid value on this price, and if he hits a touchdown then he could be a big winner for you in all sorts of formats this week.
Week 1 Tight End Cash Game Value Plays
Greg Olsen, CAR vs. LAR | DK: $3,200, FD: $5,200
The Olsen/Newton combination has been very successful for the Panthers over the past few years. When Olsen is on the field he makes headline plays over and over for this team. He has a career 62.4% catch rate in Carolina, which got as high as 71% last season. He has also averaged 12.4 yards per reception and 56 yards per game in Carolina, and now he faces a Rams team who ranked 20th against the tight end last season. The Rams do not appear to have got significantly better in that realm and Newton and Olsen will be crucial for the Panthers to stay in this one.
Mark Andrews, BAL @ MIA | DK: $3,000, FD: $5,400
It was a strong start to his career for Andrews. He caught 68% of his targets last season and really took off with Lamar Jackson under center. Four of his five games over 50 yards came with Jackson throwing the ball, and that confidence should only grow this season. This matchup against a now very young and inexperienced Dolphins Defense presents all kind of opportunities for Andrews to offer real value at a low price.
More Weekly DFS Analysis