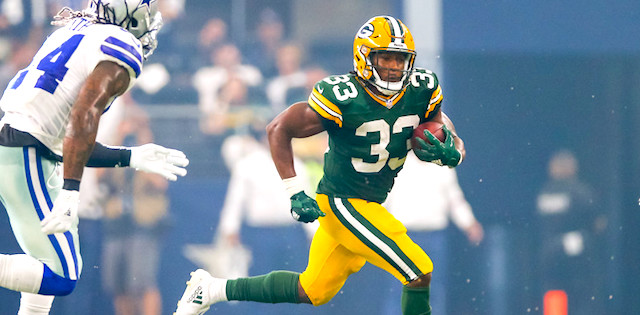 Turnover exists in all work places and the NFL is no exception. As far as professional sports go, the NFL has more turnover than the rest. Between free agency, trades, and the draft, player situations undergo significant and sometimes unexpected changes.
Each year, a new crop of rookies enters the league and aging or underperforming veterans get phased out. This year's running back class is very deep with some strong talents.
As a result, a number of veteran running backs are going to see their touches decline. Here are the most likely candidates to suffer that fate in 2020.
Featured Promo: Get any full-season NFL Premium Pass for 50% off and win big in 2023. Exclusive access to our Premium articles, 15 lineup tools, new Team Sync platform, Lineup Optimizer, Premium DFS tools and cheat sheets, and much more!
Sign Up Now!
Fantasy owners may complain that Jamaal Williams was a thorn in Aaron Jones' side last season, but the reality is Jones played all 16 games for the first time in his career and touched the ball 285 times. For multiple reasons, that's not happening again.
First and foremost, Jones is unlikely to stay healthy for a full season. In 2018, Jones got hurt on two separate occasions and each time, Williams stepped in and kind of took Jones's job (until Williams got hurt himself). That is a risk to happen again this season.
Second, the Packers did not spend a second round pick on A.J. Dillon to leave him on the bench. Dillon is going to play and the Packers are seemingly prepared to let Jones walk in 2021. Dillon is a more traditional bruiser back, which seems to be the type of offense Matt LaFleur wants to run. At the very least, Dillon, along with natural regression, will prevent Jones from getting anywhere near the 16 rushing (19 total) touchdowns he scored last season. Jones is not going to lose job entirely, but 285 touches could be closer to the 200-220 range.
Sometimes, the analysis is easy. Marlon Mack had 261 touches in 2019. The Colts traded up in the second round to draft Wisconsin's Jonathan Taylor, one of the greatest running back prospects of all time.
Mack isn't merely losing touches; he's getting completely vaporized. With Nyheim Hines operating as the passing down back, it would be surprising to see Mack reach 100 touches this season.
All Phillip Lindsay has done during his first two NFL seasons is ascend from UDFA status to lead back, totaling over 1200 yards twice. His reward is his team signing Melvin Gordon II and relegating Lindsay to backup duties.
Lindsay touched the ball 259 times in 2019. While he won't be rendered completely irrelevant by Gordon, he's not seeing 200 touches unless Gordon gets hurt. It also goes without saying that Royce Freeman is out of the picture.
Although Kerryon Johnson only touched the ball 123 times last season, he also played in just eight games. Johnson was on pace for about 250 touches. That's certainly not happening in 2020. The Lions, who hate Johnson and have done everything in their power to avoid making him a feature back, drafted D'Andre Swift in the second round.
Swift immediately jumps atop the Lions' depth chart and should form a two man committee with Johnson on the wrong end of it. Johnson will be hard pressed to see more than 200 touches this season.
Take this one with a grain of salt because Adrian Peterson always seems to find his way into primary back duties. AP hasn't been good for years and despite Washington's crowded running back depth chart, everyone always seems to crumble around him, leaving Peterson as the last man standing.
Peterson touched the ball 228 times last season, largely due to injuries to Derrius Guice and Chris Thompson. CT may be gone, but the competition for touches is much steeper. Guice is healthy and will be the lead back as long as he remains so. Washington signed J.D. McKissic who is essentially a Thompson clone.
They drafted Antonio Gibson and his 88th percentile college target share. Gibson is going to have a role. They also signed Peyton Barber, who may be a preseason cut, but he's really not much different than Peterson at this point. There's also the specter of Bryce Love returning and working his way into some sort of role. There's a lot going on with Washington's running back room and it's hard to envision AP, at age 35, having much to do.
Devonta Freeman - Free Agent
This one is quick and easy. The Falcons cut Devonta Freeman and he is currently not on a team, although the Seahawks have reportedly shown interest. Freeman touched the ball 243 times last season.
I doubt his career is over, but wherever he ends up, he will be in a complementary role at best, and just depth at worst. Even 200 touches is a pipe dream.
Carlos Hyde - Free Agent
Similar to Devonta Freeman, Carlos Hyde is also currently without a team. His 255 touches last season were the second most of his career. Entering his age-30 season, there's a very real chance no one signs Hyde.
Even if someone does, he will just be a backup or a third stringer. Hyde's days of fantasy relevance are over.
More Fantasy Football Analysis