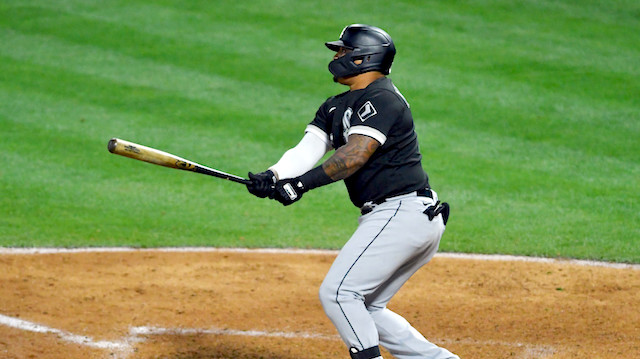 The 2020 season brought two major changes for baseball's minor leagues: the cancellation of the MiLB season and MLB's decision to cut 40 teams from its MiLB affiliates. That combination has reduced the player pool, increased the MiLB talent levels, and left us with a vacuum of information about prospect development. That last item means that we know less about player status and what to expect for 2021.
To really understand the situation, it might be best to think about this as 60 to 90 players who should have already been promoted by now. Add that to the number of traditional call-ups, and you'll get a sense of how wild this year could be.
All told, this season will offer more opportunities to take advantage of emerging talents. In fact, unless baseball changes its rules about player control, we may never see another season like this one.
Featured Promo: Get any full-season MLB and DFS Premium Pass for 50% off. Exclusive access to our Team Sync platform, Premium articles, daily Matchup Rating projections, 15 lineup tools, DFS cheat sheets, Research Stations, Lineup Optimizers and much more!
Go Premium, Win More!
Early Surprises
Case-in-point: This season, Akil Baddoo has gone from a relative unknown who was languishing in the Minnesota farm system to a Rule 5 selection who has invigorated the Detroit Tigers offense. To date, Baddoo has tallied a .333 average en route to a 2 HR, a triple, 2 R, 7 RBI, and a stolen base.
Or Kyle Isbel, who has taken over right field in Kansas City. Isbel enjoyed a stellar Spring Training where he amassed a .968 OPS with two SB and two HR. In his short time at Kansas City, Isbel has generated an average exit velocity of 95.8 MPH.
Or, Julian Merryweather, the Blue Jays new de factor closer. Merryweather pitched at high-A in 2019, and he threw 13 IP for the Blue Jays in 2020, when he had a 4.15 ERA and 1.31 WHIP. This season he has closed two games and struck out five of the six batters he's faced. His Swinging-Strike ratio is 27.3%, and his chase rate is 55.6%.
Or, Yermin Mercedes, the White Sox DH who started his MLB career by going 8-for-8.  Mercedes currently owns a .333 ISO to go with his .556 BA in 6 games.
These players might not represent the peak of rookie value this season — small samples abound after all — but they are a sign of things to come. This season is going to see a surprising number of unfamiliar faces emerge.
How Did We Get Here?
If you felt that time stopped for some portion of 2020, you certainly weren't the only one. That stagnation has bled into 2021's Opening Day rosters, but ballplayer eyes, joints, and muscles age no matter what, regardless of shutdowns. True, players may have had time to heal and rejuvenate, but time is inexorable.
For the last three seasons, the age of the average player for the opening weekend has hovered around 28 years and five months. However, 2021 has diverged from that trend:
| | | | | |
| --- | --- | --- | --- | --- |
| Year | 2018 | 2019 | 2020 | 2021 |
| Age | 28.41 | 28.48 | 28.37 | 28.71 |
This season, that number jumped up to 28 years and eight months, and that's ignoring the fact that last season started three months later than usual, which means that this year's opening day players were almost six months older than last years. In the landscape of player age, it's a significant difference, especially since player development has gotten more aggressive over the last decade. While teams still engage in cost-controlling measures by holding down players who deserve to be promoted, most teams have worked to get younger and to give more opportunities to younger players.
If the player base is suddenly older than it has been, even when teams are generally looking to get younger, that means there are a number of veterans who have held their spots. That may be because of the endowment effect or because teams are trying to squeeze out one more year of team control, but the effect is the same, some older players should probably have been replaced, and their jobs are in question.
How many players are we talking about?
To be clear, it's not like those extra months are evenly distributed between all active players. What has really happened is that those three extra months of age are coming from a group of older players on the downswing of their careers. Sometimes that means players who are past their prime (28 and older). Sometimes it means players for whom injuries have accelerated their decline faster than the standard aging curve: a younger player whose career is curtailed by injury.
I did a rather unscientific selection of the first 300 players to enter a game over the last four years. There weren't clear breaks, so I excluded the remainders based on plate appearances and innings pitched. Here are the number of players age 29 or older:
| | | | | |
| --- | --- | --- | --- | --- |
| Year | 2018 | 2019 | 2020 | 2021 |
| Players 29 or older | 137 (102%) | 136 (102%) | 129 (96%) | 146 (109%) |
The opening games had 9% more players past their prime than the average of 2018-2020, and that doesn't account for older players who didn't receive playing time. To really understand the situation, it might be best to think about this as 60 to 90 players who should have been promoted already. Add that to the number of traditional call-ups, and you'll get a sense of how wild this year could be.
Chaos is a Ladder
The combination of older rosters and the lack of information about prospect development will make call-ups even more dynamic and enigmatic than they've been in the past. As fantasy managers, we're generally used to waiting until June to see impact prospects, but this season, we will see it early and often. Here's a list of *some* of the other impact rookies we've seen this year:
Jonathan India (2B - Reds) Former top prospect who fell into disfavor after a mere 138 wRC+ at AA. India owns a .474 average through five games, and the Reds seem committed to letting him make second base his own.
Chas McCormick (OF, Astros) Precisely the type of player who likely would have debuted in 2020 if there had been a normal baseball season. McCormick is another Kyle Isbel-type,  offering some power and speed; he had 10 HR and 7 SB in 57 games at AAA in 2019. It's not clear how long he'll get playing time, but he's got an opportunity in front of him.
Luis Campusano (C, Padres) A highly regarded catching prospect whose best tool is his bat. He's off to a tough start (27 wRC+ in 8 PA). However, it's hard to imagine that the Padres would have him in the majors if they didn't believe he could contribute.
Jazz Chisholm (2B, Marlins) There are questions about whether Chisholm will hit, but he should provide baseball's scarcest commodity (steals), and he's striking the ball well: 50.0% Hard-Hit% and a 30.0% LD%.
Tanner Houck (P, Red Sox) Houck got the start in the Red Sox first turn through the rotation, and he struck out eight Orioles in that start. In 23 career innings, he owns a 34.8% K%
Ryan Weathers (P, Padres) Another prospect who skipped two grades to go from A-ball to the Majors. Weathers brings command and three above-average pitches. He's not in line to close, but he could become an interesting piece in Holds leagues.
Enoli Paredes (P, Astros) Paredes brings an impressive arsenal, including a 95 MPH fastball. There are definite control issues here, but the expectation is that Paredes will emerge as the Astros' primary setup man.
Casey Mize (P, Tigers) Despite a shaky 2020 campaign, the Tigers tapped Mize to join the 2021 rotation, and he rewarded them with four solid innings and four strikeouts against the Twins. He'll have to cut down on the walks, but the talent is there.
The list above doesn't begin to capture the full range of rookies or what is still ahead of us. This season will offer a myriad of prospects ranging from the renowned to the obscure. For fantasy managers, the strategy is simple: Be ready to take a risk on unheralded players, especially as they show real potential after their debut.
Get Climbing 
Aggressive managers will profit this season more than any other in recent memory. Every year has pop-up all-stars, but this year should have a glut of players like Max Muncy, Zach Plesac, and Jeff McNeil — players whose success surprised the majority.
Some league setups may not allow managers to roster two or three of these types of players, so don't go dumping A.J. Pollock because he's off to a slow start. Figure out who is sitting in your bottom two or three slots and use that space to cycle through players and to place waiver claims on risky rookies, or post-hype prospects with upside. These are players who will have evolved in ways that we can't predict.
Embracing the risk and unknown of these players will offer managers a competitive advantage over league mates who are slower to strike because a player is unfamiliar. Anything less puts a fantasy manager in the same position as those clubs sitting on mediocre veterans because they're familiar faces.
Download Our Free News & Alerts Mobile App
Like what you see? Download our updated fantasy baseball app for iPhone and Android with 24x7 player news, injury alerts, sleepers, prospects & more. All free!


More Fantasy Baseball Advice