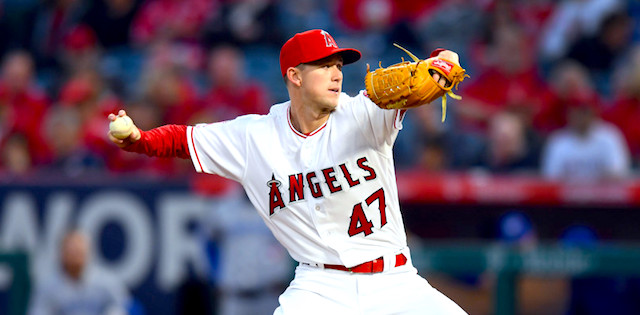 The trade deadline has come and gone, and while there weren't as many big name starting pitchers on the move this year outside of Zack Greinke, not one but two of the pitchers from last week's column found new homes. So apologies to those of you who grabbed Tanner Roark and Mike Leake for Week 17.
Speaking of Week 17, the results from the first starts of that week's bunch haven't been very impressive. Reynaldo Lopez is leading the way though after allowing two runs over 5 1/3 innings with six strikeouts against the Mets. As for Week 16, Chase Anderson ended up the top man of that group after allowing four runs over 10 2/3 innings with 10 strikeouts against the Reds and Cubs.
Well now that all of the deadline craziness is over with, lets take a look at who to stream in Week 18.
Editor's Note: Get any full-season MLB Premium Pass for 50% off. Exclusive access to our Draft Kit, premium rankings, projections, player outlooks, top sleepers, dynasty and prospect rankings, 15 in-season lineup tools, and over 200 days of expert DFS research.
Sign Up Now!
Week 18 Streamers - Under 50% Owned
Michael Pineda, MIN - 55% owned
Probable opponents: vs ATL, vs CLE
Pineda got off to a rough start this season, but he has settled down considerably and has been one of the better starters in the league over the past two months. Despite owning a 4.15 ERA for the year, Pineda has posted a 2.95 ERA over his last 10 starts while striking out 53 in 58 innings of work. He's been doing even better over his last five outings, posting a 2.37 ERA over 30 1/3 innings while averaging nearly six strikeouts per start.
Both of Pineda's starts this week will come at home, which should provide a small boost to his value as he has posted a lower ERA at home (4.07) than on the road (4.24). He'll start off the week against the red-hot Braves, who are averaging 6.2 runs and 9.8 strikeouts per game while hitting .284 over their last 10 games. But the odds won't be completely stacked against Pineda, as the Braves are hitting slightly worse against right-handed starters (.262 average, .793 OPS) than against lefties (.268, .809) and they are hitting worse on the road (.253, .759) than at home (.275, .838). Pineda will then face another team on a hot streak in Cleveland, who are averaging 5.1 runs and 7.7 strikeouts while hitting .262 over their last 10 games. In one start against Cleveland this year, Pineda threw four shutout innings with five strikeouts, and much like the Braves, the Indians are hitting worse against righties (.241, .714) than against lefties (.264, .822).
It's a tough slate of games this week, but Pineda has shown over the last two months he can be a successful fantasy option. Despite the tough opponents, Pineda should still be in line for another solid week and should be one of the better streaming options to add.
Jordan Yamamoto, MIA - 43% owned
Probable opponents: @ NYM, vs ATL
Yamamoto has been one of the better rookie starters this season, posting a 4-2 record and 3.94 ERA with 49 strikeouts across 48 innings of work. He was roughed up by the Dodgers and Diamondbacks to the tune of 11 runs in eight innings, but he showed significant improvement in his last start against Minnesota where he allowed just four runs over six innings with a career-high eight strikeouts.
The Mets provide an interesting first start for Yamamoto, as they enter the matchup 8-2 over their last 10 games while averaging 4.5 runs and 7.4 strikeouts per game. This could be a perfect storm of splits for Yamamoto, as he has pitched better on the road (2.86 ERA, 0.955 WHIP, 10.2 K/9) than at home (4.85, 1.115, 8.3) and the Mets have struggled more against right-handed starters (.248 average, .741 OPS) than against left-handers (.261, .781). And then after New York, Yamamoto will return to Miami to face the Braves. He'll get the same benefits that Pineda will have against Atlanta, and on top of that Yamamoto has already faced the Braves once this year and shown success against them. Last month he threw six scoreless innings against Atlanta, allowing two hits and three walks while striking out seven.
Looking at Pineda and Yamamoto, they both look like they're set to have solid fantasy value in Week 18. Owners might want to go with Yamamoto over Pineda just because of the better matchup against the Mets than against the Indians, but it is unlikely you'll be disappointed with either one.
Week 18 Streamers - Under 25% Owned
Griffin Canning, LAA - 26% owned
Probable opponents: @ CIN, @ BOS
I'm going to be completely upfront on Canning — pick him up if you're looking for a strikeout boost and you're willing to risk a hit to ERA. He's struggled over the last month — allowing 16 runs in 17 2/3 innings — but he has been consistent with the strikeouts, as he has recorded six or more strikeouts in five of his last seven starts. He'll start off the week against the Reds, who are averaging 7.8 strikeouts over their last 10 games and are hitting 23 points worse against right-handed starters than left-handers this season. After that, he'll head to Boston to take on the Red Sox, who are averaging 9.6 strikeouts over their last 10 games.
Like I said before, Canning is a strikeout-upside only pick that you are hoping won't completely kill your ERA. Both the Reds and Red Sox are averaging over five runs per game over their last 10 games, and while Canning did throw six scoreless innings his last time out, it was against the Detroit Tigers. If you're just trying to win strikeouts this week, Canning is your guy.
Dylan Cease, CHW - 14% owned
Probable opponents: @ DET, vs OAK
The highly-touted White Sox pitching prospect has had some growing pains in his first taste of the majors, posting a 1-4 record and 6.43 ERA over 28 innings of work. That being said, this week could be a good bounceback week for the rookie, and it could end up being his best fantasy week of the season. He'll start things off in Detroit, as he looks to repeat his performance from his first career start in which he allowed three runs over five innings while striking out six against the Tigers. The Tigers are hitting .206 over their last 10 games, while averaging 3.0 runs and 10.2 strikeouts per game in that span. Those numbers are very similar to what Cease can expect in the following start against Oakland, as the Athletics are hitting .187 and averaging 3.3 runs and 9.0 strikeouts over their last 10 games.
Cease is a lottery pick in Week 18 — you're hoping that he can capitalize on a pair of starts against struggling offenses. The talent is definitely there, and this could be the best week to start him through the rest of the year. Out of the three guys in the "Under 25% Owned" group, my money is on Cease for this week.
Daniel Norris, DET - 3% owned
Probable opponents: vs CHW, vs KCR
Norris' value this week is very similar to Cease, as they have both struggled recently and they will have a pair of relatively easy matchups in Week 18. After posting a 1.76 ERA and a 9.4 K/9 over his last three starts, Norris will open up the week against the White Sox, who are averaging 2.0 runs and 10.7 strikeouts while hitting .198 over their last 10 games. This will be Norris' fourth outing against Chicago this year, as he looks to repeat the success from his first two outings where he limited the White Sox to four runs over 10 innings as opposed to his last start in which he gave up six runs over five innings. Then in his second start of the week, he'll take on the Royals for the third time this year after holding the Royals to just two runs over five innings with six strikeouts in his last start against them. Like the White Sox, the Royals have also struggled as of late, hitting .235 while averaging 3.9 runs and 8.1 strikeouts over their last 10 games.
Looking at that data, you can see how Norris is very similar in value this week to Cease. Norris has had a couple rough starts against Chicago and Kansas City earlier in the year, which is why the edge goes to Cease this week. But if you're in need of a starter and Cease is already gone, Norris should be a solid second choice in Week 18.
More Fantasy Baseball Analysis