Some of the names may be the same but each week presents a change in schedule that determines a starter's fantasy value. The trickiest part of playing in weekly leagues is having to weigh talent vs. opportunity in the pitching realm.
With many pitchers now having four or five starts under their belt, we have a better feel for what they'll bring to the table each time out. The same goes for opposing offenses they will face, which also must be accounted for when making start or sit decisions.
As a reminder, each week this fantasy baseball waiver wire pickups column will identify starting pitchers expected to make two starts in the upcoming fantasy baseball week, ahead of the Sunday night waiver wire runs for leagues with weekly transactions. This list will be limited to players under 50% rostered in Yahoo! and divided into three sections based on recommendation levels: solid bets, risky picks, and must-avoids.
Featured Promo: Get any full-season MLB and DFS Premium Pass for 50% off. Exclusive access to our Team Sync platform, Premium articles, daily Matchup Rating projections, 15 lineup tools, DFS cheat sheets, Research Stations, Lineup Optimizers and much more!
Sign Up Now!
Solid Two-Start Pitcher Streamers
Alex Cobb, San Francisco Giants - 47% rostered
Scheduled starts: @COL, vs SD
So going to the Giants is the magic elixir for veteran pitchers? Cool.
Here's how newest free-agent SP Alex Cobb is faring in his first season in the Bay: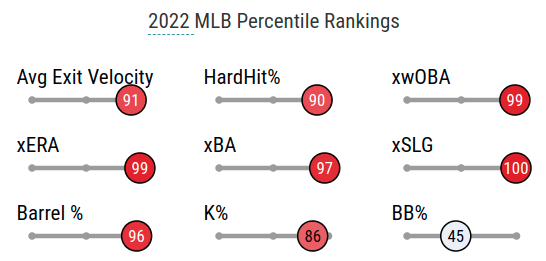 Just a couple of years ago, Cobb was among the worst in average exit velocity allowed. Now, he's among the leaders in exit velo, hard hit%, and pretty much every expected stat. Then there's the 31.5% K% that has come out of nowhere for a pitcher whose career mark is 18.4%.
All of this screams negative regression but when isolating this season alone, he actually deserves a far lower set of ratios based on expected stats. Cobb will face two division rivals that he's already seen this year with a fair amount of success.
Jameson Taillon, New York Yankees - 41% rostered
Scheduled starts: @BAL, vs CHW
It seems as if Taillon is destined to forever live in this column. There are logical reasons for that, of course. At age 30, he's far removed from a shiny new prospect. His injury history is extensive. His career strikeout rate sits at 21.2%. None of these factors will change for the better and they could all potentially get worse.
That all said, Taillon is the type of pitcher you can set and forget without fear of getting rocked. He has walked just three batters over 30 2/3 innings this season and is still yet to allow more than two runs or seven hits in a single contest. He's practically a must-start at Baltimore on Tuesday and can be rolled out without much trepidation to close the fantasy week on Sunday.
Madison Bumgarner, Arizona Diamondbacks - 37% rostered
Scheduled starts: @LAD, @CHC
Another near-weekly staple, his rostered percentage is only barely climbing despite the excellent ratios of a 1.78 ERA and 1.12 WHIP because the low K totals suppress excitement from the fantasy crowd. Arizona has been surprisingly competitive in the early portion of the season, just four games behind the Dodgers in the win column for first place in the AL West, so some wins are at least coming his way.
The Dodgers are an old familiar rival, of course, but he hasn't faced them yet this season. There's some risk there but Bumgarner has never been threatened by L.A., owning a career 2.77 ERA against them. He should absolutely be in fantasy lineups when facing the Cubs, who keep seeing their run-scoring totals inch downward after a nice first week of the season.
Steven Matz, St. Louis Cardinals - 34% rostered
Scheduled starts: @NYM, @PIT
Matz meets the Mets. That's the headline for Week 6 when the lefty faces his former team on Tuesday. It's a better matchup than it seems, considering how hot the Mets have been. They keep winning but their offense has taken a backseat to the pitching lately. They struggle against left-handers, posting a .621 OPS that is 23rd in the league. Pittsburgh is still Pittsburgh.
For his part, Matz looks like a player to avoid based on a sky-high set of ratios. However, he has earned a 3.18 SIERA and is due for positive regression in strand rate and BABIP. This is a great chance for him to reassert himself as a fantasy asset.
Zach Eflin, Philadelphia Phillies - 15% rostered
Scheduled starts: vs SD, vs LAD
It looked as if Eflin was getting back to becoming a reliable back-end rotation arm until he ran into the Met machine. They got to him for six runs (five earned) and eight hits over four 1/3 innings in his latest appearance. Facing two of the top-10 scoring offenses this coming week isn't ideal but there's an interesting split to bear in mind.
Over an admittedly small sample of five starts in 2022, Eflin is posting a 0.90 ERA at home and 7.07 on the road. This is a continuation of last season, where his home ERA was a full two runs lower at home. I won't go so far as to say he's a must-add because of the tough matchups but Eflin could be an under-the-radar streamer who unexpectedly produces good results. His season-long numbers aren't impressive but he's induced the lowest average exit velocity of all pitchers this season at 82.8 MPH and has a 2.76 expected ERA that is far lower than his 4.50 mark. Don't be afraid to pick him up simply due to the schedule.
Risky Two-Start Pitcher Streamer Picks
Taijuan Walker, New York Mets - 23% rostered
Scheduled starts: vs STL, @COL
Walker has looked crisp since coming off the IL, except that one outing against Philly that kinda killed you last week if you started him. It wasn't a happy Cinco de Mayo as the Phillies put up six runs on Walker, including two long balls. He bounced back in a huge way, blanking the Nats over seven innings to settle down his inflated ERA. Walker is utilizing his splitter more and inducing groundballs to limit hard contact (except that one start vs Philly). The downside is that his already low strikeout rate is becoming near-invisible.
Aside from the complete lack of K upside, caution is advised in his first start of the upcoming week. The Cards are finally figuring things out (read: finally sent down Paul DeJong and called up Juan Yepez). They also happen to be one of the top-three offenses at hitting the split-finger fastball this year with a .292 team average. A road matchup with Colorado doesn't do much to inspire confidence in hitting that "Add Now" button either. Don't expect Walker to get blown up necessarily but don't get carried away by his last appearance either.
Jake Odorizzi, Houston Astros - 23% rostered
Scheduled starts: @BOS, vs TEX
He proved me wrong last time, earning two victories while pitching 11 2/3 scoreless innings. The K totals are underwhelming but if Odorizzi can keep being effective in the time he's on the mound, that's streamworthy. Jon Anderson's SP Start/Sit Matchups column for Week 6 shows little faith in Odorizzi, rating him as a Sit with scores of 20 and 30 for each upcoming matchup.
It's a little sad to see what this Boston offense has been doing, or not doing, in 2022. They have the third-lowest home run total in the majors and show no signs of turning things around yet. Trevor Story has been a bust, Bobby Dalbec has a bat full of holes, and Xander Bogaerts is reportedly on the trading block. But I digress. Odorizzi is an adequate floor option against Boston and likewise when Houston returns home to face their in-state rival who has been similarly disappointing on offense.
Yusei Kikuchi, Toronto Blue Jays - 26% rostered
Scheduled starts: vs SEA vs CIN
I've never bought into the Kikuchi hype and still won't this week in spite of a favorable pair of matchups. Kikuchi faces Seattle, the team that signed him three years ago out of Japan, and then gets Cincinnati, which has been a streamer's dream this season. Kikuchi simply can't harness his control over a sustained length of time and unravels quickly in a game setting. He could put together a quality start or even two but he's just as likely to put up two duds. Advisable only for those with a strong stomach.
Brady Singer, Kansas City Royals - 4% rostered
Scheduled starts: vs CHW, vs MIN
Singer was expected to take a step forward this year but seems to be going backward. After a not-so-sharp spring training, he got rocked in one relief appearance and was sent to Triple-A. He got some good results and has now rejoined the rotation in KC. As a two-pitch hurler who relies on a sinker-slider combo, he might be better suited as a long-relief arm long-term but for the time being, he's got a chance to prove he can live up to the billing as a former first-round pick out of Florida.
As a heavy groundball pitcher, he's always going to be reliant on batted-ball outcomes to go his way. Fortunately, the Royals own the seventh-highest Defensive Rating according to Fangraphs and are second-best in UZR/150. The loss of Adalberto Mondesi doesn't hurt too much as Whit Merrifield slides back to his natural position at second base and Nicky Lopez, who was snubbed as a Gold Glove candidate last year, handles shortstop.
In his first start, Singer earns the lowest confidence score of the week with a 15 out of 100 in our weekly Start/Sit recommendations column. The White Sox offense is starting to come together as they get pieces back. Unlike Shalamar, it's not better the second time around, as he draws another 'Sit' call against Minnesota, which has an even better BABIP than Chicago. I'd avoid the White Sox if possible but it's a good time to catch the Twins with their injuries on offense and recent struggles.
Brad Keller, Kansas City Royals - 4% rostered
Scheduled starts: vs CHW, vs MIN
As predicted last week, Keller was slapped hard with regression and hit hard by the Rangers, of all teams. He gave up five ER and nine hits, two of which left the yard. That tacked on a full run to what was a spectacular 1.74 ERA at the time. He's getting by with good ratios still but a subpar 15.5% K% that isn't going to rise much, if at all, based on his career norm of 17.5%. Keller can be serviceable but isn't moving the needle much either way.
Kyle Bradish, Baltimore Orioles - 3% rostered
Scheduled starts: vs NYY, vs TB
The rookie is coming off a dominant performance in which he whiffed 11 Cardinals batters across seven innings while walking none. That's a far cry from his first two starts where he registered five K in 10 IP. Aside from the spike in strikeouts, what's more exciting (to me anyway) is that he has only handed out three free passes over 17 innings. Bradish is generating a 24% swinging-strike rate on his slider, so he may be on to figuring out how to put away hitters in addition to keeping them off the basepaths. He's got some good heat too.
Kyle Bradish, 98mph Paint. 🖌️🖼️ pic.twitter.com/1X4aCIah3P

— Rob Friedman (@PitchingNinja) May 11, 2022

On the downside, he has also allowed three home runs in three starts and faces the team that is one shy of leading the majors in that category, aptly nicknamed the Bronx Bombers. Even if Bradish gives up a solo bomb or two, he's streamable for deep leagues and can be rolled out in 12-teamers against Tampa.
Wade Miley, Chicago Cubs - 3% rostered
Scheduled starts: vs PIT, vs ARI
Truth be told, I'm not thinking about putting Miley in a weekly lineup anywhere. He just made his season debut after missing the first month with elbow soreness on his throwing arm and looked rusty as expected. The 35-year-old vet has been a reliable innings-eater for many major league teams but has only kept a WHIP under 1.30 once in the past decade and has never reached a 20% K%.
The only thing that makes him somewhat viable in 15-team or NL-only leagues as a streamer is a schedule with Pitt and Zona on deck. Both teams are bottom-10 in Offensive Rating and home runs this season. One thing Miley typically does well is avoiding hard contact, so he could be a passable streamer if you simply need to boost your innings totals.
Zach Logue, Oakland A's - 2% rostered
Scheduled starts: vs MIN, @LAA
Logue is one of the players that came over from Toronto in the Matt Chapman trade and he's already gotten the chance to contribute in Oakland, joining the rotation on May 6. So far so good, as he's allowed two runs across his first two starts with a 12-3 K-BB.
He fits the bill as a soft-tossing lefty with a fastball that averages 90 and a slider as his secondary pitch. He is mostly a fly ball pitcher, which plays well in Oakland based on park factor and an excellent defensive outfield that now includes Ramon Laureano alongside Christian Pache. A home rematch with a Twins team he just saw should be a good spot for him. He should probably be avoided when he travels to face the Angels, who have hit the most home runs in the majors.
Stay Away from these Two-Start Pitchers
Chris Flexen, Seattle Mariners - 22% rostered
Scheduled starts: @TOR, @BOS
Flexen continues to battle bouts of inconsistency, making him hard to trust in any matchups. Road games at Toronto and Boston seal his fate as a non-option for streamers. There is very little strikeout upside and he sports a 1-5 record on the year. Pass.
Jon Gray, Texas Rangers - 20% rostered
Scheduled starts: vs LAA, @HOU
Gray is expected to make his first start of the week against the Angels on Monday even though he left his last outing early with knee soreness. The injury concern makes him risky already. The schedule compounds those concerns and it's not as if Gray has been lighting it up this year.
Chris Archer, Minnesota Twins - 6% rostered
Scheduled starts: @OAK, @KC
Whether it's good, bad, or ugly, it almost doesn't matter how well Archer pitches in a given outing. He is yet to go past 4 1/3 innings in a game so he offers no chance for a win or quality start. He's managed to strike out a batter per inning but that just means at most eight in a two-start week. Among pitchers with at least 20 IP, Archer's -0.3 WAR is the fourth-lowest. He brings nothing to the table for roto leagues.
Antonio Senzatela, Colorado Rockies - 2% rostered
Scheduled starts: vs SF, vs NYM
There's not much to say, so I'll just leave this here:
I wish I could say this is out of character for Senzatela, but it isn't. You are getting virtually no strikeout upside and that's not an exaggeration; he's whiffed eight batters across 27.2 IP this season. There is no world in which Senzatela is fantasy-relevant and I am now questioning the 2% of you who have him rostered somewhere...
Taylor Hearn, Texas Rangers - 2% rostered
Scheduled starts: vs LAA, @HOU
Hearn came back to the rotation with a strong outing against the Royals; he blanked them over five innings while allowing just one base hit. Walks are still an issue, however, as he's put on 13 batters in 25 2/3 innings. That last start came against an inferior offense too. The Angels and Astros could easily pound Hearn in back-to-back starts. Until he starts getting better results with his slider, he can't be trusted.
Spenser Watkins, Baltimore Orioles - 1% rostered
Scheduled starts: vs NYY, vs TB
Recently featured as part of Eric Samulski's FSWA award-winning series, Pitchers With New Pitches, Watkins may find success with a re-working of his pitch mix. In particular, his introduction of a slider to throw hitters off balance and generate whiffs may be the key.
When Spenser Watkins takes the mound for the Orioles against the Twins tonight, keep an eye on his new slider, which has a .083 BAA and 18.2 SwStr%. He doesn't have great velo, so he'll need the SL to remain a good pitch for him to be effective this year. pic.twitter.com/U0ovf4DTJw

— Eric Samulski (@SamskiNYC) May 5, 2022

The catch is that Watkins is 29-years-old and still figuring things out at the major league level, where he's struggled mightily so far. Across six starts this season, he has a 5.19 ERA and 1.58 WHIP, which is actually an improvement over last season. With the Yanks and Rays on the schedule this week, don't get too bold.
Bryse Wilson, Pittsburgh Pirates - 1% rostered
Scheduled starts: @CHC, vs STL
Another two-week start, another reason to avoid Wilson. He got torn up by the Dodgers last week, raising his ERA to 5.82 along with a 1.52 WHIP. He still hasn't lasted even five innings in a game this season. Wilson can and should be ignored by fantasy managers for the foreseeable future.
Aaron Sanchez, Washington Nationals - 0% rostered
Scheduled starts: @MIA, @MIL
Raise your hand if you knew Sanchez was still in the majors. Now lower your hands, filthy liars.
Sanchez joining the rotation is almost as egregious as Patrick Corbin staying in it. Thus is the current state of the last-place Nationals. A pitcher who sports a 12.2% K% and an earned run average above seven deserves less time than has already been spent reading this.
Download Our Free News & Alerts Mobile App
Like what you see? Download our updated fantasy baseball app for iPhone and Android with 24x7 player news, injury alerts, sleepers, prospects & more. All free!


More Fantasy Baseball Waiver Wire Advice