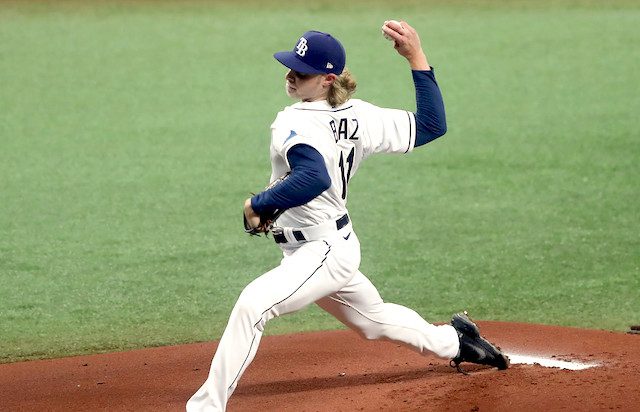 Welcome back RotoBallers to our weekly fantasy baseball prospect rankings. This was an unexpected week on several fronts with prospects. We had some injuries and some expected and unexpected call-ups this week. Grayson Rodriguez is injured with a lat strain and it is said he could miss the rest of the season. He is off the list. Caleb Kilian was called up to help with nine games in seven days... after the Cubs said they weren't considering using him. It is unclear if they will keep him with the team or option him on Monday. For now, he is off the list. Ethan Small was called up and then optioned, so he is on the list this week.
Additionally, players who are playing in the minors but graduated from prospect status will also not be in the rankings.
For those who are not familiar, below you will find our updated list of the top-25 fantasy baseball prospects rankings to make an impact for the 2022 fantasy baseball season, which RotoBaller will be updating weekly. You'll find quite a few well-known prospects on the list — as well as some lesser-known players that could nonetheless provide key contributions to your fantasy league teams this season. As always, this weekly list is updated to reflect rest-of-season fantasy baseball values, and near-term impacts that these MLB prospects can make.
Editor's Note: Our incredible team of writers received 13 award nominations by the Fantasy Sports Writers Association including Baseball Writer of the Year, Football Writers of the Year, Golf Writer of the Year and many more! Be sure to follow their analysis, rankings and advice all year long, and win big with RotoBaller!
Read More!
Top MLB Prospect Rankings for Fantasy Baseball
The list below is for 2022 fantasy baseball redraft leagues. These are MLB prospects, rookies, and call-ups to potentially make a rest-of-season fantasy baseball impact in 2022. As prospects are called up, they are removed from the rankings. You can also see our top-250 fantasy baseball dynasty prospects for longer-term outlooks.
Fantasy Baseball Prospect Rankings #1-5
We have a new #1 on the list, Shane Baz, and here's hoping I did not jinx him. In his fourth minor league start, he struck out 10 batters in 4.1 innings pitched, allowing one run. He should be called up this week.
Riley Greene is now at Triple-A. I am hoping he gets called up by mid-June. If he is out there, I would stash him before he starts tearing up Triple-A.
News came out this past week on Vinnie Pasquantino. The Royals supposedly want to slow-play him moving up to the majors. As stated before, there is an idea that they want to give Carlos Santana as much run as possible in hopes he turns things around to trade him. They already have the worst record in the American League, so to them, there isn't any incentive to call up Pasquantino regardless of how ready he might be.
Pasquantino is batting .285 with a .637 SLG, 15 home runs, three steals, and 52 RBI in 50 games played in Triple-A. He is arguably the best hitter in Triple-A. If he were to be called up, I believe he would be impactful, but the reality is he might not be called up until roster expansion later in the year. It just feels wrong to move him down because of all the production he has had, so he stays up top here.
C.J. Abrams is turning things around. He is batting .264 with four home runs and five steals in 20 games played in Triple-A. It is believed they wanted him to be down there to get regular at-bats, so we might be looking at another month in the minors for Abrams.
Oneil Cruz is turning things around but his overall numbers aren't great. 15 errors in the field as well. Seven home runs and 10 steals in 43 games played is something to get excited about, but a .216 average and 25% strikeout rate isn't. His liability on defense might keep him down longer than we want to see.
Fantasy Baseball Prospect Rankings #6-10
Ethan Small is on the list. After making his major league debut, he was optioned back down. At Triple-A the 30.4% strikeout rate is exciting but his 13% walk rate is not. In his debut, he walked four batters in 2.2 innings pitched while allowing two runs.
Jonathan Aranda is also high up on the list now. Aranda is batting .324 with eight home runs and two steals in 49 games played. He has a 19.8% strikeout rate and a 10.6% walk rate. Vidal Brujan and Taylor Walls aren't getting the job done. We could see Aranda soon. I am not sure how impactful a second baseman will be but the proximity is helpful.
Triston Casas is hurt and has not played in nearly a month. If he gets healthy, the Red Sox could use him at first base.
Miguel Vargas is playing really well, hitting .291 with eight home runs and five steals. He also has a 16.8% strikeout rate and a 13.4% walk rate. The issue is he needs an injury for a call-up. If it were a different team, he may have already been promoted.
Alec Burleson is in a similar situation as Vargas in that the Cardinals' outfield is crowded. He is batting .332 with 12 home runs and just a 13.3% strikeout rate in 45 games played this year.
Fantasy Baseball Prospect Rankings #11-25
You could put this tier in pretty much any order and it'd be tough to have an argument against it. D.L. Hall has moved up; With Grayson Rodriguez hurt, he is likely the next starting pitcher to get promoted from Baltimore. In 16.2 innings at Triple-A, he has a 35% strikeout rate but also a 14.9% walk rate. There will need to be an improvement on walks before seeing him up with the big club.
Max Meyer is still not back from his injury and there has not been an update I could find. The more time he misses, the more I worry about it being a more serious injury than initially reported.
Darick Hall is someone we could see up with the Phillies this summer. He is batting .271 with a .563 SLG, 15 home runs, four steals, and just an 18.5% strikeout rate. With Jean Segura out for a while and Rhys Hoskins underperforming, perhaps they give Hall a chance at some point.
Brayan Bello has recently been promoted to Triple-A and has pitched three games at that level. He had a 32.6% strikeout rate in Double-A and has a 36.1% strikeout rate in the small Triple-A sample, but his walk rate has also gone up as he has moved up levels.
Corbin Carroll takes the last spot. Most likely to be called up in August, the Diamondbacks' CEO said he wouldn't be surprised to see him make his debut this season. He is still at Double-A with 12 home runs, 15 steals, and a .291 average.
Honorable Mentions: Ryan Pepoit, SP; Korey Lee, C; Michael Busch, 2B; Pedro Leon, SS/OF;  Brennen Davis, OF; Cade Cavalli, SP; Jared Koenig, SP; David Villar 3B;
Download Our Free News & Alerts Mobile App
Like what you see? Download our updated fantasy baseball app for
iPhone
and
Android
with 24x7 player news, injury alerts, sleepers, prospects & more. All free!
More Fantasy Baseball Prospects and Rookies