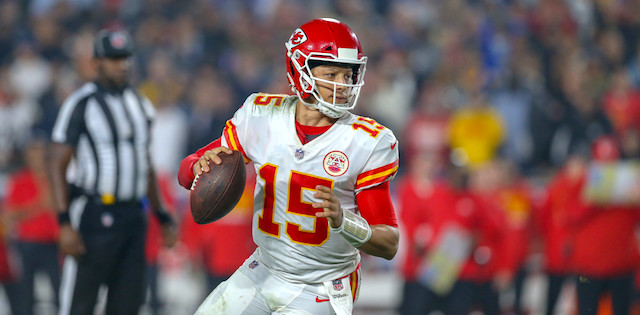 With the wild and crazy 2020 NFL season now behind us, looking ahead to the offseason coms fast for dynasty managers. Whether it's the first year of a start-up or you're years into a build, contemplating moves you want to make are always in your head. But before you get there, you have to have a value on current players to help you before the rookie drafts or even before attempted trades. This is the appeal for most that compete in dynasty leagues. It's the work that goes into a roster build and constant changes that you are looking to make to improve your team. The fantasy season may be over, but for dynasty managers, the work is just beginning.
The quarterback position is one that tends to see the least amount of turnover when it comes to dynasty leagues. If you find that cornerstone player to lead your starting lineup each week, he most often than not is the QB that is on your team for several years. But what we saw in 2020 is perhaps a changing of the guard. As several young quarterbacks entered the league and made immediate impacts. On the reverse side of this, we are seeing aging veterans (Drew Brees, Philip Rivers, Cam Newton, and Ben Roethlisberger) that seem to be on their last legs as starters in the NFL. With the influx of new talent, the mindsets of dynasty players tend to change as well. We all are guilty of wanting the shiny new toy on our rosters and it entices managers to want to make deals to make the roster younger at the position. But again, knowing player values can make it easier when attempting to make a move for a player.
That is what I give to you here in the first update to my dynasty rankings for 2021. Keep in mind this does not yet involve the incoming rookie class but only focuses on incumbent players in the league. Because several managers out there will be chomping at the bit to make moves before the NFL Draft. But before getting there, it is vital to know just how high you can reach in a potential deal or where to target your QB in a startup. So let's take an early look at the position as the 2021 offseason gets underway.
QB1 Tier
Inside the top-12 at the position, you will find varying degrees of value. But the top name on the board should continue to be Patrick Mahomes. Even missing two games in 2019 he managed a QB7 finish. Playing in the prolific Chiefs offense does wonders for his fantasy value and makes him a threat to score from anywhere on the field (six touchdowns of over 40-yards in 2020). With this group seemingly intact for the next several seasons, Mahomes will continue setting the minds of dynasty managers at ease as he is entrenched in their starting lineups.
Behind Mahomes is where the debates start. I currently have Dak Prescott ranked ahead of Josh Allen. Allen had a meteoric rise with his stellar 2020 season finishing at fantasy's QB1 with stark improvements to his game across the board. The rushing potential of Allen is well enough on its own, but it was clear that the addition of Stefon Diggs helped the spike in passing yardage (4,544), scores (37), and completion percentage (69%). With the lack of a true running game to support him, much of the offensive load will be squarely on his shoulders. Making him a highly valuable commodity in dynasty circles for years to come.
The reason I have Prescott ranked ahead is simple. I am obviously assuming he re-signs with Dallas and returns to the high-powered Cowboys offense. The weapons surrounding are arguably the best in the league, by evidence of his numbers through the first four games of the 2020 season in which he was the top QB in fantasy. The bonus for dynasty managers will Precott's return to Dallas will be the game-scripts he will be involved in. The amount of money spent by the franchise on offense severely hampers the defense, putting Prescott and the offense in positions in which they must put points on the board to compete. This locks him in as one of the top dynasty QBs to roster over several seasons.
Past the top three, there continues to be some movement around the board. Kyler Murray showed improvement in his second year, finishing as the QB3. In this offense, he could only be scratching the surface with what he can do as a dual-threat QB. Speaking of the dual-threat QB variety, Lamar Jackson found himself slip down the rankings (QB6) after he came back down to Earth in 2020. Most of the league seemed to have figured out this offense and his up-and-down performances led to a subpar QB10 finish on the season. He regressed in both passing yards (2,757) and rushing (1,005). The rushing stats will continue to be there and hold his value, but if he can't find consistency as a passer, his ceiling may continue to dip lower in dynasty value.
The rookie class of 2020 brought in some promising talent with both Joe Burrow (QB5) and Justin Herbert (QB9) making immediate impacts in the league. They both will be on offenses that are expected to be more pass-heavy and have skill-position players surrounding them that can only help to improve their values. Herbert's 31:10 ratio on TD:Int was very impressive as a rookie and should be the expectation moving forward on what he can provide. Before going down to injury in Week 10, Burrow was on a very similar pace, and with the young nucleus surrounding him, he could make a massive jump in his sophomore season.
The veterans that round out the top-12 are players that we are used to seeing provide QB1 numbers. Russell Wilson (QB7) is the perennial top-10 QB that we keep hoping will be allowed to open up the passing game but the coaching staff feels differently. He'll never be the QB that pushes for a 5,000-yard passing year, but he is seemingly a lock for 30-plus TDs each year, making him a solid QB1. Deshaun Watson (QB8) and Aaron Rodgers (QB10) both have futures a little shrouded in mystery. Watson seems to be all but out of Houston, but where the destination winds up being ways heavily on his fantasy value. Nonetheless, his talent level will continue to allow him to be one of the best in fantasy and a no-brainer starter in dynasty. Rodgers, on the other hand, coming off of an MVP caliber 2020 season may be closer to leaving Green Bay than staying. Sure, he and Matt Lafleur put together a highly productive season, but Rodger's disdain for the lack of moves from the front office is all but apparent. He is on the Packers' books until 2023, but could a divorce happen before that time? As a dynasty manager, you don't want to be stuck waiting too long when you could make a deal at a peak in value.
QB2 Tier
This group is always volatile in terms of value in dynasty formats. It's always a mix of veterans with steady value, some that are getting up there in age, as well as the group of young players that are on the rise. Kirk Cousins heads the group in my rankings almost by default based on the offense that he captains. The Vikings had a stout running game with Dalvin Cook and a trio of pass catchers (Adam Thielen, Justin Jefferson, Irv Smith) that are all young and could be problems for several seasons. As long as Cousins is the QB, he provides that fringe value as a fantasy QB.
Matthew Stafford (QB14) now being dealt to the Rams is an extremely intriguing move. He still has some tread on the tires and now will be playing in perhaps the best offense of his career with Sean McVay as HC. He likely could hold value as a QB1 in re-draft leagues for 2021, but in terms of dynasty value he is more on the way down than he is rising. The fresh start could put a spring in his step, giving dynasty owners some flexibility at the position if you were so inclined to move your QB1 and ride the wave. But Stafford putting together 30-TD seasons over the next couple of years is not out of the question, making him a true wildcard within this group. He has the personnel around him to succeed and the chip on his shoulder to play for a winner that makes him a QB to buy in the short term.
Matt Ryan (QB19), Derek Carr (QB22), and Tom Brady (QB20) are the other vets in this group that still hold some value in dynasty leagues. Both Ryan and Brady are getting up there in years but play in offenses that bring immediate value. Brady has that QB1 value for 2021 but in terms of dynasty appeal, he's obviously close to retirement and should be looked at as a QB2 because you do not want to be stuck starting over at the position if you're early into a dynasty or drafting a start-up. Like Aaron Rodgers, Ryan is on the Falcons' books until 2023 and the team has not made it seem like they are ready to move on. So you should at least see two more years of high-level production, but should try and move him to a QB-needy team in your league.
The youngsters in this group (Daniel Jones, Tua Tagovailoa, and Jalen Hurts) are all trending in the right direction but have some red flags in cases. Jones was a popular sleeper heading into the 2020 season, but the injury to Saquon Barkley killed this offense and Jones was not the same. With Barkley returning to health and some additions to this offense, Jones could be on the rise again. Both Tua and Hurts flashed in certain spots during starts but showed inconsistencies in the passing game. If they show stark improvement over the offseason, it only helps to spike their dynasty values. Especially Hurts, who showed prowess as a runner in 2020 in limited action.
The Saints situation has both Jameis Winston and Taysom Hill wrapped up in this group. Winston is the wildcard between the two. It's feasible that he re-signs with the Saints and could be viewed as their starter, replacing the expected departing Drew Brees. If so, he has that fringe-QB1 value based solely on being in the up-tempo Saints offense. He fits in well with his skill set and would change little to the fantasy values of the players around him. Hill, on the other hand, showed in extended action as the Saints QB that he is a gadget player that has great upside with rushing potential but will not beat you with his arm. If the Saints are smart, they bring back Winston to start and continue using Hill in certain packages. Does this hurt the opportunities for Winston from a fantasy perspective? Yes. But there will be ample chances for him to stuff the stat-sheets.
Best of the Rest
The remaining players on this set of rankings are in some fluid situations that are worth monitoring through the off-season. Ben Roethlisberger has the most immediate value in fantasy production, but it is clear that he is nearing the end of his career and likely is done after the 2021 season. Carson Wentz is likely on the outs with the Eagles, but if he stays he is likely going to be the back-up, killing his fantasy appeal. But if the team were to move him, starting fresh in a new location could be a great new start as he has shown in the past he has the talent to be valuable. Teddy Bridgewater is the only other QB that seems to be locked into a starting job in this group but has shown to be too inconsistent to be counted on as a player I would want to roster in dynasty leagues.
Download Our Free News & Alerts Mobile App
Like what you see? Download our updated fantasy football app for
iPhone
and
Android
with 24x7 player news, injury alerts, rankings, NFL rookies & more. All free!
Win Big With RotoBaller
Be sure to also check out all of our other daily
fantasy football articles
and analysis to help you set those winning lineups, including this new RotoBaller YouTube video:
More Fantasy Football Analysis
Check out all of RotoBaller's fantasy football rankings. Staff rankings are updated regularly for all positions and include standard formats, PPR scoring, tiered rankings and dynasty leagues.