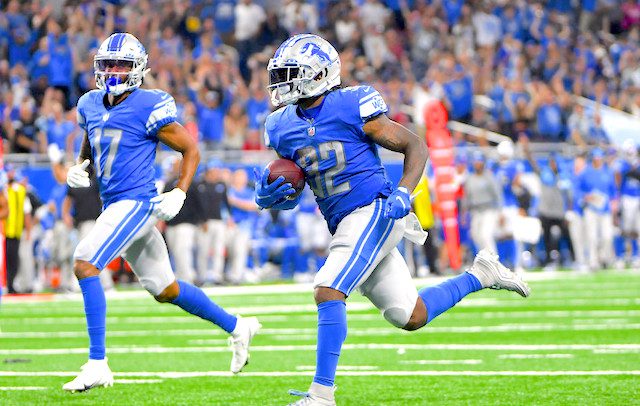 Now that the preseason is officially over, I have delivered my annual exercise that I have been furnishing since the late 1990s, the one-man mock draft.
In this feature, I attempt to sit in the draft chairs of all participants in the first four rounds of a 12-team PPR league with four points for a TD pass. Starting skill position requirements are for 1 QB, 2 RB, 3 WR, 1 TE, and 1 FLEX spot.
The picks are tied heavily to my own rankings, which are available here. The selections were based on needs and value as I went along, while also experimenting with a few different roster builds. Some picks may not jibe with ADPS or consensus ranks, but these selections are from my own pure perspectives. Projected workloads and upside also figured into the roster fits for each team.
Featured Promo: Get any full-season NFL Premium Pass for 50% off and win big in 2023. Exclusive access to our Premium articles, 15 lineup tools, new Team Sync platform, Lineup Optimizer, Premium DFS tools and cheat sheets, and much more!
Sign Up Now!
Round One - Fantasy Football Mock Draft
1. Jonathan Taylor: The Colts' offense is expected to have more balance this season, which could mean Taylor's numbers don't quite match his 2021 production. But he still has a very high floor that should place him among the elite RBs at season's end, and Taylor is not perceived to be quite as high of an injury risk when compared to some other top RBs.
2. Austin Ekeler: If Christian McCaffrey misses more time this season, Ekeler will again be the best all-around fantasy performer at his position. Ekeler finally emerged as a consistent rushing TD force last season. He has solidified himself as a supreme source of well-rounded production.
3. Justin Jefferson: After the first two RBs are off the board, there are minor questions about the other top-shelf guys at the position. So you may want to opt for one of the very best WRs available. Jefferson is a safe pick for excellent high-level production in a passing game that could improve this season.
4. Ja'Marr Chase: This is another prime WR pick who won't come with any significant concerns. The top-two players at wide receiver will likely provide outstanding production and don't enter the 2022 season with any significant concerns about their performance levels or health.
5. Cooper Kupp: The Matthew Stafford elbow issue does bump him down a bit behind Jefferson and Chase. Otherwise, he is playing in the same offense and with the same QB that boosted him to a monster campaign last year. Even if Kupp regresses a bit statistically, he will still have a better fantasy season than most other wide receivers.
6. Christian McCaffrey: He is now being taken as early as first or second overall in some drafts. I am not saying that is a crazy pick at all, but I prefer less risky selections in the top-five. McCaffrey is not going to fall to sixth in drafts, so I won't have any shares of him this season and that is fine.
7. Dalvin Cook: I would have entered Cook as high as fourth overall if not for legitimate concerns about his shoulder. When available, Cook should be one of the best rushing TD producers in an amped-up Vikings offense.
8. Alvin Kamara: I am no longer bumping him down due to a potential suspension, and Kamara has a good chance to finish as a top-five fantasy RB again. Jameis Winston will know to get him the ball often because Kamara is still the best playmaker in the Saints' offense and he is a proven dual-threat superstar.
9. Derrick Henry: There are some lingering concerns about last season's foot injury, but he is heading into the new season apparently ready to go. Henry did have the offseason to further recover and get ready for 2022.
10. Joe Mixon: He finished fourth in total points in PPR leagues at RB last year, and he was seventh in points per game. A solid selection.
11. D'Andre Swift: The biggest early upside target at RB this season is worthy of a pick anywhere in the back half of the first round. You may consider taking Swift higher than 11th if you want to be bold and believe in him even more than others.
12. Najee Harris: I was able to get him at the end of the first round of my most important league draft on Saturday. There is widespread skepticism about the Pittsburgh offense, but Harris will still be a very busy performer as a runner and receiver. He may not see quite as many check-down receptions as he did in 2021, but Harris is still a safe pick for a heavy amount of touches. If the Steelers offense is better than expected, then Harris can be a value pick in the back half of the first round. His weekend revelation about a recent foot issue could make you think twice about drafting Harris, but it does appear he should be ready for Week 1 and that is why I still have him entered as a first-round pick.
Round Two - Fantasy Football Mock Draft
13. Davante Adams: The quarterback "downgrade" is minor, and Adams will still be an elite performer at his position.
14. Stefon Diggs: He may be taken in the later part of the first round in some drafts, and Diggs could also be a super luxury as a fantasy WR2 if you should choose to avoid the RB position in the first two rounds.
15. Leonard Fournette: The Rachaad White chatter has somewhat quieted down, as has recent talk about Fournette's conditioning. He is a sound selection as an early second-round RB2 or first starter if you pick a WR to begin the draft.
16. Travis Kelce: He will turn 33-years-old this season, but Kelce likely still has at least one or two more outstanding seasons left.
17. Deebo Samuel: This is the best yardage after the catch wide receiver in the game, and it's not close. Last season, Samuel averaged 10.0 yards per catch after the reception, and the next closest WR averaged 8.5.
18. Saquon Barkley: We are now seeing him being taken as early as the late part of the first round. I realize the potential for a superb season, but the last one was in 2018, so I am not going to boost him quite that high.
19. Nick Chubb: He won't finish in the top-five at RB because of his well-documented lack of receiving output, but Chubb is still a pretty good bet to deliver back-end fantasy RB1 production.
20. Travis Etienne: In his first true NFL season, he should bust out with terrific dual production as a runner and receiver. Etienne is the best upside RB play by this point of drafts.
21. CeeDee Lamb: The runway is clear in Dallas for Lamb to vault into full stardom.
22. A.J. Brown: Later in the second round, you can afford to start WR/WR knowing there should still be a chance to get an adequate RB early in the third round.
23. Tyreek Hill: He gets the obvious bump down from last season but remains one of the most dynamic playmakers at his position.
24. Mike Evans: We just will note he has caught 27 TD passes from Tom Brady in the last two seasons.
Round Three - Fantasy Football Mock Draft
25. Mark Andrews: You may have to take Andrews a few picks earlier if he is the desired target, but this is within the general range where he will often be selected.
26. Aaron Jones: He isn't going to fall this far in most drafts, which indicates I am passing on Jones while being concerned about the continued emergence of A.J. Dillon.
27. Ezekiel Elliott: If you start out with two WRs, Elliott should still perform well enough to be a satisfactory pick here.
28. James Conner: The volume can lead to more ideal fantasy RB2 production.
29. Keenan Allen: You will feel good about the third-rounder if Allen is a WR2 pick.
30. Tee Higgins: He could certainly outperform this draft slot in 2022.
31. Michael Pittman Jr.: Shooting up draft boards as a popular target for a big breakthrough year.
32. Javonte Williams: I did consider entering him as a pick earlier in the third round. But I preferred RBs with projected heavier workloads as No. 1 starters for teams that began with a WR/WR build.
33. Allen Robinson: Robinson could be primed for his best season since 2015 when he produced like a fantasy superstar.
34. Courtland Sutton: There is fantasy WR1 potential here this season as the likely preferred size/downfield abilities guy for Russell Wilson. I would endorse taking Sutton anywhere in the third round if you want to make the aggressive move on him.
35. Kyle Pitts: Some will push him up the board slightly earlier than this spot. That makes sense considering Pitts' upside and the possibility that he could challenge to be one of the very best players at the thinnest position in fantasy football.
36. Josh Allen: I am waiting until at least the seventh round for a QB in my drafts. But you will have to take Allen in the back half of the second round if he is the desired target. Listing him here is my firm signal to focus on RBs and WRs early on, with a few exceptions for top TEs. You will notice that Allen is my only QB included in this one-man mock, and that is done on purpose.
Round Four - Fantasy Football Mock Draft
37. D.J. Moore
38. Diontae Johnson
39. Jaylen Waddle
40. Mike Williams
41. Gabriel Davis
42. DK Metcalf
43. Darnell Mooney
44. Dameon Pierce
45. David Montgomery
46. Cam Akers
47. George Kittle
48. Jerry Jeudy
Scott Engel's fantasy and betting analysis is also featured at The Game Day.
Download Our Free News & Alerts Mobile App
Like what you see? Download our updated fantasy football app for
iPhone
and
Android
with 24x7 player news, injury alerts, rankings, starts/sits & more. All free!
Win Big With RotoBaller
Be sure to also check out all of our other daily
fantasy football articles
and analysis to help you set those winning lineups, including this new RotoBaller YouTube video:
More Fantasy Football Analysis