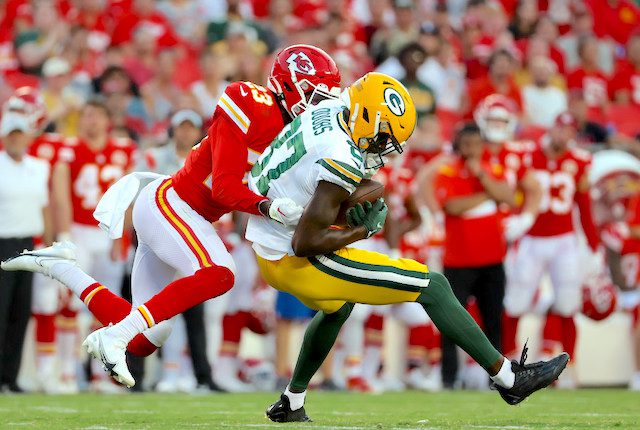 Another week of NFL football, another edition of the Cut List. One of the biggest mistakes I see fantasy managers make is not making enough moves. Don't be afraid to be wrong. A stagnant roster is often a losing one. From draft day to the fantasy football playoffs, your roster should look very different than it did on day one. There's a reason for that – predicting the future is impossible. We're all going to miss and miss a lot, that's why it's so important to keep adding and subtracting players until you find the perfect fit.
To further enhance this article, I've since included a section on which players you should be looking to sell. There are plenty of players we might want to cut, those guys that seem to be languishing at the ends of our benches. Oftentimes, these guys are tough to sell, but each week I'll identify a few players fantasy managers should be looking to sell at any given time. Sometimes they'll be sell highs, other times they'll be sell lows. I've also added a Reddit Request section. This article is posted on Reddit weekly and there are often a few players that a lot of fantasy managers have questions about. Each week, I'll be looking at a few of them the following week to determine what you should be doing with them.
As always, we can't possibly go over every cuttable player and while we do our best to accommodate all different leagues and sizes, it's very difficult to do so. With that said, if you have any specific team-related questions about who to cut or add, be sure to give me a follow on Twitter, @RobFFSlayer and reach out to me anytime. I'm always willing to answer any fantasy football questions you may have. Let's get to it.
Featured Promo: The FFPC Playoff Challenge #2 is back for the Divisional Round with a massive $100,000 grand prize and $260k total prize pool. Here's the deal: no salary cap, no draft, no pickups, no subs. Choose 8 players, and as NFL teams get knocked out so will your players, so choose your team wisely. The 1,500 entries will sell out quickly, and registrations will close on Saturday January 21st at 4:30 pm ET . Don't wait - get your team now and end your fantasy football season with a shot at $100,000!
Sign Up Now!
Quarterbacks to Drop for Fantasy Football
Matthew Stafford, Los Angeles Rams – 69% Rostered
Russell Wilson, Denver Broncos – 66% Rostered
Fantasy managers should be treating these two veteran quarterbacks as the streamers they are and streamers do not need to be rostered every single week. Matthew Stafford has exactly one game as a top-12 QB and Russell Wilson has two. There's been no upside with either of these signal-callers and the floor has been dangerously low.
The Rams are 28th in points scored and 26th in yards. Stafford has thrown just six touchdowns this season but has eight interceptions and three lost fumbles. The Broncos are 32nd in points scored and 23rd in yards. Wilson has just five touchdowns, which is 30th in the NFL. Denver is 19th in passing attempts and 21st in passing yards.
Neither of these quarterbacks needs to be rostered.
Running Backs to Drop for Fantasy Football
Kenyan Drake, Baltimore Ravens – 61% Rostered
A lot of fantasy managers rushed to add Kenyan Drake after his big Week 6 performance where he finished with 127 yards and 1 touchdown on just 11 touches. With J.K. Dobbins going onto IR and needing another surgery, it looked as though Drake had a giant opportunity in front of him. However, things aren't always as they seem.
You see, in Weeks 3 and 4 Drake was actually a healthy scratch and it was Justice Hill who worked as the No. 2 running back behind Dobbins. After Drake's first two weeks in Baltimore where he received 17 carries and finished with 39 rushing yards, the team opted to go with Hill as the primary running back behind Dobbins. This should've been warning No. 1 – he had essentially been benched two weeks prior.
The second warning sign should have been the activation of Gus Edwards. While it would've certainly been understandable to expect the team to bring Edwards along slowly, his activation made for a situation where, at the very least, we should've been anticipating an ugly three-headed backfield. In Week 7, Drake played the fewest snaps among Hill and Edwards.
He did receive the second-most amount of touches among the three running backs but was able to turn 11 touches into 5 measly yards. Hill did lose a fumble, which could keep Hill from completely overtaking Drake as the No. 2 running back behind Drake, but it seems fairly certain this is just a matter of time. Hill is averaging 6.3 YPC to Drake's 4.5.
With how dominant Lamar Jackson is on the ground, there's just not enough work in Baltimore for the No. 2 running back to be fantasy viable. Drake is most definitely behind Edwards, who finished with 16 carries, 66 yards, and 2 touchdowns this past week, and he might be behind Hill, as well. Fantasy managers can safely move on from Drake.
Chase Edmonds, Miami Dolphins – 58% Rostered
Holy crap! What a quick and hard fall it's been for Chase Edmonds. After playing 56.5% of the snaps in Weeks 1 and 2, Edmonds has played on just 30.5% of the snaps from Weeks 3–7. He had 22 total touches those first two weeks of the season and has received 26 since. When you look at his snap and opportunity share over the past five weeks, it's hard to find any fantasy value there. At this point, if you're rostering Edmonds, you're doing it solely to roster the handcuff to Raheem Mostert – that's all he is.
Do you really want to roster the handcuff for the Miami Dolphins? How much fantasy value is there in that role? While Mostert has a lengthy injury history, Edmonds has never handled 160 touches in four years in the NFL. It's unlikely to happen now. Even if Mostert were to get hurt, can we reasonably expect Edmonds to handle more than 12 or so touches per game? I'd argue, based on his career history, it's unlikely.
What is Edmonds likely to do with that workload should Mostert ever get hurt? Based on his 2022 efficiency, the answer is pretty much nothing. According to PlayerProfiler, he's averaging just 4.5 yards per touch, which is 38th among RBs. Through seven weeks, he's created 71 yards, which ranks 62nd. He's averaged 1.73 yards created per touch, ranking 53rd. He has just six red zone touches, which is just 49th among running backs.
He has been woefully inefficient this season and can no longer even be categorized as a change of pace back – he's a clear backup. If you're in bigger leagues, maybe even some 12-team leagues depending on what your waiver wire looks like, he might be worth hanging onto, but in an 8 or 10-team league, he can be dropped. Even in 12-team leagues, he isn't a must-roster player.
Jeff Wilson Jr., San Francisco 49ers – 55% Rostered
This shouldn't come as a surprise, but with the trade of Christian McCaffrey, Jeff Wilson Jr. is most certainly expendable. Despite getting traded on Thursday, CMC still was given the most total opportunities among San Francisco running backs. CMC also played just four fewer snaps than Wilson on all of two days of prep time.
Now that McCaffrey will have a full week of practice, fantasy managers should be expecting he will be handling the bulk of the snaps and running back touches moving forward. Considering the trade compensation they paid to get McCaffrey to the Bay and how much money they're going to be paying him, he's going to touch the ball and he's going to touch the ball a lot.
Elijah Mitchell is also eligible to come off IR in Week 8 and while he's not expected back until Week 10 following their bye week, it's another reason fantasy managers don't need to continue hanging onto Wilson.
Wide Receivers to Drop for Fantasy Football
Robert Woods, Tennessee Titans – 62% Rostered
When Treylon Burks went to IR, there was some cautious optimism that Robert Woods might be able to carve out a bigger role in the Titans' offense and become a backend WR3 fantasy managers could, at the very least, be cautiously optimistic about putting into their starting lineup. That hasn't at all been the case and right now, fantasy managers simply don't need to hang onto him any longer.
Simply put – there's no upside here. The most half-PPR points he's scored in a game this season is 11. He has just one other game where he's scored double-digits and that was 10.5. In his other four games, he was below six points. He's been held to fewer than 40 yards in five out of six games. He's averaged just 6.5 half-PPR PPG.
Burks is eligible to come back in two weeks, which will further complicate the target share in Tennessee. That hasn't been the problem for Woods as he's earned 25 targets in the past four weeks, but he has very little show for the amount of volume he's received and it could lead to a decreased role once Burks returns.
The other concern is that quarterback Ryan Tannehill hurt his ankle in Week 7 and left the stadium in a walking boot. While the injury is believed to be minor, if rookie Malik Willis is forced to start, fantasy managers will need to significantly lower their expectations for this passing offense.
Tight Ends to Drop for Fantasy Football
Hunter Henry, New England Patriots – 45% Rostered
Hunter Henry had two good back-to-back weeks in Weeks 5 and 6 when he had a combined 8 receptions, 115 yards, and 1 touchdown. However, in Week 7 he had just 2 targets, 1 reception, and 12 yards.
The Patriots' offense continues to spread the ball around and it will make it extremely difficult for Henry to have any consistent utilization from week to week. The New England passing attack has been mostly lethargic this season. He is just sixth on the Patriots in targets per game and is currently pacing at 56 targets, 34 receptions, and 408 yards.
On the Hot Seat
A.J. Dillon, Green Bay Packers – 91% Rostered
AJ Dillon's status on the hot seat is mostly for smaller leagues, think 8 or 10-team leagues. He has only one game with more than 9 half-PPR points this season and it took a touchdown to get there. At this time, he's nothing more than a TD-dependent RB3. That distinction gets even worse when you remember that the Green Bay offense has been downright awful this season. They're currently ranked 23rd in scoring, which means there really haven't been a lot of touchdowns to go around, so Dillon has busted and busted a lot.
AJ Dillon snap shares (per @PFF):

Weeks 1-4: 55%
Weeks 5-7: 38%

Carries per game:

Weeks 1-4: 14.3
Weeks 5-7: 6.7

— Underdog NFL (@Underdog__NFL) October 24, 2022
As the Green Bay offense continues to look for a spark, they've started to lean on fellow running back Aaron Jones in a big way, and that has significantly hindered Dillon's fantasy production. He's scored just 12.1 half-PPR points over the last three weeks and if we look at his PPG average from Weeks 2-7, weeks where he did not score, fantasy managers can see just how TD-dependent he is. During those weeks, Dillon scored a total of 33 points, which is an average of 5.5 PPG.
This offseason Dillon was touted as one of these rare backup running backs who was going to carve out a role where he'd be able to provide fantasy managers some stand-alone value, similar to Tony Pollard and Kareem Hunt. That simply hasn't been the case at all. Dillon is nothing more than a really expensive handcuff. In larger leagues, that elite handcuff status requires him to stay rostered, but in smaller leagues, fantasy managers shouldn't feel obligated to hang onto Dillon any longer.
Kyle Pitts, Atlanta Falcons – 95% Rostered
Much like AJ Dillon, Kyle Pitts' status on the hot seat is also reserved for smaller leagues. In larger leagues, it's hard to drop a player as talented as Pitts, especially at a position that is completely barren of elite talent. Pitts is without question one of the most talented tight ends in the NFL. On an efficiency basis, he's been very good again this season. The problem is the volume hasn't been there.
Marcus Mariota has just one game with 30 or more pass attempts. He has four games with 20 or fewer pass attempts and two games with fewer than 15. He hasn't passed for more than 150 yards in a game since Week 3. With that kind of volume, not even Justin Jefferson could put up consistent fantasy points. There simply is not enough volume.
Pitts has just one game with more than 3 receptions and just one game with more than 25 yards. That isn't really his fault. He's averaging just 5 targets per game, a pace of just 85 targets over 17-games. That's a far cry from the 110 targets he had as a rookie. In four of his six games this season, Pitts has failed to score more than 3 half-PPR points.
If you're in an 8 or 10-team league, Pitts can safely be dropped. If you're in a 12-team league, we need to start being honest with ourselves and accepting it just isn't going to happen for Pitts this year.
Hold On Longer
Romeo Doubs, Green Bay Packers – 60% Rostered
Romeo Doubs put up a goose egg across the board in the Packers' Week 7 loss to the Commanders. He had 4 targets, 0 receptions, 0 yards, and 0 fantasy points. That's not likely to give anyone any confidence, but there are reasons we should continue holding.
One, he's just a fourth-round rookie. There were bound to be some ups and downs. Not every rookie can be Ja'Marr Chase. However, there are reasons to hold. For starters, he continues to play a ton of snaps. He's played 79% of the snaps this season and continues to have an incredibly high route run participation rate. He has three games with 8 targets or more and five games with 5 or more targets.
Rookie WR target leaders through week 7:

🔹Chris Olave - 56
🔹Garrett Wilson - 53
🔹Drake London - 44
🔹Romeo Doubs - 42
🔹George Pickens - 40 pic.twitter.com/JM5mbfnX7x

— Lobo's Fantasy Football Den (@LobosFFDen) October 24, 2022
Despite having 0 receptions in Week 7, he's still on pace for over 100 targets. That should give him plenty of chances to be a viable WR3/4. He has two games with more than 11 half-PPR points. With Christian Watson still nursing a hamstring injury, Randall Cobb on IR, and Allen Lazard in a sling, Doubs is going to continue getting plenty of opportunities. With the injuries at receiver and his impressive number of targets, Doubs is worth holding on to.
Fantasy Football Players to Sell
D'Onta Foreman, Carolina Panthers – 50% Rostered
There has never been as clear a sell-high candidate as D'Onta Foreman. He had 15 carries in Week 7 against the Buccaneers and finished with 118 yards. As good as the performance was and it certainly was good, it definitely has the appearance of an outlier game. Fluky stuff tends to happen all the time in the NFL. I don't want to write off Foreman completely, but the Panthers beating Tampa Bay certainly qualifies as an outcome I'd call fluky.
If anyone in your league is going to buy Foreman as an RB2 or even an RB3, I would sell at that price. The Panthers are not going to be in very many positive game scripts. They're not going to score very many touchdowns. They're the 23rd-ranked team in rushing yards and that was with six games with Christian McCaffrey. The other thing to note is that Chuba Hubbard played well ahead of Foreman up until Hubbard injured his ankle.
Chubba Hubbard suffered an ankle injury (not believed to be serious) early in the fourth quarter.

Before that, he handled 55% of snaps & 67% of the rushing attempts.

D'Onta Foreman had 35% & 33%.

Foreman handled 2-min offense & they split long-down-distance & short-yardage.

— Dwain McFarland (@dwainmcfarland) October 24, 2022
Despite missing the fourth quarter, Hubbard ran more routes than Foreman and earned more targets. In this offense, fantasy managers are going to want to target the pass-catching running back because they're not going to be in too many situations where they can lean on the running game. They're also not going to score too many points, as they're ranked 25th in scoring. If you can turn D'Onta Foreman into Jakobi Meyers, I'd be all over that.
Deebo Samuel, San Francisco 49ers – 100% Rostered
The addition of Christian McCaffrey is likely to have the biggest effect on Deebo Samuel because he's unlikely to get many of those high-value carries he received last season. That means that Samuel is going to have to earn his fantasy worth solely through the air and that's going to be awfully difficult in San Francisco.
Deebo Samuel averaged 5.7 rush attempts per game from Weeks 1 through 3. Since, that number's been 1.8. Week 7 marked the first time he failed to hit double-digit PPR points in a game this season.

— JJ Zachariason (@LateRoundQB) October 24, 2022
The 49ers are just 22nd in pass attempts this season and 14th in yardage. There's already a volume shortage as it is and Brandon Aiyuk and George Kittle are playing better, both having their best games of the season this past week. Fantasy managers should expect Christian McCaffrey's role to grow as the season goes on and he's going to handle the vast majority of the carries and red zone touches for the 49ers.
Deebo was a fantasy superstar last year because of his dual-threat role and partly because Brandon Aiyuk was in the doghouse for half of the season. Both of those things have changed this year. Samuel has just one game this season where he's scored more than 12.5 half-PPG points. He's been incredibly consistent, however, scoring 10.2 and 12.5 half-PPR points in five games. However, the ceiling has been severely lacking.
The addition of Christian McCaffrey is going to have a negative impact on the amount of touches Deebo, Aiyuk, and Kittle will receive. There's no doubt CMC is going to handle more carries and a lot more targets than Wilson did before him. I'd be looking to move Samuel this week on the promise of the 49ers' offense scoring a lot more with CMC in the backfield and becoming an elite offense.
DJ Moore, Carolina Panthers – 84% Rostered
It was great to see DJ Moore get going this past week, securing 7 of 10 targets for 69 yards and 1 touchdown. It was his first time scoring double-digits in half-PPR scoring since Week 2. The Panthers are starting PJ Walker at quarterback and the sad state of the Carolina offense will lead to a ton of volatility in Moore's fantasy game. The ceiling is pretty much non-existent. If you're expecting any 20-point games, you're likely to be disappointed.
The Panthers' offense ranks 25th in total points scored and dead in yards gained. Their passing offense ranks 26th in passing attempts, 28th in passing yards, and 26th in passing touchdowns. Fantasy managers need to accept Moore is nothing more than a boom-or-bust WR3 for the rest of the season.
If you're able to sell Moore after his Week 7 performance and the ongoing trade rumors that Moore might be moved, I would recommend you capitalize on that. For as many trade rumors there are about Moore, there are just as many indicating the Panthers view him to be a building block for the future. He's just 24 years old and was just signed to a new contract prior to the 2022 season. It's highly unlikely Moore will be traded this year, but that doesn't mean you can't take advantage of the rumors.
Reddit Requests
Curtis Samuel, Washington Commanders – 62% Rostered
Last week, I received plenty of questions about what to do with Curtis Samuel. Prior to his Week 7 performance, Samuel hadn't scored double-digit half-PPR points since Week 2. I can understand where fantasy managers were starting to wonder if his first two weeks were an outlier. However, his utilization has been strong all season.
He is averaging 8.4 targets per game, a pace of 143 over 17-games. He leads the Commanders with a 22.5% target share. He is currently averaging 5.6 receptions per game, which is 95 over a full season. He's only averaging 48.6 yards per game, which equates to just 826 yards. However, he's also getting 11 rushing yards per game, so his seasonal scrimmage yard pace is 1,013 total yards. Based on his reception totals, he's definitely a player better in PPR-scoring leagues, but he's someone fantasy managers shouldn't be giving up on.
Samuel has earned at least 6 targets in every game this season. He has five games with 8 or more targets. He has four games with at least 6 receptions. As you can see, he's getting plenty of usage each week, and his fantasy performance the past couple of weeks would look a lot different had it not been for a few drops.
Curtis Samuel had a walk-in TD 👀 pic.twitter.com/rjLTof2OgD

— NFL on ESPN (@ESPNNFL) October 14, 2022
Through seven games, Samuel is 15th among receivers in targets per game and 13th in receptions. If you're holding Samuel in any kind of PPR league, he needs to stay on your roster.
Download Our Free News & Alerts Mobile App
Like what you see? Download our updated fantasy football app for
iPhone
and
Android
with 24x7 player news, injury alerts, rankings, starts/sits & more. All free!
Win Big With RotoBaller
Be sure to also check out all of our other daily
fantasy football articles
and analysis to help you set those winning lineups, including this new RotoBaller YouTube video:
More Fantasy Football Analysis