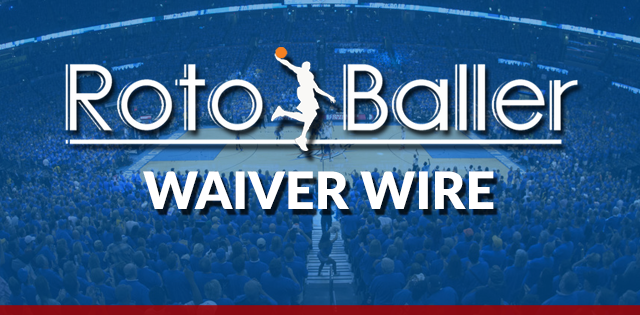 What Appears In This Article?
hide
What's up, RotoBallers! We're getting into the playoffs for most leagues at this point if you're not already there. Some teams are going full force into tanking mode and others are getting ready to rest players so that they have a healthy squad for the NBA Playoffs. So, let's dive into these murky waters and fish out the players that are just worth releasing. The playoffs are a time to be ruthless, not a time to hold on to a guy in hopes that he'll prove your pre-season predictions to be true.
The Drop List returns for another week, and it might not be kind to some of your rosters. Each week, I'll take a look at a handful of NBA players that can be dropped from your fantasy team.
Without further ado, let's get to the fantasy basketball drop list. Every Saturday, we'll have a list of NBA players and a small dive into why they can be cut from some or all fantasy formats. Please take into account: each fantasy league is different. Make sure you check out the waiver wire and have a player in mind to replace one of the following players that you may drop.
Featured Promo: Get any full-season NBA Premium Pass for 50% off. Win big with our exclusive DFS lineup tools, matchup rating projections, powerful Research Station, Lineup Optimizer, daily DFS lineup picks/cheat sheets and more!
Sign Up Now!
Players to Consider Dropping or Replacing
Collin Sexton (PG/SG, UTA) - 66% rostered
We're going to start things off with a bang because everyone reading this is probably thinking, "Wait, isn't Collin Sexton due back soon?" There's a common misconception, it seems, between expected back and expected to be re-evaluated. Sexton is the latter of the two, and he's already going to miss five weeks with his hamstring injury before being re-evaluated.
That doesn't bode well for the re-evaluation. Especially when you check the schedule and see that there are only nine-to-ten games left by the time they evaluate him. On top of that, this is a team that's not actively trying to win any sort of championship, so a lot of guys could be shut down soon.
I'll also add some more fodder to get the 66% of managers who still have him to think twice. Newly signed guard, Kris Dunn, is averaging 11.6 points, 4.8 rebounds, 4.8 assists, and 1.6 steals per game which is higher than every single one of Sexton's numbers except for the points mark. Save his talents for next season just like the Jazz are going to do.
Steven Adams (C, MEM) - 53% rostered
One of the best fantasy rebounding assets in the game has yet to play since April 22 when he sprained his PCL. Just a week ago, he had to receive a stem cell injection and then his absence was extended at least four more weeks. That would make his return date somewhere during the last week of March or the first week of April.
That would mean he returns during the very last week of any fantasy league. Unless your team is stacked at center or your league has a crazy amount of IR spots, then there isn't enough room to hang on to him. He's only going to help with certain categories as it is. His bread and butter stem from his rebounding(11.5 per game), field goal percentage(59.7%), and blocks(1.1 per game).
Let Aqua Man rest until the Grizzlies need him to save the playoffs.
De'Anthony Melton (PG/SG, PHI) - 60% rostered
Overall, throughout this season, De'Anthony Melton has outperformed his ADP this year by 50 spots! Fantasy managers were drafting him around the 120th pick and he's currently ranked 70th in nine-category league value. The problem is that he's quickly going downhill over the last couple of weeks as the 76ers figure out their playoff lineups.
After experimenting with Tyrese Maxey coming off of the bench and Melton starting in his spot, they found out that the offense sputtered a lot more than the other way around. Melton's defense is still much-needed, but his hot streak of 12 games from November 18 to December 11 is far from over. During that span, he averaged 15.0 points, 4.6 rebounds, 3.8 assists, and 2.8 steals per game. Since then, however, he's only put up 9.1 points, 4.0 rebounds, 2.3 assists, and 1.2 steals per contest and that consists of 34 starts out of 42 games.
Over the last two weeks, Melton has consistently ranked in the 130s for per-game value in nine-category leagues and his value in points leagues has decreased as well. He's also receiving fewer minutes compared to his season average while not even hitting his usual marks in his specialty of steals. There are more exciting guards on the waiver wire that are playing more on tanking teams to help out anyone's fantasy team.
Saddiq Bey (SF/PF, ATL) - 64% rostered
Moving on from Detroit to Atlanta was one of the worst things for Saddiq Bey's fantasy value. Playing for Atlanta significantly raised his chances to play in the postseason, but that doesn't necessarily help any fantasy managers unless they play DFS too.
This season, Bey posted 14.8 points, 4.7 rebounds, 1.6 assists, and 1.0 steals across 28.8 minutes per game. Since joining the Hawks on February 13, those numbers have dipped to 10.8 points, 4.0 rebounds, 0.9 assists, and 0.7 steals while playing just 5.9 minutes per contest.
His numbers, playing time and taking into account who his teammates are all account for reasons to drop him. The fact that 64% of fantasy leagues have him rostered is surprising. Over the last week alone, he produced such little value in nine-category leagues to be ranked 136 and his overall season rank is 27 spots lower than it was last year.
The only silver lining of the move to Atlanta has been that his shooting percentages have gone up since he's shooting less. Bey is also hitting 0.3 more threes per game than in Detroit. Not sure if that would really force anyone to keep him on their roster though.
Kyle Lowry (PG, MIA) - 62% rostered
As I was writing this, Kyle Lowry has since been ruled out for his game on Saturday night. If you just heard a loud bang, that was me slamming my head against the desk.
Does anyone remember the last season that Lowry ended up outside of the top 100 in per-game value for nine-category formats? If not, the answer is the 2009-10 season when he played for the Houston Rockets and was only on the court for 24.3 minutes per contest. Over the last week, last two weeks, and last two months he's ranked at 180,171, and 205 respectively. Overall this season, his rank is currently at 107 which drops to 151 if you take total stats into account.
Lowry has only played 47 games so far this season and during the last three of them, he's been coming off of the bench. Miami even wanted to trade him, but no other team wanted to take on his contract. That should tell you enough to just drop him and not look back.
Download Our Free News & Alerts Mobile App
Like what you see? Download our updated fantasy basketball mobile app for
iPhone
and
Android
with 24x7 player news, injury alerts, lineup notifications & DFS articles. All free!
More Fantasy Basketball Analysis