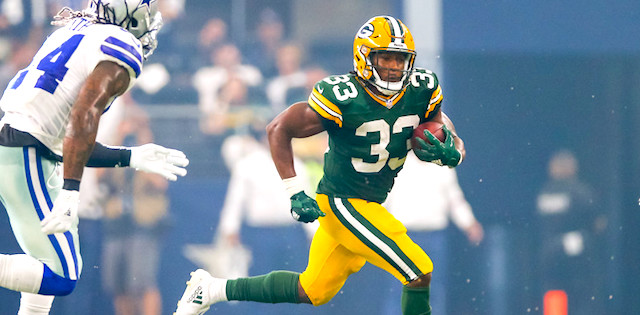 In Week 9 several high-end players had exploitable matchups and came through in a big way. Mike Evans, Tyler Lockett, and D.K. Metcalf were all expected to have big games, and all three finished in the top three in PPR scoring. At running back, David Montgomery scored two touchdowns as he continues to emerge as the lead back in Chicago and once again, Christian McCaffrey finished as the No. 1 running back on the week, scoring three touchdowns. Bills rookie running back Devin Singletary finished Week 9 as a top-10 running back as he continues to earn more playing time in Buffalo and ascend as a fantasy asset. The quarterback position didn't offer too many surprises, other than Kyler Murray, who unexpectedly finished in the top 10 against a nasty 49ers Defense.
Week 9 also had its fair share of disappointments. If you own any players on the New York Jets, you likely had Week 9 circled on your calendar to "start 'em if you got 'em" and if you did so, you were likely disappointed. NY Jets quarterback Sam Darnold was terrible on Sunday, and if you thought Robby Anderson was a sure thing to come through against a struggling Dolphins Defense, you were wrong. At least Le'Veon Bell scored 20.10 PPR-points. Aaron Jones and Tevin Coleman had tremendous performances in Week 8 and followed up with absolute duds in Week 9, which was extremely disappointing.
The tight end position was extremely unpredictable in Week 9 with the exception of Zach Ertz, George Kittle, Hunter Henry, and Travis Kelce, all of who finished inside the top 10. The top 10 at the position was rounded out by the likes of Noah Fant, Jacob Hollister, Mike Gesicki, Vance McDonald, Nick Boyle, and Kyle Rudolph, who either scored or got unprecedented volume in the passing game which led to their success, albeit on your bench and not your starting lineup. Last week is now in the rearview mirror, and now we need to look forward and evaluate how to move forward to Week 10.
Editor's Note: Get any rest-of-season NFL Premium Pass for 50% off. Our exclusive DFS Tools, Lineup Optimizer and Premium DFS Research through the Super Bowl.
Sign Up Now!
Week 9 Stats: 15 carries, 110 yards, 1 TD, 4 targets, 4 catches, 52 yards
Kenyan Drake looked explosive for the Cardinals on Thursday night, gashing a stout 49ers Defense that's been shutting running backs down all season.
Bottom Line: The status of David Johnson needs to be monitored throughout the week leading up to Week 10 and beyond. Drake should be able to put up solid performances in the Cardinals' fast-paced offense, but his value will be week-to-week depending on David Johnson's status.
Week 9 Stats: 12 carries, 125 yards, 1 TD, 2 targets, 2 catches, 3 yards
LeSean McCoy struggled against the Vikings in Week 9, touching the ball just four times for nine yards of total offense. Damien Williams looked more explosive in the game, busting loose for a 91-yard touchdown, and proceeded to play 72% of the snaps compared to just 10% for McCoy.
Bottom Line: This is going to be a tough situation to monitor moving forward. As for right now, you have to assume that Damien Williams will be the lead back in Kansas City moving forward. However, if Williams struggles next week and McCoy assumes a majority of the workload, it will become obvious that the Chiefs are taking a hot-hand approach to the backfield, making it very difficult to predict.
Aaron Jones (RB, GB)
Week 9 Stats: 8 carries, 30 yards, 4 targets, 1 catch, -1 yard
The Chargers Defense gave the Green Bay offense fits all day in Week 9 and as a result, Aaron Jones never got on track. Jamaal Williams played a lot in this one because the Packers were behind and he has excellent pass protection skills which hurt Jones's overall numbers.
Bottom Line: Jones has had a few poor games this season and finished as an RB4 this week. These games will happen and Jones will bounce back. Keep Jones in your lineup and hold steady when considering trades.
Week 9 Stats: 24-of-36, 288 yards, 3 TD
Ryan Fitzpatrick performed very well in the Dolphins' Week 9 victory over the Jets, routinely exposing the Jets outside cornerbacks. The Jets pass defense was bad heading into Week 9 and were even worse without the injured Trumaine Johnson in their secondary.
Bottom Line: The Dolphins are a very bad football team that plays with effort and intensity. They beat a bad Jets football team that has been struggling. The Dolphins' offensive line is not very good and the Jets were able to apply pressure on Fitzpatrick at times, even without the departed Leonard William who was just traded to the Giants. Fitzpatrick can only be trusted outside of two-quarterback leagues if he has an unbelievably great matchup. Looking forward, the Dolphins play against the Jets, Giants, and the Bengals in Weeks 14, 15 and 16, so he may be a decent streamer in the fantasy playoffs.
Week 9 Stats: 10-of-21, 125 yards
Mitch Trubisky had fewer fantasy points than Dwayne Haskins in Week 9. Let that sink in. Trubisky was inaccurate in a game where the Bears offense struggled to do anything, running just 39 plays compared to 74 for the Eagles.
Bottom Line: Trubisky has accumulated a lot of his passing yards over the last few weeks during garbage time. Trubisky had a great matchup against a struggling Eagles secondary in Week 9 and he failed to take advantage of the situation. Trubisky cannot be relied upon as a starter outside of two-quarterback leagues. Relying on garbage time production is a risky business to get in and Trubisky proved that on Sunday as the Chicago offensive line was clearly overwhelmed by the Eagles' defensive front.
Week 9 Stats: 8 targets, 4 catches, 42 yards, 1 TD
Heading into Week 9 Breshad Perriman had been targeted 16 times, hauling in just three of them for 16 yards and zero touchdowns. In fairness to Perriman, he has been injured this season, but there have been times when he simply looks lost and unable to track the ball while it is in flight.
Bottom Line: The Buccaneers got into a shootout with the Seahawks this week and needed to put the ball in the air 44 times. Down the stretch, the Seahawks Defense began double-teaming Mike Evans, who had another huge week, which opened up opportunities for other receivers. Perriman can only be trusted as a WR4/5 in extremely deep leagues when the Buccaneers are likely to play from behind.
Week 9 Stats: 4 targets, 2 catches, 33 yards
Robby Anderson is the Jets' deep threat at wide receiver and the matchup couldn't have set up better for him in Week 9 as the Jets found themselves trailing Miami for much of the day.
Bottom Line: Robby Anderson plays for the Jets, and the Jets are bad regardless of who is at quarterback. Moving forward, if you have a comparable receiver on your roster with a higher floor than Anderson, you should use the player with the higher floor regardless of Anderson's matchup.
Week 9 Stats: 4 targets, 3 catches, 115 yards, 1 TD
On Noah Fant's 75-yard touchdown catch, he was initially hit about 15 yards downfield, broke a terrible attempt at a tackle, then broke another three terrible tackle attempts and ran 75 yards to the house.
Bottom Line: If you are desperate for a tight end in deeper leagues, Fant is an option. Since the Broncos traded away Emmanuel Sanders, Fant has been somewhat fantasy relevant with eight catches off of 12 targets in those two games.
Week 9 Stats: 6 targets, 6 catches, 95 yards
Mike Gesicki looked great out there on Sunday, attacking the ball at its highest point and making several contested catches. In the three games since Ryan Fitzpatrick took over as quarterback for the Dolphins, Gesicki has 12 catches for 146 yards. In four games with Josh Rosen at quarterback, Gesicki had nine catches for 102 yards.
Bottom Line: As long as Ryan Fitzpatrick is playing quarterback for the Dolphins, Gesicki will be a low-end streaming option at the tight end position in deeper leagues.
More Fantasy Football Analysis