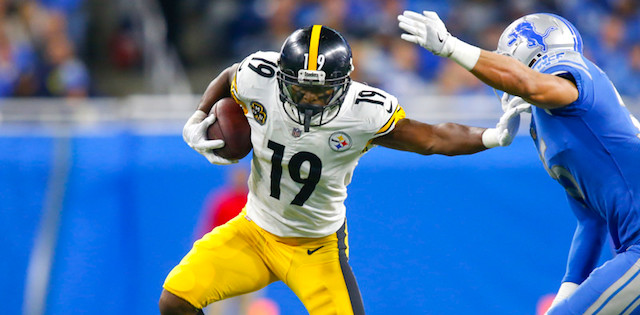 With five weeks already in the books and the sixth underway, we're entering the point of no return... in the trade market of your fantasy league, that is. Yes, there are almost two-thirds of the schedule yet to be played out. But most players have already made an impression and showed what they're up to in 2019.
Nobody is going to convince me that O.J. Howard's value in a trade keeps as high as it was back in August. Nobody will bite on acquiring a misused and underperforming Duke Johnson. Forget paying big money for Dede Westbrook, Jarvis Landry or Vance McDonald. Those are just a few names that have lost value during the past five weeks and that won't get you much in return from a trade.
On the other hand, there have been players who, although still showing some flaws, are still valued by most fantasy owners that could easily want to buy them while allowing you to sell high on them. Here I tackle some of those players and give you reasons for selling them before they put on a couple more duds and turn into unmovable assets. I limited the study to players averaging over 12 fantasy points per game (PPR-format) through Week 5.
Editor's Note: Get any full-season NFL Premium Pass for 50% off. Our exclusive In-Season Lineup Tools, Lineup Optimizer and over 150 days of Premium DFS Research.
Sign Up Now!
This is probably not the player you thought of when you first opened this article, but I think it really fits the bill. I didn't expect Daniel Jones to have such a high ownership rate but it turns out he's in a roster in 33% of the leagues (that accounting for the Giants vs Patriots game, which could have lowered that percentage given the bad matchup). Jones became a huge story as he exploded right out of the gate in his first pro game, finishing with a staggering 39.6 fantasy points and making more than one owner jump on him.
Since that unsustainable performance, Jones has come down to Earth, though, and his peak selling point could easily be past him. He has had three consecutive games throwing one or more interceptions, and his fantasy points have decreased from 39.6 to 18.6 to 14.3 to 12.9 in his Week 6 game against New England. While this is clearly not an easy-sell, Jones still might be appealing for someone in deep leagues or 2QB ones just for his name/hype-value.
It is obvious that you won't get much in return, but considering you probably rostered for free at some point during the past few weeks, anything you can get back could be considered a win. Two trades that have been made in Yahoo leagues after the loss against the Patriots in TNF included Marcus Mariota and Tarik Cohen. I'd be pretty fine getting any of them in return for Jones considering where he's heading.
Potential Fantasy Trade Targets: QB Marcus Mariota, RB Tarik Cohen
For all of the buzz Cleveland generated this preseason, the results can hardly be worse. The Browns offense is 25th in points per possession, 31st in completion rate and QB rating, and has only four passing touchdowns in five weeks of action. More worrying for Mayfield owners, the only part of Cleveland's game that has worked so far has been the rushing game, as they rank ninth in yards per attempt and are relying heavily on Nick Chubb to at least give them something in attack.
I never believed in Mayfield back in the summer drafts, at least not at the positions he was going off the board. Looking at Yahoo leagues, there are only 15 players owned in more than 75% of them. Mayfield is in that group, so he can be considered a borderline QB1 starter for most fantasy owners. That can help you sell him high, as the owner acquiring him could fall into the trap of thinking he's getting a starter when in reality Mayfield's numbers tell otherwise.
While all blame can't be thrown Mayfield's way, he's clearly underperforming and falling short of expectations. He has yet to have a game of 22-plus fantasy points and had a couple of mediocre performances in Week 3 and 5. With a touchdown in every game except last weekend, he still has some appeal. His eight interceptions, though, don't look good. On top of that, although much has been said about Odell Beckham Jr. and Jarvis Landry's bad outings, the reality is that Mayfield has a paltry 4.74 Adjusted Net Yards per Attempt. He's also thrown for 1,247 yards, but 48% of those have come from the receivers' yardage gained after the catch.
If you have Mayfield just as a streaming option along with another average quarterback on your roster, you might be able to flip him for an above-average one currently on the low (Phillip Rivers, Andy Dalton, or Josh Allen are all having better seasons and have higher floors). Some trades on Yahoo show also Jameis Winston, Gardner Minshew or even Matt Ryan going the other way for Mayfield, so you better move before it's too late.
Potential Fantasy Trade Targets: QB Phillip Rivers, QB Andy Dalton, QB Josh Allen, QB Jameis Winston, QB Gardner Minshew, QB Matt Ryan.
I have written a lot about Denver's backfield committee this year, tracking the performances of Lindsay and Royce Freeman. While I don't consider it bad to have shares in, you know you're playing with fire when you decide to bet on a running back with a virtual 50/50 split of snaps and touches with his partner. The good news for you in trying to sell Lindsay high, though, is that he has started to become the better performer of the two and is leaving Freeman on the dust.
As with Baker Mayfield (read above), I didn't trust Lindsay that much entering this year's fantasy draft season. I guess sophomores coming from monster rookie seasons are not my thing, especially when it was an unexpected outcome. That is Phillip Lindsay to a tee. So far this season, Lindsay is pretty much mimicking what he did in 2018 in terms of fantasy production. He ranks as the RB12 overall (finished last season as RB13) and is on pace to replicate his numbers in rushing yards and touchdowns.
Even with that, though, his yards per carry have dropped almost one full yard from last season. Digging deeper and reaching the underlying number that will make you want to sell him. Of all running backs with at least 65 carries through Week 5, Lindsay ranks third-worst in the percentage of yards gained after contact. He also has one of the lowest shares of rushing attempts inside the red zone (54.2%), given he's part of a committee.
To be fair, Lindsay has the potential and ability to perform way better than he's currently doing. The problem he's having is the aforementioned timeshare. Lindsay is still one of the best running backs in the league but if you can flip him now for something juicy, I'd pull the trigger. Lindsay has already shown all he has to offer, his upside is cut by the presence of Freeman in the backfield and Denver has a tougher-than-average ROS for running backs and the bye week still on the schedule.
Potential Fantasy Trade Targets: WR Mike Evans, WR Marquise Brown, RB Josh Jacobs.
It's selling time! If you are reading this, you should definitely stop doing so at this point, go trade Fuller ASAP, and then come back. Fuller needed a monster, historical performance to fix his season averages. During his first four games of the year, Fuller had posted scores of 8.9, 8.0, 10.1 and 5.3 fantasy points. In Week 5: 53.7 points. The same works for his stat line: 183 yards on 14-for-23 receptions and no touchdowns in Weeks 1-4; 217 yards on 14-for-16 receptions and three touchdowns in Week 5. Call me crazy, but that screams regression is coming.
Now honestly, if you can pull off a trade before this week's game you should go and make it happen. Not only will Fuller not repeat his last week's game, but he will fall way short of it. Yes, there is the chance he still sees a high number of targets as Kenny Stills will probably miss this week's game too, but even with that I highly doubt Fuller performing to his Week 5 standard again. We're talking about an 8-point fantasy player this season here. If you remove the 53.7 points from last week from his combined points from Weeks 1-4 you get 32.3, good--actually, bad--for WR65 overall.
I'm not saying Fuller's true level is that of a WR5 or anything below that, but neither is he a WR1 or anything remotely close to what we just saw from him. Just in case you missed it while reading this, Fuller needed to be targeted 16 times to get to his final points outcome. Do you know how many times Fuller has been targeted 10 or more times in his career? Three out of a possible 36. And even in such favorable situations, his average fantasy points are 32.2 (21.4 if we don't take last week into account).
There isn't a player with a better combination of value/hype/regression risk than Fuller today, plain and simple. You can score a trade that benefits you both mid- and long-terms by acquiring someone in exchange for Fuller. He isn't as good as many available options out there, nor is he ever putting on a show as he just did.
Potential Fantasy Trade Targets: WR T.Y. Hilton, WR Dede Westbrook, WR D.J. Moore, WR Curtis Samuel
Pittsburgh might not be a dumpster fire, but they're definitely the hardest "good" team to evaluate at this point. If we consider what the Steelers have gone through since Le'Veon Bell decided to sit for the season, then yes, Pittsburgh has been a mess. Bell ended up leaving Pittsburgh, Antonio Brown couldn't stand the team anymore--nor could the franchise handle him any longer--and he was traded away. All of this meant two fewer big mouths to feed in the attack and we promptly penciled JuJu Smith-Schuster in as the next big thing in the Steelers' attack. That was, though, playing under Ben Roethlisberger, who is out for the season.
While JuJu hasn't been that bad, he hasn't played up to expectations, even post-Big Ben. Entering Week 6, Smith-Schuster ranks as the WR23 in PPR-leagues and has had just two top-24 performances. That pales compared to his WR8 finish last season (with five WR1 weeks). For the price most owners paid back in the summer to draft him, he has clearly been an overpayment so far. Things don't look brighter ahead either.
Not only is Pittsburgh without their QB1, but they could also miss his replacement Mason Rudolph for at least a game with a concussion. Going from Roethlisberger to Mason Rudolph was a downgrade. Going from Rudolph to Devlin Hodges is a nightmare for Smith-Schuster's owners. As one of them, your selling point should rely on what JuJu has been able to do to date with the situation he has had to endure. Barring his putrid Week 4 performance (4.5 points), he has three games between 13 and 17 fantasy points and in Week 5 he reached 20 for the first time this year.
So far this season, Smith-Schuster has actually overperformed his peripheral numbers. Per NFL Next Gen Stats, he is averaging 2.0 YAC per reception more than he should (7 YAC/R to 5 xYAC/R). On top of that, Mason Rudolph was completing passes with a ratio of 1.1 percentage points higher than we could have expected. Considering Smith-Schuster has a 50/50 split on Air Yards and Yards After Catch (which implies he's average in his receiver profile, not favoring his QB nor depending on him too much), the downgrade from Rudolph to Hodges could be devastating for his upside.
No one truly knows how Pittsburgh's offense will look from Week 6 on--the schedule ROS for Pittsburgh with regards to WRs is the eight-worst and they still have to go on a bye--but I'd stay away from any Steeler no matter how big his name is. And yes, that includes Juju Smith-Schuster even if by his pure talent he should be a weekly starter. You may need to settle for another disappointing performer like OBJ or even Diggs in hopes of coming out ahead.
Potential Fantasy Trade Targets: WR Stefon Diggs, RB Melvin Gordon, WR Robert Woods, RB Austin Ekeler, WR Odell Beckham Jr.
We all knew who was head of the class at the tight end position before the start of the season. There was the Big Three of Travis Kelce, George Kittle, and Zach Ertz, and then the rest. Through five weeks of play, though, only Travis Kelce is among the top-three players at the position in fantasy points. Ertz ranks seventh and Kittle eighth. Just above the two of them, we find our man Darren Waller, Oakland Raiders tight end.
Although he has cooled down a bit, Waller was able to string four 12+ point performances to start the season, including a 27-point explosion in Week 3 against the Vikings (134 yards on 13-for-14 completions). And I guess that is how a middling sleeper turns into a league winner. But don't count your fantasy winnings so fast. Waller keeps being an unproven commodity, and you shouldn't fall for his early tricks.
First of all, Waller is treading new ground, considering what he's done in the past. He never reached a 10% target share last season, and this year he's gone all the way up to see a 27% of the Raiders targets. The problem I have with Waller's usage, though, is how it is primed to regress sooner rather than later. It has been falling since his monster day against Minnesota, is at a season-low, and Josh Jacobs (supposedly by Gruden's words) has been promised more targets going forward. Not only that, but Oakland just traded for WR Zay Jones to bolster its offense, which means there will be another receiver fighting for targets (you don't trade an asset away if you don't plan to use the player you get in return).
You probably have a hard time selling Waller's raw stats, as he doesn't have scored a touchdown yet. That is concerning but will probably positively regress in time, so just bank on the fact that he has four-of-five 12-plus-points performances so far at the position. Only Will Dissly, Austin Hooper, and Darren Waller have done it this year. In 2018, each the Big Three had 11 such games, Eric Ebron had 10, but the rest of the tight ends in the league could only reach six games of 12-plus-points during the whole season. This means that we've already seen most of the good part of Waller's season and that it's the perfect time to sell him high.
Potential Fantasy Trade Targets: RB Damien Williams, WR Jarvis Landry, RB Devonta Freeman.
More Fantasy Football Analysis